Every year, I think I'll be able to blog about Zumba Convention while I'm actually at ZCon, but the conference is so jam-packed, I never quite seem to have the time. I'm too busy dancing, hanging with friends, making new friends, and enjoying the moment…well, all the moments. Zumba Convention is hands down one of my favorite things to do every year, so I really try to make the most of it while I'm there. So, it's a bit later than I wanted, but here we go with my first ZCon post for 2013…
After our short beach adventure, my friend Sarah and I took a (pretty) quick two hour drive into Orlando, FL to check into our hotel. A quick change later, and we were headed off for our respective first events. We missed the kick-off, but not our first sessions.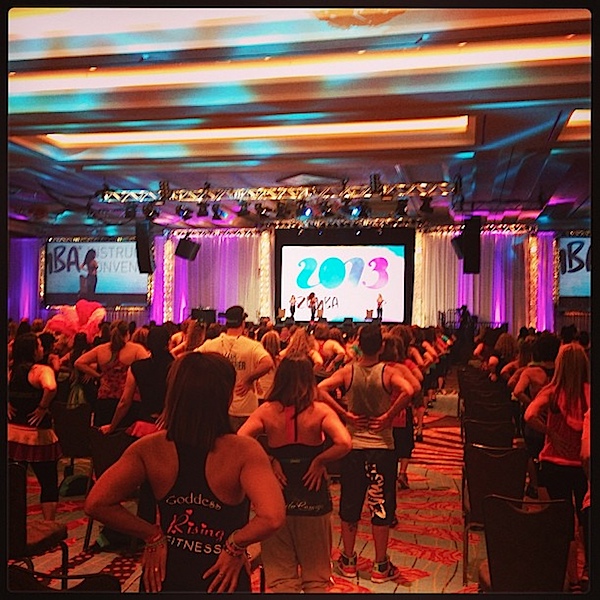 I started things off with Gina Grant's Burlesque. The format of the dances we learned were a bit different than traditional Zumba dances. Instead of lots of repetitive moves, we learned (I believe) four songs that were more routines, with various 8 counts broken down and then strung together. The first song was even choreographed with a chair, which was different and fun. The songs included Burlesque and Fever. The dances were flirty and girly and had some cute moves I may try to work into some Zumba songs in the future.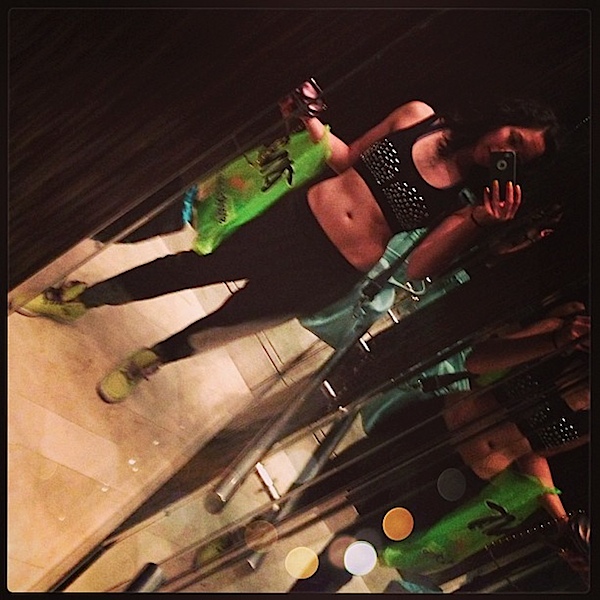 Some of you guys have been asking for workout outfits, so I've been trying to post them on Instagram. Does that work or do you prefer to see them here on the blog? Anywho, here's my outfit for Burlesque – harem dance pants, high tops, and a studded bra top.
Oh, and don't mind that shopping bag in the background. I may or may not have gone ahead and done some shopping on day 1. What? The clothes sell out like hot cakes! You gotta get in there early to get what you want! There's still one top I didn't pounce on that sold out that I'm considering getting from zumba.com. Hmm…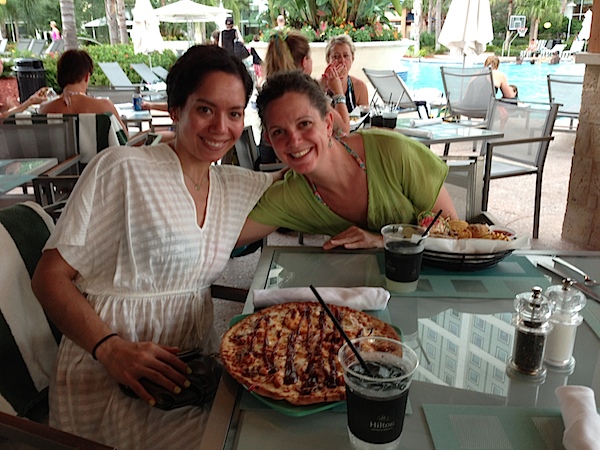 Sarah and I had dinner at the pool and then unpacked and changed for the Zumba Fitness Concert.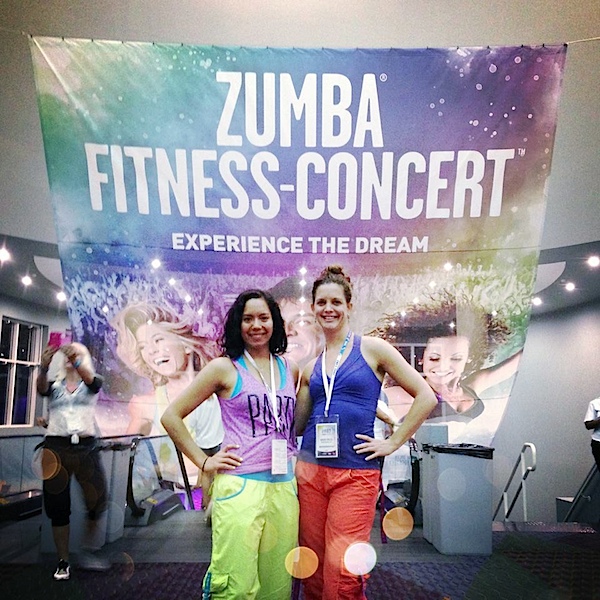 The Fitness Concert is just like what it sounds like. Imagine a huge concert with the fancy lights and crazy sound systems and thousands of people all around, except instead of the people just standing there or doing random dances, they're all moving in unison, doing the same dance moves, following instructors leading the crowd from a stage. Well, at least that's what usually happens.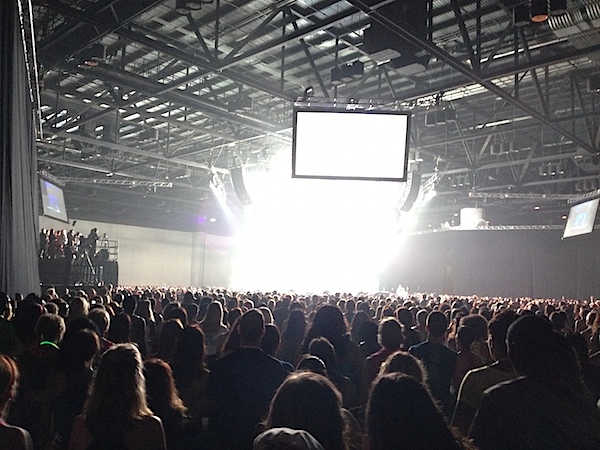 For some reason, this year they decided to section off almost 1/4-1/3 of the room we usually use with large curtains so we were all crowded into a smaller space. The result? The areas in the back were too crowded for people to move, so they couldn't really get into the dancing. We got there kind of late, so we started out near the back, but as some people trickled out, we were able to move up so we could do some dancing.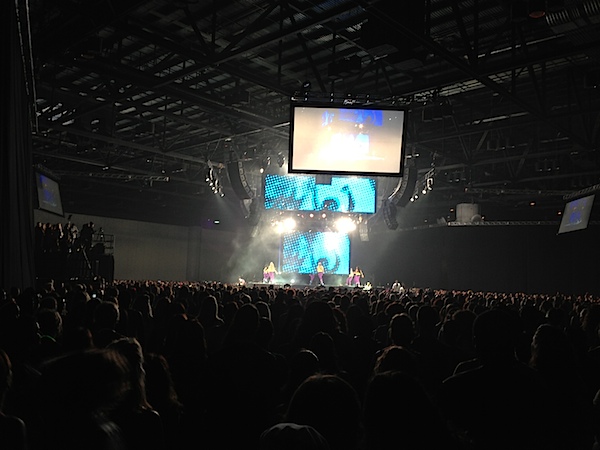 I hope they give us more space next year, though. A girl needs room to move!
A mixture of different ZESes, plus Beto (the founder of Zumba for any non-Zumba readers out there) and celebrities like Sean Paul and Claudia Leitte, took turns leading different songs. There were also plenty of costume changes, and I loved seeing the different outfits. The energy level was super high, and I still had a good time, even if we didn't really get to dance as much as we wanted. I have to admit, I loved the super loud music and how the bass tickled my nose! You'll never get speakers that loud in a regular Zumba class!
Next time – Day 2 including Brazilian Carnival and Hip Hop!