Hey everyone!
I hope you're all having a great week so far. I had some fun posts (new green monster smoothie recipe, tips for reading labels clean-eats-style for busy people, and a Parisian Wardrobe update) lined up to blog for you guys, but the Online Bake Sale and Auction supporting the Philippines has taken precedence over the last week. I'm squeezing in a quick post to say hello to you guys! Anywho, back to the auction…I remember when I did the bake sale for Haiti back in 2010 that it was so much more work than I expected it to be, and this time isn't much different. I've had some late nights, and I must have sent at least a hundred emails. I think about the auction from the time I wake up to the time I go to bed. It doesn't seem like it would take a lot of effort to coordinate some auction listings and set things up, but oh is it ever. But, this is work that I'm more than happy to do. The late nights, the many emails, and all the hard work will be worth it in the end. The auction goes live Thursday night at 9pm, and I can't wait to see how things go!
We have almost 50 items donated, so now that most of the donations are in, the next thing I'm turning my attention to is making sure we get bids for all those items! I'm hoping we can raise at least $1,000, but if we can raise more, I'll be so ecstatic! With roughly 50 items donated so far, if each listing raised $100, we could raise $5,000!!! Think we can do it?
If you're interested in helping out, please help spread the word or consider bidding.
How the auction works at a high level:
Click here to take a list of the current auction listings and take note of anything you'd like to bid on.
On Thursday night (9pm ET 11/21/2013), I'll publish a link to the Main Auction Listing page, which will have links to bid on each individual item (and will take you to the respective individual item page).
Each item will be set up with its own page.
Bidding is super easy – just check the comments of the page to see the highest bid and leave a comment with one that is higher!
Remember to only bid as much money as you're comfortable donating to one of the two charities supported by this auction.
100% of your donation will go to one of those charities, and you'll get a little treat for your donation! Win-win!
After the auction closes, I'll email the winning bidders with additional instructions. Essentially, you'll make a direct donation to one of the two charities and forward me your receipt as proof of donation. Once I receive your proof of donation, I'll send your email/contact info to the baker/donator who will reach out to you regarding your winning item. The two of you will take things from there (customizing your winning item, if applicable, and deciding when shipping will work best for both of you, or arranging local pick-up for the Charlotte, NC local items, etc.)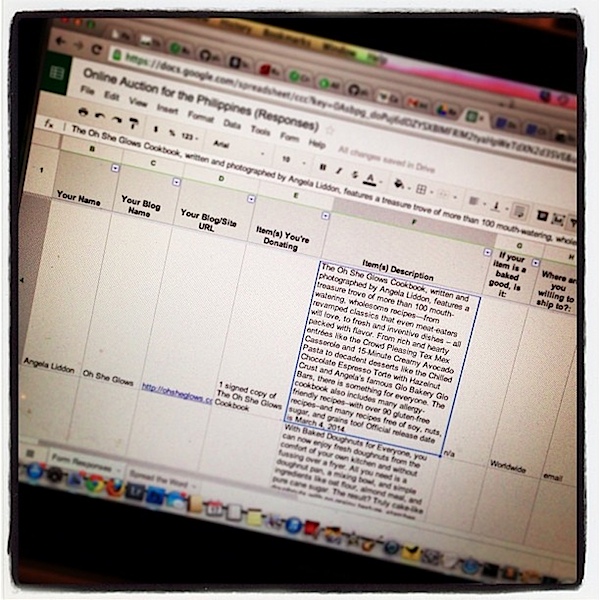 I'm so glad Google Docs are around for this auction. I have a huge spreadsheet set up that's helping me stay organized. I'm planning to take a half day off of work on Friday so I can monitor the auction page and update current bids in this spreadsheet so we can calculate a running total. I'd love to keep you up-to-date with live information! That's the plan. Hope I can do it!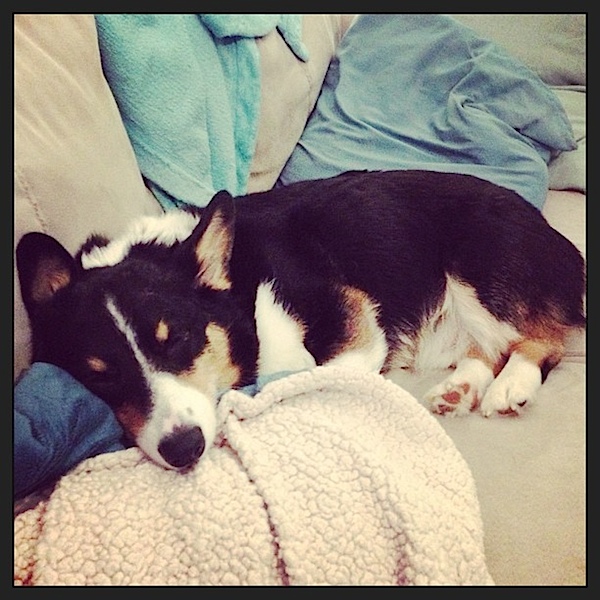 All this auction work has me feeling like this (above). I actually snapped this photo when I was working on the auction late one night last week. My second-in-command, Bailey, just couldn't keep his eyes open any longer, and he fell asleep on the couch next to me while I was typing away.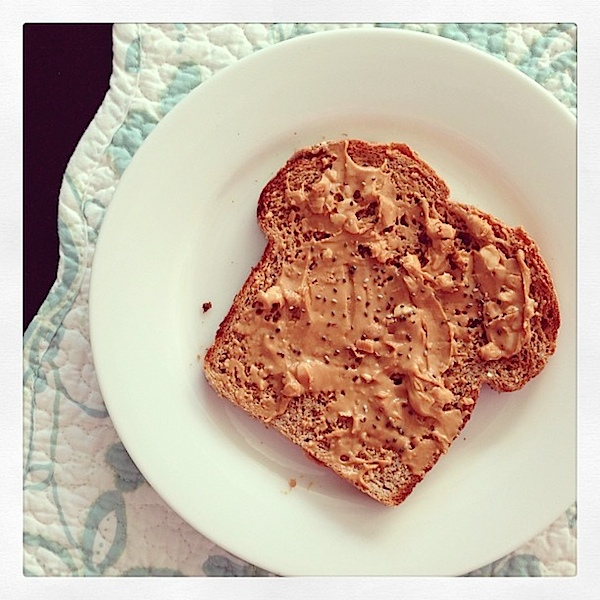 On to some eats…I found a new favorite flavor of bread at Great Harvest – 9 Grain Whole Wheat. I like this one a little more than Honey Whole Wheat since it's not quite as sweet, which I think is more versatile. And do you see what I see? It's the return of Power Toast! This is the 9 Grain with Earth Balance coconut peanut butter spread and chia seeds. This is such a great 5 minute breakfast when you're running late for work.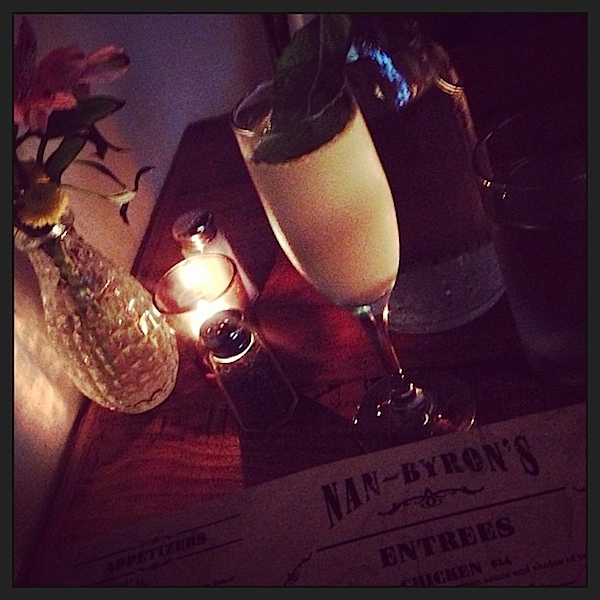 My sister wanted to meet me with some friends who were all out of town for a conference. I had a hard time picking somewhere to go till I remembered Nan and Byron's had just opened. We had a wonderful dinner there. The food was great and the atmosphere was laid back and comfortable. I finally got to try one of their cocktails – the sparking mojito. It's delicious! I can't wait to try some of the others – they're so creative.
Did you know green skin on potatoes is toxic? Click here to read more on this Cooking Light article about not only potatoes but other healthy foods that can be dangerous.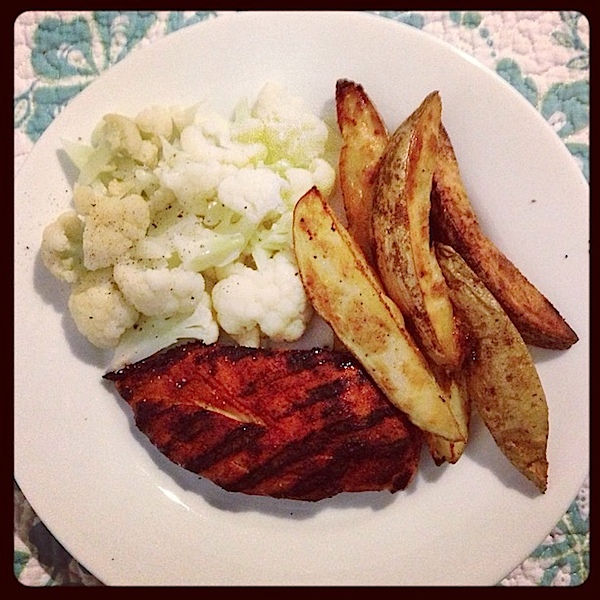 And here's dinner from last night – grilled chicken, homemade potato wedges, and steamed cauliflower from my family's garden. Home-grown vegetables are so good! This cauliflower was nice and sweet and delicious with a light drizzle of melted butter.
***
That's all for now! Stay tuned for more details on the Online Auction and Bake Sale for the Philippines! I can use all the help I can get spreading the word and rounding up interested bidders, so please share information about the sale if you can. I appreciate all your help and support, and I'm feeling the love from the blogging community. I'm so thankful so many kind people are interested in helping out because I couldn't do this by myself. Let's keep this momentum going to raise as much money as possible for the Philippines!
The power of one, if fearless and focused, is formidable, but the power of many working together is better.

Gloria Macapagal Arroyo (14th President of the Philippines)
***
Thank you for stopping by!