Well, I missed my 3 week check-in for Eat in Month 2014. I'll go ahead and blame Charlotte Start-Up Weekend. More on that in a minute. In the meantime, let's jump in!
Week 3
January 15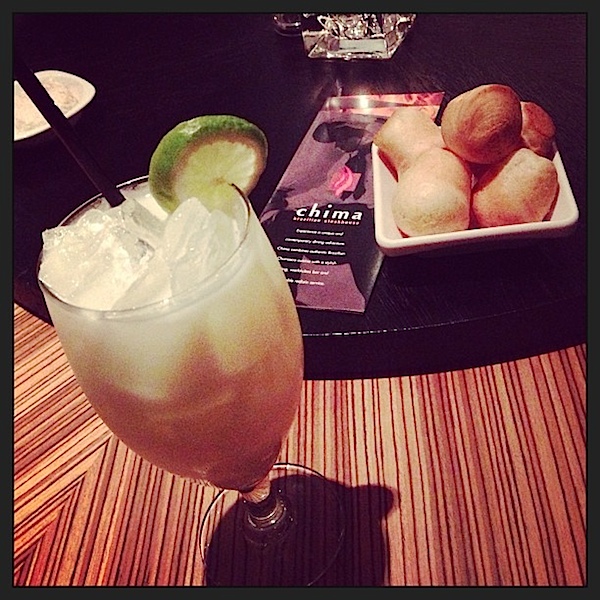 Right smack dab in the middle of the challenge, I went out with my Epic Eater friends to celebrate Dion getting a wonderful new job and moving to Tampa, FL. Her choice of outing – Chima! I'd never been before, so I was really looking forward to checking the place out. I started out with one of their signature mocktails – a refreshing lime and milk drink. To me, it was an unusual combination (citrus and dairy?), but the drink was quite good!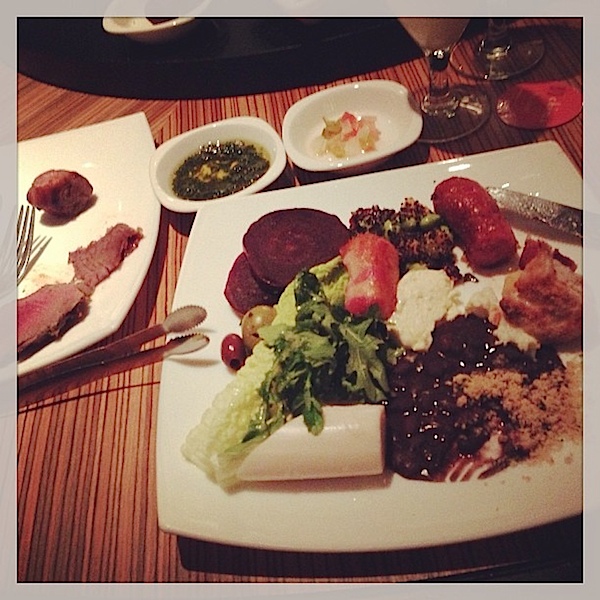 Have you been to one of these Brazilian types of restaurants? Here's how it works. At this restaurant, we were given a few minutes at the salad bar. Kseniya's strategy was to get a nice plate of veggies and to slowly eat them over the course of the meal. It was a great idea, and I'm glad she shared her tip! Anywho, after getting your veggies, the next step involves a round card. One side indicates you'd like more meat and the other indicates you don't. When you're ready, you flip the card over to say you're up for some meat, and the servers come around, each carrying a different kind of meat – lamb, flank steak, rib eye, pork, chicken, bacon-wrapped chicken, bacon-wrapped filet, Brazilian sausage, and more! The various meats are skewered on tall swords, and then they slice your serving(s) or carefully remove a portion for you. The flank steak, sausage, and bacon-wrapped filets were my favorite. I didn't even need the sauces I'd picked up from the salad bar, though it was fun experimenting with them.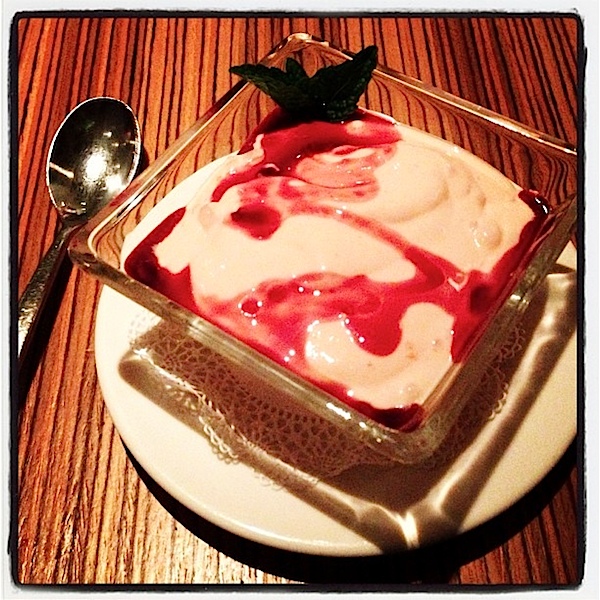 Dion recommended the papaya cream, so I knew I had to try it. It was like a melty, fruity ice cream. And the papaya is said to help aid digestion…definitely recommended after a full meal like this one!
From beginning to end, Chima was a wonderful experience. I can't wait to take my husband here! The food was delicious and unique and the service was more than excellent. I had a great time!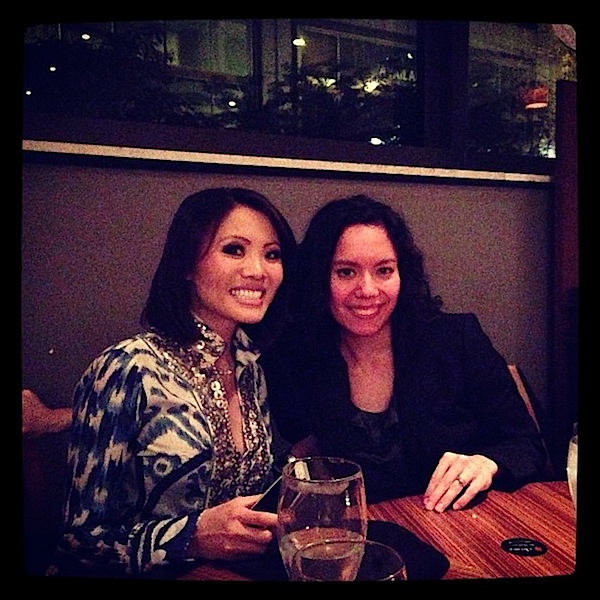 We're so happy for you, Dion, but we're going to miss you terribly! Good luck in sunny Florida!
January 16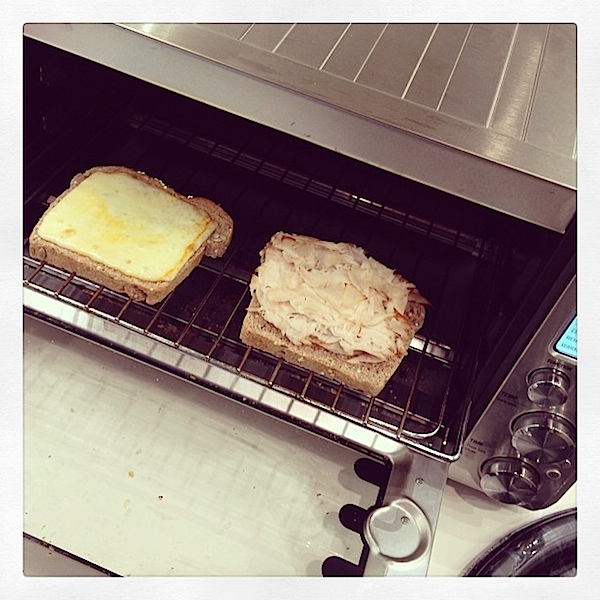 January's lunch theme was definitely toasted sandwiches. They were just so easy to put together on my busiest days, and I'm not a fan of re-heating leftovers. It never tastes quite as good, and I don't like using the microwave. Thank goodness for toaster ovens!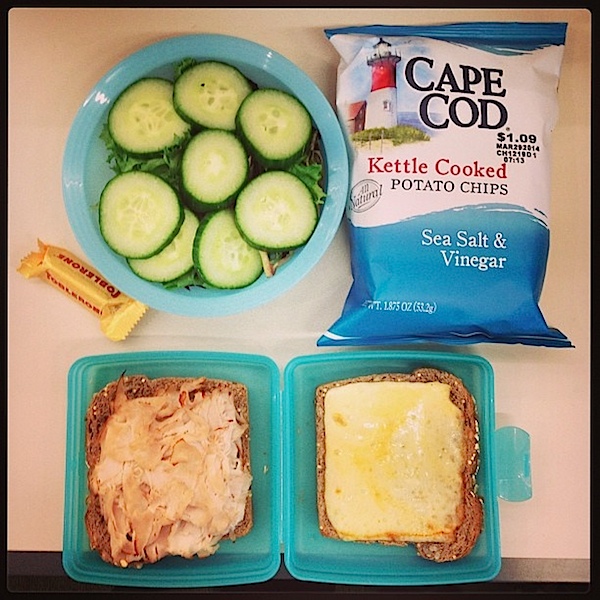 Here's one of my favorite lunches – toasted sandwich (turkey and muenster), salad, sea salt and vinegar chips, and a mini toblerone.
January 19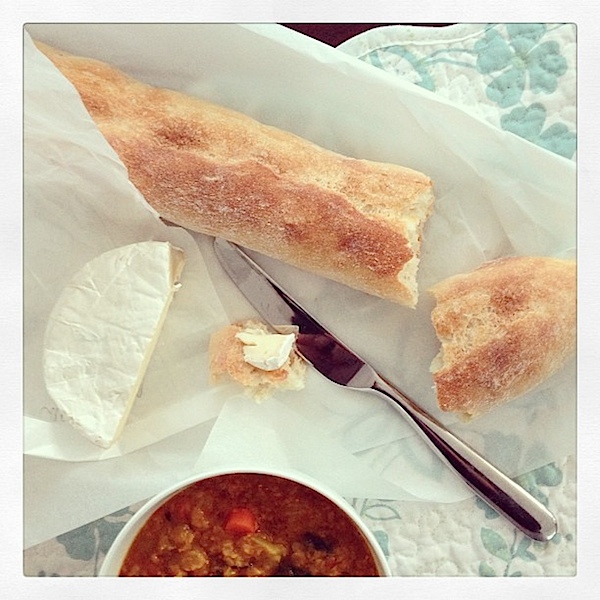 On one of the Saturdays, I happily enjoyed some leftover, homemade soup and freshly baked baguette from Local Loaf with some North Carolina made brie from Orrman's Cheese Shop. Baguette and brie is one of my favorite snacks. In fact, as I write about this, I'm wondering if I should pick up some for later. Hmm…
January 21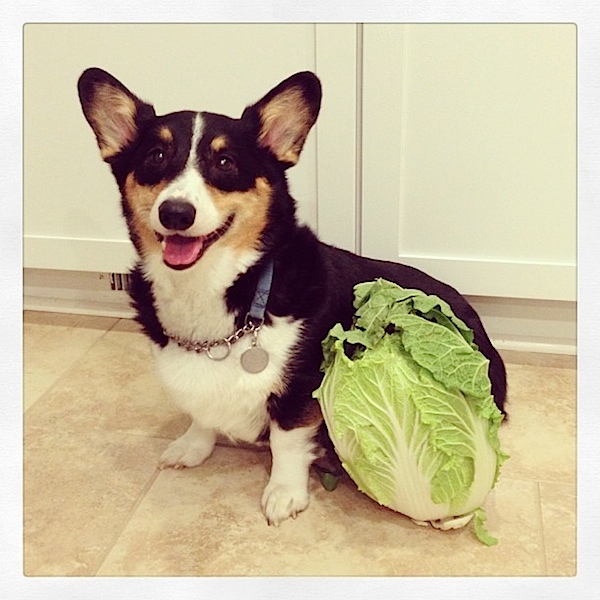 I stopped by the farmer's market one day and picked up a head of napa cabbage that was almost as big as Bailey! Okay, not quite that big, but it was huge compared to most I've seen!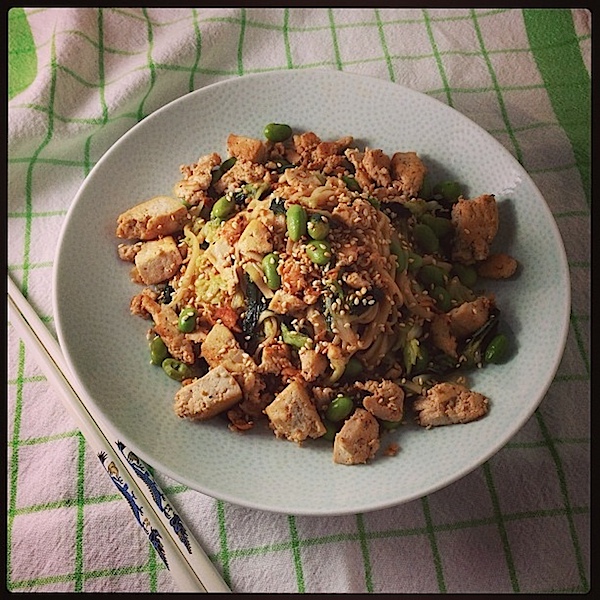 The cabbage went into this delicious tofu noodle stir fry (click here for a similar recipe).
Week 4
January 24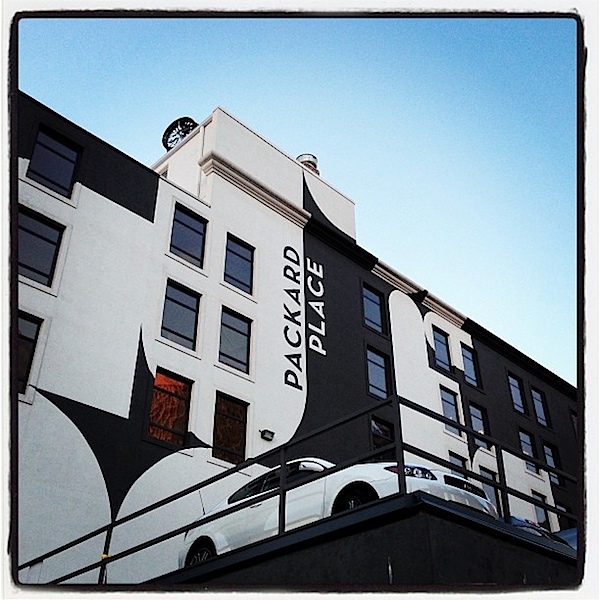 I attended my second Charlotte Startup Weekend in January. I'll be blogging about it over on my tech blog, but you can read about my first startup weekend experience here. Basically, we tried launching a startup in 54 hours, so I was there almost the entire weekend! I thought about blogging while I was at the event, but I really wanted to focus on the team and our project.
January 27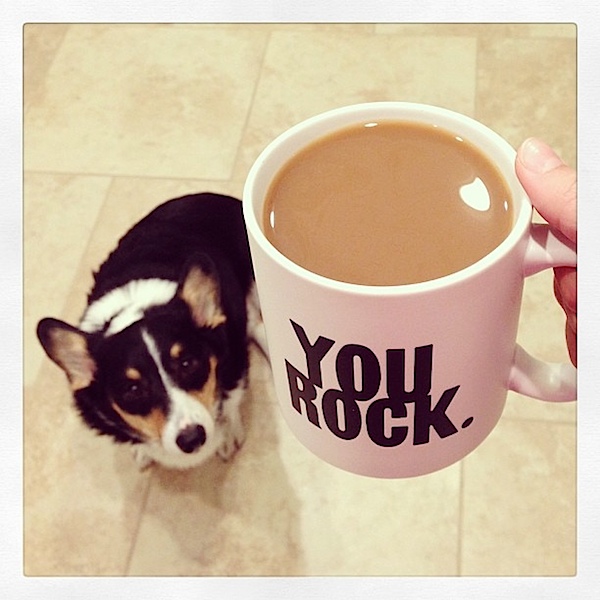 Though I gave myself a once-a-week Starbucks pass during the challenge, I found I didn't need it as much as I thought I would. I didn't even use it most weeks. Coffee at the house was enough.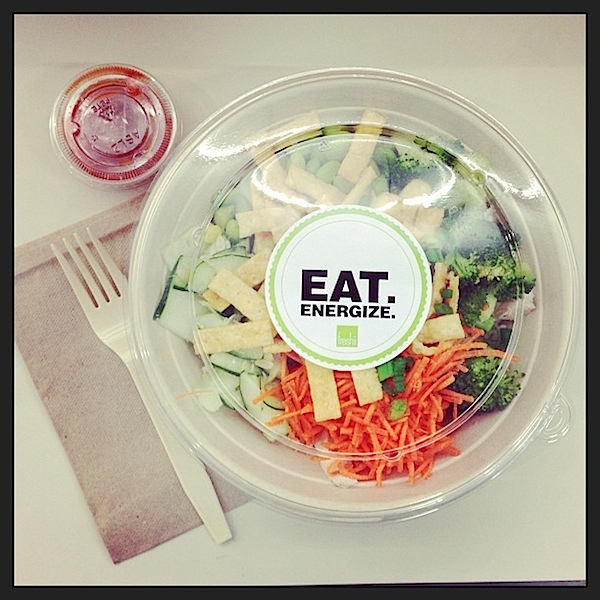 Unfortunately, I had to cheat on the challenge one day. I was running late for work and was relying on an emergency frozen meal I'd stored at the office, but the cleaning crew threw it away! Doh! I got this rice bowl with chicken and lots of veggies. It felt wrong to cheat on the challenge, but I wasn't about to skip a meal!
January 29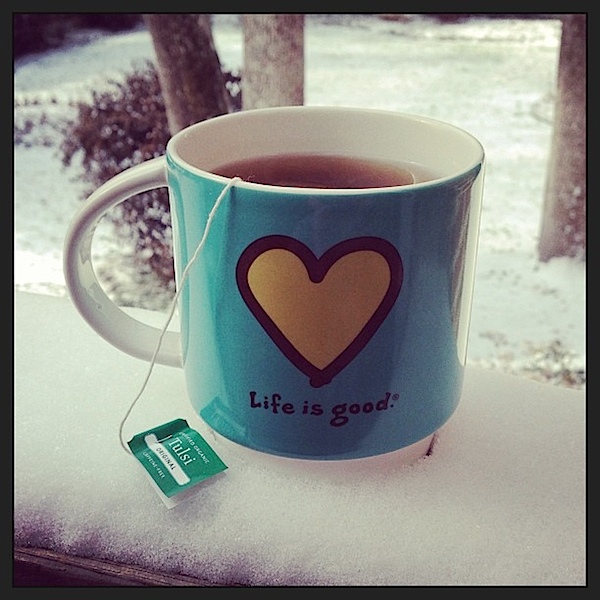 I got to work one day from home since it snowed. This meant I had all the hot tea I could consume…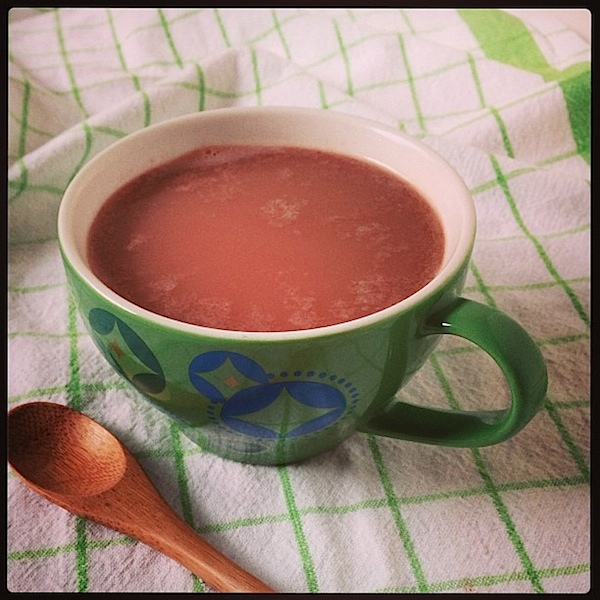 …and I even got to make this clean-eats hot chocolate. I used to use packets all the time, but have you looked at the ingredient lists on those things? There are so many weird, unpronounceable things in those things! This hot chocolate had 4 ingredients: unsweetened cocoa powder, rice milk, sugar, and vanilla extract. Click here for a similar recipe for coconut milk hot chocolate.
January 31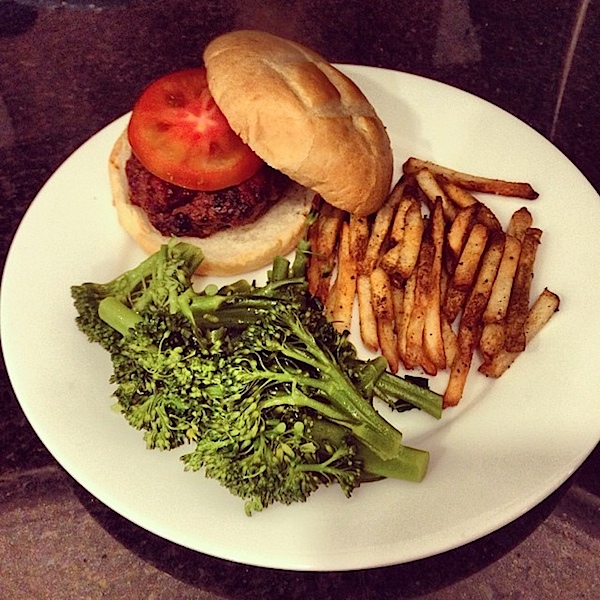 And for the last dinner of the challenge…grilled burgers with steamed broccolini and french fries. It was so good and reminded me that I'm looking forward to even more grilled eats when the weather warms up. I feel like spring is right around the corner. Just a few weeks, right?
Closing Thoughts on the Eat in Month Challenge
I was thinking of documenting my lessons learned from the challenge, but the notes I made on my 2 Week Check-In sums it up nicely. The challenge was definitely difficult this time around. Prepping ahead was not easy for me, though some menu planning helped a lot. Also, taking inventory of what we had in the house (in the pantry, fridge, freezer) also helped me remember what ingredients we had as I'd be driving home from work or Zumba and wondering what I was going to eat. Having some semi-homemade options was also a big help. I generally like to make sure my meals and healthy and well-balanced, but perfect meals are stressful. Remembering to focus on doing my best (qualitarian!) really helped remove some of that stress and let me enjoy the challenge and my eating more.
Oh, and one more thing – I had a couple people join in late. Better late than never, right? I think whichever month for you is best is the best month for this challenge! You can check out their challenge updates on their blogs here and here. Can't wait to see how they do!
How'd you do with the challenge?