Update: The Rockettes box is no longer being shipped by Fancy. Please see end of post for more info.
Just wanted to share some photos and thoughts about the Rockettes Fancy Box – November 2014. I received my September 2014 box for free and blogged about my thoughts awhile back. I liked it so much, I decided to sign up for a monthly subscription, which I'm paying for myself now.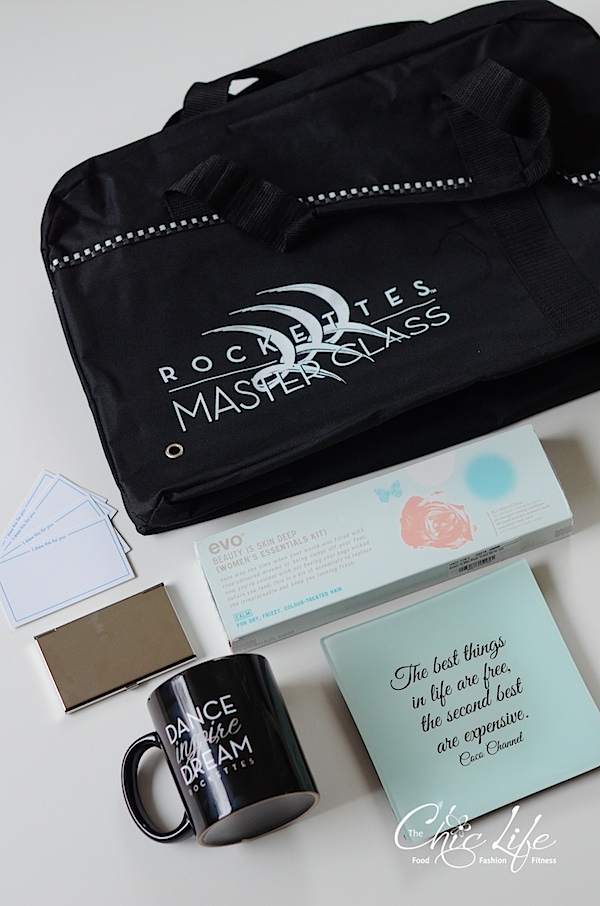 Here are the goods from the November 2014 Rockettes Fancy Box. I was generally less excited about this box than my first, and I'll explain why…
Rockettes Fancy Box November 2014 Breakdown
Rockettes Master Class Tote: It appears this item isn't available for purchase anywhere online. It looks like maybe they'd been printed for a Rockettes event, and they had some leftover. I don't really mind because I think it's cool to have something a little exclusive. I think items like this would be good to keep including in the Fancy Box for Rockettes fans. What better reason to sign up for a subscription than to get something no one else has access to? The bag itself is pretty lightweight. It kind of reminds me of one of those promotion bags that companies put their logos on and give out to customers, etc. I have a pretty good amount of totes of various sizes, so I wasn't sure if I wanted to keep this at first. But, since the bag is so lightweight, it folds very flat. I realized that this is the perfect kind of tote to bring with you on trips where you plan to bring an extra bag of things home. Examples: a trip where you're planning to do shopping or maybe a conference where you intend to bring swag home. Can't say I'd mind toting one of these bags around the airport. Promotion companies have similar bags for about $7-15, so double that for retail, and it's about $14-30. Let's be conservative (and reference this Rockettes tote for $19.95) and estimate the retail value around $20.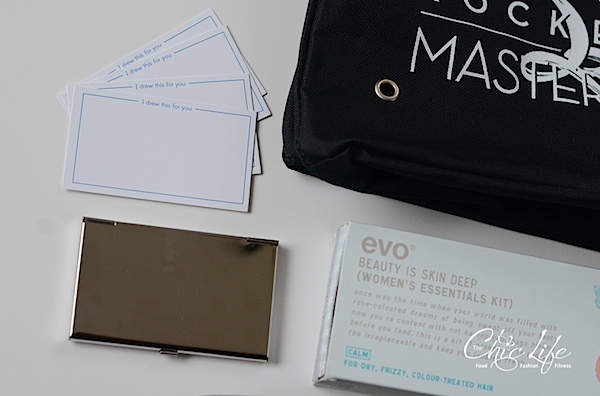 I Drew This For You Cards and Silver Case: The case stuck for me a bit when I first tried to open it and it easily collected fingerprints. So, I didn't love this one from the start. I thought the cards were pretty fun, but I couldn't really see myself using the case, so I decided to return this item, even though you only get one return. The cards and case were packaged together, so I think they count as one item. *fingers crossed* The full price for the cards is $10 on Fancy, but it's on sale for only $3, though it's sold out. I'm estimating the silver case at $10.
evo Beauty Is Skin Deep (Women's Essentials Kit – Calm): As I mentioned on my previous blog post about the Rockettes Fancy Box, I'm not big on beauty samples. However, I remembered seeing this brand before and being curious about it. According to the box, this kit was made without sulphate, paraben, dea, tea, and propylene glycol. It's also not tested on animals. For me, the kit will make a nice back-up at my parents house for when I visit so I have less product to pack. I'm looking forward to checking it out over the holidays. This kit includes 5 50-ml containers of the therapist calming shampoo, the therapist calming conditioner, the great hydrator moisture mask, soap dodger body wash, and self indulgence body crème. Retails for $30 on the evo site but is on sale for only $9 at Fancy.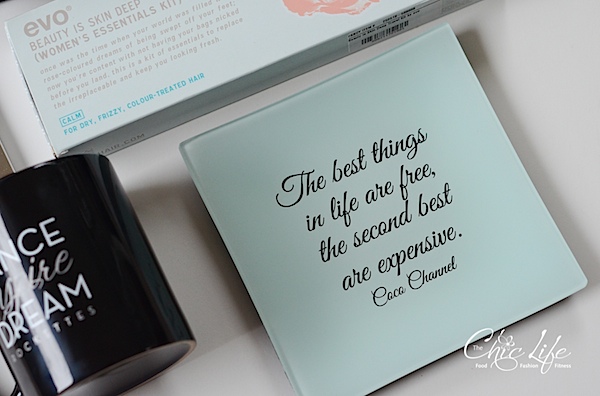 Coco "Channel" Tray: The Coco "Channel" tray was my biggest disappointment. At first, I was thrilled. I love Coco Chanel, I love this quote, and I love the light turquoise color of this tray. However, when I noticed the typo (it should be "Chanel" with one "n"), it was a big let down. My friend also got this month's Fancy Box, and her plate was spelled correctly. I'm not sure what happened to this item. I guess a batch went out with the wrong spelling? Now, for the worst part. I emailed Fancy's customer service to ask about returning both the cards (above) and this tray, and they said I could still only return one item. I understand the one item limitation. But in my opinion, I should be able to return both or at least return the card set and get a tray with the correct spelling. Now, for the upside. I contacted the company listed on the back of this plate, Blue and Cream. They said they weren't actually involved with the trays in the Fancy boxes directly but that they'd be happy to send me a new tray. They didn't have the same tray, but they offered anther Coco Chanel plate. Thank you, Blue and Cream! The tray retails for $45 on the Blue and Cream site and was on sale for $13.50 on Fancy. The Coco Chanel option is sold out, though.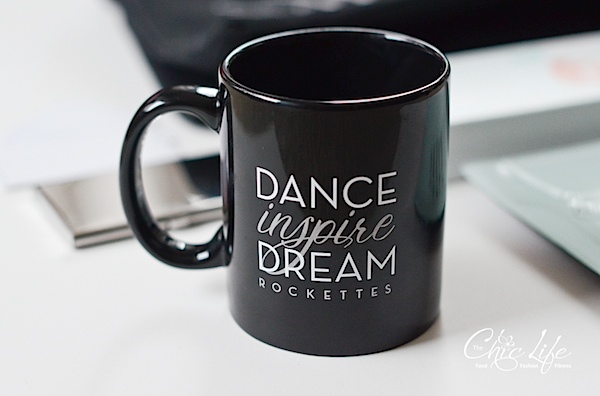 Dance Inspire Dream Rockettes Mug: This was my favorite item from the November 2014 Rockettes Fancy Box. I don't think I could have too many mugs. My husband may disagree. But, I kind of love collecting them. I like the size of this mug, and of course I love the inspirational words on the front. This mug has already gotten lots of good use. This retails for $14.95 on the Rockettes site. And it appears the online shop is somehow connected to Amazon, because this mug is showing as free with Prime shipping!
Estimated Total Value
Items: Tote + Cards + Case + evo Hair Kit + Tray + Mug
If you add up the lower prices: $20 + $3 + $10 + $9 + $13.50 + $14.95 = $70.45
If you add up the upper prices: $20 + $10 + $10 + $30 + $45 + $14.95 = $129.95
The box cost me $46.95 ($39 monthly fee + $7.95 shipping) – minus a couple referral credits (thank you!).
Summary
This wasn't my favorite box overall, though there were some good items included. I went ahead and sent back both the cards/case and the tray because I didn't want either of them. I guess we'll see which item Fancy credits me for. I wish they'd credit me for the cards/case and just sent me a new tray because I did love it. I just don't want a misspelled tray.
One other small change this month that made me a little sad was the lack of explanation card. They had one in the September box. On the card, the Rockettes explained why they selected the items they did. I also asked Fancy's customer service about this. They said, "as part of Fancy's initiative to be more green and adapt more eco-conscious practices, we have stopped including inserts in all of our Fancy Boxes." I'm all about being green, but they did still send me a business card and two stickers. I'd rather have the explanation card. As an alternative in the future, I'd love to see Fancy maybe offer an emailed explanation "card" or another online, eco-friendly option. I really liked hearing about why the Rockettes selected the items they did.
This may not have been the best box, but I wasn't ready to call it quits yet. And now that I have the December box in my possession, I'm so glad I kept it. Can't wait to show you photos from the December box!
Link Info
You can check out my first blog post on the Rockettes Fancy Box for more details about the box overall. If you're interested in signing up, I'd love for you to use my referral link, which is: (removed). Fancy has a referral program, which they offer to everyone (not just bloggers). If you use my referral link, I'll receive a small credit. You can read more about the Fancy referral program on their FAQ page. Update 12/29/2014: I received an email today that Fancy will no longer be shipping the Rockettes boxes. Bummer! Though there are some other interesting boxes at Fancy, I decided to cancel my subscription. It would have transferred to the Mystery Box on January 2nd otherwise. I've also removed my referral link from the end of this post. I actually have my eye on another subscription box, so if I sign up for that one, I'll let you know what I think! 
Thanks for reading!