Hey guys!
Hope your new year is off to a great start. I know mine is! So far, I hosted a super fun New Year Zumba Glow Party, spent a lot of time getting organized for 2015, and did great with the first half-week of the Eat in Month Challenge. Last year, I did weekly recaps, which I thought were helpful to stay accountable and share ideas. So, here's my Eat in Month Week 0 Check-In. I'm calling this half week between January 1-3, 2015 "Week 0" since it wasn't a full week.
Also, I'm not going to post every single meal photo here on the blog. I think that'd be too much for a weekly recap, but I am hoping to share a photo of all my eats on social media. You can get the the photos three ways: Instagram, twitter, and Facebook. Be sure to like The Chic Life on all three to get the best updates since I don't always cross post everything. I'll share some highlights here on the blog.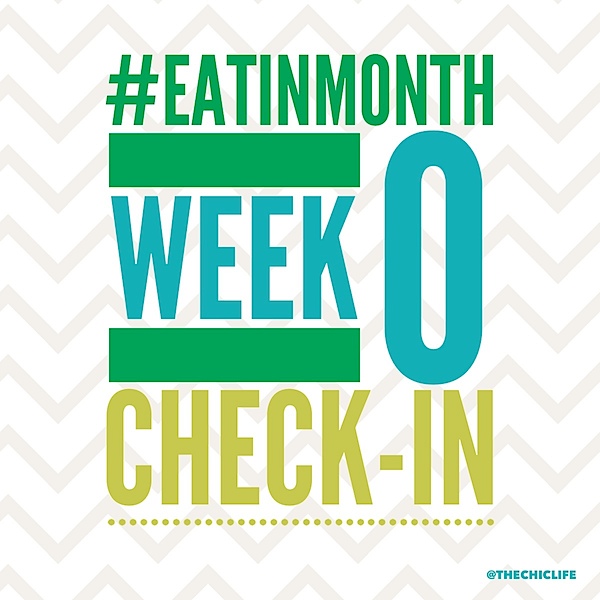 January 1, 2015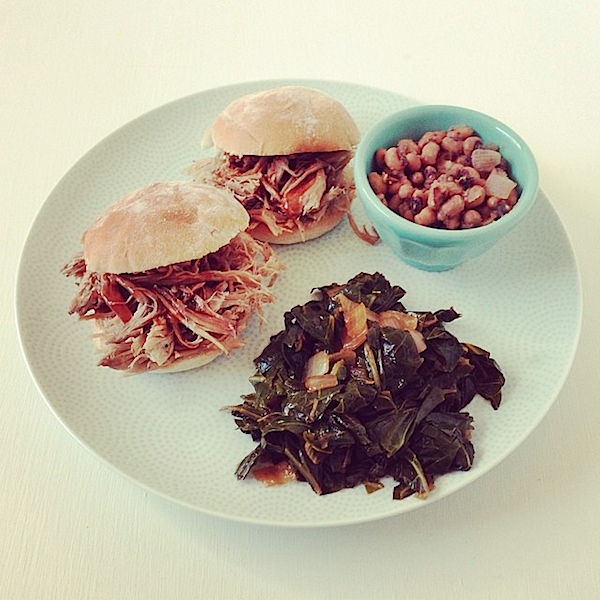 New Year's Eve was over before I even had the thought of, "Maybe I should have just one more meal out. Where should I go?" Alas, it's too late. But, I was at least prepared for New Year's Day eats. I had picked up some fresh collard greens and a can of black eyed peas the day before since we always eat those on January 1st every year.
I made Quick and Easy Black Eyed Peas and Quick Asian Collard Greens for sides for lunch. I had hoped to blog both recipes before dinner, but I spent a couple hours prepping for the glow party (making the playlist, arriving early to set up, etc.). I still have both recipes drafted and plan to share them soon. If nothing else, they do make tasty and easy sides that would be great for any meal during the year. Anywho, I had both with leftover pulled pork on Whole Foods "snowflake rolls" (not sure why they're called that, but they're good) with my favorite BBQ sauce.
January 2, 2015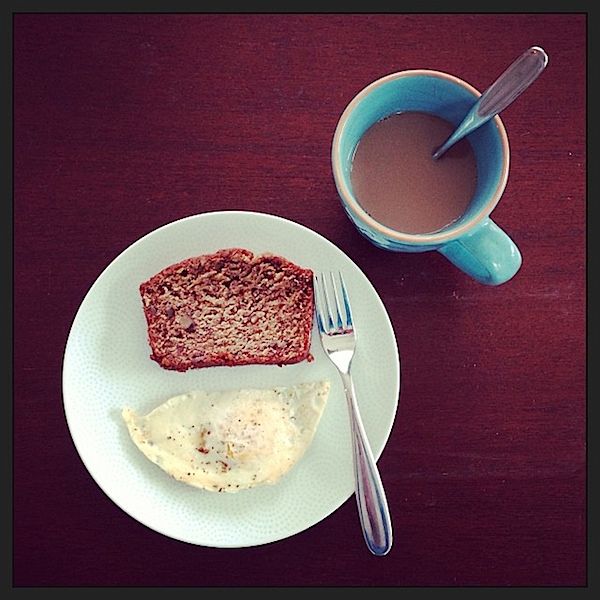 I'm a pretty repetitive eater. One of my favorite things to eat is a fried egg with some form of carb. Mom sent us home with some of her fresh-baked banana bread after the holidays, so I happily toasted a slice of that. I think one of the easiest ways to stick with eating in is to have food you love and look forward to. Same with healthy eating. When you're excited about it, you want to eat it. Find little ways to treat yourself.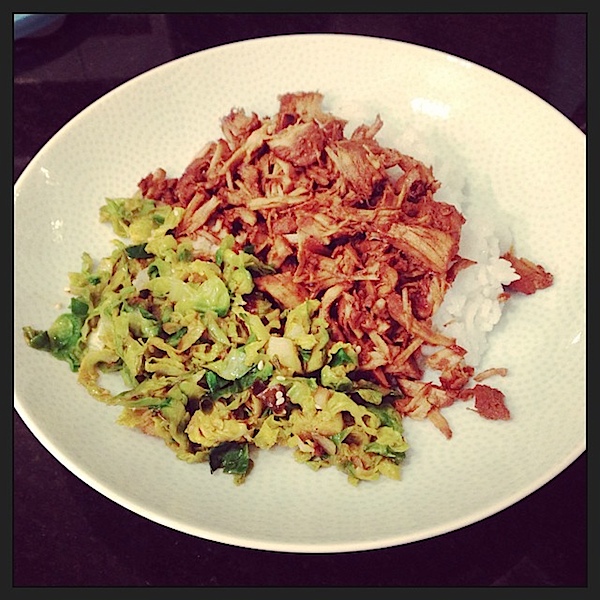 We decided to make my Mom's Filipino Pork Adobo for dinner. We love this because it's easy, affordable, and you can double the recipe for tasty leftovers later. Leftovers always really help us with successfully completing the Eat in Month challenge. It's so nice when you have something you can easily re-heat, especially when you think the leftovers still taste good. I don't think all things reheat well, but I do think this pork adobo does.
January 3, 2015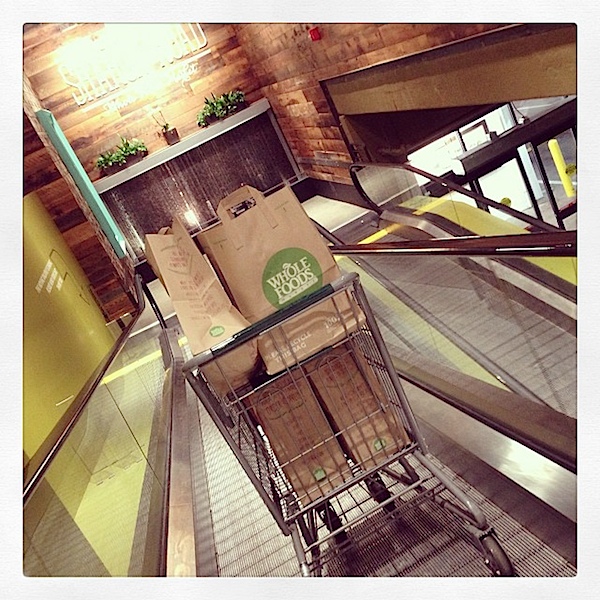 I really didn't feel like going anywhere Saturday afternoon/evening. I knew I needed to get groceries, but I also knew I had enough food that I could put it off…one more day, at least. After cleaning and reorganizing my pantry earlier in the day, I was able to make a list of key pantry items to pick up. Plus, I knew what I needed for eats for Sunday. I had grand plans of hitting my favorite grocery stores to look for the best deals. As a compromise, I went to just Whole Foods and decided to only get the items on my list that I needed for Sunday or that were on sale for a good price.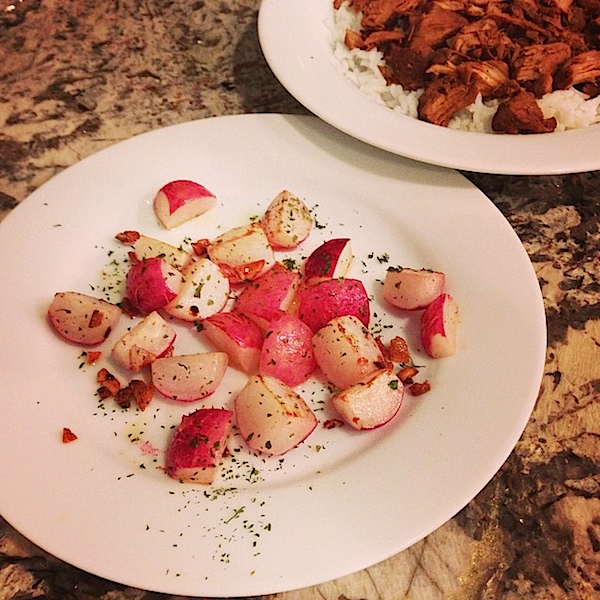 Once I got back with groceries, I put them all up and realized we had an extra bag of radishes. I spent most of my pantry evaluation literally in our dry storage pantry. Oops. So, I sautéed some of the radishes with garlic and butter. This is a really simple and different way to eat radishes, and I really like it. I'll do a recipe post for you guys so you can try it, too. This would make for a really easy side for everyday eats. I also re-heated some leftover rice and pork adobo from the day before.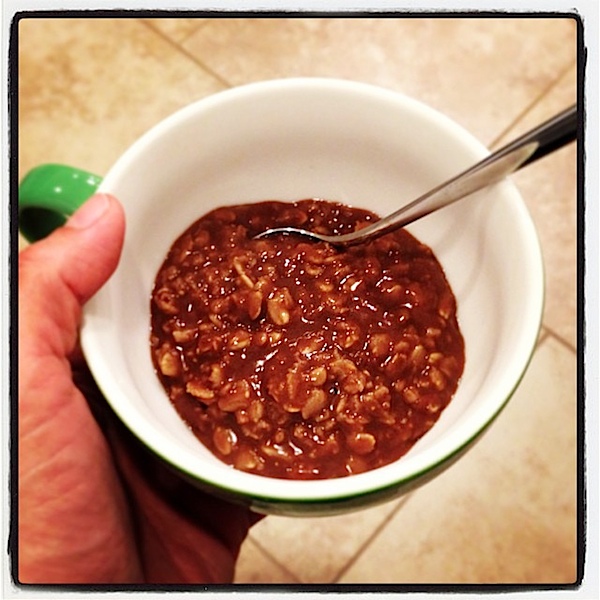 I was being frugal at the grocery store and decided to not buy this box of chocolate chip cookies that was calling my name. I would normally whip up some emergency cookies or something, but my oven is currently broken. With the weather being rather cold and rainy, a bowl of hot, chocolatey goodness sounded wonderful. I made a quick mug of Hot Chocolate Oatmeal on the stove. I think I owe you guys this recipe, too, so I'll add this to the queue.
Eat in Month Week 0 Check-In Summary
I'm really happy with how the first couple days of the challenge have gone. I've definitely been eating healthier and have spent way less money that I would have had we gotten take out, etc.
I do still have some work ahead of me to really get organized for the Eat in Month Challenge this year. I think doing weekly meal plans will be very helpful. I think I say that every year, but I'm serious this time. For proof, I even have a Week 1 Meal Plan drafted on paper, and I'll share that post later today. I'm also working on a healthy pantry list, which I'm hoping to publish in the next week.
So far, I've really enjoyed all our meals in. We've turned to some classics so far, but I'm hoping to find a couple new recipes to try. Still, we're off to a great start!
How are you doing with the challenge? Any tips or tricks you'd like to share? Leave them in the comments!