"I have too many stickers," said no planner ever. Following the excitement of unboxing the Alex Studio monthly sticker subscription in July 2015, I decided to go ahead and get August. Side note: I've also since ordered September too, and it's in transit. I don't know about you, but I love watching the unboxing videos on YouTube. I don't know why they're so interesting, but they are. Probably in a similar way that food diary blogs and plan with me videos are. But, I digress. I filmed a quick video to share my Unboxing the Alex Studio August 2015 Mystery Sticker Subscription Kit.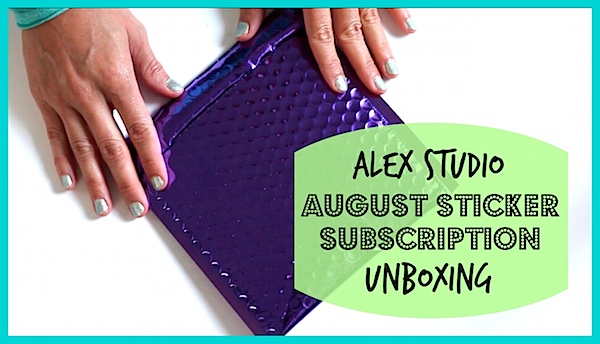 Sticker Subscription Overview
Technically, I guess it's an "unbagging" since the kit doesn't come in a box. But, "unbagging" sounds weird, so let's agree we'll just keep saying "unboxing" instead. And the stickers are technically not a subscription. Not in the way I think of subscriptions, at least. The payment isn't recurring. You have to purchase each month's kit, one at a time. This could be a potential limitation of Etsy's payment system, but I'm okay with it. Alex Studio currently has a 15 day window, from the 1st to the 15th of every month where you can order the following month's mystery sticker collection. It's plenty of time. Plus, the sooner you order, the sooner you get your stickers.
It costs $18 plus $2 for shipping. In the August kit, I received seven beautiful sheets of stickers, a journal card, and a could other cute goodies. One of my favorite Alex Studio sticker sheets, the wacky holidays, is only available in the monthly subscription.
Sticker Subscription Value
I took a look at the Alex Studio shop on Etsy and some of the sticker sheets resemble those priced at $4.50. If you assume two sheets cost $4.50 and the other four cost $4 and the wacky holidays cost $5, you get a value of $30. Pretty great deal if you ask me, especially considering how much I love Alex Studio stickers. They're always very well made and the colors are so pretty.
So, what's inside? Check out the video to see!
Unboxing the Alex Studio August 2015 Mystery Subscription Kit Video
These stickers came just in time. The tiki theme will be perfect for next week when I'm at Zumba Convention since the theme party is "luau"!
More Planner Goodness
Click here to check out Alex Studio on Etsy
Click here to view my unboxing of the July 2015 Alex Studio Monthly Sticker Subscription
Click here to view a Plan with Me Beach Theme that features the Alex Studio wacky holidays
***
Coming soon…
I filmed a Plan with Me featuring the watermelon stickers from the July 2015 monthly sticker collection. I'll be editing that one this week, and it will go up either before or on Sunday. Be sure to subscribe to my YouTube channel (click here to subscribe) to be the first to know when it's published. I've been letting my YouTube subscribers get first views for about 12-24 hours before sharing the video here on the blog. Just wanted to have a little benefit for my subscribers, so please subscribe to get new video notifications. It's free!
Thanks for stopping by!