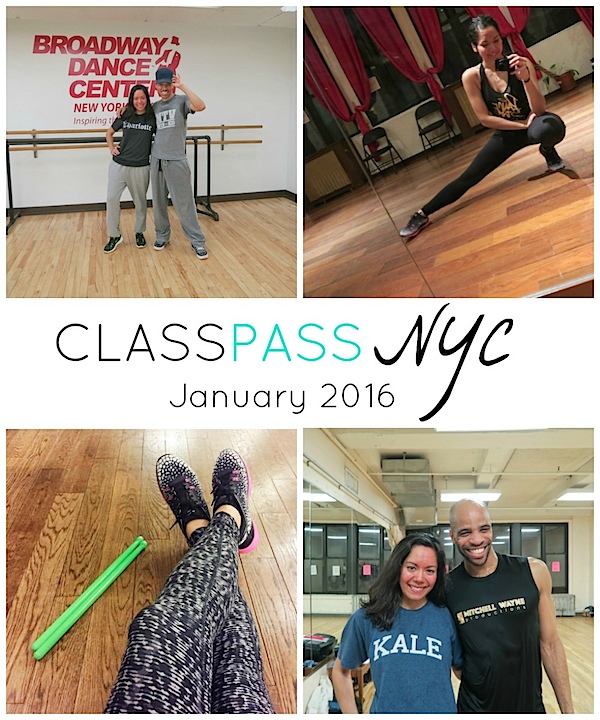 ClassPass NYC: My January 2016 Month Recap
After making the decision to sign up for ClassPass, the fun really began. Looking at all of the options in NYC, I was almost overwhelmed with the number of options available all over the city. Though my plan was to explore as many different workouts as possible, I decided to start out conservatively. Partially, this was due to working with a new client and making sure I was caring for their schedule and needs first. Additionally, I was still finding my way around the city and trying to adjust from doing nearly the same workout the last eight years.
ClassPass terms work on a monthly basis. I could attend unlimited classes within the ClassPass network, but I could only attend the same studio's classes three times per month. I found the limitation a disappointment at first. But, looking at the bright side, I figured this would be a good way to continue to push out of my comfort zone and try a variety of workouts and studios.
The Classes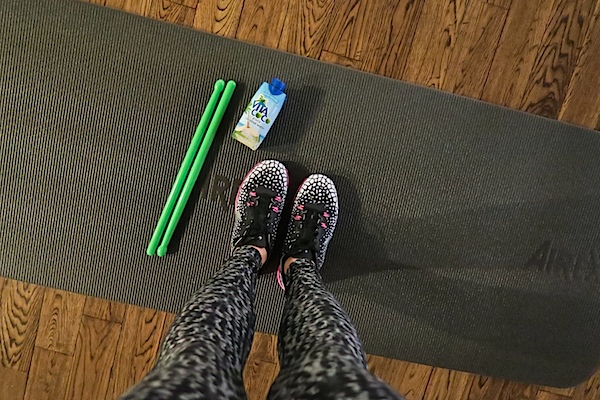 #1. POUND at Crunch Gym
I actually did my POUND Pro training in July 2014 on recommendations from my friends at FitBloggin without having actually taken the class. I owe you guys a blog post on the training. It was a great decision because I loved everything about it. The only downside was that POUND was a relatively new workout at the time. It didn't exist in Charlotte. I'd hoped to be the first instructor to roll the class out in the city but didn't manage to make that happen. So, I was most excited about doing a POUND class in NYC so I could finally enjoy the experience and also learn more about how great POUND instructors teach.
It was sort of difficult to figure out where the POUND classes were, even with the search tool on the POUND web site. And I couldn't easily find the classes on the ClassPass web site or mobile app. I did find out that Crunch Gym offered the class at many of their locations.
At my first POUND class, the usual instructor, Joyce, was out of town, so Eric subbed. I loved his energy. He did a great job of engaging the entire room. I like to hang out near the back of the room when I try new classes, and he walked around a few times and made sure we were all having a good time and were in good form.
The workout itself was pretty intense for someone who primarily does dance cardio. POUND has four basic positions that are based in squats, lunges, ab-work, and glutes/thigh work. I believe we did the first three of those in this class. And Eric totally kicked my butt with all of them. I had to walk down a set of stairs to leave the gym, and I barely made it down. My legs felt like jello in the best way possible.
#2. POUND at Crunch Gym
For my second NYC workout, I went back for more POUND. I still want to teach POUND one day, so what better way to learn than by taking the class, right? Not to mention I really liked doing the workout as a participant. Joyce was still out of town so another girl subbed for her. She was a solid instructor. She told me at some point that she didn't normally teach POUND, but she seemed to know what she was doing to me. My guess was that she was POUND certified but just didn't teach it on a weekly basis. Maybe more as a sub, when needed.
The workout was still intense, but I felt stronger already.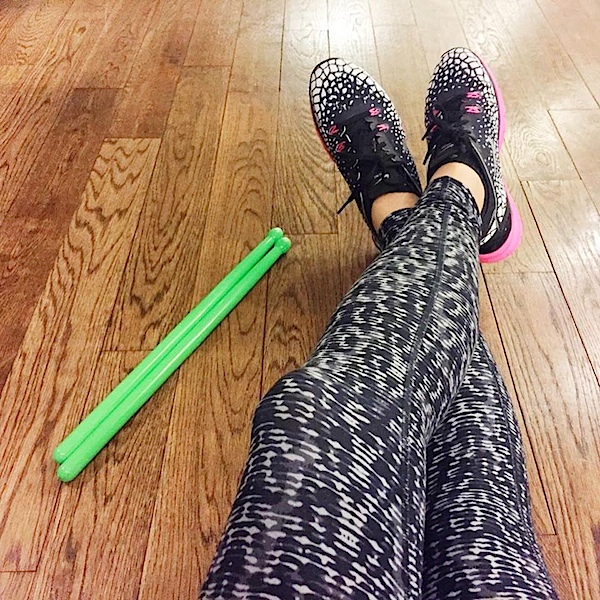 #3. POUND at Crunch Gym
For my third NYC workout…you guessed it. I went back for more POUND. I know, way to branch out! I was excited to learn Joyce was back and teaching this night. I could tell immediately she was a really experienced POUND instructor. Being an instructor who is really into explaining how things work to classes in detail, I really liked her thorough intro. And then there was her energy! She was fun and very easy to follow. I loved class and was glad to know I had many more classes with her to look forward to.
#4. Zumba with Kam at The Ball NY
I decided to check out a NYC Zumba class. It was located at a ballroom dance studio called The Ball. The instructor, Kam, was a little ball of energy. She was super petite but super energetic. The room was pretty tiny, but there were at least a few regulars there. Kam had a really authentic love of dance that came through in her teaching, which was great to see.
#5. Cardio Bollywood at Pearl Studios
Cardio Bollywood with BnBDance Company is one of the most perfectly named classes I've seen. I literally felt like I was doing real Bollywood dance moves but with an easy-to-follow cardio style of class. If you like the structure of Zumba and want more Bollywood dance moves, this would be a good one to try. I really enjoyed this class!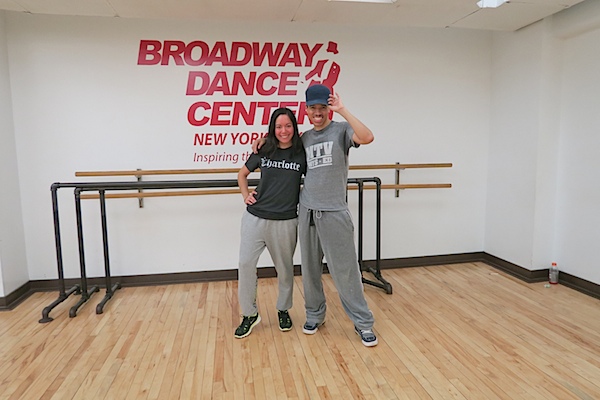 #6. Beginner Hip Hop with Q at Broadway Dance Center
My most challenging class happened when I accidentally signed up for too high of a class level. When I reserved a beginner hip hop class at Broadway Dance Center, I didn't realize that a BDCNYC beginner is someone with 2-5 years of experience! Eep! I went anyways. Though it was tough, this class most helped me with my goal of growing. I wrote a separate blog post about the experience, so keep a look out for that one soon.
This class was 90 minutes long with a 30 minute warm-up and then 60 minutes of choreo. We broke into groups of two for the last couple minutes and danced for each other. It was a little nerve-wracking, but perfect for getting out of my comfort zone.
In the end, my biggest hurtle was being stuck in my head thinking I wasn't going to be successful. It was a tough lesson and one I wouldn't even realize until many dance classes later. But many good things happened. I saw dancers who inspired me by showing me what I could be if I kept at it.
One of the best things to come out of this class was meeting Q. I really liked his instructor style and have since signed up for an Absolute Beginner Workshop and then Basic 6 week session. Both were outside of ClassPass but were worth it for the opportunity to work more with Q.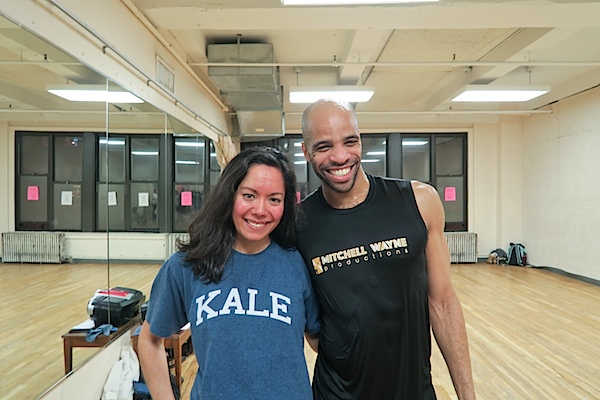 #7. "Toxic" Classic Britney with Mitchell Wayne Productions at Chelsea Studio
After my beginner hip hop dance class, I was a little nervous about how my next dance class would go. Mitchell Wayne Productions was actually one of the first dance classes I'd seen in my research before arriving in NYC. I actually texted a girlfriend a screenshot of one of the Britney classes he was teaching. Having learned my lesson about levels, I emailed them to confirm no dance experience was needed. I got a reply in less than 2 hours that no experience was needed. Impressive! I've always been a fan of Britney Spears' dancing, so I signed up for Classic Britney choreo to "Toxic".
The class was packed, and I soon learned why. Mitchell and Annette are amazing!
We started with a couple warm up songs and then "Toxic" came on. Mitchell jumped into non-verbally teaching some of the choreo for the song. I was still stuck in my head, thinking I couldn't do it. Sure enough, it seemed like everyone around me was picking it up faster. Just as I was getting nervous, Mitchell told us that he was now going to go into breaking down the moves slowly and with verbal instruction. And he surely did. His creative and cheeky descriptions not only stick with you but really help you visualize how you should be moving.
I loved his enthusiasm and obvious love of dancing (and Britney choreo). But on top of that, he was an amazing instructor. He made everyone feel confident, comfortable, and he made us learn a ton of choreo. And Britney's actual choreo at that. I went home and looked up the video for what we did and was shocked that I had actually done real Britney choreo. Consider me hooked.
#8. "Waiting for Tonight" JLo with Mitchell Wayne Productions at Chelsea Studio
Since I had such a good time with "Toxic", I went back to Mitchell Wayne Productions for more. This time, we did JLo's "Waiting for Tonight". The choreo for this one was a little easier and more repetitive while still being very fun. This was the first time I really felt like I was meant to be there and capable of not just doing the class but really going for it. I got to talk to Annette and Mitchell after class and they were so nice. If I wasn't hooked before, I was a lifelong fan now.
My ClassPass NYC January 2016 Summary
I was really impressed with my first month on ClassPass. It's pretty much a fitness buffet. The possibilities are endless. Though I'd started off slow, I was looking forward to jumping in more with the next month.
Cost Breakdown
8 classes on one month unlimited
$125 for the month
$15.63 per class
$15-ish per class is pretty good for NYC prices. The rates I'd seen ranged from $12 to $30 per class.
A Quick Note on the NYC Pricing
You may have heard all the chatter about the NYC ClassPass rate increase. While I'm not thrilled about paying more money, I'm currently planning to stick with the service. Since I'm using ClassPass to explore the city and try a diverse group of studios, it's still a good deal to me overall.
ClassPass Discount
If you'd like to try ClassPass, you can use my referral link (click) to get a discount. If you use my code, we'll both save some money (currently $20), so it's win-win. I hope you enjoy ClassPass as much as I do.
***
Questions? Leave me a comment. Or, email me at thechiclife at gmail dot com.
Thanks for reading!