How about dinner in 15 minutes or less? This Quick Vegetable Noodle Stir Fry Recipe has become one of my go-to's when I'm working in NYC. After a long work day, when I don't feel like I have the energy to cook but I still want to eat in, this one is my saving grace. Not only is this Quick Vegetable Noodle Stir Fry Recipe fast, it costs less than $10 a serving. And since I use a lot of frozen vegetables, I can even make it without a trip to the grocery store. Though, I typically prefer to pick up a few ingredients fresh for better taste.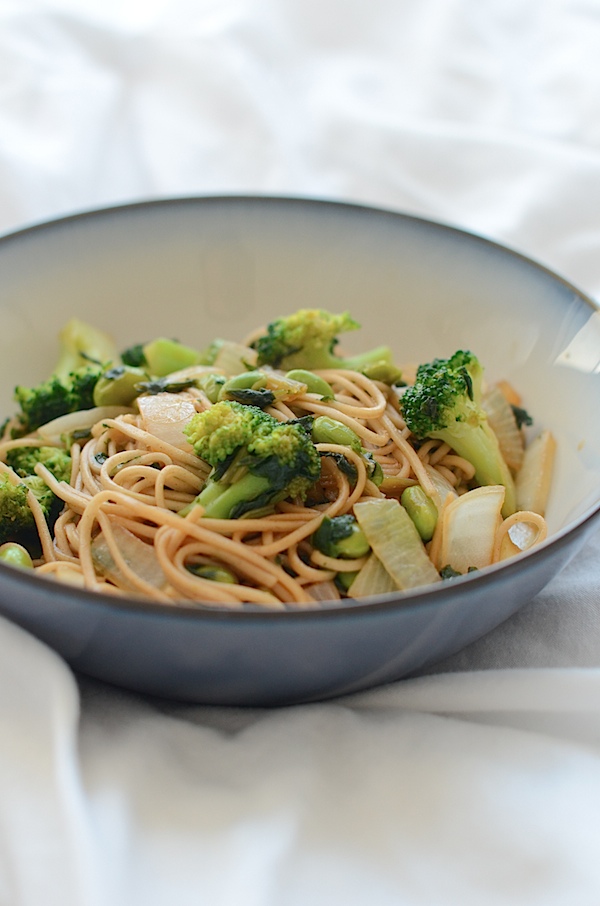 This is an updated version of my 3-2-1 vegetarian noodles. I've continued cooking variations of that recipe over the years and wanted to share a new version with you since I've been enjoying it so much.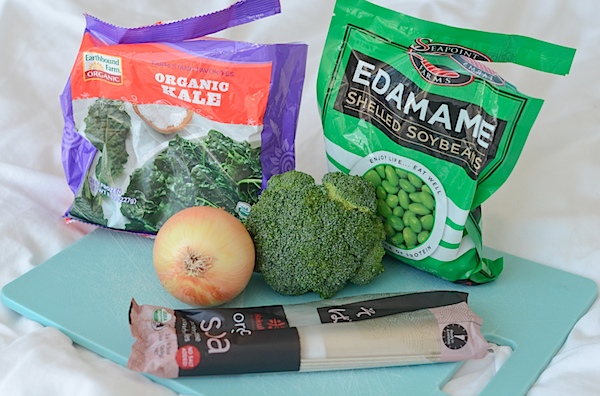 Quick Vegetable Noodle Stir Fry Recipe Ingredients
I prefer some ingredients frozen and some fresh:
Frozen: organic kale (I use frozen since fresh can be a lot of work to clean), shelled soybeans
Fresh: onion, broccoli (and sometimes I add others, like snap peas, snow peas, sprouts, etc.)
And I keep the noodles in the pantry. I like organic soba and udon by Hakubaku.
Sometimes, I'll add tofu (I like the already cubed so I don't have to press/drain it) for extra protein, but the soybeans do a pretty good job. If you're an omnivore, you could easily add grilled or shredded chicken, or any other protein you prefer.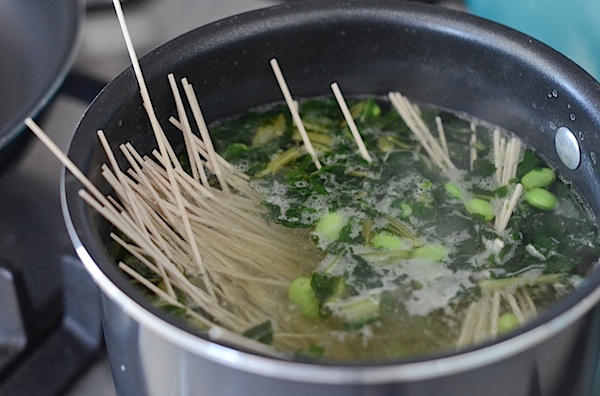 It takes almost as long for the water to bowl as it does to finish this recipe.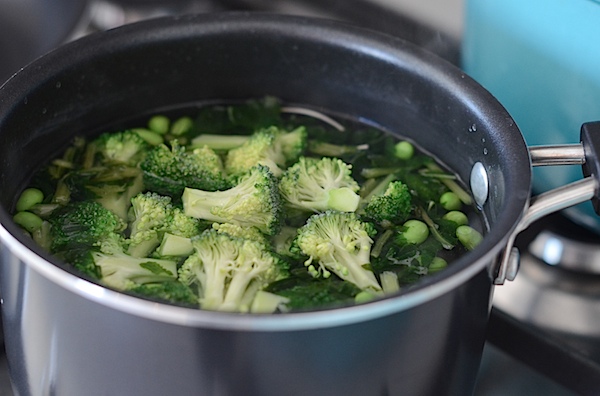 The noodles and vegetables all cook in roughly 5 minutes or less.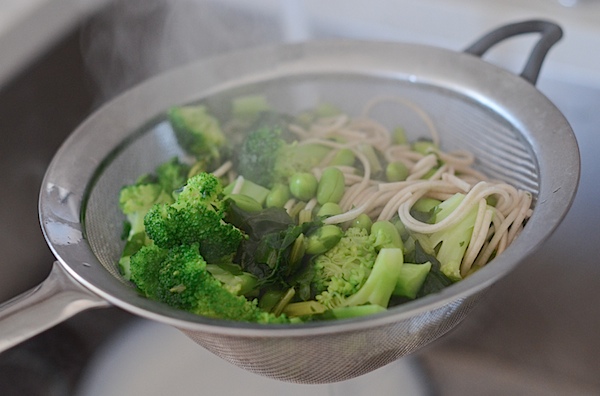 After a quick drain, you sauté them with onions.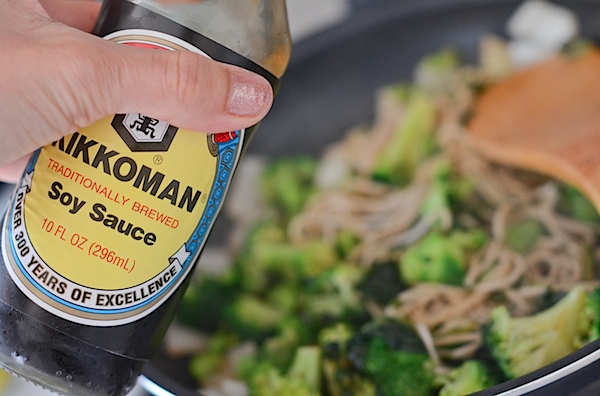 Add soy sauce.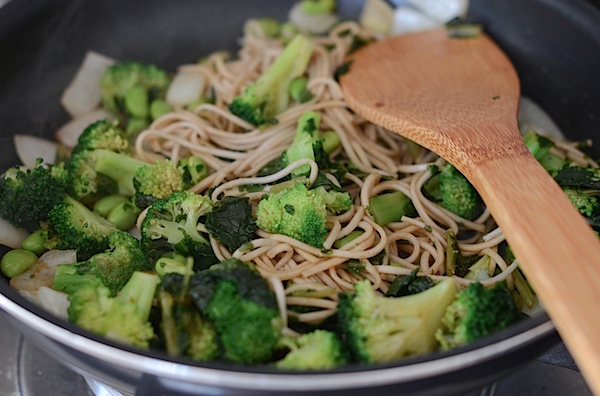 And dinner is ready.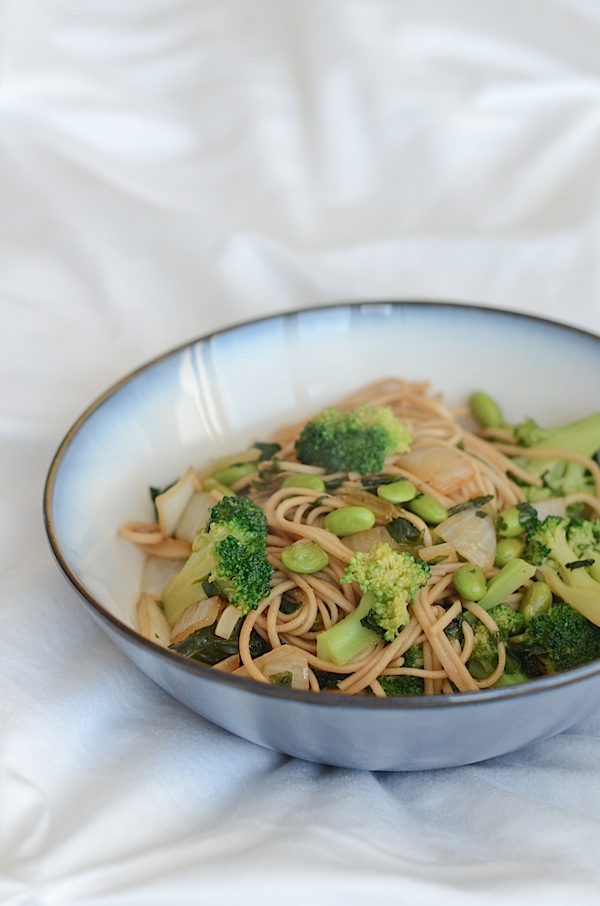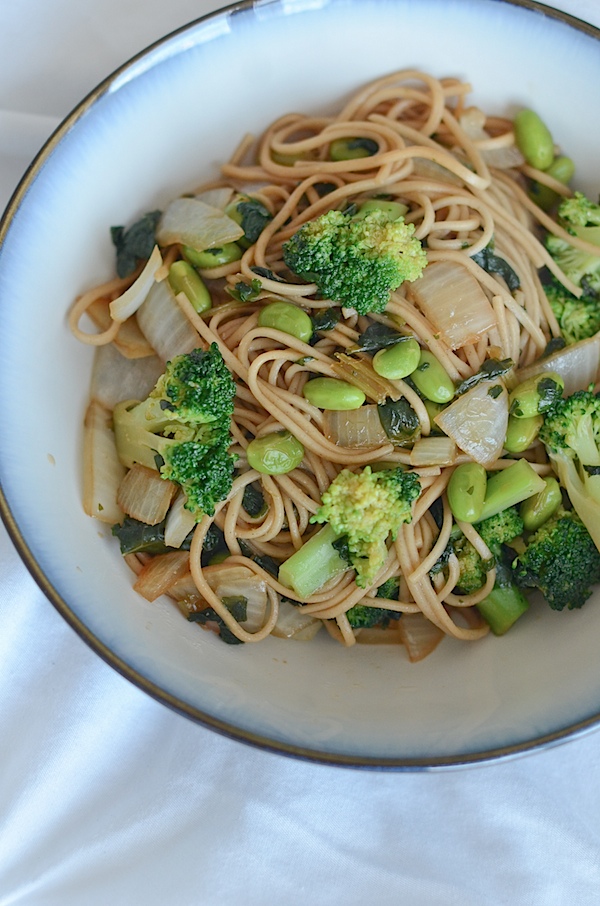 It's so easy, tasty, healthy, and affordable. I really look forward to enjoying this one pretty frequently.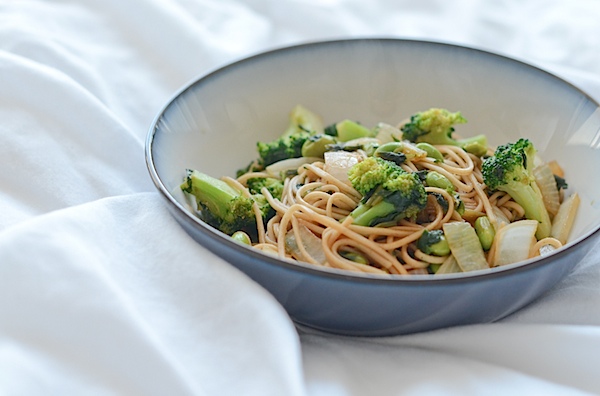 Print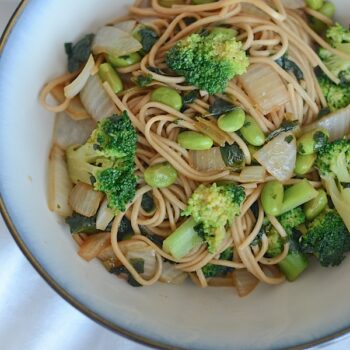 Quick Vegetable Noodle Stir Fry Recipe
Author:

Prep Time:

5 mins

Cook Time:

10 mins

Total Time:

15 mins

Yield:

1

1

x
---
Description
This is one of my go-tos when I want something fast, healthy, and affordable for dinner after a long work day. With this recipe, I can have dinner ready in 15 minutes or less!
Note: this recipe has been written for max efficiency. The timing is pretty particular so everything cooks together nicely and you save as much time as possible. We'll start by cooking the slowest ingredient in a pot of boiling water and continue from there. It takes a little time to get the timing just right, but this recipe is pretty forgiving. I hope you enjoy it as much as I do.
---
1/2 cup

frozen kale

1/2 cup

frozen edamame

1/2

–

1

bunch dried soba or udon noodles (these usually come in

3

bundles per package)

1 cup

fresh broccoli cut into pieces

1 teaspoon

extra virgin olive oil

1

small onion, chopped

2

–

4

teaspoons soy sauce
drop sesame oil, optional
sesame seeds, optional
---
Instructions
Bring a medium pot of water to a boil. The cook time of the frozen vegetables will depend on the package. Typically, kale and edamame take 5 minutes. Once the water is boiling, start pre-heating a large sauté pan over medium heat. Next, add the frozen kale and edamame to the pot of boiling water, stir, and start the timer at 5 minutes. At the same time, add the EVOO to the pan and start sautéing the onions, stirring frequently. Then, one minute later, add the noodles (since these typically take 4 minutes). Gently stir the noodles in. Next add the broccoli and stir.
When the timer goes off, drain the ingredients and add to the sauté pan with the onions. Stir together. Drizzle in soy sauce. The amount will really depend on how salty you want it. Just add a little at a time and taste test.
Cook until the flavors have mixed together and the sauce is evenly distributed, about 2-3 minutes. Stir in a drop of sesame oil, if using.
Add to a bowl and top with a sprinkling of sesame seeds, if using. Enjoy!
---
Notes
This recipe easily doubles.
If you want more protein, you can add pre-cooked shredded chicken, grilled chicken, sautéed shrimp, etc.
Sometimes, I stir cubes of tofu into the sautéed onions just before adding the cooked and drained noodles and vegetables.
Recipe Card powered by
More Quick Dinner Recipes
Here are some more quick dinner recipes you may enjoy:
Thanks for reading!