Our imperfections make us beautiful.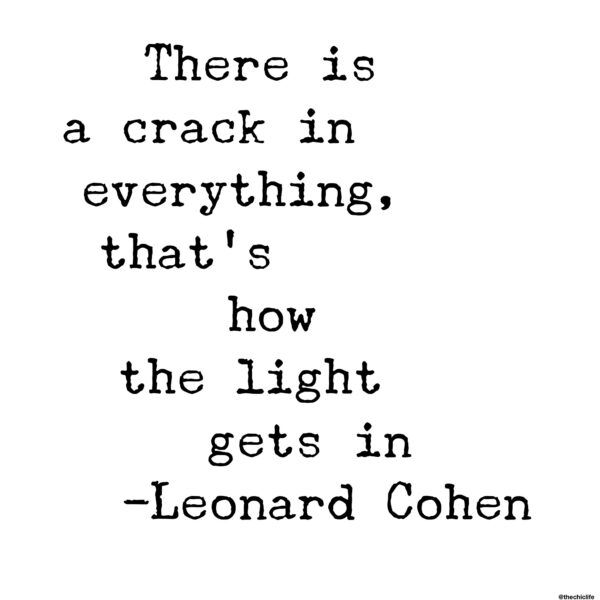 There is a crack in everything, that's how the light gets in ~Leonard Cohen
I learned about Leonard Cohen's passing and spent this morning reading more about him. I absolutely love the above quote from Leonard. So short and simple and yet profound. I found some interview snippets (see link below) with Leonard and his words were so deep.
Just like his music. His lyrics really speak to my poetic side.
If you're not familiar with Leonard Cohen, he's the genius behind the song "Hallelujah":
This cover of "Hallelujah" by Jeff Buckley is magical:
The word Hallelujah of course is so rich; it's so abundant in resonances. It is a
wonderful word to sing and people have been singing that word for thousands of years. It seems to call down some kind of beneficial energy just when you declare in the face of the kind of catastrophes that are manifesting everywhere just to say Hallelujah. To praise the energy that manifests both as good and evil just to affirm our little journey here. It is very invigorating to sing that word.
And if you'd like to read more about "Hallelujah", this post includes some great information. I also enjoyed reading different thoughts on the meaning of "Hallelujah" in this Quora article.
RIP Leonard