I've been so excited to share this Healthy Chai Tea Latte Recipe because it's so easy and delicious. It's like bringing your local coffee shop to your home. You may find yourself asking, "Should I go to the coffee shop or save myself the trip and just make this 5 minute latte?" At least, I've found myself asking this question. It's even healthier than Starbucks!
Please note: This post contains affiliate links. If you make a purchase from one of these links, I may make a small commission at no extra charge for you. Please feel free to reach out to me if you have any questions.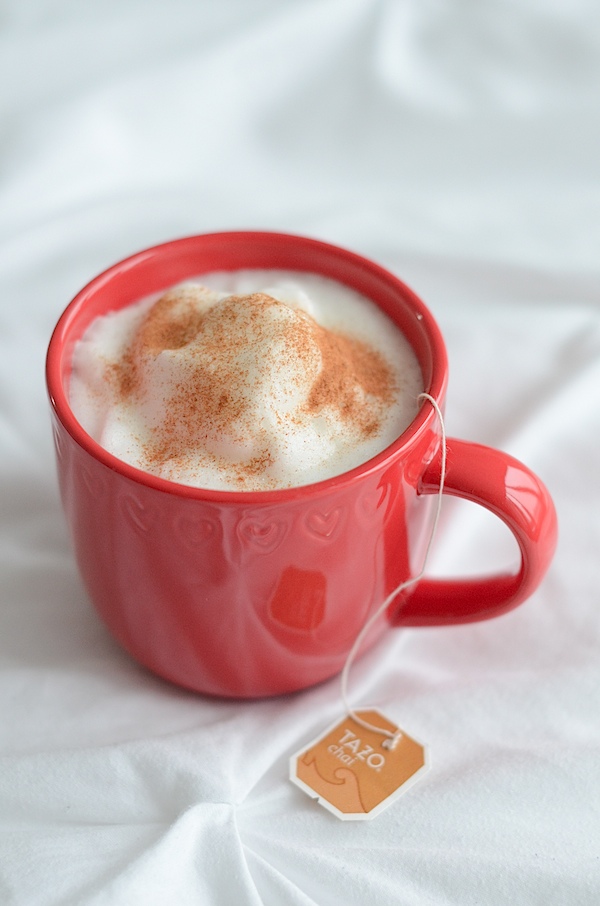 How to Make Chai Tea Latte with a Tea Bag
Many coffee shops use a chai tea concentrate to make their lattes. My biggest problem with the concentrates is how sweet they are! Sometimes you just want a chai tea that is spicy and cozy without being excessively sugary. You know what I mean? But there are other options!
My favorite thing about this recipe is that it uses a tea bag. The tea bag feels much more clean eats than the concentrate. I've only looked at the ingredients on a couple of those things, but they usually have a couple extra (processed) ingredients.
Not to mention this Tazo Chai Tea I'm using is organic. Woop!
Chai Tea Bag Clean Ingredients
These are the ingredients in the tea bag I used to make this Healthy Chai Tea Latte Recipe:
Organic black teas
Organic ginger
Organic cinnamon
Organic black pepper
Organic cardamom
Organic cloves
Organic star anise
Just spices and teas. Nice! This is by Tazo Tea.
Buy This Tea: Get this tea shipped via Target here.
Healthy Chai Tea Latte Recipe Ingredients
While the tea has many ingredients (clean ones luckily!), the latte has few:
Organic chai tea bag
Water
Almond Milk (or Milk of choice)
Sweetener of choice (I used honey, but agave or raw sugar would be great too – and vegan!)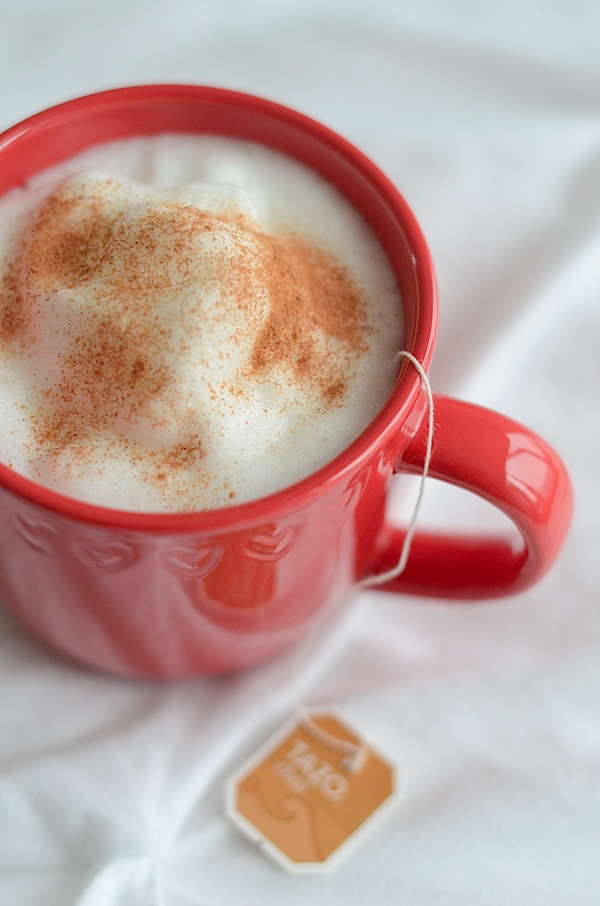 How to Make a Chai Tea Latte Healthier Than Starbucks
Here are some ways this Healthy Chai Tea Latte is healthier than Starbucks:
Way Less Sugar (And Calories)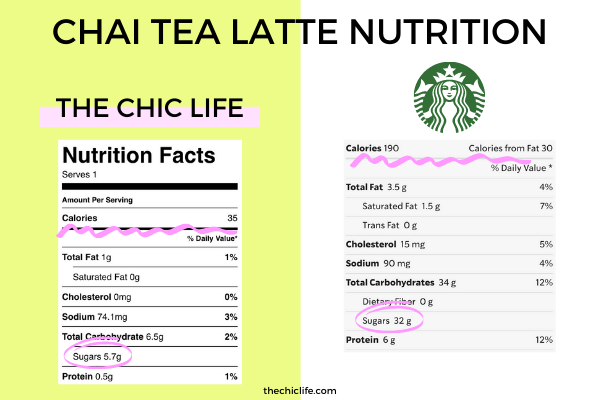 My recipe (around 10 ounces in total size) has 5.7g of sugar. The Starbucks version has 32g of sugar! Note: This is for the tall size (12 ounces), which is the smallest size you can order off menu – though you can get a short at 8 ounces by requesting it.
Also, less important to me personally since I don't calorie count any more, but my recipe is also much lower in calories.
Clean Ingredients – No "Natural Flavors"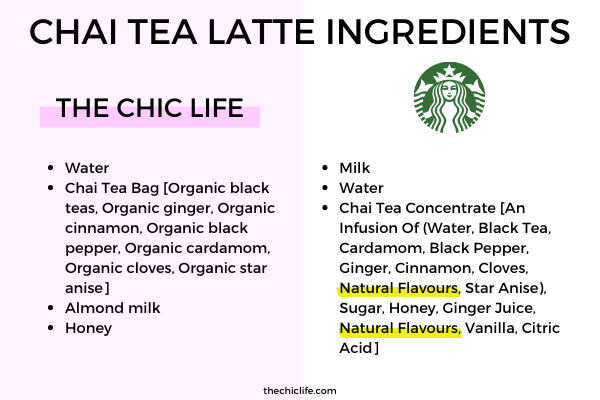 My recipe is made with ingredients you're familiar with. The Starbucks version has what looks like a decent ingredient list. Though one thing does trouble me a bit – 2 types of natural flavors, which (despite the name) are not all that natural.
Natural flavors are not whole foods. They're created in a way similar to artificial flavors. They just have different conditions. I'm planning to write more about this, and I'll link that post here when it's ready.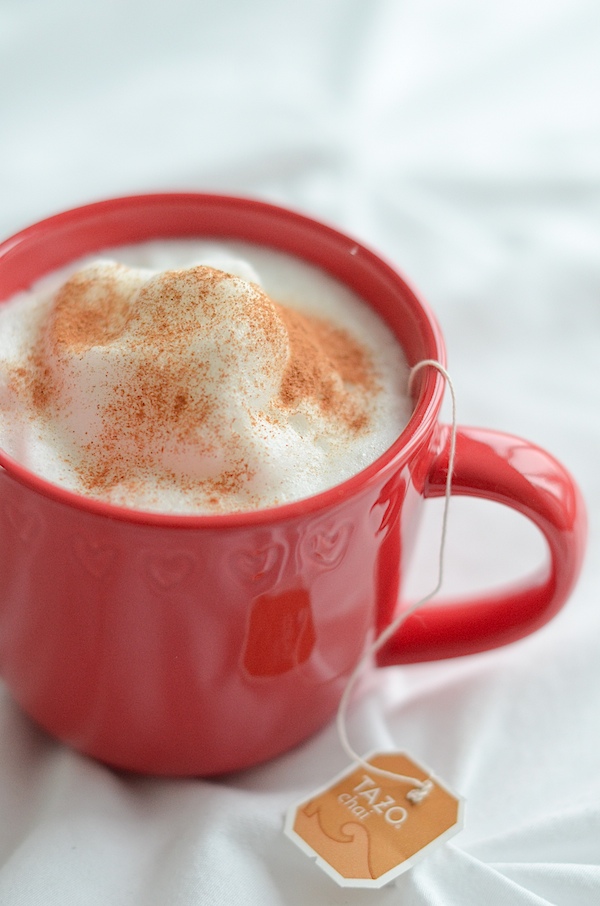 How to Create Frothed Milk the Easy Way
Check out this froth! Not sure if you can tell from the photo, but it is truly voluminous. And this is almond milk!
So far, I've had good results frothing almond milk and dairy milk. As you saw in my other chai tea recipe, the coconut milk doesn't get nearly this poofy.
In recent years, a flurry of at-home milk frothing gadgets have become super popular, luckily for you and me. Basically, you pour your milk into this little machine, top it with a lid, and push a button. Just a couple short minutes later…boom! Frothed milk. Sweet!
The milk frother I used to get this amazing foam is no longer available online. Luckily, there are lots of good options out there. I've researched online and found some options you may enjoy that also have high reviews:
Happy frothing!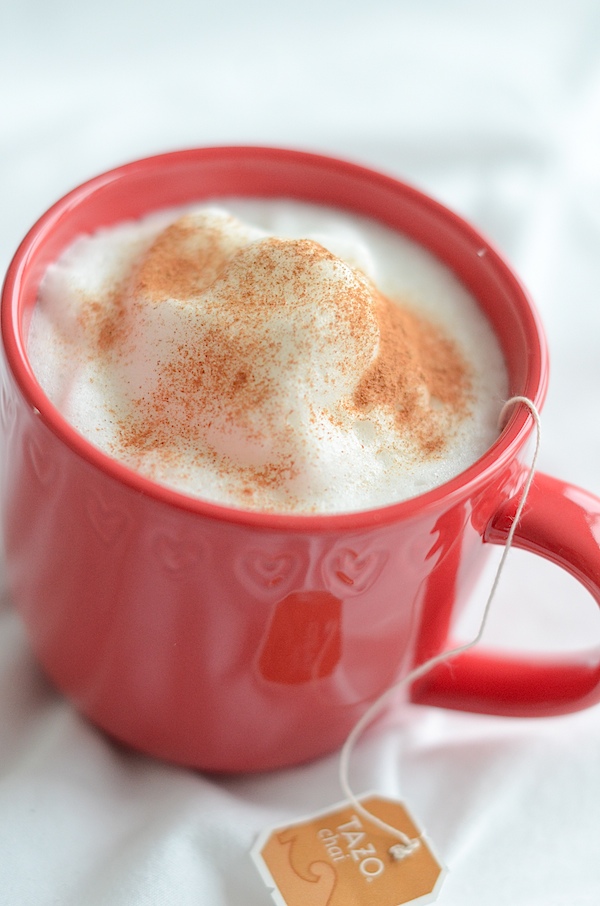 Print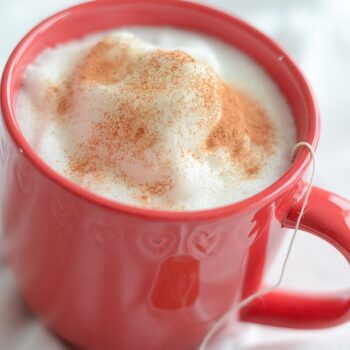 Healthy Chai Tea Latte Recipe
Author:

Prep Time:

5 mins

Cook Time:

5 mins

Total Time:

10 mins

Yield:

1

1

x
---
Description
Skip a trip to the coffee shop and make this healthy chai tea latte recipe from the comfort of your home. You only need a frother and a couple key ingredients to whip this delicious latte up.
---
1

Chai tea bag

1 cup

boiling water (or temp directed by tea you're using)

1/3 cup

almond milk (or milk of choice)

1

–

2

teaspoons honey (or sub raw sugar or agave for a vegan option)
cinnamon, optional to sprinkle on top
---
Instructions
Using a large mug, place the tea bag in the mug and top with the water.
While the tea steeps, add the milk to the frother and froth according to device directions. Pour milk into the mug.
Let tea steep 5 minutes (or use time according to your tea). Remove the tea bag and stir in your sweetener. Top with cinnamon.
---
Notes
I used a 15 ounce mug. Be sure to use a big one because a normal sized mug won't handle all this fluffy, frothed milk.
Keywords: Healthy, Vegetarian, Vegan, Gluten Free
Recipe Card powered by
More Healthy Drink Recipes
Healthy Coconut Chai Tea Latte Recipe
Healthy Salted Caramel Smoothie Recipe
Click here for more Drink Recipes
***
Thanks for stopping by! Hope you enjoy this Healthy Chai Tea Latte Recipe!
📍By the way, I made these pinnable graphics for you. Share these to your Healthy Recipes board on Pinterest!