Sis and I are in beautiful Tampa, FL for a weekend of fun and sun. I did a bunch of catch up posts this morning at a cute coffee shop near where we're staying. But those were from NYC adventures. I'm going to try to be more real-time with this weekend. Currently blogging from the Airbnb. Btw, this is my first time staying at an Airbnb, and I'm loving it!
Karma?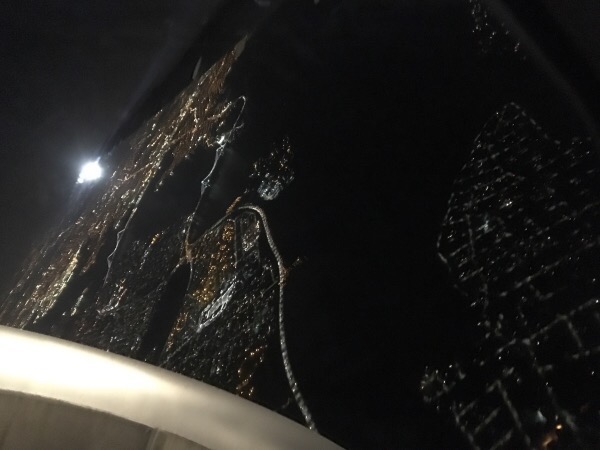 The trip started a little rough. I thought I'd seen earlier flights available on Delta's web site, but when I got to the airport, I realized that I was stuck on my 7:45pm. Then, the flight was delayed and didn't leave until 9:10pm! We landed around midnight, and I was patiently waiting for the three rows ahead of me to start filing into the aisle and leave the plane. Two girls behind me were like, "Can you go?!" And I said, "I'm waiting for these 3 rows to leave." Then I considered maybe they were late for a connection, so I asked, "Are you making a connection?" And the girls said, "Yea, if they're going to move this slow, we're just going to go" as they shoved past me and the poor people in front of me trying to de-board. #rude
Two girls to my right started telling me, "You did the right thing" when WAAAPPP! A little kid behind me yanked his suitcase from the overhead bin right into my forehead. I had to wonder if I had done the right thing. I didn't think karma worked this way. I touched my forehead to make sure it wasn't bleeding. It wasn't. The mom made his son apologize to me, and I simply said, "It's okay." I couldn't even be mad. I was more just exhausted and ready to go to sleep.
As I entered the airport, the two girls who had rushed past before were casually meandering through the airport. Not really sure why they were in such a rush.
Luckily, things were smooth sailing from there. My sis and her friend were waiting for me at the airport, and before I knew it, I was at the Airbnb eating some leftover won ton soup from sister's dinner. And then it was bedtime.
Daily Eats Brunch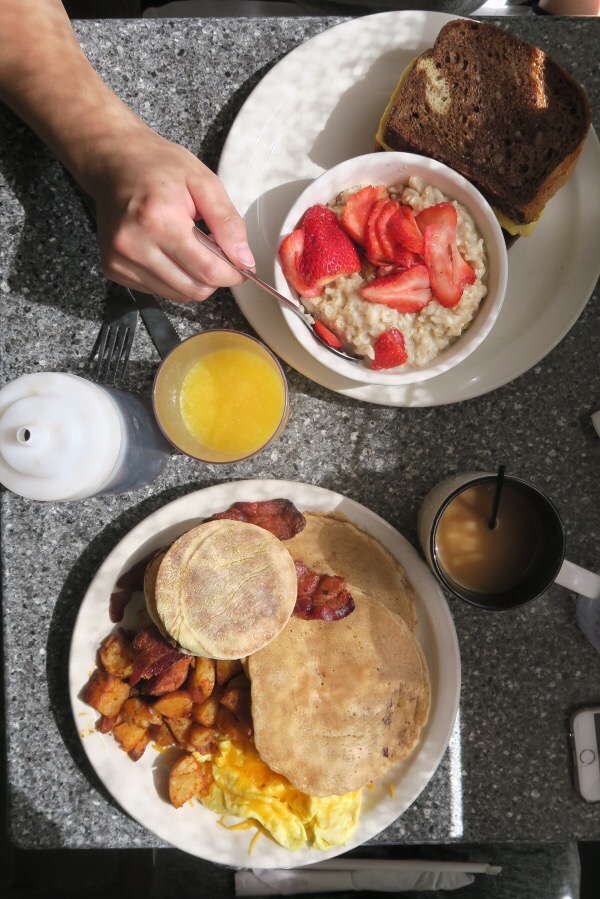 Sis found a cute place called Daily Eats for a good breakfast. The place was packed! Coming from the 9-to-5 world, I forget that not everyone is normally at work at 10am on a Friday.
I had the "Gigante": pancakes, scrambled eggs (I added cheddar cheese), home fries, bacon ("super crispy"), and an English muffin. Plus coffee. I also had a couple bites of my sister's oatmeal. The portions here were hefty and the food was great. I wanted to keep eating and eating, but eventually I ran out of space in my stomach. Lol! Definitely recommend.
Fort De Soto Beach
After brunch, we headed back to the Airbnb to change and get ready for…the beach! While researching Tampa, I heard that Fort De Soto has been named one of America's most beautiful beaches. It seemed like a great option. And more peaceful than Clearwater.
We stopped by Publix on the way and got subs for lunch, which we enjoyed on the beach with "Dirty" BBQ chips and Zico coconut water. I love this coconut water because it doesn't have added ingredients. On my sub: turkey, white cheddar, lettuce, tomato, banana peppers, pickles, and deli dressing. I had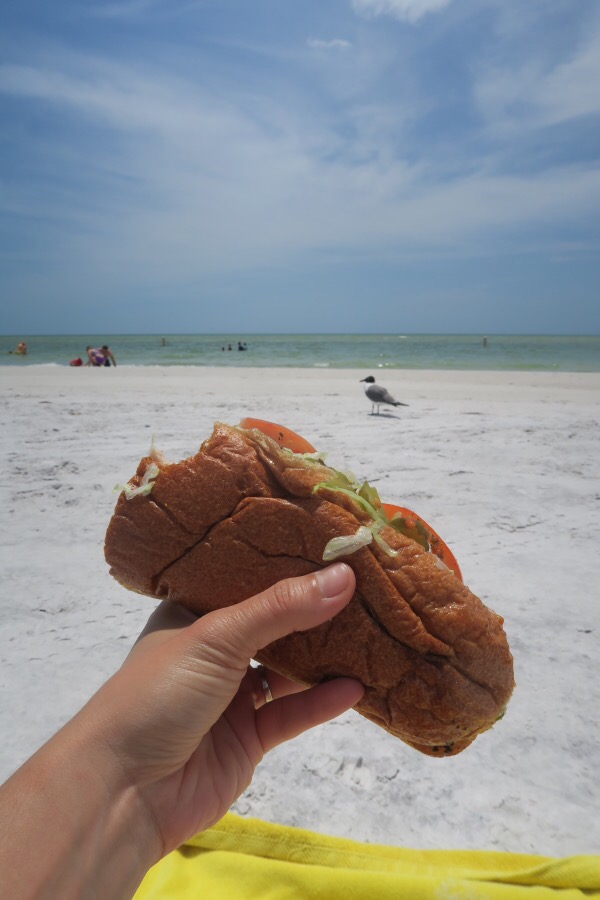 This seagull (in the background) was clearly waiting for me to drop something or toss food his way. Nope. I accidentally did that once before and that's a good way to attract every bird on the beach. Sorry, little guy!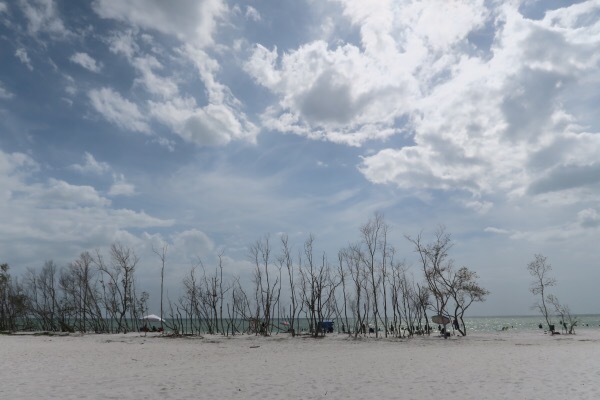 Fort De Soto really is stunning!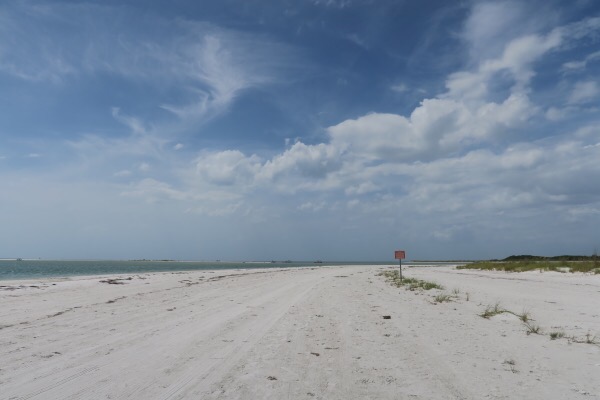 When we arrived we asked the nice lady at the gate which beach is her favorite. She said she recommended North Beach for it's "sugar soft sand and turquoise water." Sold!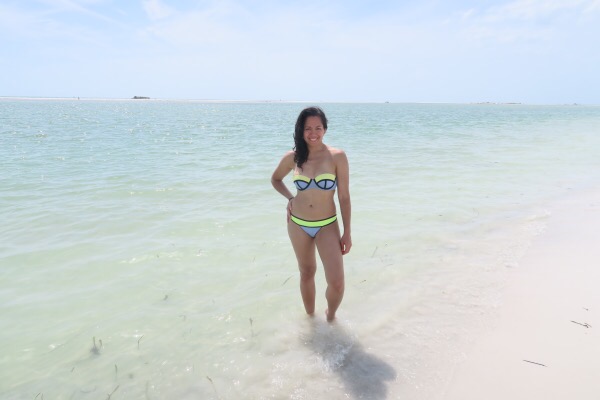 There was a tiny island off in the background. Do you see it in the above photo? I really wanted to go over there, but it seemed like the only way was by boat or by swimming. Maybe we'll get some floaties and come back? Hehe.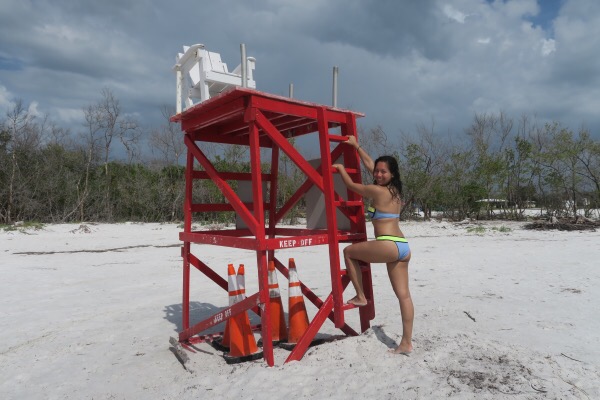 To climb or not to climb?
Also note impending storm in the background.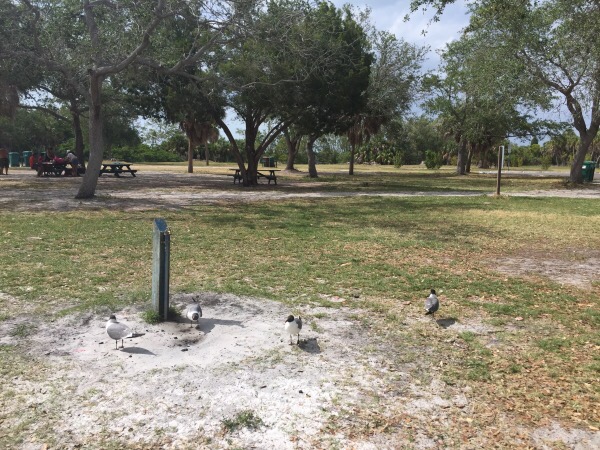 The seagull near the water was warning the others away with its sounds. Guess it was thirsty!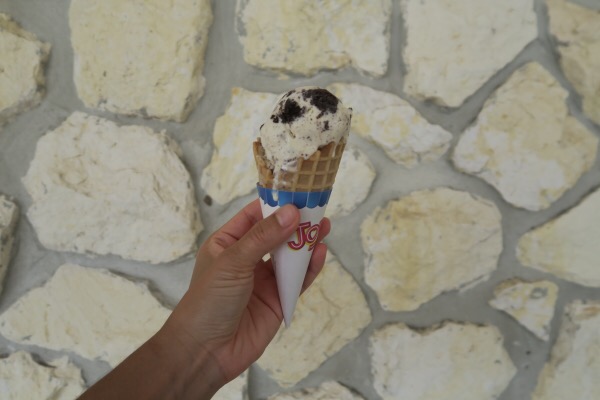 There's a cute snack bar on the beach where you can get snow cones and ice cream. I went for cookies n cream in a waffle cone. It hit the spot!
It started raining while we were eating our snacks, but luckily we were under cover. We waited for the rain to lighten up before heading back to the car. We made it almost all the way there when the rain started coming down again. This time, we found a different shelter and stood there a bit longer. Eventually, we made it to the car and were on our way back to Tampa.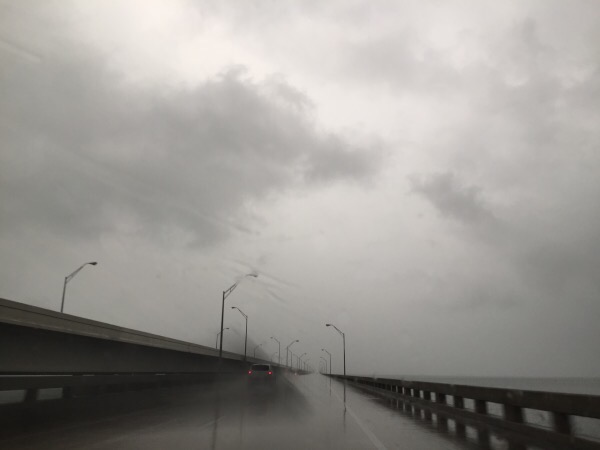 The drive back was a little scary. Just after taking this photo, we passed a car that had spun out and looked like it had hit the sides of this bridge. Luckily it looked like a few good Samaritans had stopped to help. Even in the rain!
Tampa Pizza Company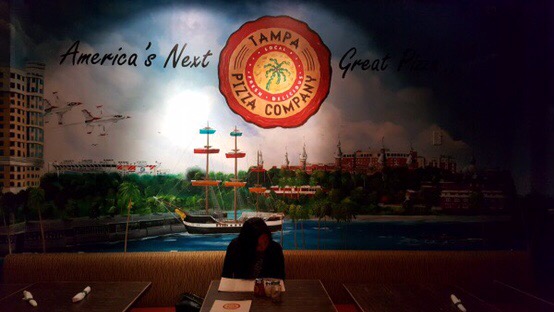 Somehow, we managed to eat dinner super late, so our options were a little limited. We were eating after 10pm. Sis found this cute pizza spot called Tampa Pizza Company. After having a little trouble with parking (took awhile to find free street parking and the nearby lot's lowest fee was $11!), we made it in. We picked this place because they seemed to use really quality ingredients.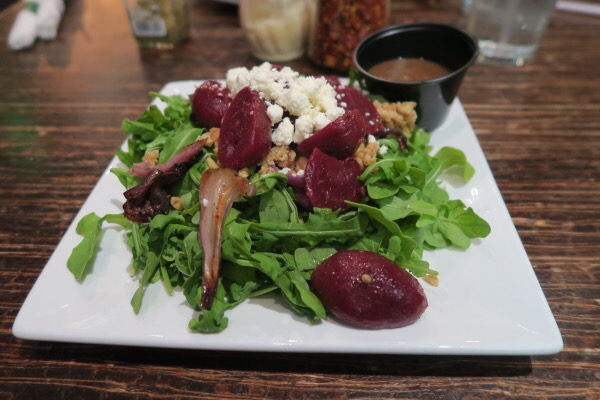 Since lunch was light on veggies, I had a beet salad with arugula, cheese, and nuts with balsamic vinegar on the side.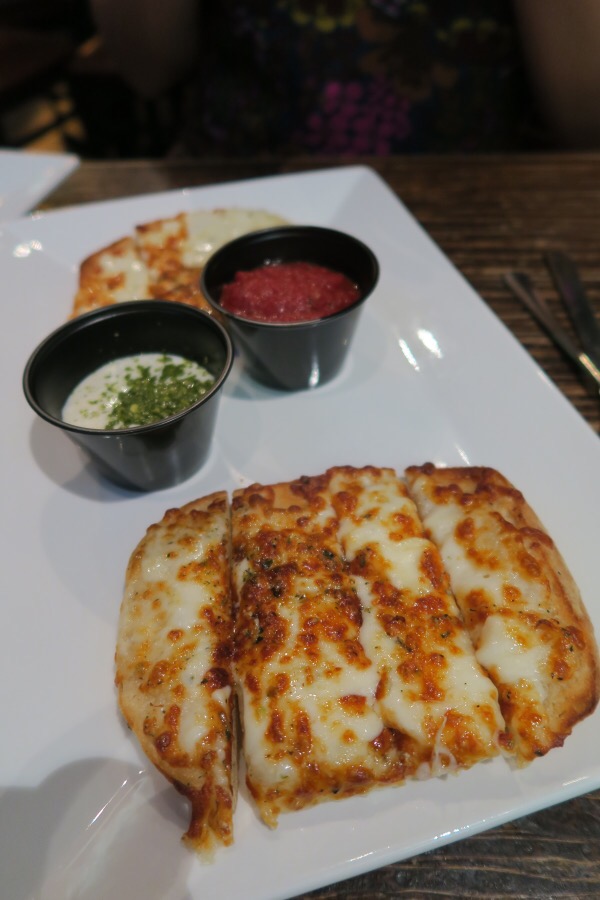 Sis let me have some of her cheesy garlic bread and a piece of her pizza. She built a personal margherita. Everything was delicious!
Next time – Sisters in Tampa Day 2! I'm finishing the writing for this post as Day 2 is wrapping up. We've been packing a lot in each day so it makes for really full posts!