Hey guys! I had a super fun trip to Brooklyn with some friends. I took so many photos, I've broken them into a couple posts. Here's the first one…
On Sunday, I met friends in Brooklyn for an afternoon adventure. I ended going from Manhattan to Brooklyn to Manhattan to Brooklyn and finally back to Manhattan. I think I walked over 20,000 steps, almost 11 miles, and climbed almost 8 flights of stairs. Phew! It was definitely a day for comfy sneakers.
DUMBO Market, Chocolate, and Doughnut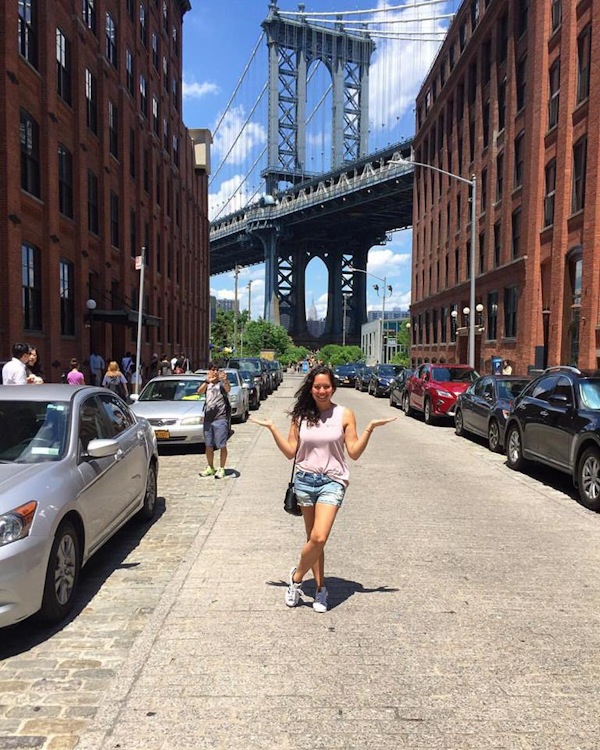 We met in Brooklyn near Borough Hall and then walked along the Brooklyn Promenade to DUMBO. One can never take enough photos in this iconic spot.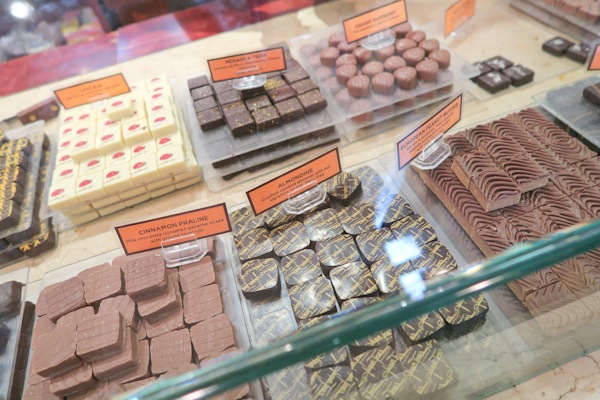 We swung by Jacques Torres for AC and a sweet treat. If you're walking around the area, this makes a great pit stop. It's relatively spacious inside, the AC is pumping, there's chocolate and gelato (if you want a cool treat), and there's a restroom.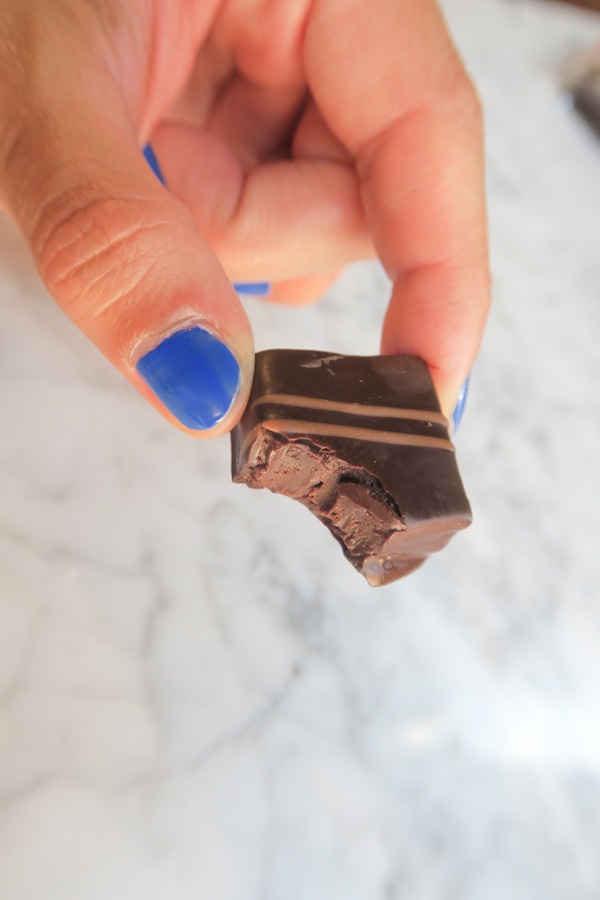 And the chocolate is delicious.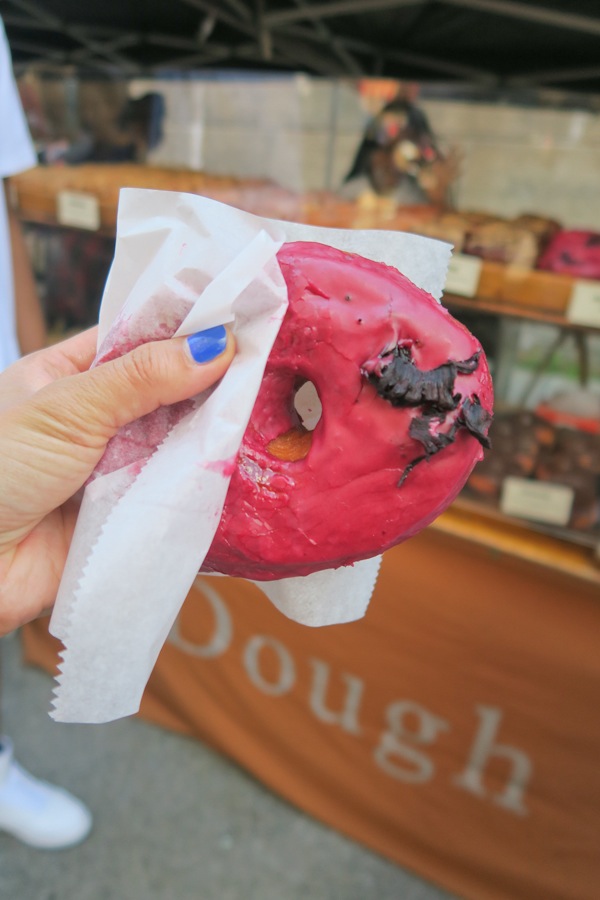 We noticed an outdoor market happening so we walked through and browsed around. We had plans for a late lunch, but based on how the day was going, our late lunch was starting to look like early dinner. So, we enjoyed a sun-warmed Dough doughnut. These doughnuts are especially good when they're warm. I had about half of the hibiscus. Not sure if you can tell from the photo, but these things are huge!
Walking Across the Brooklyn Bridge
Crossed another thing off of my NYC bucket list – crossing the Brooklyn Bridge. It was a little busy but the day was otherwise spectacular for this. Blue skies and lofty clouds. All made even better by getting to share the experience with friends.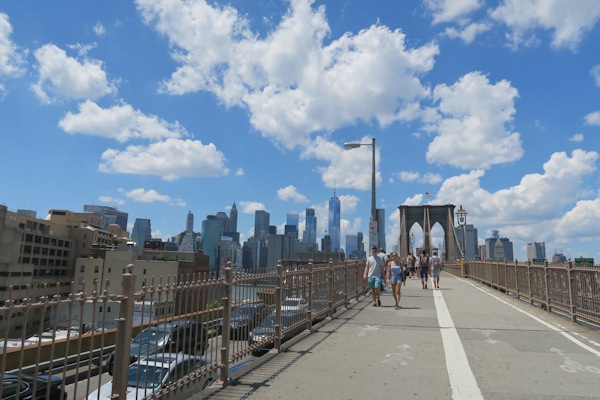 Since we crossed from Brooklyn into Manhattan, we got to see the beautiful Manhattan skyline in the background as we walked.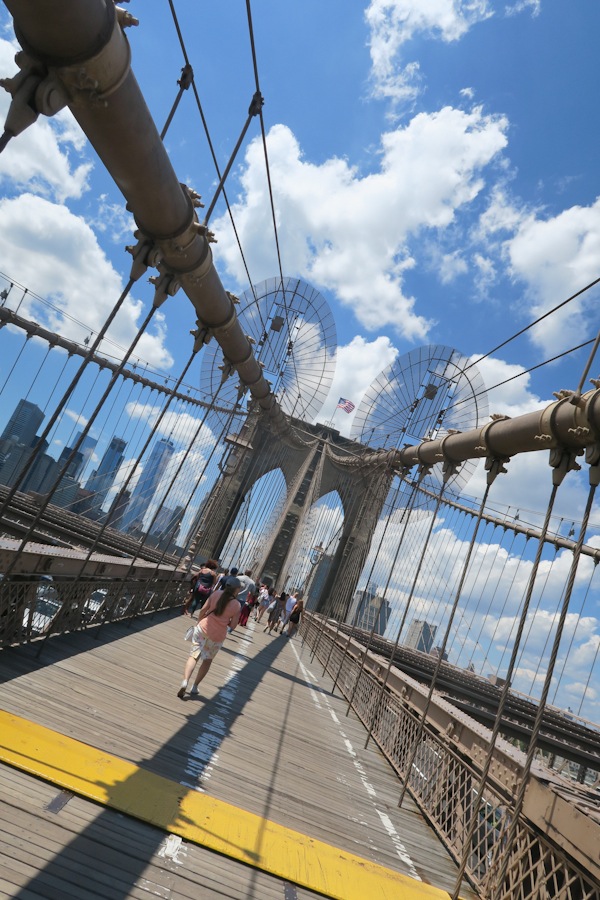 I literally could not stop taking photos and had a tough time narrowing them down to share with you.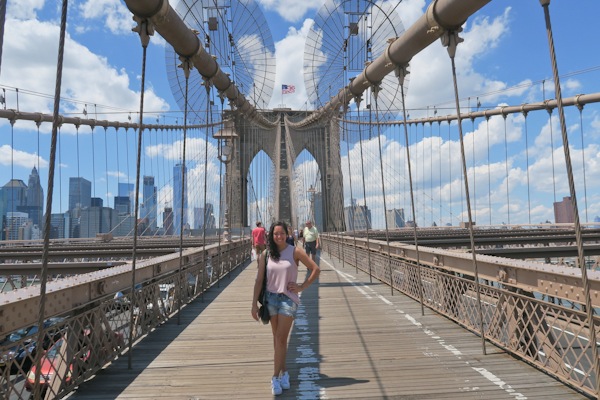 Hopefully you follow me on Instagram, because I also posted some videos to my Insta stories. I've been having a good time playing with that. It's so fun for sharing little video snippets.
Speaking of video, I may have something in the works. Woop!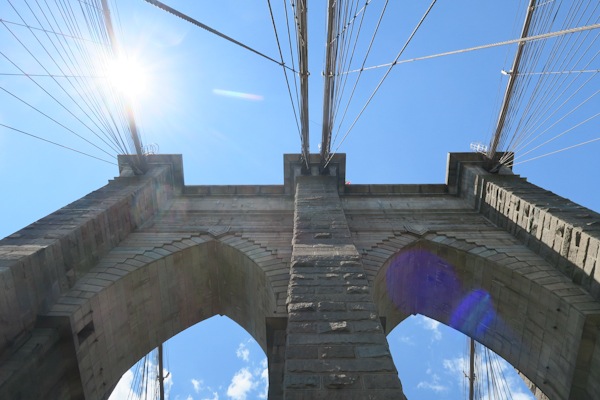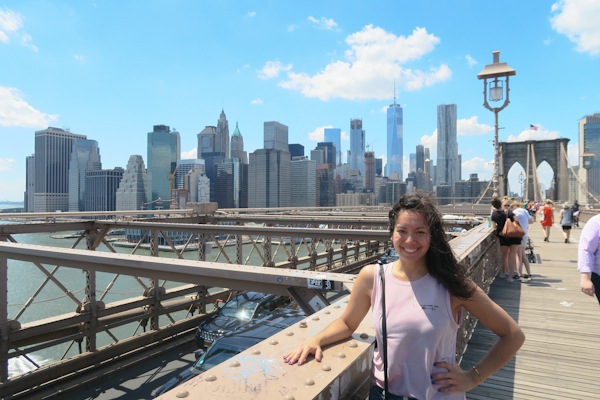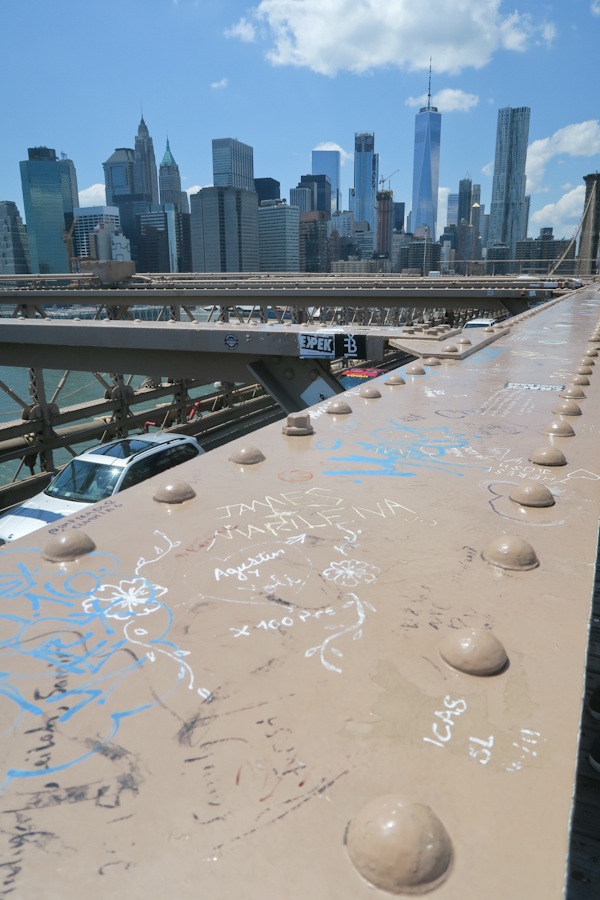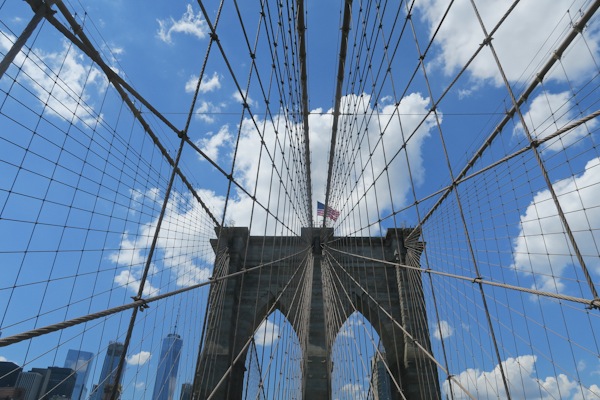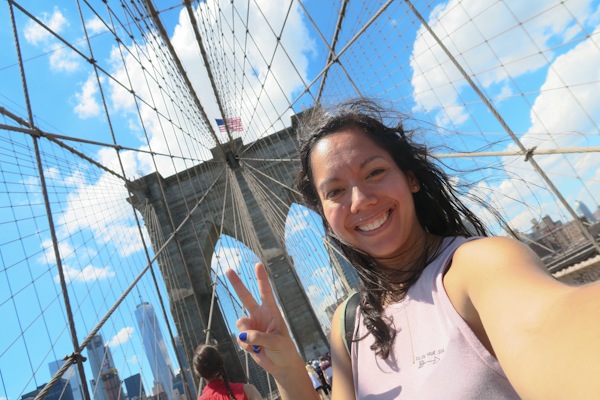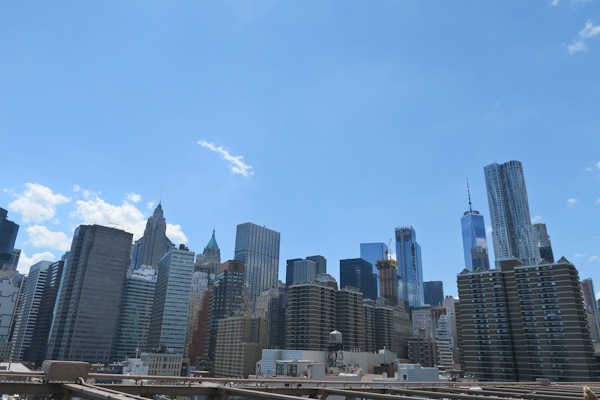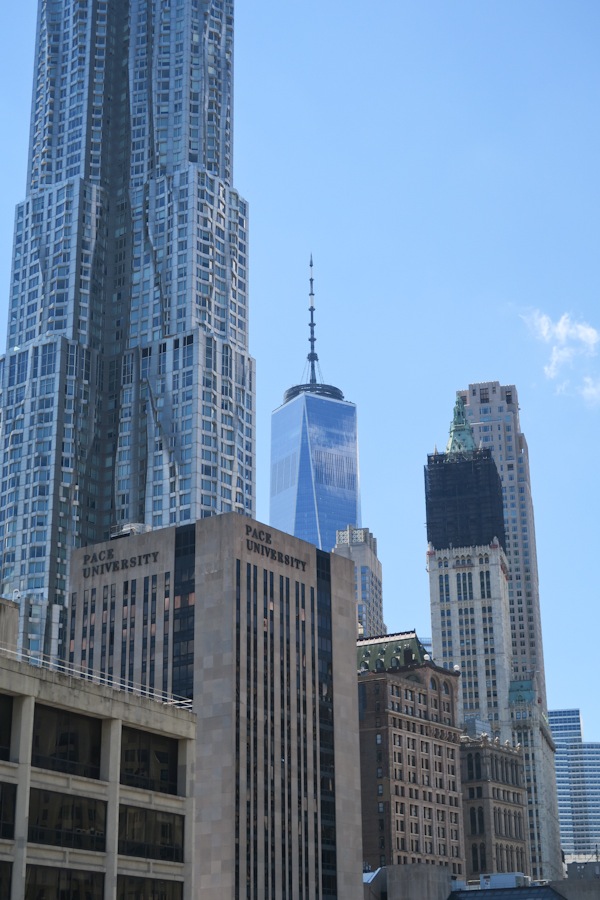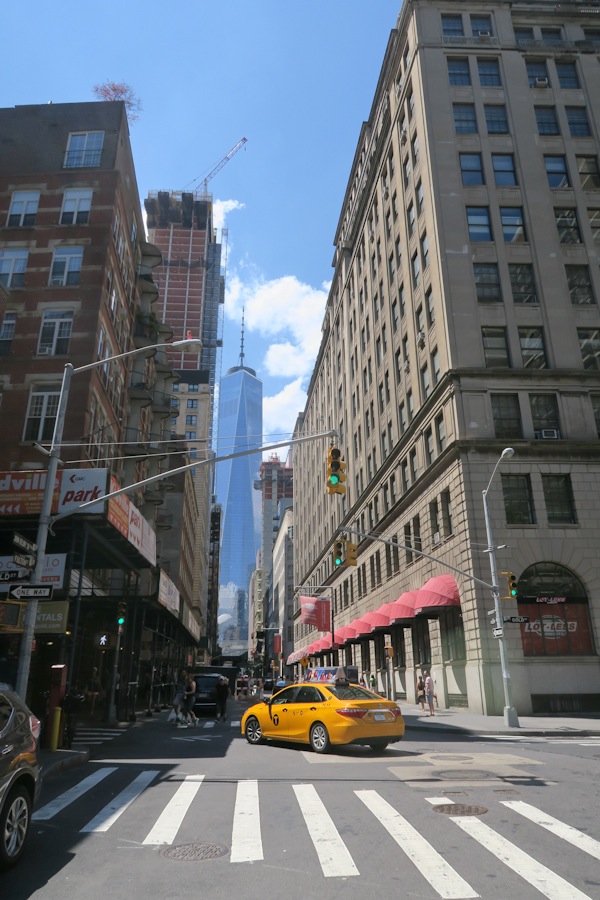 And it's always a pleasure to see One World Trade Center peeking (standing?) out between the buildings. So gorgeous!
I'll share more photos from the day next time including a healthy pre-ferry-ride treat, a different view of the city, and some amazing BBQ.
More NYC Posts
Click here for my other NYC posts
Thanks for reading!