I have good news for you if you have been looking for information on how to make oatmeal on the stove. I made a video for you! And this version is so creamy and delicious! In the video, I step through the basic ingredients, cooking tips, and share a simple topping idea (also noted in the below basic stovetop oatmeal recipe at the end of this post).
Additionally, some of you may be interested in exactly how long stovetop oatmeal takes to make. In the video, I actually set a stopwatch and check in a couple times to show you how the stovetop oatmeal thickens up over time. And when it's ready.
Oh, and the recipe is written to make stovetop oatmeal for one. But you can easily multiple the amounts to serve more!
*Video* How to Make Stovetop Oatmeal

If the above video player doesn't work, click here to view my how to make oatmeal on the stove video.
Be sure to scroll to the end of this post for a basic stovetop oatmeal recipe.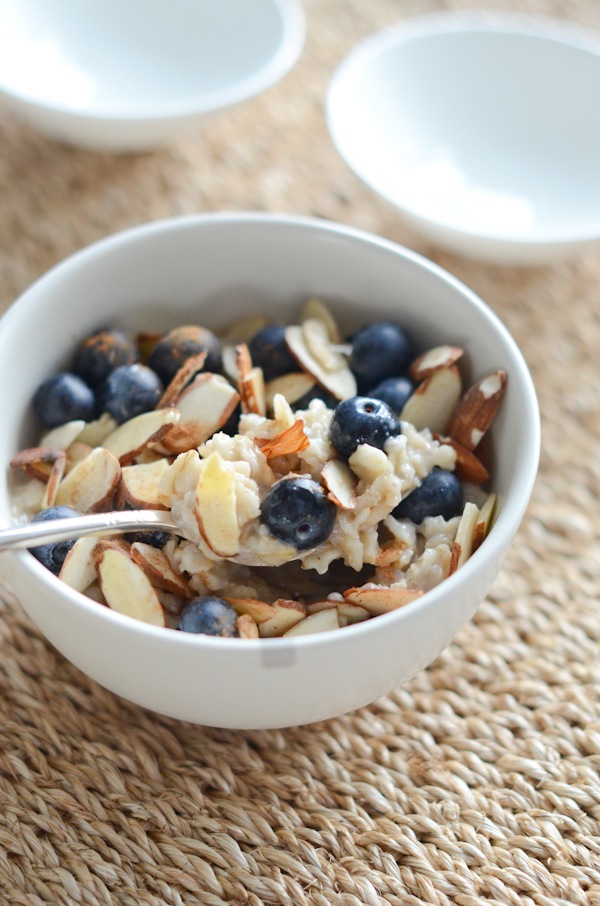 What's the Right Ratio for Stovetop Oatmeal?
I find that equal parts oats to milk to water works best:
1 part rolled oats
1 part milk of choice
1 part water
I love adding milk into the oats *while* cooking to get it extra creamy. But the secret is to use half milk and half water for the liquid portion. It's just the right balance.
Can you cook stovetop oatmeal with water and just water? Yes. But why would you want to?! Especially when some non-dairy options of milk are so good?
Which Milk to Use for Creamy Stovetop Oatmeal?
Non-dairy milks have yielded better creamy stovetop oatmeal for me. I find dairy milk tends to curdle more easily for whatever reason. Which has been great anyways as I've moved away from dairy and towards non-dairy options anyway.
Here's what I've found in testing different milks in stovetop oats over the years:
Oat milk: My current favorite for basically everything. Yields a super creamy oatmeal.
Almond milk: My previous favorite. Also makes a nice, creamy oatmeal.
Soy milk: Another high choice…probably my favorite before almond milk. Another great option for creamy oatmeal.
Coconut milk (in the carton): Delicious, but not nearly as creamy as the previous three options. Probably because coconut milk is fairly watery.
Coconut milk (in the can): Super rich and will make for creamy oatmeal.
Rice milk: A solid dairy replacement, but this bowl will be more on the watery side.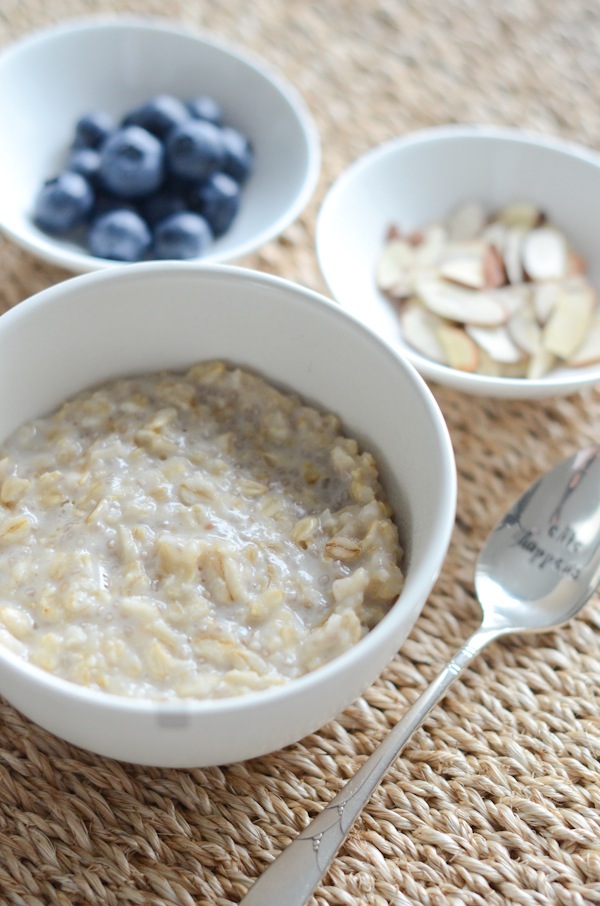 How much rolled oats to use?
If I'm not too hungry, I can be satisfied with 1/4 cup oats. But mind you, I like to put a good amount of toppings on my bowls of oatmeal. I believe the serving size suggestion on the side of most containers of oats is 1/2 cup. But experiment around and see what works best for you.
Multiply as needed if you're making oatmeal for more than one person.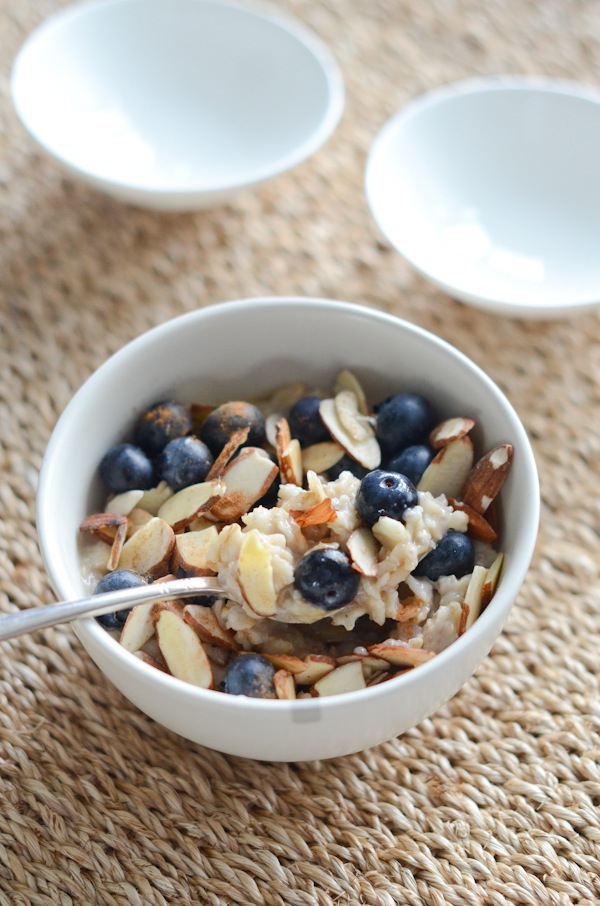 Print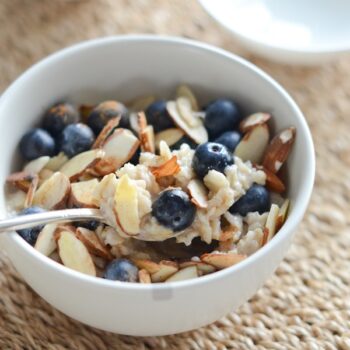 Basic Rolled Oats Oatmeal Recipe for One
Author:

Cook Time:

6 mins

Total Time:

6 mins

Yield:

1

1

x
---
Description
This basic rolled oats oatmeal recipe for one is meant to be a foundation for your future oatmeal bowls. Start with this and mix in your favorite flavors. If you're not feeling creative, check out the links at the end of this post for more ideas. There are some simple toppings on this one to get you started.
---
Basic Oatmeal Ingredients
1/2 cup

rolled oats

1/2 cup

milk of choice (I've been using almond milk recently)

1/2 cup

water

1 teaspoon

chia seeds, optional (but they are in the video – won't impact the recipe if you skip these)

1/2 teaspoon

honey, plus more for toppings (sub maple syrup of agave for vegan option)
sprinkle of salt
Toppings
1/4 cup

fresh blueberries

2 tablespoons

sliced almonds
dash of cinnamon
---
Instructions
In a small non-stick pot, combine oats, milk, water, chia seeds, honey, and salt and stir together. Turn heat to medium low and cook the oats, stirring occasionally, until the mixture reaches your desired texture, approximately 5-7 minutes (depending on your preference and heat of stove).
Serve and top with blueberries, almonds, a drizzle of honey, and cinnamon. Add any additional toppings of choice. Enjoy!
---
Notes
This recipe is designed for one serving. But you can easily multiply as needed.
Recipe Card powered by
More Delicious Oatmeal Recipes
Classic Banana Stovetop Oatmeal
Peanut Butter and Jelly Stovetop Oatmeal
More Tips for How to Make Oatmeal on the Stove
Click here for my 5 tips for the perfect bowl of stovetop oatmeal
Thanks for reading! Hope you enjoyed this post on how to make oatmeal on the stove and basic recipe!
Share this on Pinterest with these graphics: