Hi friends! So chia pudding is my new best friend. And it can be yours too for only about 5 minutes of effort and a few hours of patience. When I'm in the urgent need for something sweet after dinner, I've been turning to chia pudding. My version is made with less sugar so you can enjoy the sweetness without the excessive amounts of sugar. And I added a bit of health boosting spirulina extract to make this an even healthier dessert. I give you – Healthy Coconut Chia Pudding Recipe with Blue Majick. It's vegan, gluten-free, paleo, and keto friendly.
Note: This post contains affiliate links. If you make a purchase using one of these links, I may make a small commission at no charge to you. I personally use and love the products linked. Please feel free to reach out if you have any questions.
The hardest part of this Coconut Chia Pudding recipe is waiting for the chia seeds to work their magic and soak up the liquids in this concoction. Seriously, the prep part is so easy, a kindergartener could do it. In fact, if you have kids, this could be a fun family project. (And I'll leave ingredient research as far as whether they're kid-friendly and all that fun stuff up to you)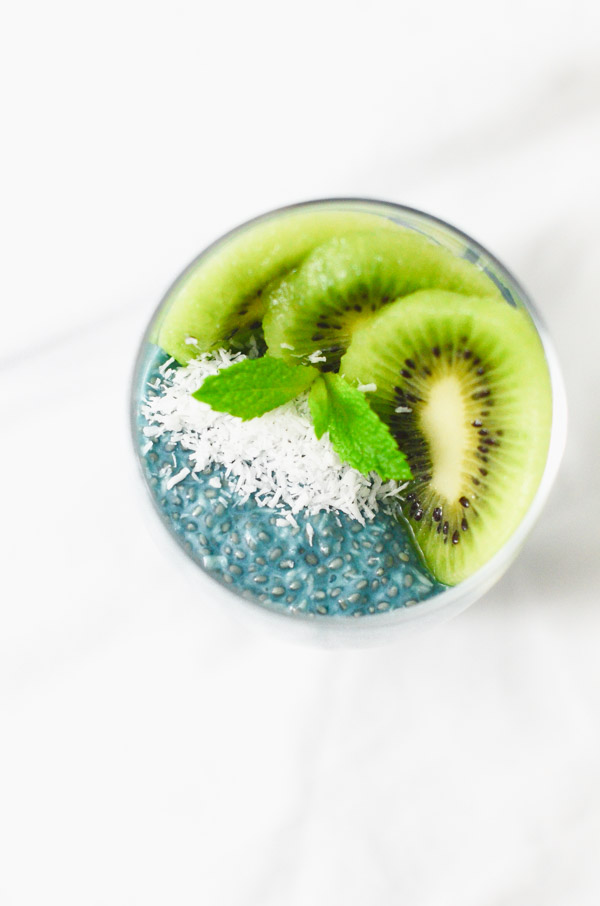 And yes, this is vegan, paleo, and keto friendly. I don't follow any of those styles of eating, but I know lots of you guys do. Keto is the newest one I've heard of. It's so interesting that I'm thinking of trying it out for a couple weeks to see how I like it. Would anyone want to do that with me?
Anywho, according to my research, while most sugars should be avoided on keto, I read that coconut sugar in limited amounts is okay. If you're following a keto diet and are concerned, you can easily sub a different sweetener. I believe monkfruit is the popular choice?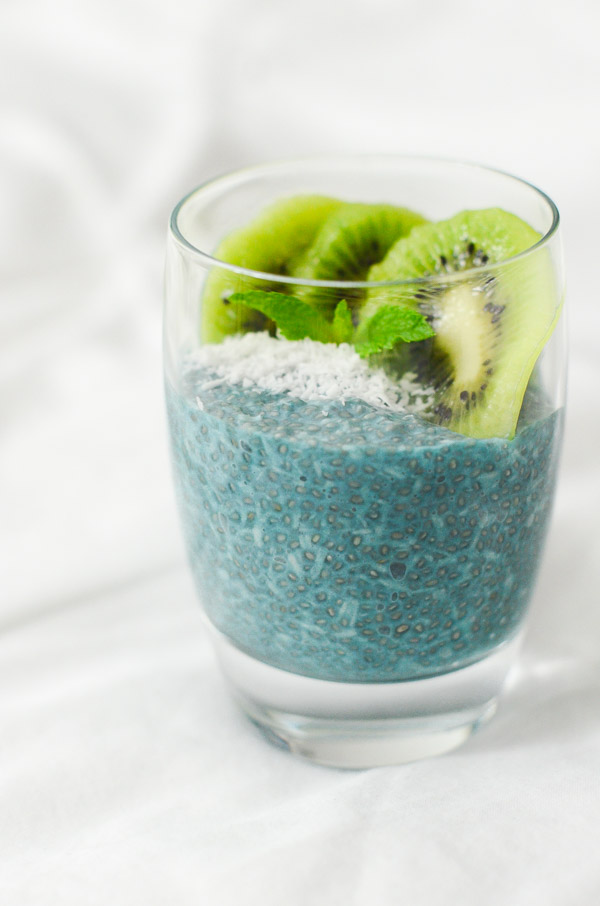 Coconut Chia Pudding Recipe Ingredients
I have done a simple vanilla chia pudding before. That chia pudding recipe was made with rice milk.
Coconut Flavors
For this version, I went with a coconut flavor profile that involved three types of coconut:
Coconut sugar
Coconut milk
Coconut flakes
But you know what's not in there? "Natural coconut flavor". Or "natural flavors"? I've been noticing a trend with "natural" foods where they're acting like they're super clean but then they have "natural flavors" in them. This always draws a side eye from me as I am trying to avoid these so-called "natural" ingredients. Please let me know if you'd like me to elaborate more on this. My friend Food Babe has written about natural flavors quite a bit if you want to check out her site in the meantime.
What is Blue Majick?
Blue Majick is a spirulina extract. It has many health benefits, but I love that it is said to have anti-inflammatory properties.
You can purchase Blue Majick online here via E3 Live. There are a few options, but after some research, I opted for the 50g fine powder version here (click).
No Refined Sugars / Less Sweetener
Other than these, I tried to keep this recipe super simple and cut back on the sugar amount, as mentioned before.
Coconut sugar is not necessarily "healthier" than granulated sugar. According to Dr. Weil:
It provides the same number of calories and carbohydrates as regular cane sugar (about 15 calories in coconut sugar and four grams of carbohydrate per teaspoon)
Still, coconut sugar is generally less processed than granulated sugar (which is often chemically processed). Plus, according to Huffington Post:
Compared with table and brown sugars, coconut sugar has impressive amounts of nutrients like zinc and iron as well as antioxidants.

Coconut sugar also contains good amounts of inulin, a type of dietary fiber you don't digest in your upper gastrointestinal tract. Instead, inulin acts as a prebiotic, feeding your intestinal bifidobacteria (a probiotic).
I'll take it!
I considered using an even more natural sweetener, but I kept the coconut sugar to match the flavor profile.
Chia Pudding: Breakfast or Dessert?
Did I mention this recipe is so healthy, you can easily enjoy it for breakfast? Yup. The choice is yours!
Personally, I enjoyed it both ways. With a variety of toppings! You can add fresh fruit, coconut flakes, ground flaxseed, and/or hemp seeds. Yum!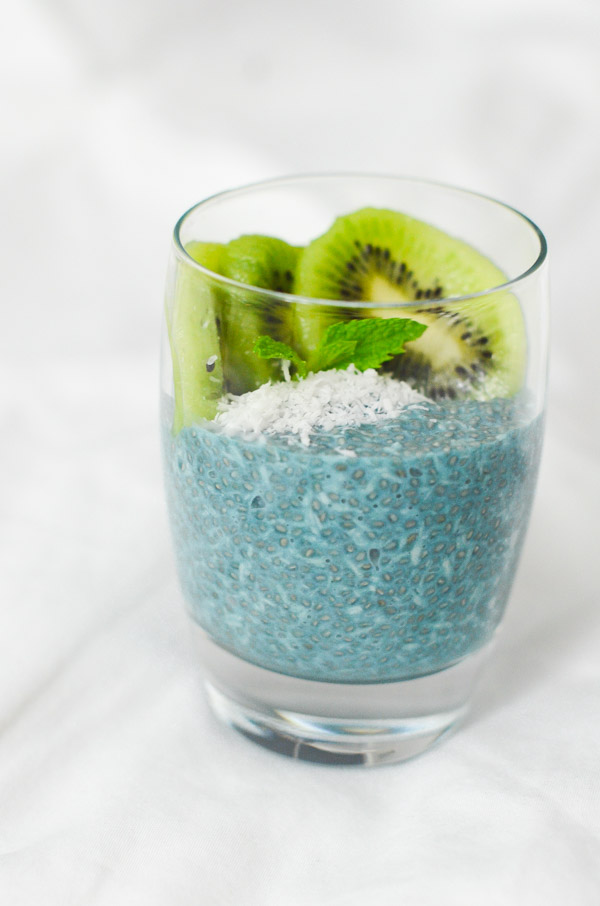 Print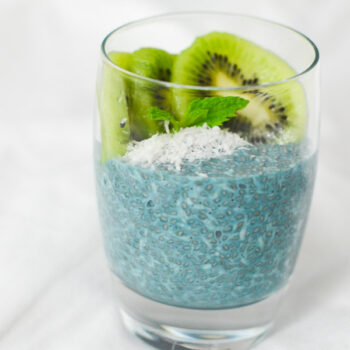 Coconut Chia Pudding Recipe with Blue Majick | Vegan, Paleo, and Keto
Author:

Prep Time:

5 mins

Total Time:

5 mins

Yield:

2

1

x
---
Description
Coconut Chia Pudding Recipe with Blue Majick is one of the easiest desserts you can make. Whip up a batch and have it waiting for you whether you want it for breakfast or dessert! Makes 2 larger or 4 smaller portions.
---
1 tablespoon

coconut sugar

1 tablespoon

water

1/2 teaspoon

Blue Majick powder

1/4 cup

white chia seeds

1/4 cup

shredded unsweetened coconut flakes

1 cup

coconut milk (from the box)

1/4 teaspoon

vanilla extract
---
Instructions
In a medium-sized mason jar or other storage container, mix coconut sugar and water. Microwave until just before boiling and stir to melt coconut sugar. Set aside to cool while you gather your other ingredients.
Once cooled, stir in Blue Majick. Stir in chia seeds and coconut flakes. Stir in coconut milk. Finally, stir in vanilla extract.
Cover and place in the refrigerator. Stir again in 10-15 minutes to keep mixture distributed nicely. Wait until overnight (or at least 3-4 hours if you're getting impatient about trying this) until the mixture has combined evenly and the chia seeds have soaked up the liquid.
Serve in bowls and top with toppings of choice. Enjoy!
---
Recipe Card powered by
More Healthy Dessert Recipes You Can Also Eat for Breakfast
Vanilla Chia Pudding Recipe with Rice Milk
Breakfast Strawberry Shortcake for One (though you can of course ignore the name and eat it for dessert)
Healthy Baked Pumpkin Doughnuts
Individual Challah Breakfast Bread Pudding
***
Thanks for stopping by! Hope you enjoy this Healthy Coconut Chia Pudding Recipe with Blue Majick!