Hi friends! Since I've seen a lot of traffic and clicking on my two Nordstrom Anniversary Sale (NSale) blog posts (here for clothing and here for beauty/accessories/shoes/home), I thought I'd film a try-on vlog for you. It has always helped me quite a bit when others show how clothes fit on them and talk about how the material feels. So I thought I'd do the same in case you guys find this helpful too. And if you do, please let me know! Or just watch the video and give it a thumbs up to let me know.
Btw in the video I talk about upcoming giveaway ideas, which I'm also posting about in my Instagram stories. In addition to some hint posts about where I'm headed next for work! So, hopefully some good reasons to follow me on Instagram if you don't already.
What Did I Try On?
In this post and video, I was primarily shopping for / was able to actually find in the store clothes that are for work but also could be used for casual outfits. I tend to dress pretty conservatively at work, so I talk a lot about tops that have longer cuts to cover the booty. And since I'm rebuilding my work (and casual) wardrobe, I opted for mostly solid staples that can do mix and match looks with other pieces easily.
Parisian Wardrobe
For my newer readers, I'm building my Parisian Wardrobe. This is different than a capsule wardrobe because it's not about numbers. It's about quality over quantity. And one of the most important things is that you should feel amazing when you put a wardrobe item on. Not like, "hey this looks okay." More like, "Hell yes! I feel amazing in this!" That's what we're going for. Pieces should also be something you actually will use for your current lifestyle. Don't work in an office and prefer to go casual on weekends? Perhaps a blazer isn't your best purchase and a chic cardigan would be better. You get the idea!
Anywho, I first blogged about this a long time ago. Let me know if you want me to formalize the idea with more guidelines.
NSale Try On Vlog – See How the Clothes Fit
Click here if the above player doesn't work
Note: I thought the clothes looked pretty different on video versus photo, so I definitely recommend watching that if you're considering getting any of these items.
>>> CLICK ON THE PRODUCT PHOTOS BELOW TO SHOP <<<
NSale 2018 Try On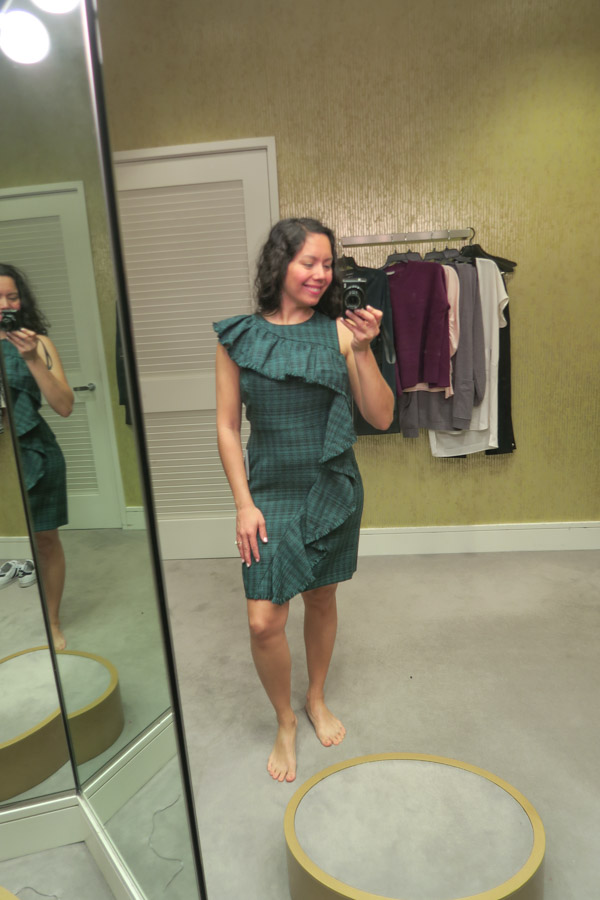 Green Plaid Ruffle Dress by Chelsea28: did not get
This dress was pretty comfortable. I believe I tried it in a 4. But I thought the shoulder ruffle was a bit overwhelming.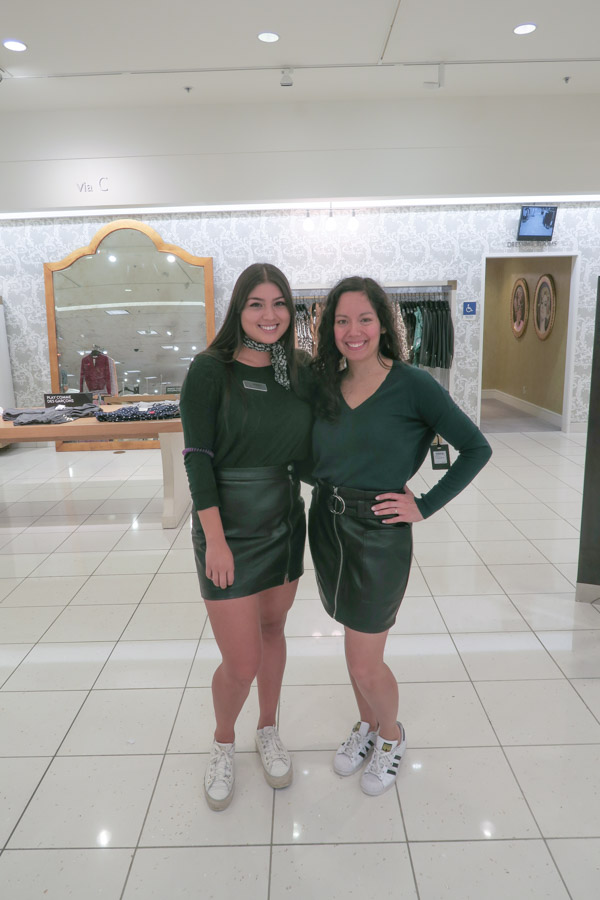 Shout out to Emily for helping me at the Nordstrom store. She was able to style two of my items to match her outfit!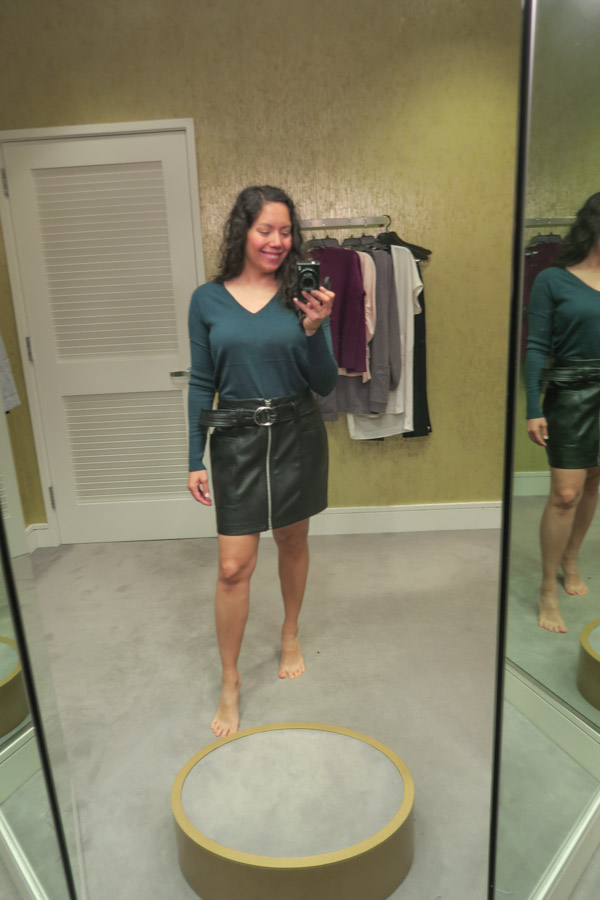 Side slit sweater by Trouve, faux leather skirt by Topshop: got both

In the sweater, I went with a S. Loved how soft the material is. It's actually better in person than online. Loved Emily's idea to tuck it in.
I had to size way up in Topshop. The 8 worked for me. I had planned to try smaller sizes on, but 8 was the smallest in the store. Good thing it fit. This was one of my standout favorites, and one of the few non-work items I purchased.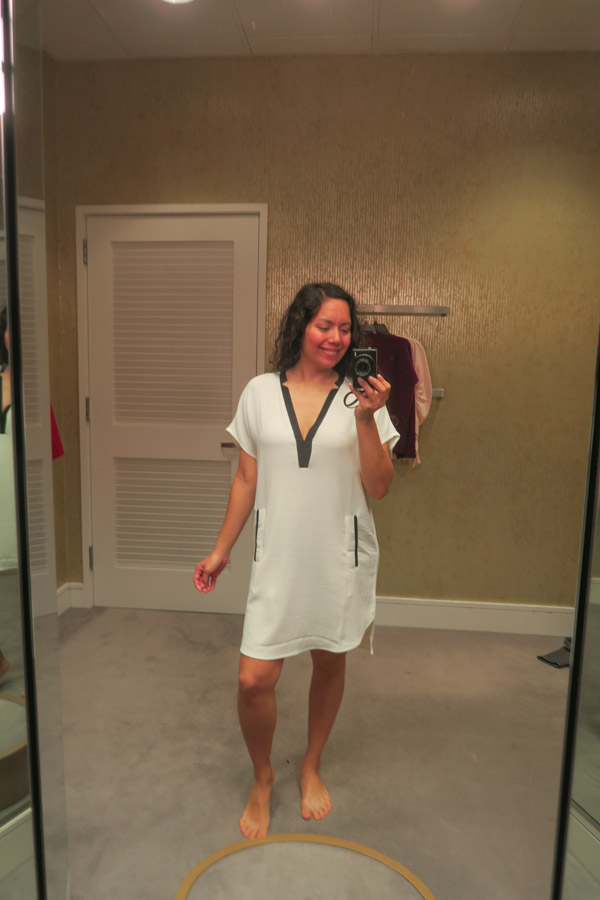 Crepe Shift Dress by Astr: Did not get
This dress needed too much work to make it work appropriate due to its low cut neckline and sheer material. You'd probably need a slip underneath so it's not see through. This dress may work if you don't want to wear it to work.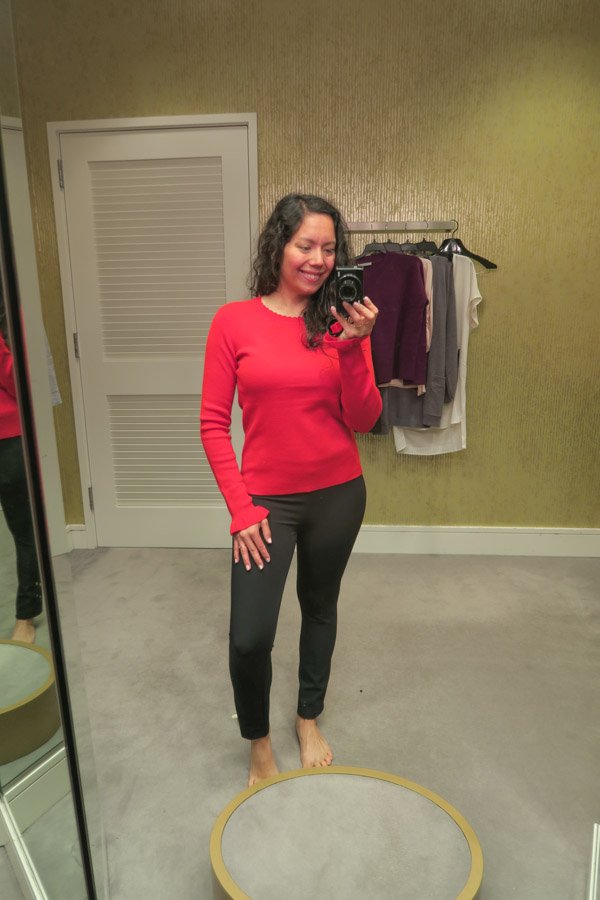 Scallop trim sweater by Halogen: got this
This is such a cute sweater for work. Not sure I would have noticed the ruffled sleeves if I hadn't seen this in person. The material is very soft. I got this in a small.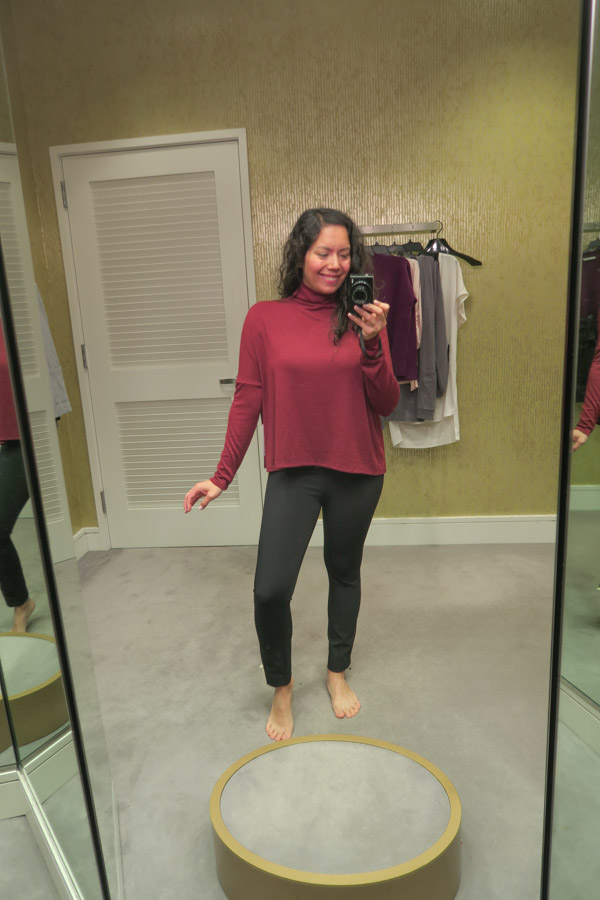 Funnel Neck Mélange Top by Leith: got this
Thought this would be a simple top to wear with skinny pants to the office or with jeans for after hours. Material is relatively soft.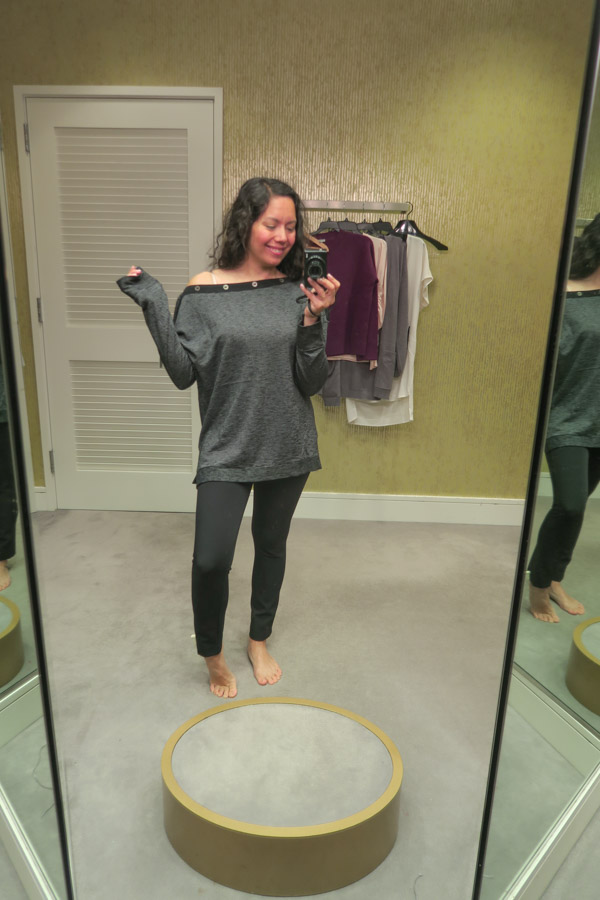 Button Neck Top by Caslon
The material is pretty soft, but the oversized fit is what makes me love it. I got this in a medium mostly because they didn't have small. But I kind of like how it's big and I can wear it off the shoulder. Actually, I'm wearing it right now while drafting this blog post!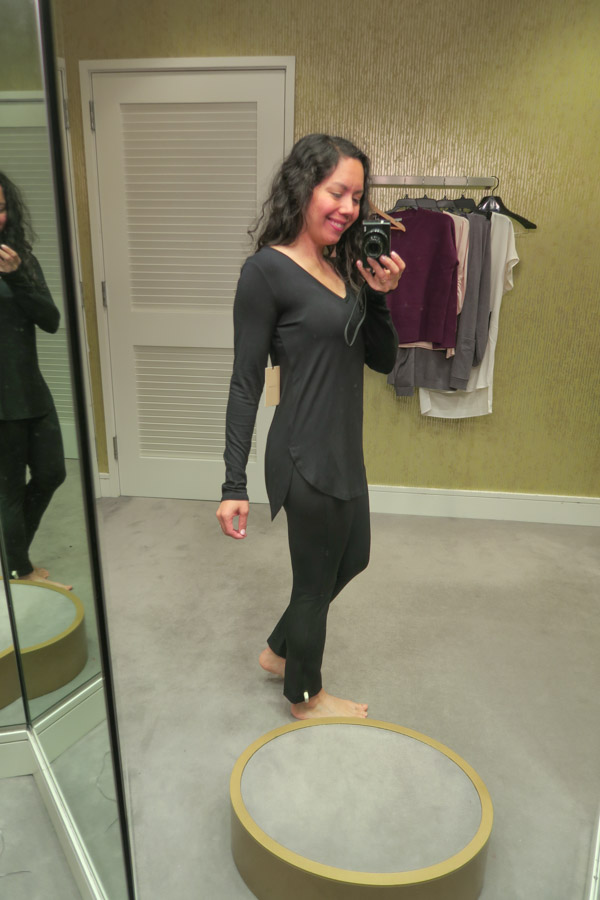 V-Neck Tunic by Halogen: Got this in black and gray
This was probably my favorite basic top. So much I got it in black and gray. It's machine wash but I wish it was tumble-dry too. It's hang dry. It's very soft and comes in around the waist nicely. The material is pretty stretchy too.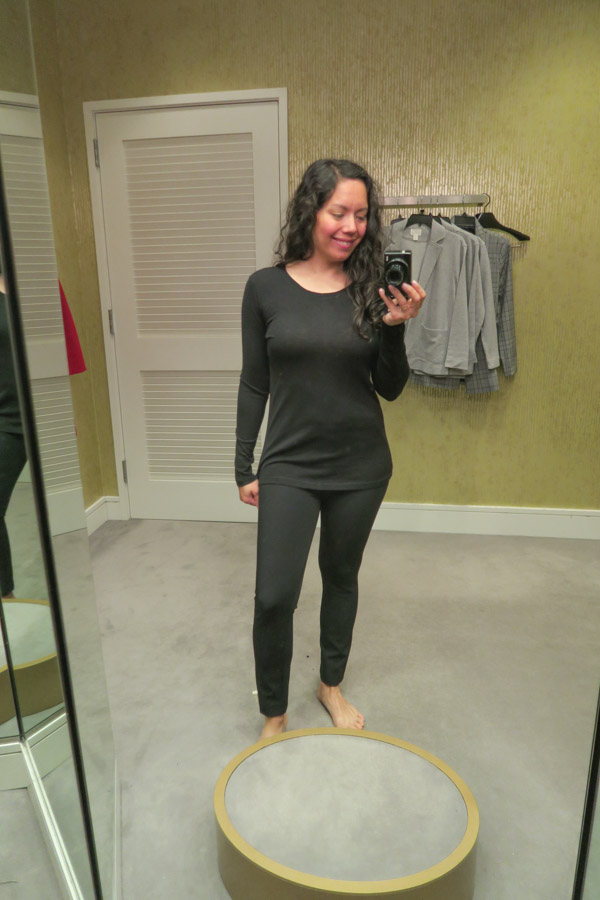 Long Sleeve Crewneck Tee by Caslon: got this
Thought I'd try this simple black top as a layering piece under sweaters for work. Got this in small. Though a bit stretchy, it has more of a cotton-like feel than the previous top.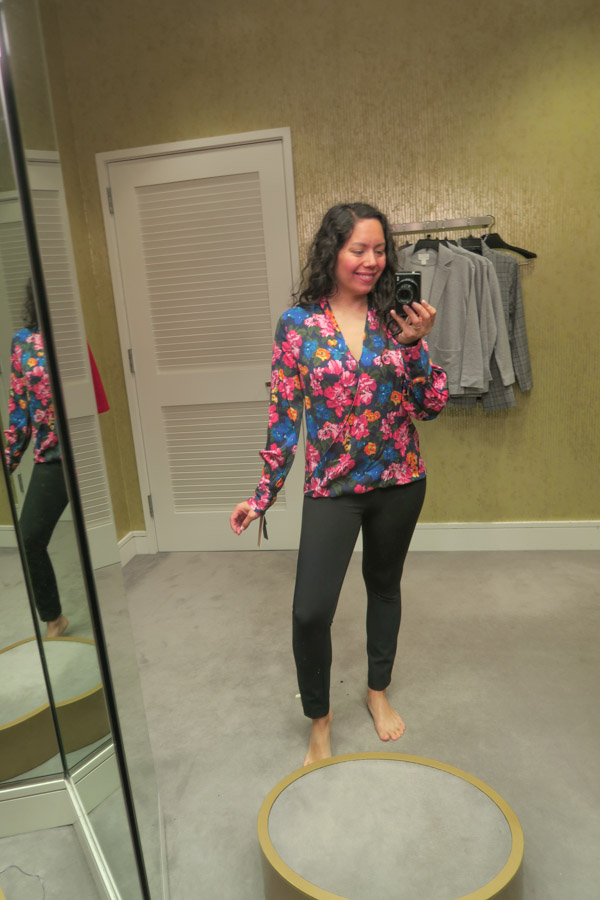 Silk Blend Wrap Blouse by Halogen: did not get
This looked beautiful on the hanger but super weird on me. I almost felt like I was wearing a tropical shirt. Like…I thought of my dad. Which is not what I was going for. lol.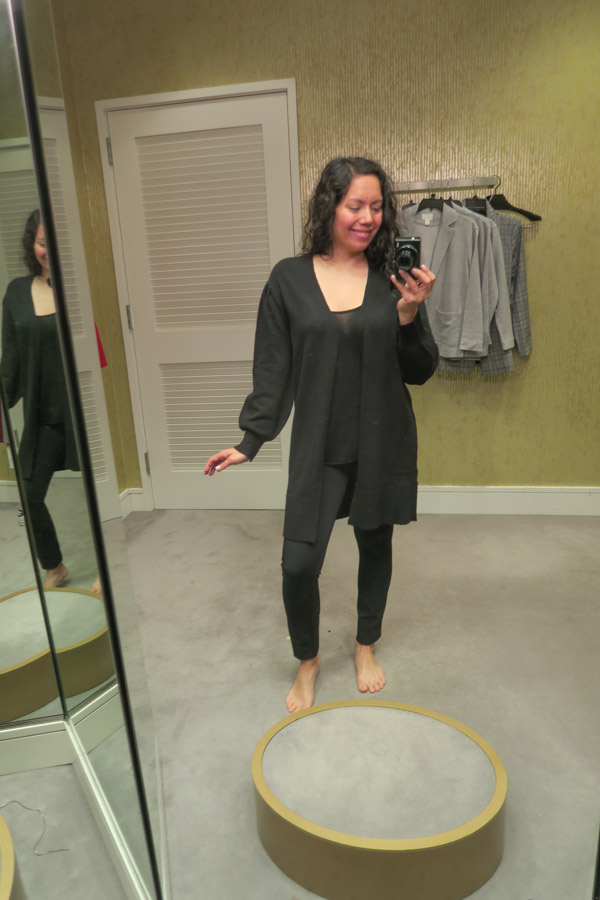 Drama Bubble Sleeve Cotton Blend Cardigan by Vince Camuto: got this
Super soft thanks to the mostly cotton material. I may end up leaving this on my chair at work for quick cover ups. Though I kind of want it for when you want to have a cute grab and go outfit paired with a tank or tee and jeans.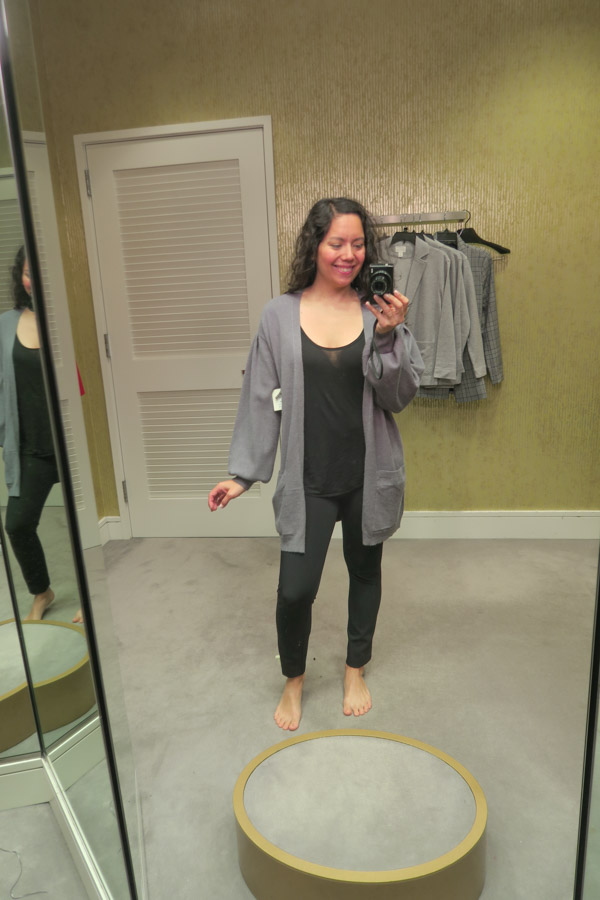 Balloon Sleeve Cardigan by Hinge
I preferred the Vince Camuto cardigan because it had cotton as the primary material whereas this one had viscose. Tried this on in small.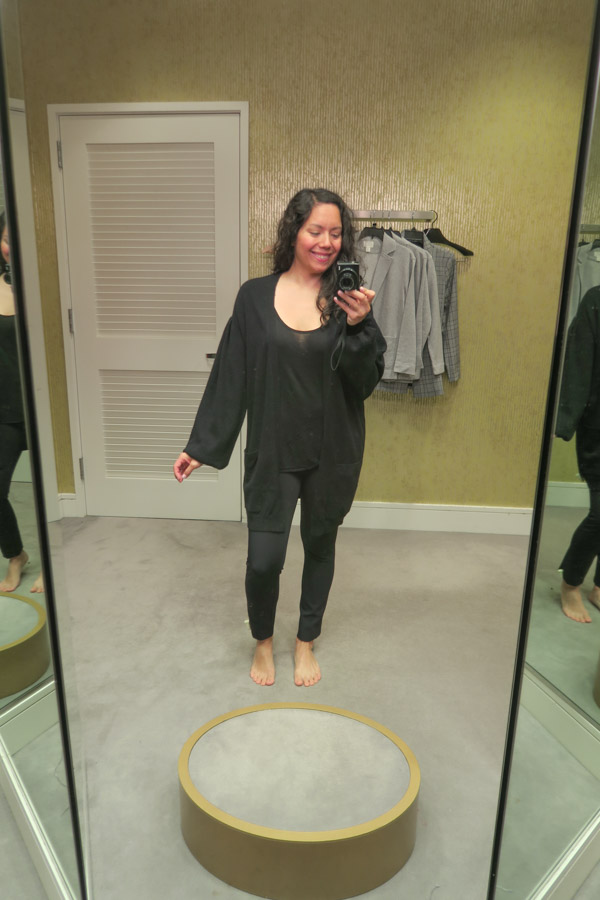 Same as previous but medium so slightly larger fit. It's pretty oversized.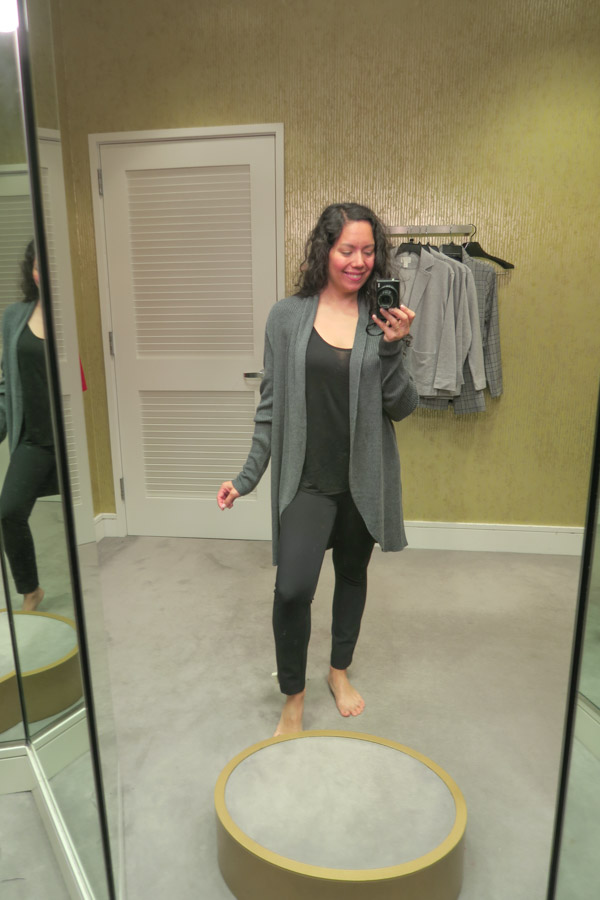 Ribbed Shawl Cocoon Sweater by Leith: got this
Loved the fit on this one. Easy to dress up or down. Very soft. Kind of wanted it in multiple colors.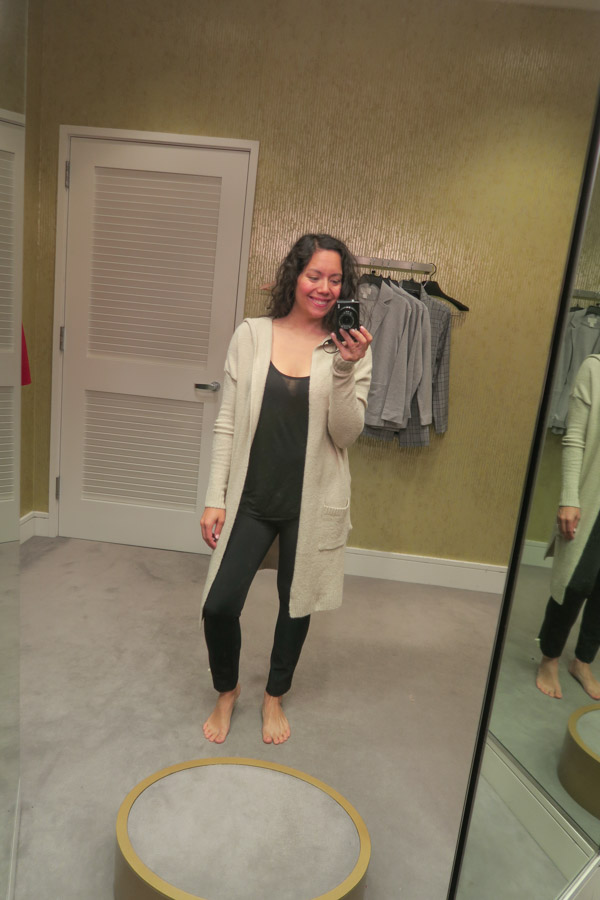 Lightweight Rib Stitch Cardigan by BP: got this
This is sold out. But I loved how soft this was. Has a cute fit, though slightly more casual.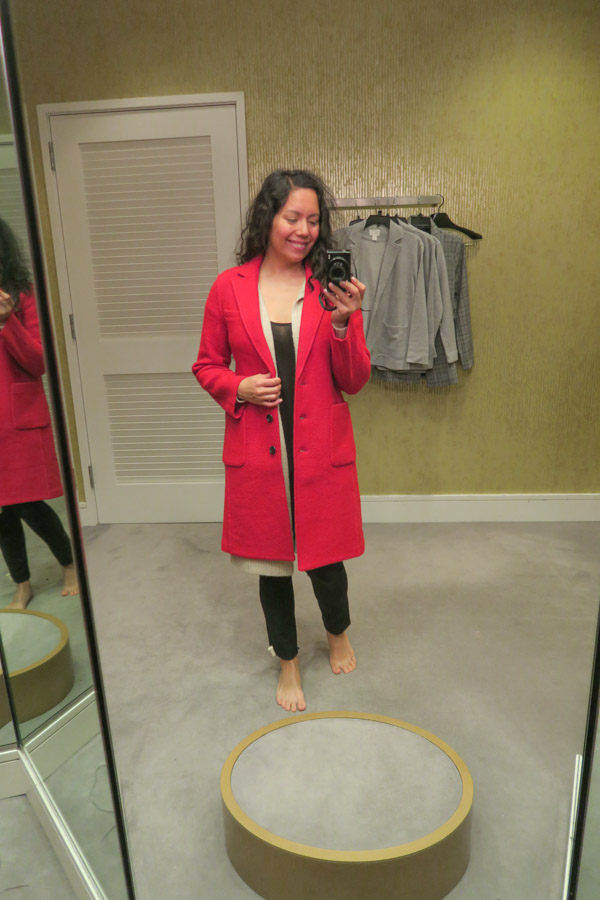 Olga Boiled Wool Topcoat by J. Crew: got this
Cute statement coat. Got this. It's warm but also fairly lightweight. I'd wear this in fall and early winter in NYC or the Carolinas. I probably wouldn't wear it under 40 degrees F, but it could surprise me. Hasn't been cold enough to test yet. Got this in a 4 and could easily layer it of the BP cardgian.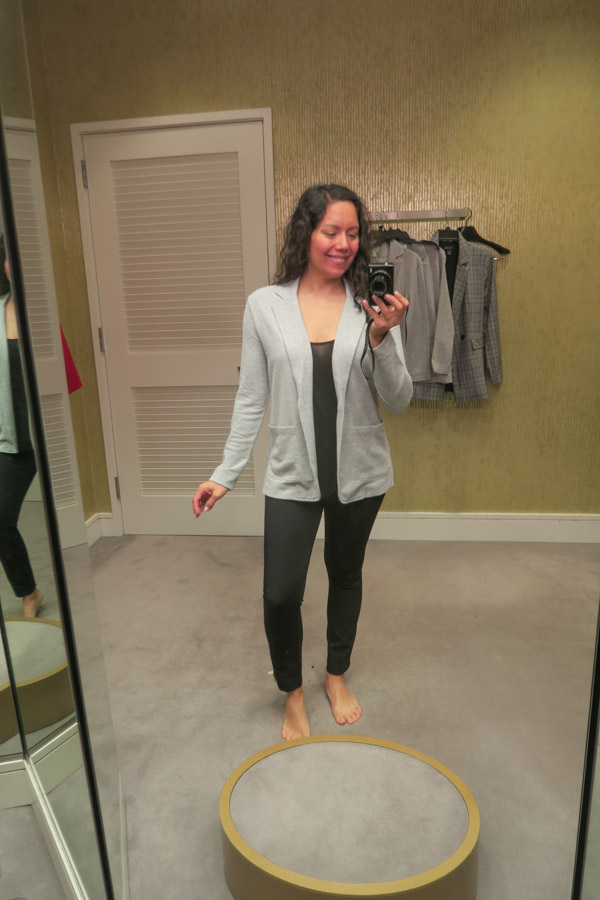 Two Pocket Knit Blazer by Caslon: got this
Definitely one of my favorites of the spree. Feels like a sweatshirt. Looks like a blazer. Got this in a small.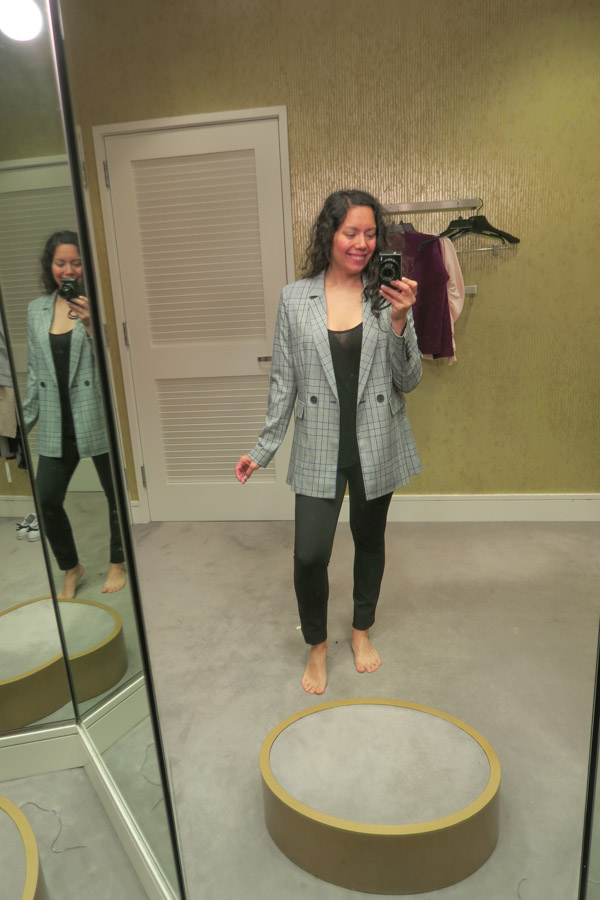 Plaid Blazer by Halogen: did not get
I can't seem to find this online. It seems to be sold out. I didn't get this because the fit was off, and I was too lazy to try on an XS (pictured in small).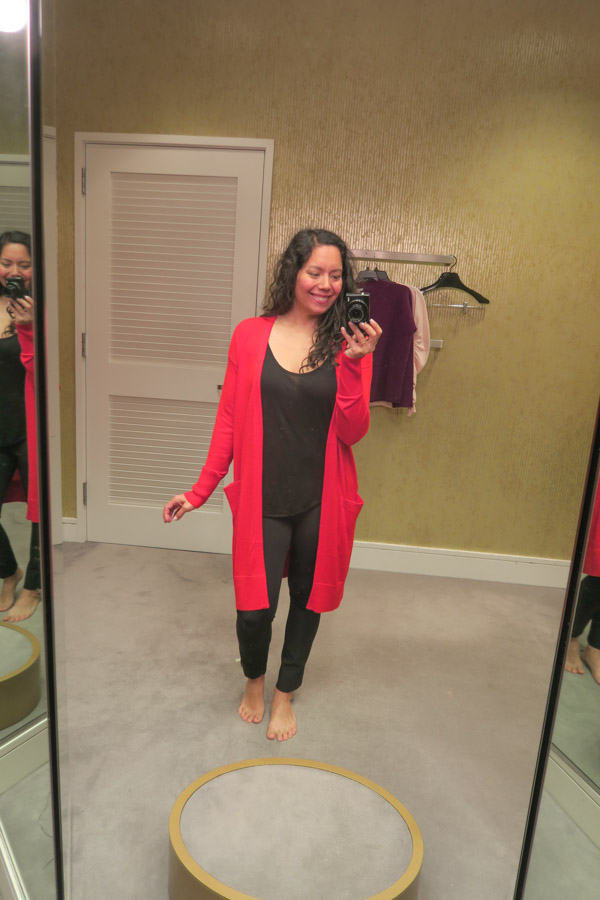 Open Front Cardigan by Halogen: got this
Got this. Loved how it hugged my curves just a bit while still looking classy. Thought the bright red would be a fun pop of color for work or play.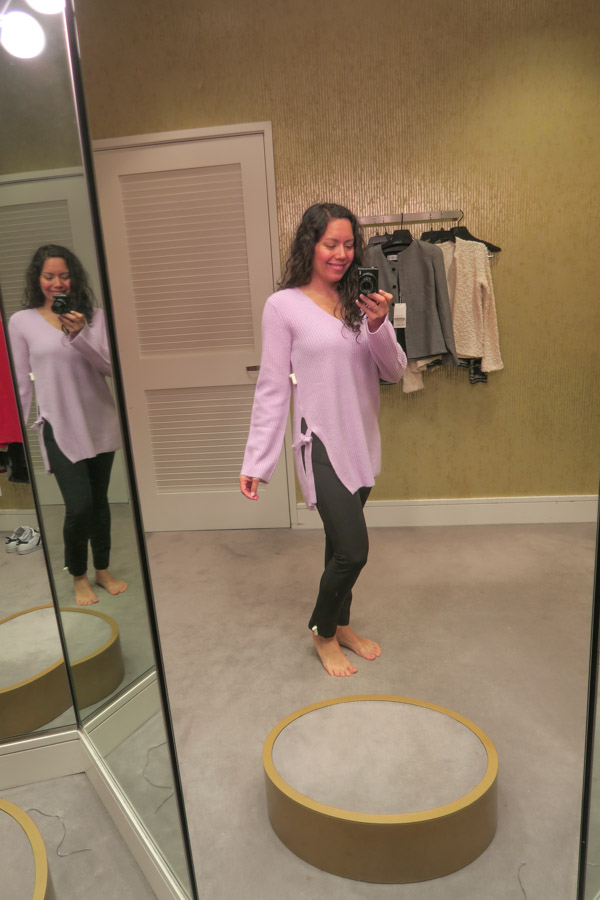 Side Tie Cashmere Sweater by Halogen: got this
Thought this had a really pretty vibe. Super comfortable thanks to being cashmere.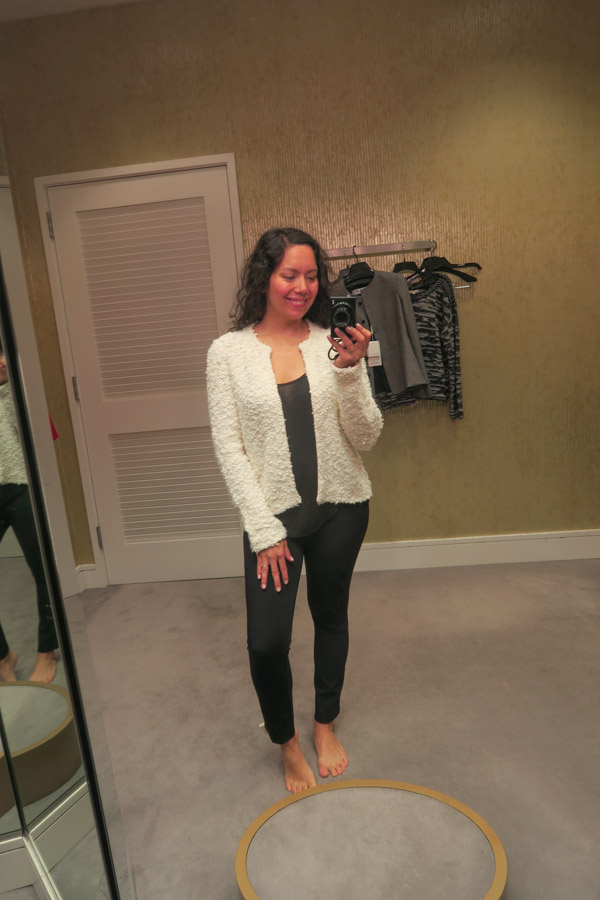 Organic Cotton Cardigan by Eileen Fisher: did not get
Ultimately, this looked too much like another sweater-cardigan I already have. Loved that it's organic.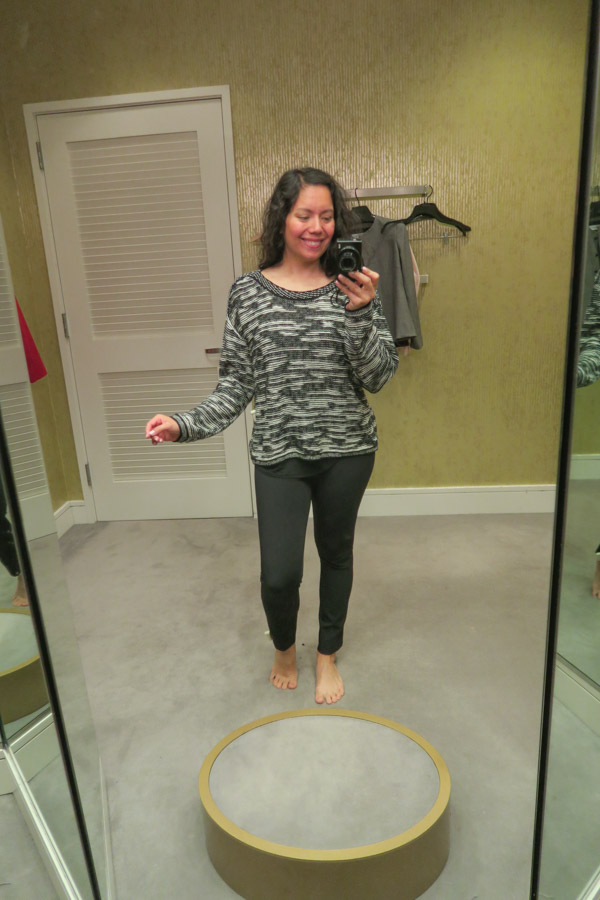 Bateau Neck Pullover by Eileen Fischer: did not get
Did not get this because I didn't like the fit on me. Could tell it was very well made and loved the detailed neckline.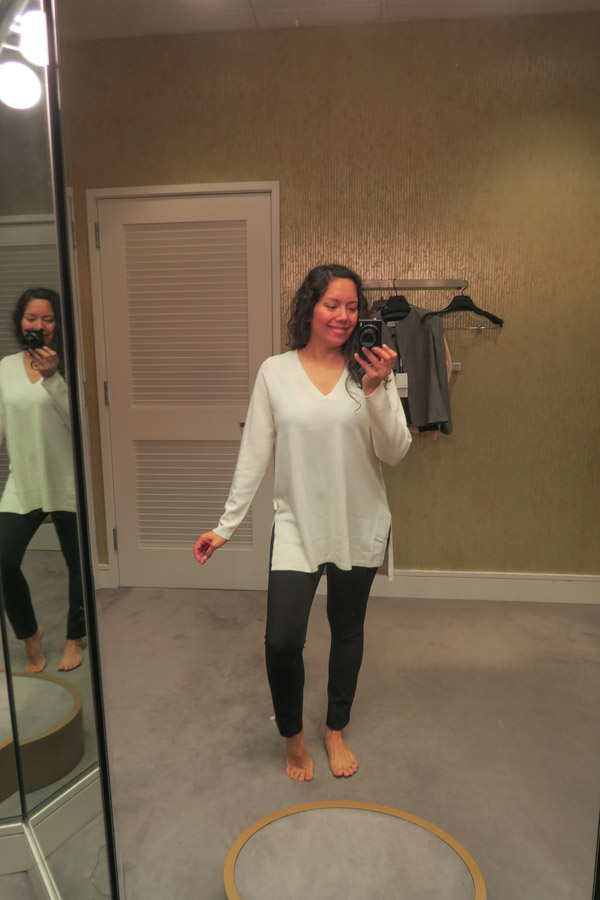 V-Neck Cashmere & Wool Tunic by Eileen Fischer: Did not get
I think this is in medium. Maybe the size was off, but something just wasn't quite right to me. I just didn't love it. Perhaps I'd already picked a lot of simple staples?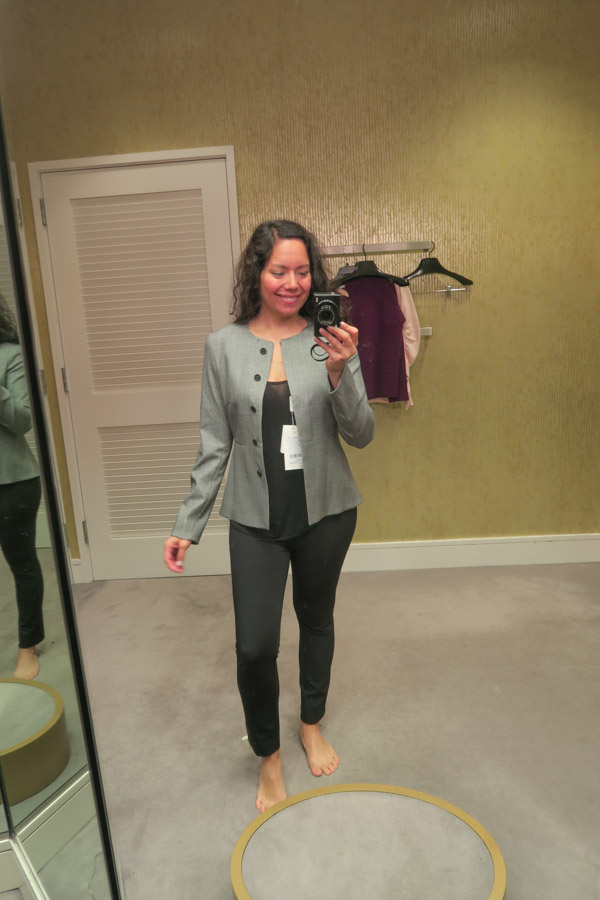 Giochi Jacket by Max Mara: did not get
Although stunning in person. Impeccable quality. It didn't right in the chest area. I needed the fit to be perfect for a purchase this high because I have no blazers anywhere near this price point at the moment. I believe this was in a 6.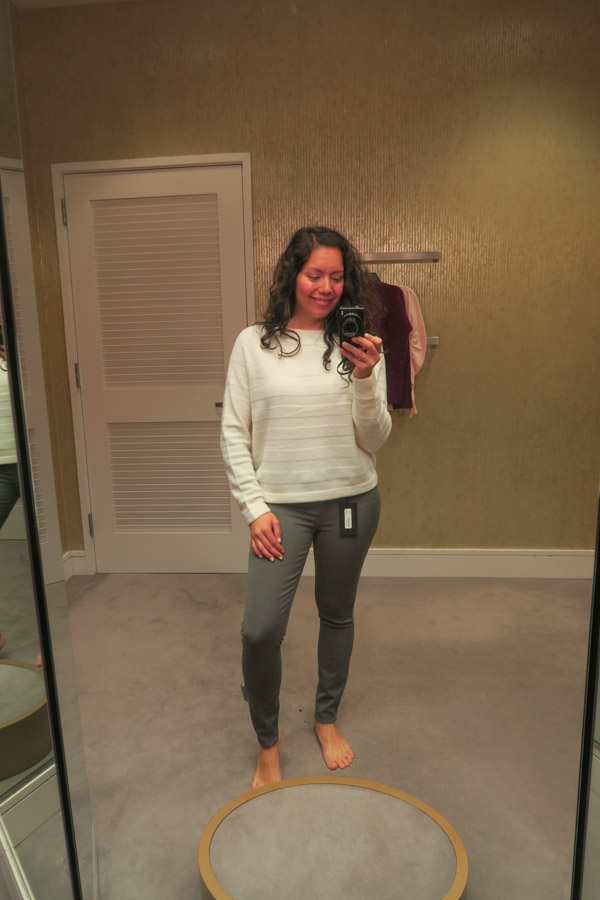 Merino Wool Blend Knit Sweater by Vince: got this
Love the simplicity of this top for an easy grab and go sweater I can dress up or down. This is in small. It's hand wash. Yay for no dry clean!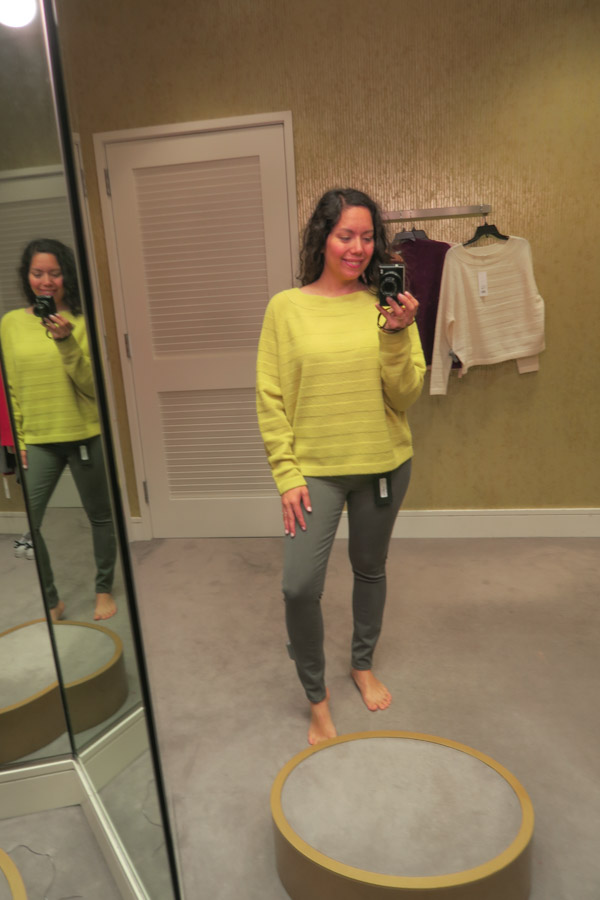 Same as previous but in yellow and large. Did not get this.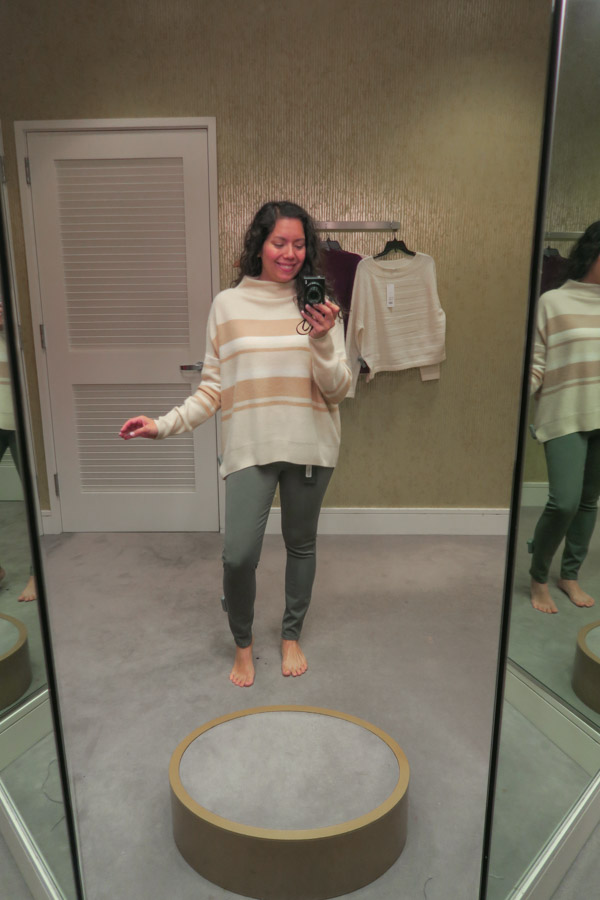 Cashmere Ombre Stripe Mock Neck Sweater by Vince
Love Vince cashmere and am happy to have another color with some chic stripes. Vince is worth the splurge.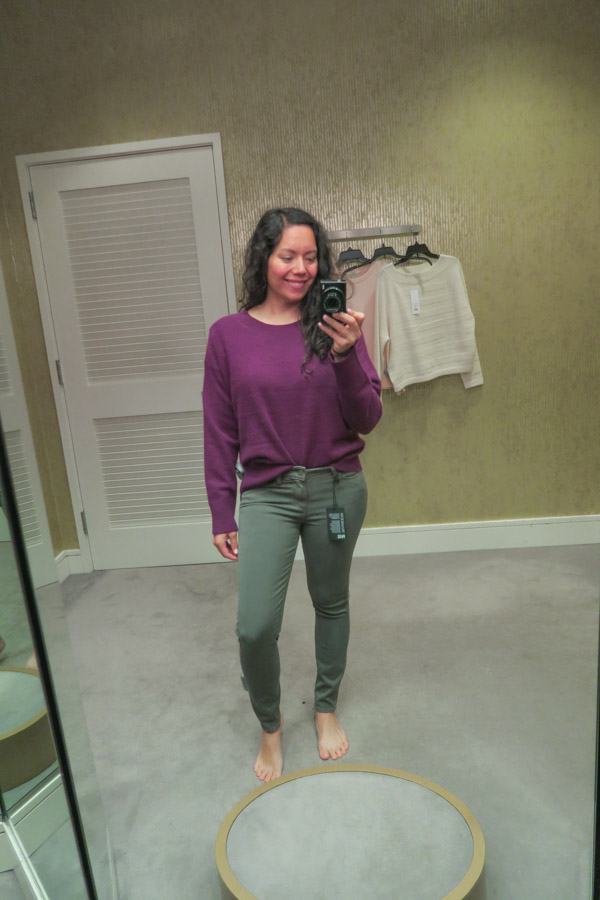 Cashmere Oversize Sweater by Vince: Did not get
Didn't feel that oversized to me. It was too plain considering I have a lot of staple sweaters already.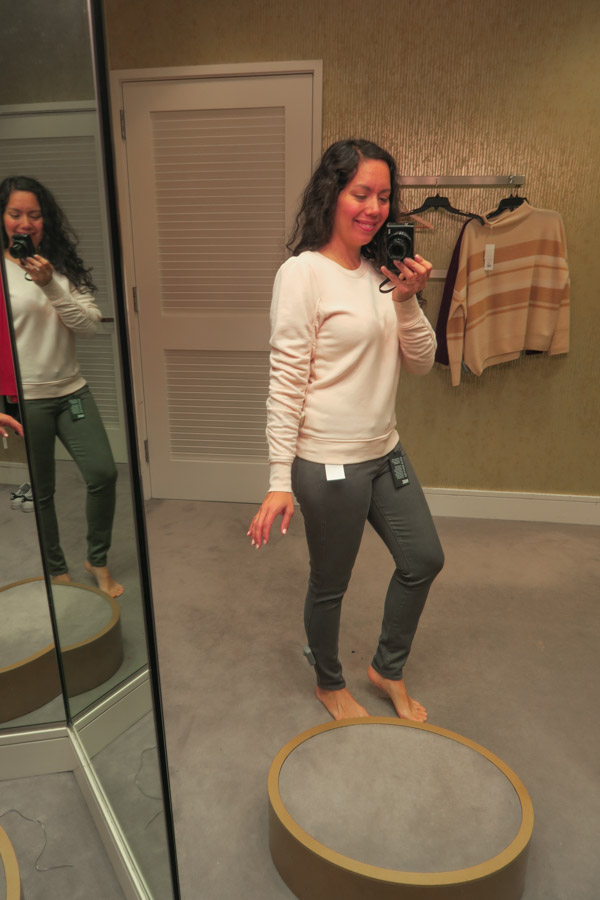 Hencia Ruched Sleeve Pima Cotton Sweatshirt by Joie: did not get
Too expensive for a sweatshirt, though it is super cute. This is in an XS because they didn't have S in the store.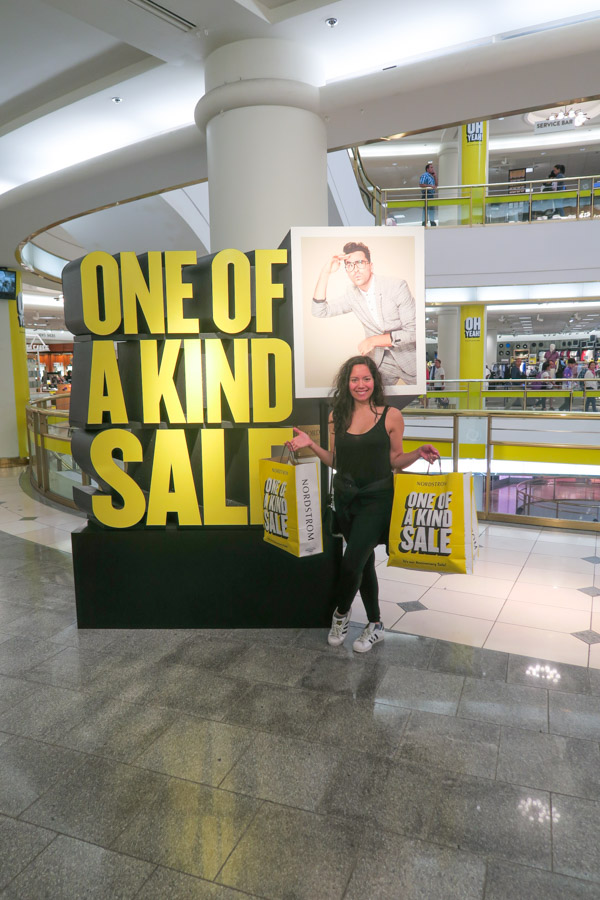 There were still some items I wanted to see in person, so I did some online shopping after the sale. Let me know if you want to know more about those. I'm a bit Nordstrom Anniversary Sale posted out. Haha! Plus, I have to prep for Zumba Convention this week!
More Shopping and Style Posts
Click here for my 2018 clothing picks (from online shopping)
And here for Beauty, Accessories, and Home
***
Hope you found this post and video helpful! Happy shopping!
Thank you so much for watching and reading!