Hello friends! I have some exciting news to share! After taking waaaaaay longer off than I expected, I'm back to teaching Zumba! I posted all about my challenges throughout my Zumba career on Instagram. You can read about it there, but I basically have dealt with multiple injuries and other setbacks over the years. Including failing my first instructor audition. Basically failing before I even got started. Lol! But after everything, I'm talking about my return to teaching Zumba today!
My Journey Back to Teaching
After teaching for five years, I took a break from teaching Zumba back when I started working in NYC. I wanted to focus on work since that was the primary reason I was in NYC to begin with. And from there, I was also a bit burned out. I wanted to explore other fitness genres, grow my strength through different conditioning workouts, gain flexibility and grounding with yoga, and work on my dancing skills with hip hop and other dance style classes. Basically, I wanted to be a student again, and I wanted to improve myself as an instructor in the process.
But the itch to teach was still deep within me, and I felt it calling more and more with time. Just as I'd nearly finished polishing off a resume to apply to teach in NYC in 2017, I was stopped in my tracks with a relatively minor back injury that ended up taking me over a year to overcome. You read a bit more about that here and learn one surprising thing I did that helped with my recovery here. I wasn't allowed to do group fitness for months, including dance or dance fitness, of course. The first time I really tried dancing was Zumba Convention, and that was a bit rough.
Once I started being able to do any dance at all, I kept slowly moving forward. I'd practice a couple songs in my gym / physical therapy (self-guided) sessions. Dancing at a level so low from where I was when I was teaching was super frustrating. But I kept my eyes on the prize and practiced, telling myself that I'd teach again one day.
As the year continued, I got stronger and eventually made my way back to yoga and dance classes. Which meant it was time. Time to return to teaching!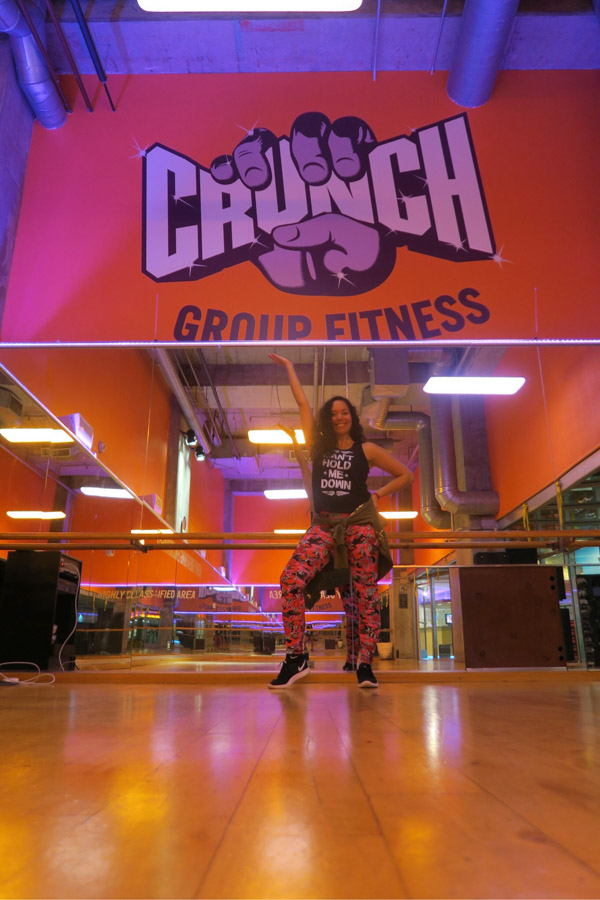 I managed to get an audition with my top choice for a gym where I could teach – Crunch Gym in San Francisco, California! And you know what? My audition was a success!
I'm now teaching once a week, and I couldn't be happier! Teaching Zumba fills me with so much joy and energy. And I just love connecting with my students and helping them have fun with fitness.
My First Class Post-Break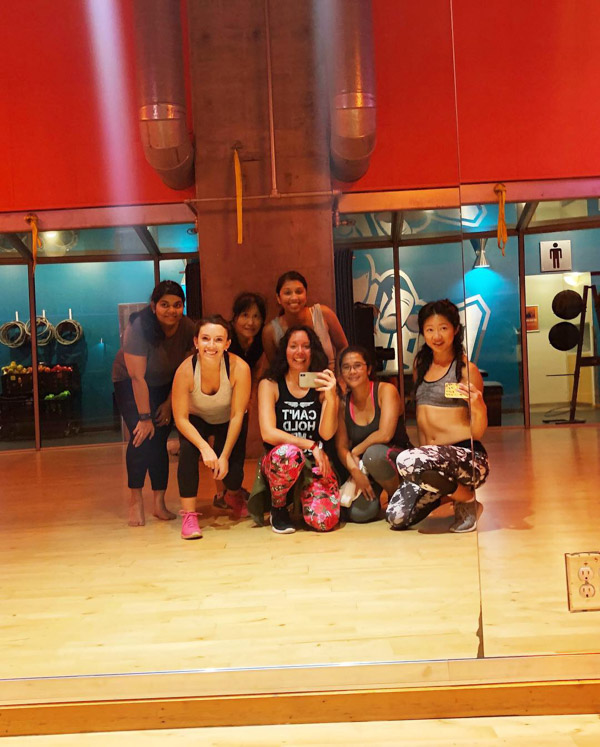 Here's my first class in San Francisco! Aren't they awesome?!
My First Zumba Playlist Since My Break
Hips Don't Lie by Shakira
Just Fine by Mary J. Blige
Calimeño by Zona Prieta
Balada (Ao Vivo) by Gusttavo Lima
Vivir Mi Vida by Marc Anthony
Bambalam by General Degree
Starstrukk (featuring Katy Perry) by 3OH!3
Te Mando Flores by Fonseca
Baby Come Back by Magic Juan
Pegate by Grupo Treo
Something for the DJ's by Pitbull (I'd just seen him live at Unleash the Power Within)
Promise (featuring Usher) by Romeo Santos
I almost flipped out before class because I was using the same iPod I'd used for years teaching in Charlotte, NC. I'd been using it for awhile to listen to my music to prepare for teaching, and it was working great. Well, wouldn't you know it, I'm literally crossing the street to walk into my gym to change for class and…my iPod died. OH NO!
Luckily, I figured out that my laptop could connect to the speaker. My laptop was with me but not the charger. Since I couldn't risk the laptop dying in the middle of class, I flew back to my apartment, got my charger, changed for class, and was back to the gym still early for class. Phew! Crisis averted!
Although I was a little nervous about teaching, it was like riding a bike. Teaching came right back to me, and I was singing and wooping, just like I always did. It was such a magical time, and I felt very lucky to be teaching Zumba again!
***
I'm looking forward to an amazing year of teaching and dance ahead!
More Fitness and Fun
You can read my whole fitness story here
Or check out my Fitness-related blog posts here
***
Thanks for reading!