Hi friends! Here's Part 2 of my Thailand Trip 2018. This is what I consider the Rest, Restore, Self Care Solo Travel portion of the trip, where I spent three nights at the gorgeous luxury beach resort, Aleenta Hua Hin Pranburi. This just happened to be a short eight-ish minute ride down the road from Evason, where I spent the first part of my Thailand trip.
*VLOG* Resting, Relaxing, and Eating Well at Aleenta Hua Hin Pranburi
Click here to watch this Thailand vlog if the above player doesn't work.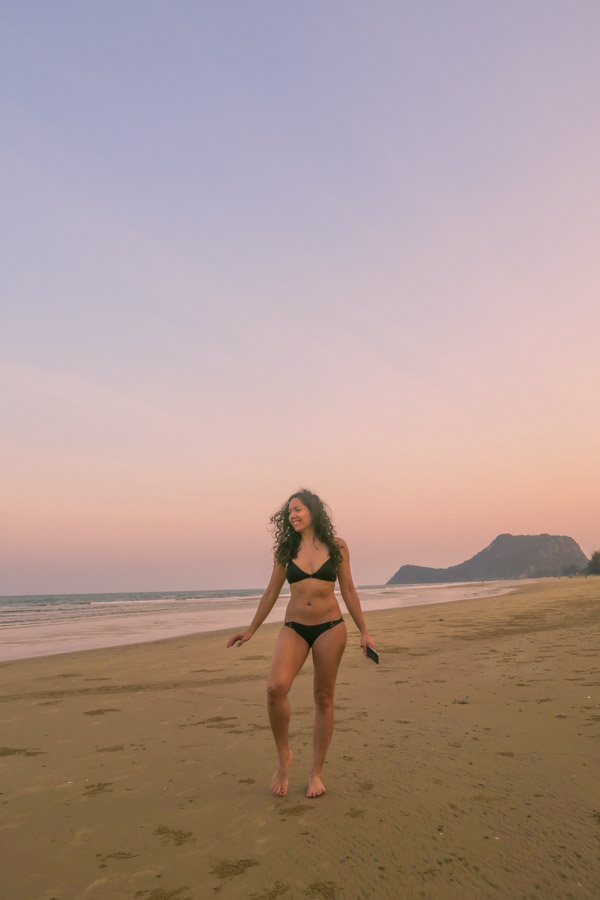 Since I was in divorce recovery mode, I researched options for healing retreats in Thailand. Unfortunately, I was bound by the wedding dates (for my friend's wedding), and there didn't happen to be any retreats (still open and in my price range) at that time. So, I decided to make my own retreat of sorts.
The plan: rest, restore, and focus on self care. I'd do whatever I felt like doing. Which ended up being not necessarily the most eventful trip. But, it was perfectly peaceful and exactly what I needed. I ended up focusing on being grateful for the experience I was enjoying, marveling at the beauty all around. My days were quiet and relaxing, with plenty of beach walks and lots of eating. There were plenty of moments of gratitude along the way too.
Although I was feeling a bit sick the first day, my appetite was strong. Woop!
Aleenta Hua Hin Pranburi Luxury Beach Resort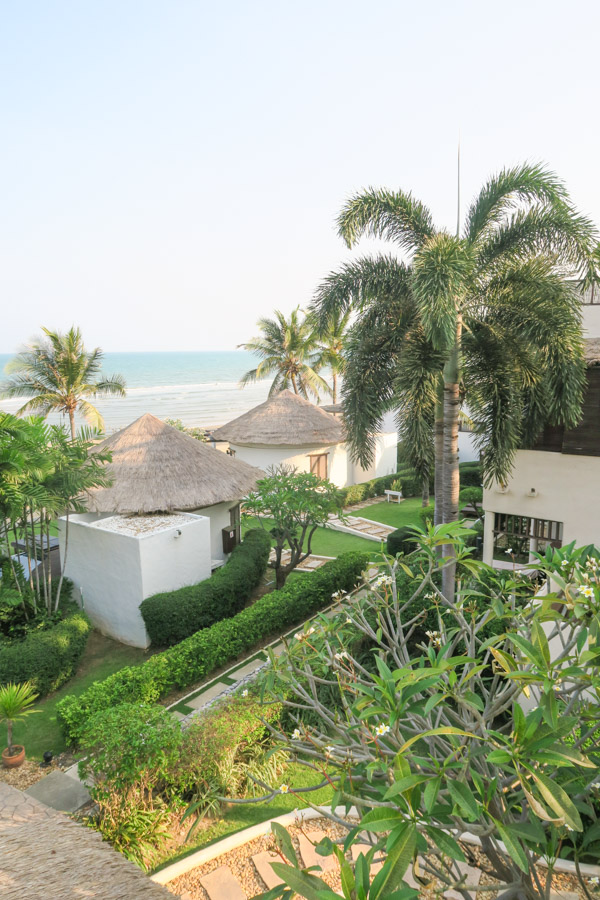 Above is a view of the resort. It's quite small, which surprised me. I don't know why I thought it was bigger, but it's pretty tiny. There's actually a whole other section of the resort, including another restaurant, further down the beach (away from the mountain). I only discovered it on my last day. Oops.
Anywho, to the right are the Ocean View rooms, which is where I stayed. The little huts are Beach rooms. These were sold out when I looked, but I was super comfortable in my Ocean View room. More on that shortly.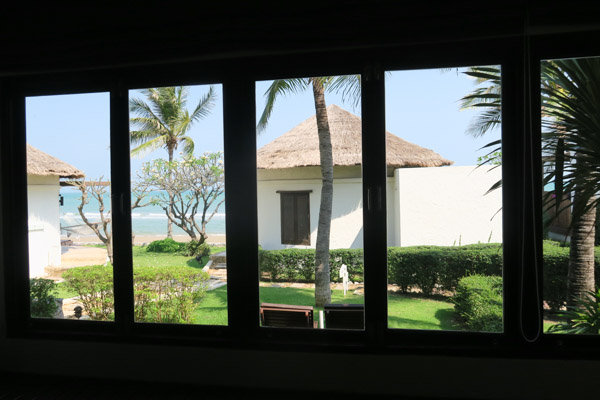 Here's the view from my Ocean view room. I could definitely see the ocean. And the huts. Haha. But I actually found them beautiful versus a distraction like some hotel/resort rooms and architecture can be.
There were these flowering trees (the shorter, curved branch ones) that were stunning. They dropped beautiful white and yellow tipped leaves all around. I loved seeing the flowers against the green grass. And the funny thing was, the Aleenta team swept them up with brooms. I guess they aren't so pretty when they've been sitting there awhile, so they're pretty proactive about it.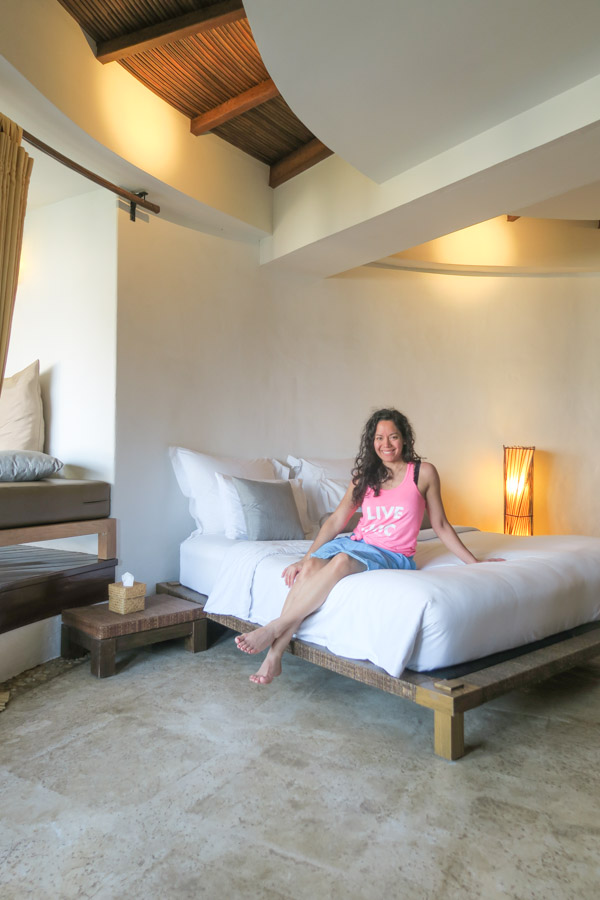 There's a whole room tour in the vlog above, but here's a shot from inside my Ocean view room. It was absolutely gorgeous inside. I loved the natural elements and found the space very soothing. The bed was incredibly comfortable, and the sheets felt like butter. I slept very happily here.
One thing of note is the bathroom. Many options I explored when I was booking my accommodations had outdoor bathrooms. This one is inside the room – the entire thing – toilet and shower. There's no bathtub in this room, but I'm not sure about the others. There were many room options, including a pent house!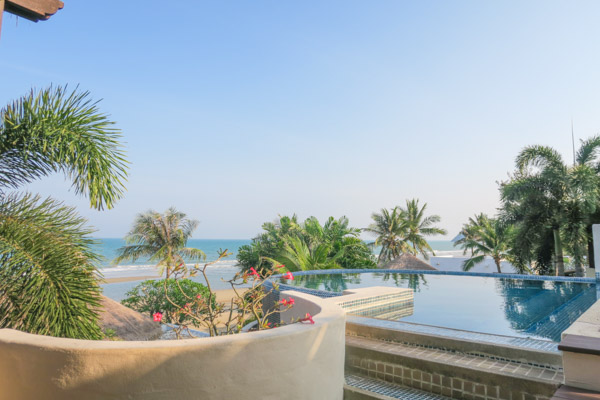 The entire resort was impeccably kept. Here's the infinity pool, from the POV of the restaurant. They're connected. And the steps to the spa are just behind where I'm standing taking this photo.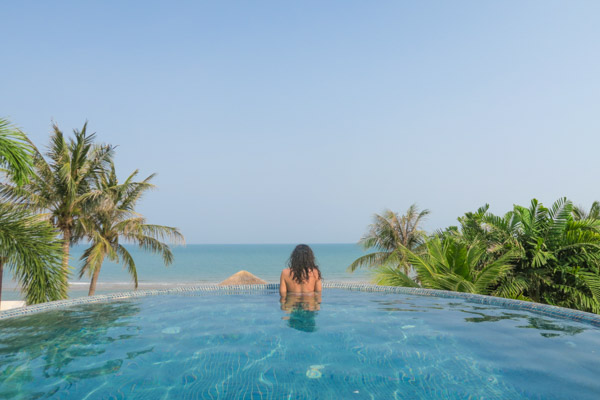 Enjoying the infinity pool.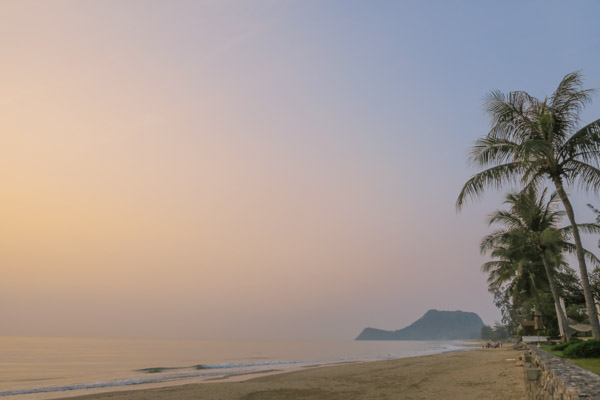 One of the things I looked most forward to seeing when I arrived was this mountain. When I researched Aleenta, I saw many travelers posting photos with this in the background, and I thought it was so pretty. You can get this view by exiting to the beach and turning right.
Coincidentally, closer to the mountain is the beach that Evason has a shuttle to, since Evason does not have a beach behind it.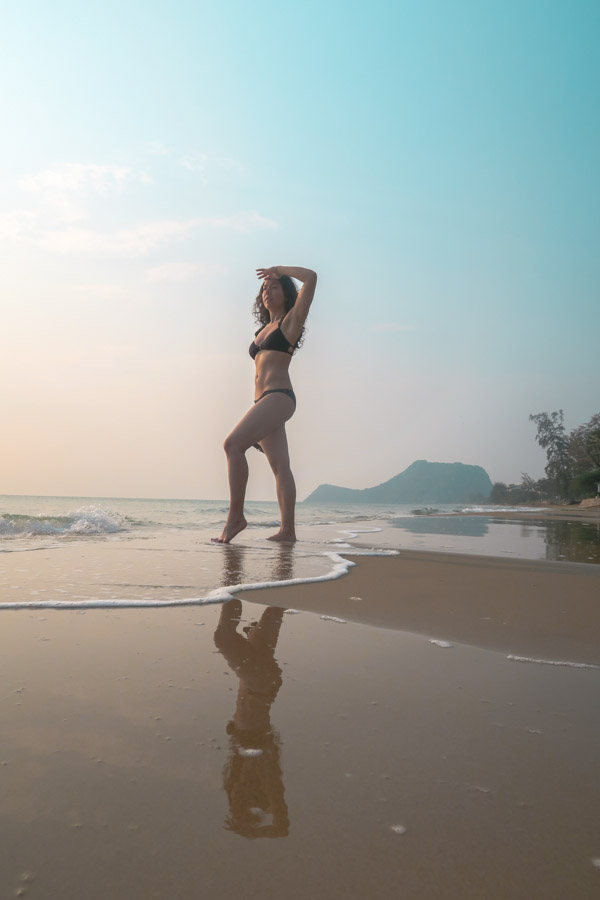 I couldn't help but take a lot of selfies in front of this gorgeous mountain. Haha.
And if you're interested in doing your own travel photos, I'll be doing a separate video on this.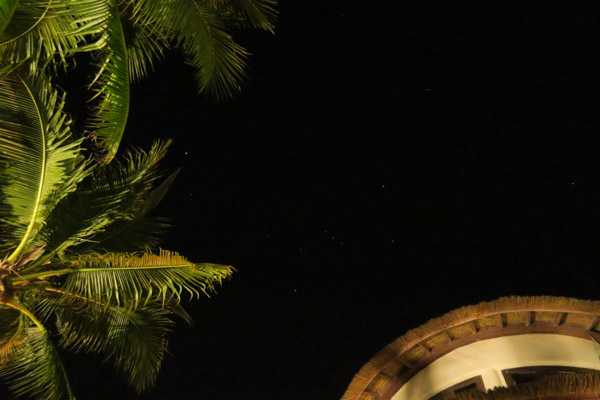 Another cool thing I saw was the stars in clear night skies. They were so bright! The sky does not look like that in NYC. Haha. Unfortunately, the camera can't capture the magic of seeing this in person. But it was so amazing, I seriously stood there looking at the stars for a long time. It was really nice taking in the tiny wonders all around.
Activities
There was a booklet with information about activities that Aleenta could coordinate for you in the room, including kite surfing, which happened just down the beach a bit. There were also day and half day trips by car they could arrange. I was so exhausted and tired from life and traveling that I opted to stay in and relax. I could tell my body needed to just be for a bit. But there were some great options, and I hope to try them when I return.
Food at Aleenta Hua Hin Pranburi
Here's a sampling of some of the food I enjoyed at Aleenta Hua Hin Pranburi. There are snippets of these in my vlog above, plus more dishes!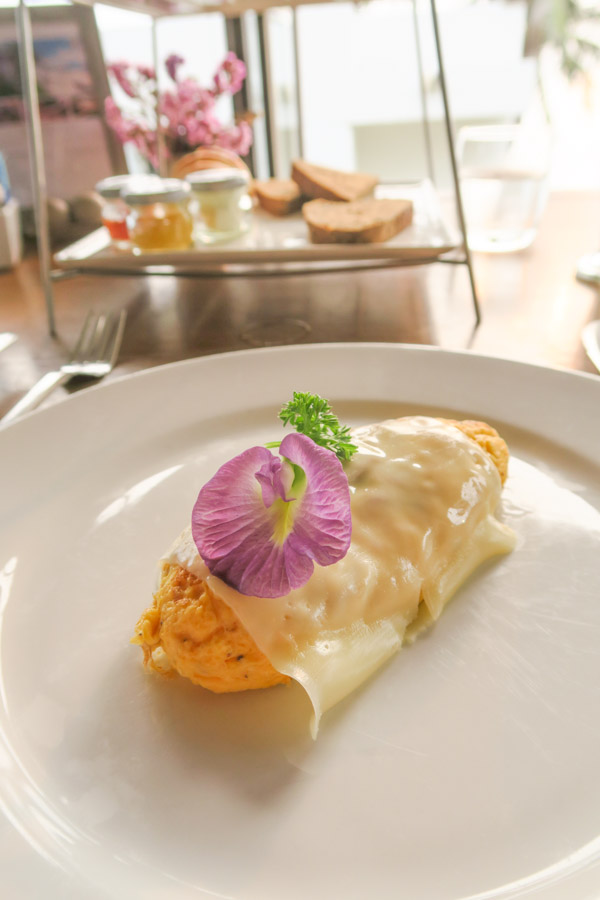 So the food at Aleenta was SO GOOD!
And I was totally and happily surprised that breakfast was included with my room. You get your choice of a hot entrée (I usually went with the omelet), plus…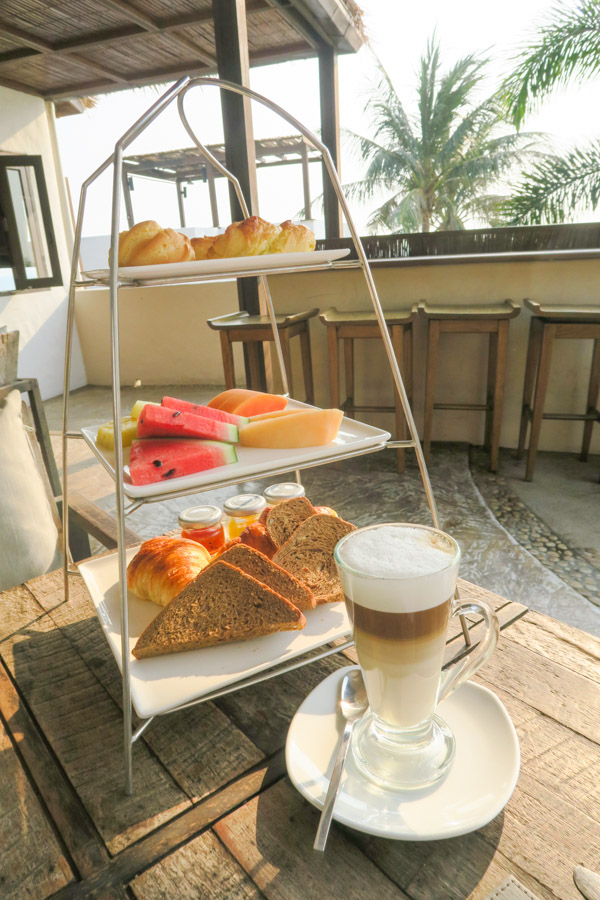 THIS tower of baked goodness and fresh fruit. The baked goods are baked on site. At least I believe 100% of them are. The bakery is just under the restaurant. Plus you get coffees. And like…unlimited coffees. I'm not sure what the max is, but I know I had two easily. And the coffees were wonderful.
At first I was worried the towers were only for couples or families. But nope! Aleenta took great care of me, and I had a beautiful breakfast tower of my very own every morning.
The breakfast and coffee were something to look forward to waking up to for sure!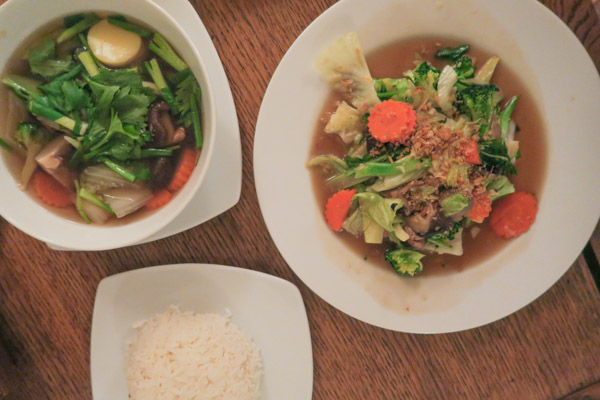 Another cool thing is the room service situation. They'll deliver to your room, and unlike American hotels that up charge 20% or more plus delivery fees and who knows what else, there was no additional charge for the delivery. Which was great on the night I ate the above, because I wasn't feeling well. Thus the ordering in. I had the veggie dish and a vegetable soup with steamed rice to help calm my stomach. And they were just what I needed. I felt so much better after eating.
They were delicious and light but not bland. I would enjoy eating them again on any regular night.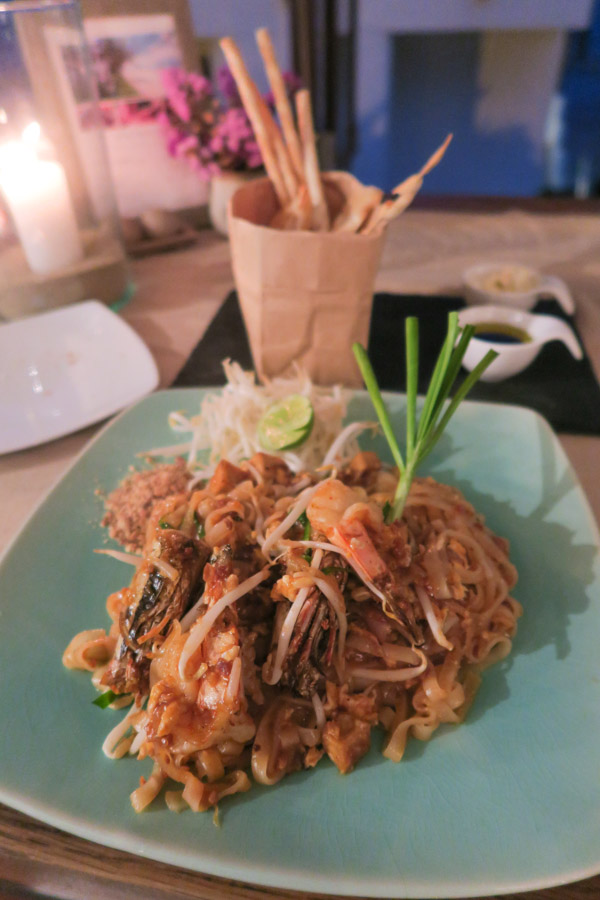 The pad thai was delicious and was served with these giant prawns. And I loved the candlelit dinners. More romantic dinners for one. Haha.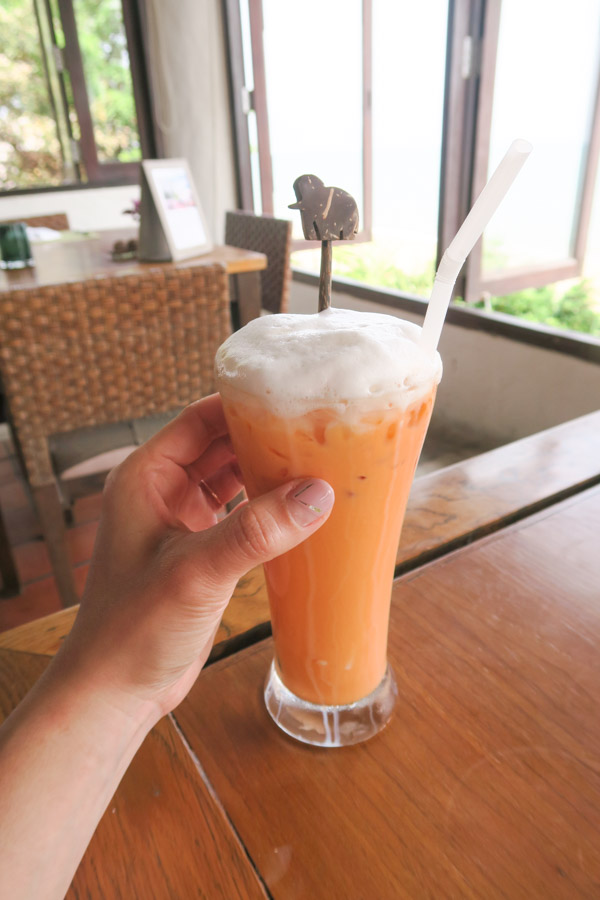 And I've never had a foamy Thai tea, but this was really good too.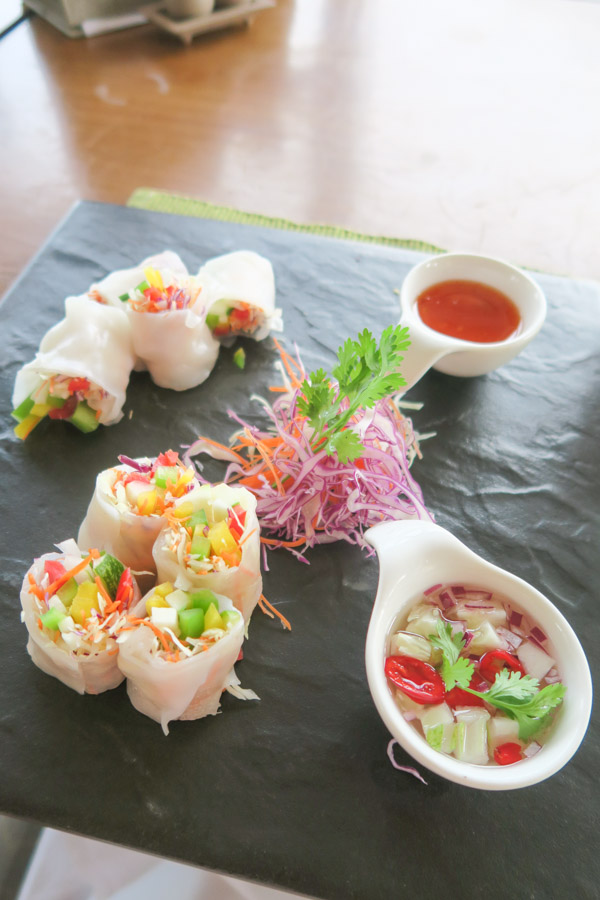 The fresh roll was light and (yes) refreshing. Sorry for the double words, but it really was the best word to describe. Haha.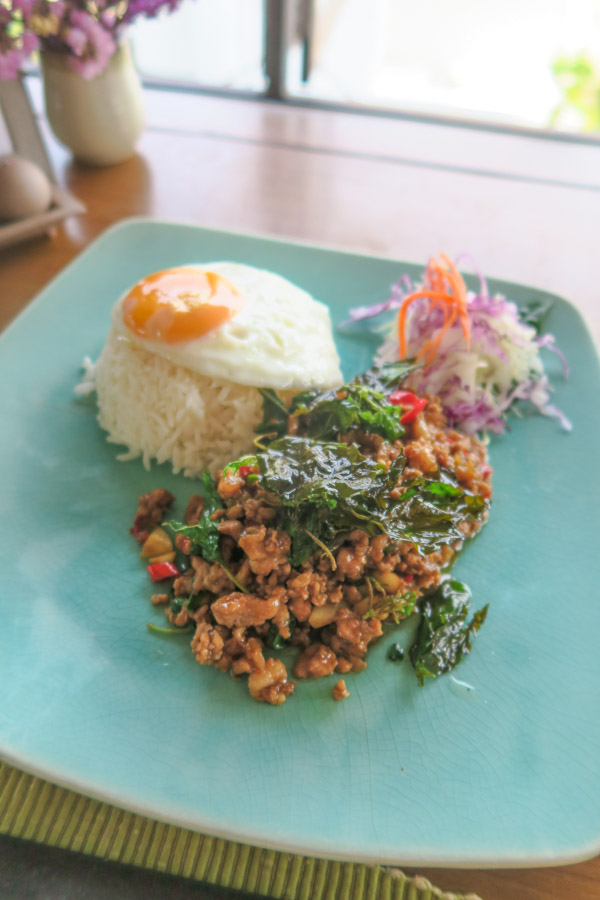 And I forgot what this guy was, but this was good too!
What stood out to me was the simplicity of flavors and freshness of food. Aleenta has its own organic garden, and that no doubt comes across in flavor since you can taste the quality of the food you're enjoying. Not to mention, I'm a big farm-to-table fan, so this was a great perk.
Beach Life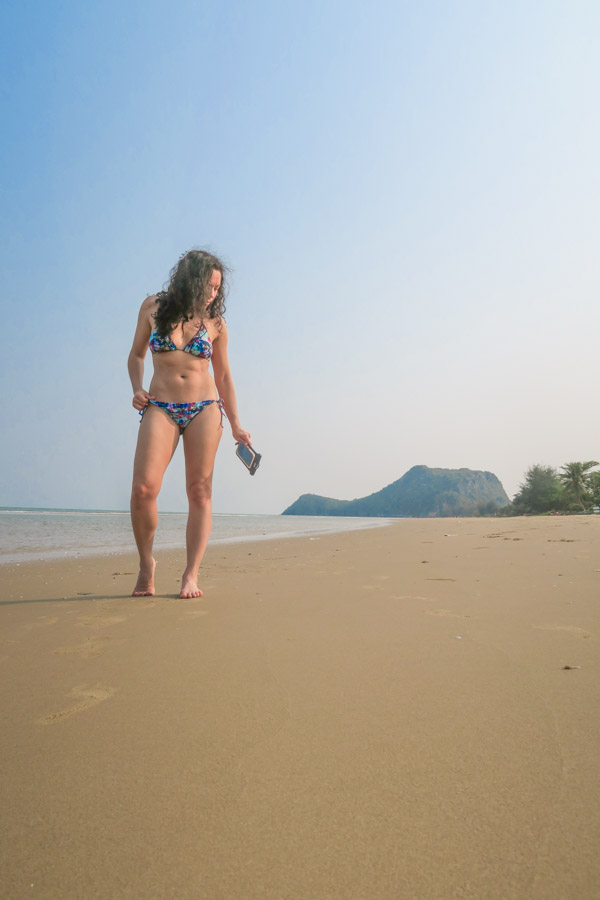 One of the main reasons I chose Aleenta was because it was on the beach. The beach behind Aleenta was well kept, but other parts had some debris here and there. There was also a good number of random dogs running around, again not behind Aleenta, but in the other areas. They didn't bother me, but it could be good to take note of in case you're scared of dogs or anything.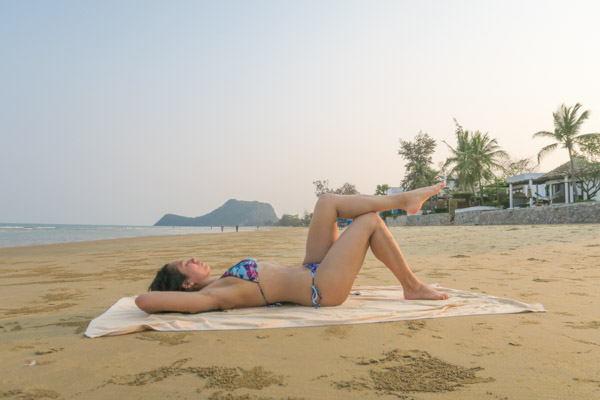 The beach walks were very therapeutic, and I spent as much time out there as I could, mostly walking towards the mountain and back. I did manage to squeeze in a beach workout, plus some stretching. Since I generally feel better when I work out, I considered this part of my self care.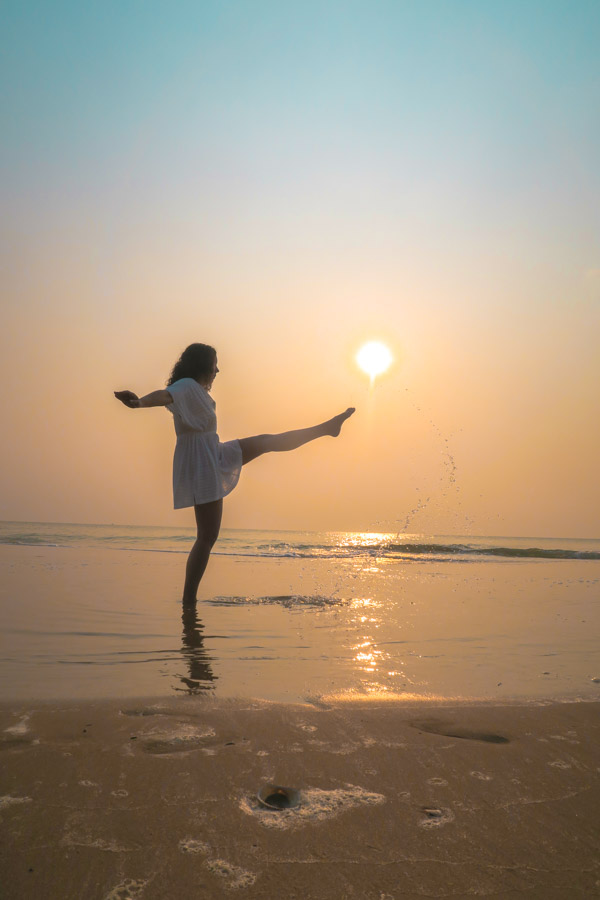 While I walked on the beach at all times of day, the morning walks were my fave. I'd go for a short walk just before breakfast, and yes…even before coffee!
But it was my favorite way to start the day, seeing the sun rise gently over the ocean in Thailand.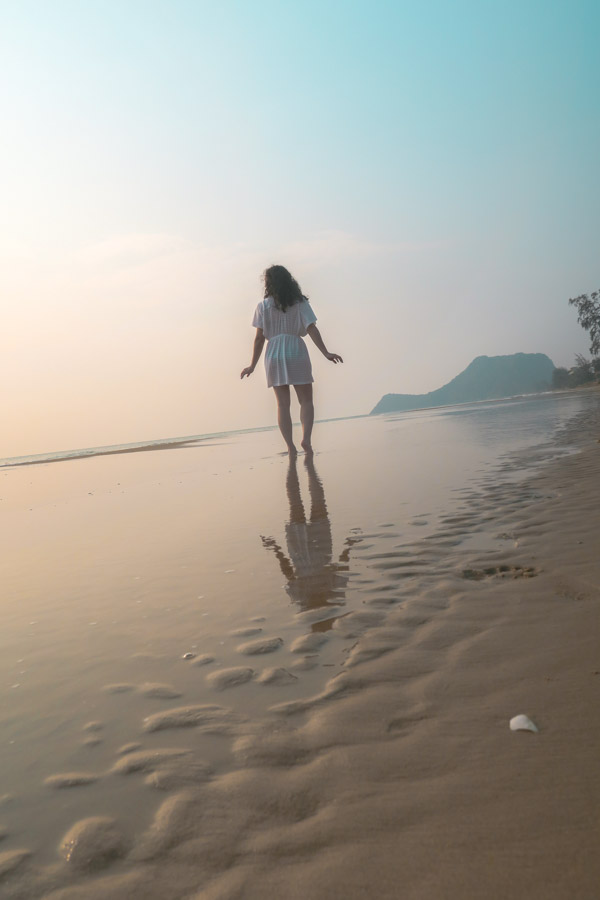 Overall, I had a wonderful stay and can't wait to return to Aleenta! I can't say enough nice things about the facility and the team. Everyone was so kind and took wonderful care of me during my visit.
Who knows? Maybe one day I'll host a retreat there one day. Wouldn't that be cool! Who wants to travel with me? We'll feast, we'll relax, and we'll have a blast! And probably take lots of photos. Lol!
More of My Solo Trip to Thailand
Click here to watch Part 1 of my Thailand Trip 2018
And click here for my other Travel posts
***
Thanks for watching and reading! Cheers!