Hi friends! Feeling stressed? Looking for something to help you calm down after a long day? Well, look no further! I have an easy, soothing, and clean eating drink recipe for you to try. I've been researching and playing with adaptogens, which are basically plants that help us *adapt* to stress. I'm working on a separate post to talk about adaptogens in more detail. But, for now, let's talk about today's new recipe! Here's my recent pre-sleep, night routine drink of choice – this Goodnight Moon Milk Recipe with Blue Majik and Reishi. Majik…reishi…what?! Let's discuss…
Note: This post contains affiliate links. If you make a purchase from one of these links, I may make a small commission at no extra charge to you. I've been using the products in this post for awhile now and really love them! Feel free to reach out if you have any questions.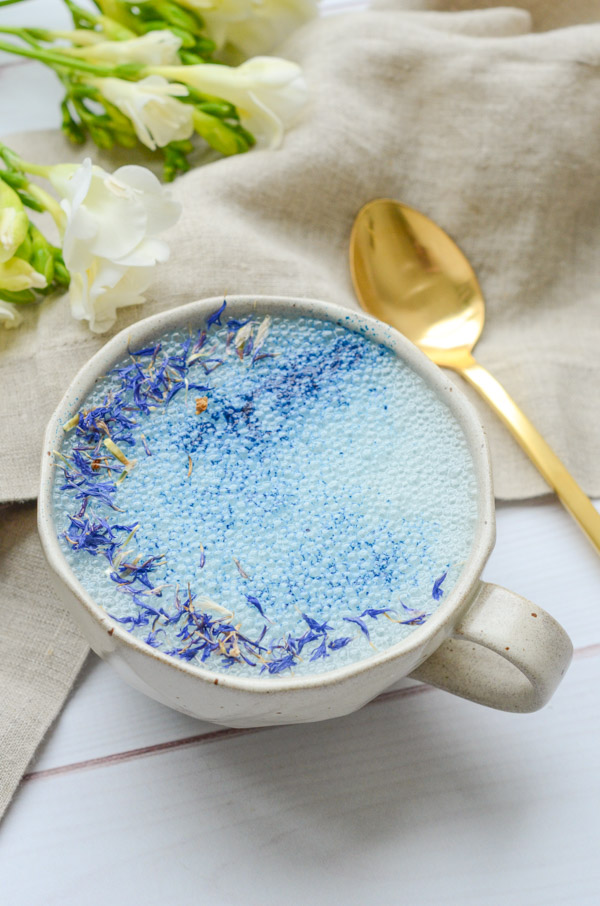 My Goodnight Routine Drink of Choice
After a long day of work, teaching Zumba, blogging, YouTube-ing, and what not, I sometimes need a little help getting into a chill mood for bedtime. So, I've been making this Goodnight Moon Milk Recipe as part of my evening routine to get ready for bed.
While I'm still working on creating (and actually sticking to) a full night time routine, I've done pretty well at reading a bit from a paper book (trying to stay off screens) and having this blue moon milk. And I'm really digging it.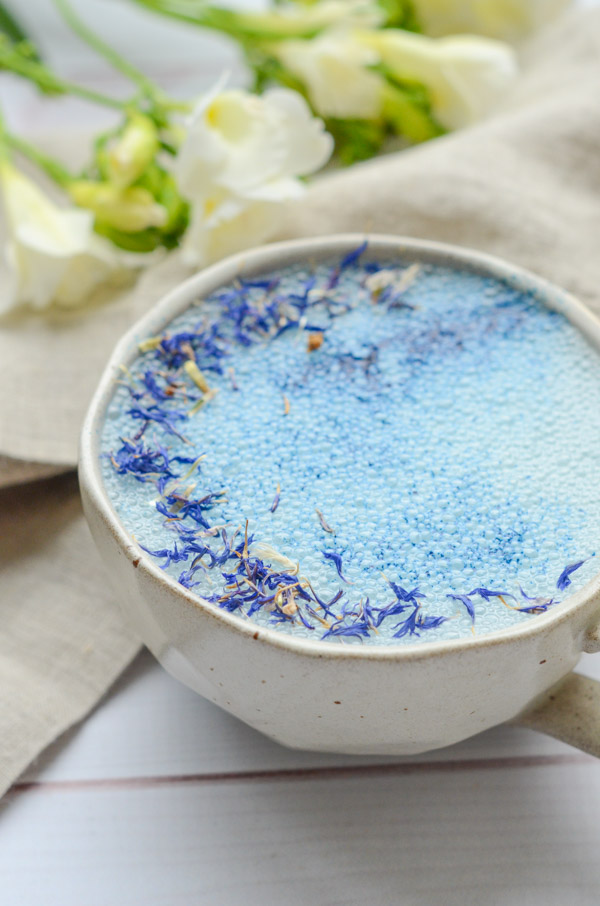 Why I Developed This Goodnight Moon Milk Recipe
Sometimes, I have a hard time calming my mind at the end of the day, so I was looking for something to help me with that. But I didn't just want a sleeping pill, because I prefer natural, holistic solutions.
In my research, I started finding recipes for pre-sleep tonics and elixirs, including the idea of "moon milk". Based on the Ayurvedic idea that drinking hot milk before bed helps you sleep, moon milk is also often made with adaptogens. I loved bedtime tea, but this was some next level stuff!
And lucky me, I already had an adaptogen on hand – reishi mushroom powder. It was one of the few things I packed into my four suitcases when I left NYC and started working in San Francisco. Woop! And thanks to my friend, Stepfanie (who wrote a cookbook about healing mushrooms), I knew reishi was good to have at night.
But I didn't want to put just reishi into the drink. One of the other few health-boosting ingredients I had on hand was Blue Majik. And, I'd been looking for new ways to enjoy this as well. I wanted to incorporate Blue Majik so I could enjoy its anti-inflammatory properties.
So, I combined these two with some flavorful spices and boom – this Goonight Moon Milk recipe was born!
Read more about the health benefits of these ingredients below…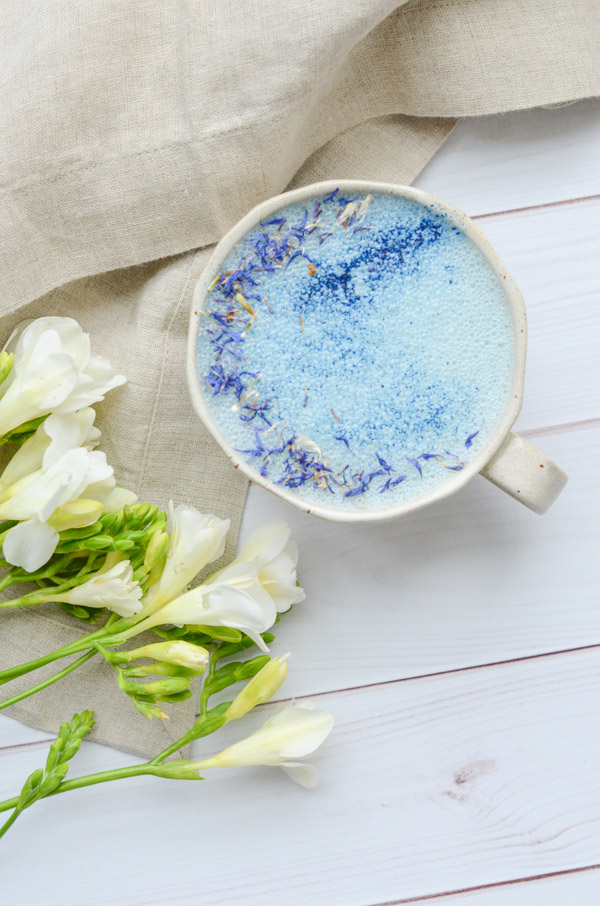 About The Goodnight Moon Milk Ingredients
Important: Please do consult with your health care provider before trying any new supplements or making changes to your diet. Although I've read that adaptogens are generally safe, it's better to be safe than sorry and research/consult properly beforehand.
Reishi for Sleep
There is so much to say about reishi, but I'll try to highlight what's struck out to me.
Reishi is known for being good at managing stress. Plus, according to Four Sigmatic, reishi can help reset your sleep cycle, so it's best to enjoy one hour before bed.
Apparently, it takes using reishi for awhile (sometimes a couple months) before you'll notice any differences. From my personal experience, I haven't noticed any huge shifts in my stress levels. But maybe it's been a gradual change, so I didn't notice?
Blue Majik for Anti-Inflammatory
While I like reishi for it's pre-bedtime benefits, I like Blue Majik for its anti-inflammatory properties. Blue Majik is an extract from spirulina, and like reishi, it has other health benefits.
According to E3 Live's site (my preferred vendor): "clinical research suggests that Blue Majik may promote
Support of healthy inflammation responses after exercise*
Support of healthy joints and flexibility*
Support for antioxidant and cellular protection*
Increased energy, vitality and endurance*"
Plus, I have to say, there's something very soothing about the beautiful blue color the Blue Majik naturally gives this blue moon milk recipe.
Importance of Quality Ingredients
One caution I've read about in a few places is that adaptogens (and other food products) can easily become contaminated, so you want to find a company whose sourcing and production quality you trust. I'm sharing the ones I've researched and selected below, along with other tools and what-not. But it's always best to do your own research.
Will This Moon Milk Help with Sleep?
Based on what I've researched on the ingredients, I think this moon milk may help with sleep. Plus, the moon milk concept is based on an Ayurvedic idea that hot milk will help with sleep. But, our bodies are different, and we react to foods so differently that it would be a lie for me to tell you with 100% certainty that this will help.
But personally, I'm enjoying this, even if it's just building the night time ritual that helps me associate moon milk with easing into the night.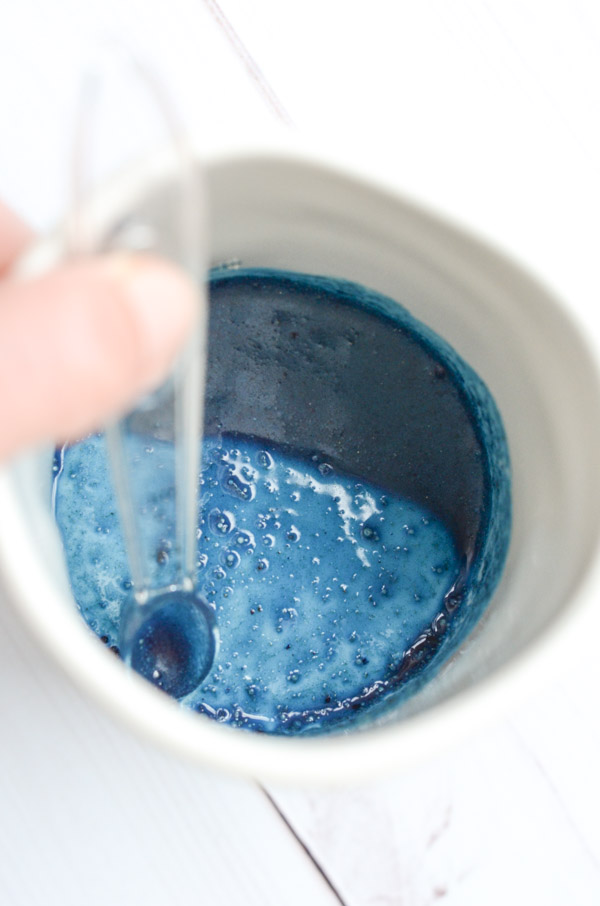 Goodnight Moon Milk Recipe Preparation Tips
Moon Milk Shortcut (And Less Dishes Method)
In researching health boosting, adaptogen-based drinks, many preparation methods suggest blending all the ingredients together. I don't know about you, but at the end of the day, when I'm trying to chill out, the last thing I want to do is dirty up a bunch of dishes and appliances.
So, I have a different preparation method, which is similar to the one used in my Healthy Hot Chocolate recipe. In this approach, we'll make a bit of a paste with the powders, sweetener, and a little water to get the powders dissolved. Skip this step if you dare. But I can tell you (since I try to usually take the laziest simplest approach first, the powder tends to clump together and is not easily blended (if it is at all), even if you use the handheld milk frother I recommend below.
Additionally, you can save a mug from needing cleaning by making the paste, adding the liquid, and then heating everything together. But, since heating foods can sometimes detract from the nutritional benefits, I opted to heat the milk separately. I'm not sure there's a huge difference since eventually the supplements will be added to a heated liquid, but…I figured cleaning the extra mug was worth trying.
That is until I get my food scientist degree and can properly research these things for myself. Haha. Wouldn't that be nice, though?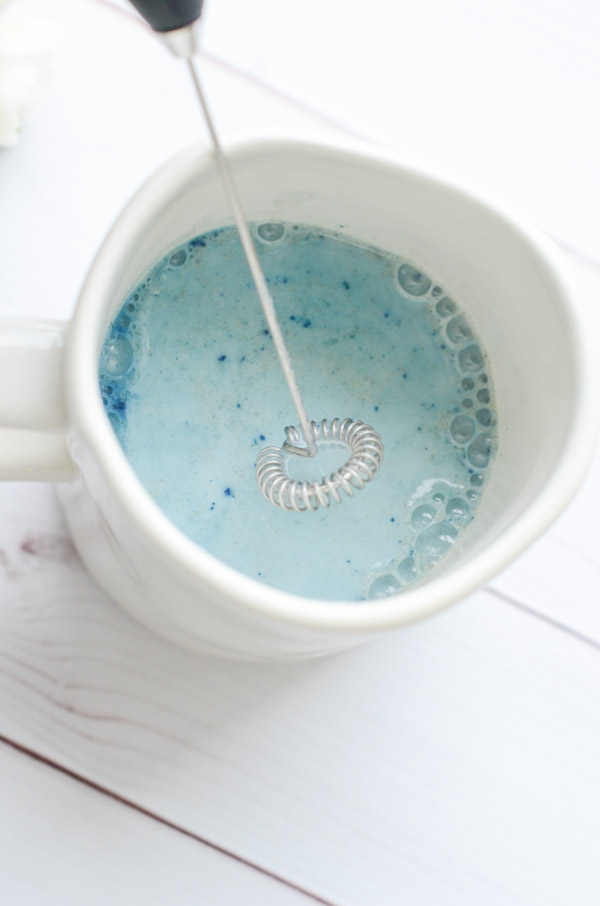 Frothed Blue Moon Milk
So another trick with this delicious Goodnight Moon Milk Recipe is to use a hand held frother (click for the one I use – PowerLix). Although completely unnecessary, I love the frothed milk touch for this drink. There's something nice about giving the moon milk a quick froth that makes it feel extra…special. And after a long day, it's good to treat yourself, even if it's as simple as frothed milk.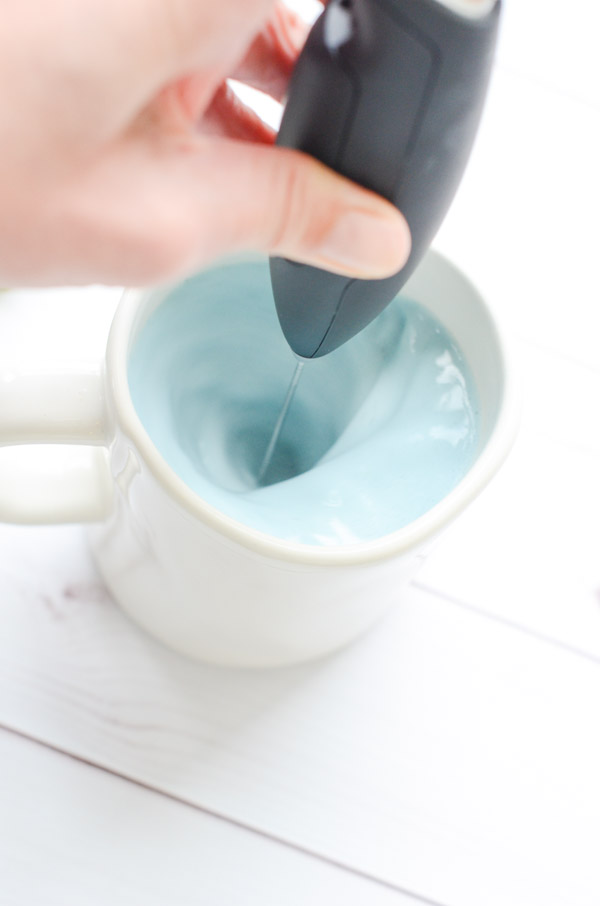 I have one of those milk frothers that heats up the liquid separately, but I like the simplicity of this handheld milk frother for this late night recipe. It's easier to clean and simpler to use.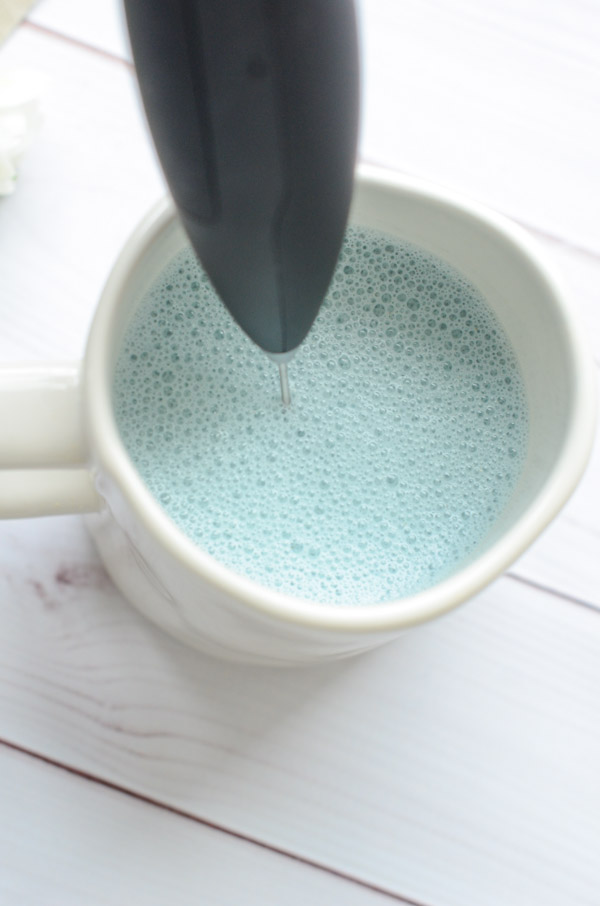 Btw, the bubbles vary on the type of milk you use, because some milks froth better than others.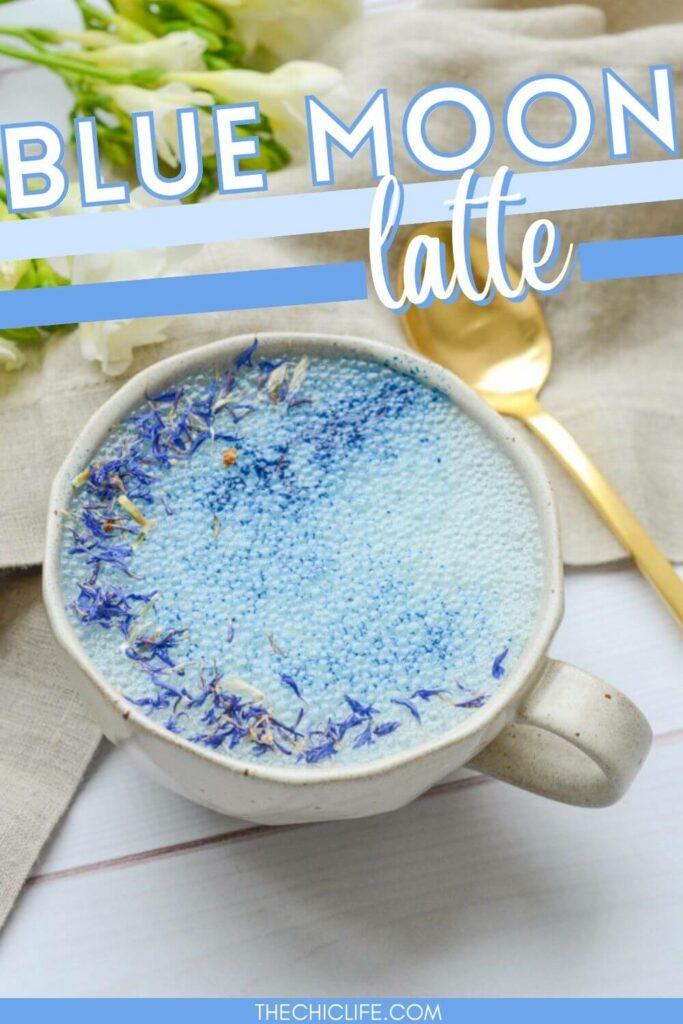 Blue Moon Milk Latte Recipe
If you want to make your Blue Moon Milk more like a Blue Moon Latte Recipe, you can put about 1/4 cup of the milk from the recipe into a milk frother that also warms the milk, like this one. One click, and you have warm, frothy milk that you can pour into the rest of the drink.
Whilst lattes are actually made with steamed milk and you can't really get that style of milk without using a steaming wand like the kind on espresso machines, the frothers get you close for a homemade latte.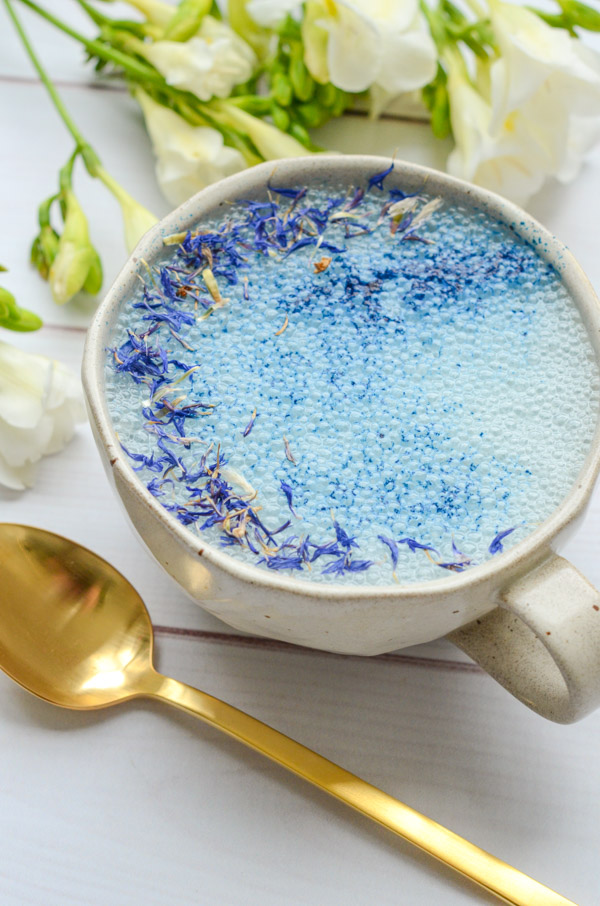 Expensive? Yes. Worth It? I Think So.
So one common comment I've seen and heard about adaptogens and Blue Majik is that it's expensive. True, it's not the most affordable thing you can buy. But, I've had my Blue Majik and Reishi for at least a year (or more?), and I use it pretty frequently, and I still have it. A little goes a long way.
I'm not going to tell you how to spend your money, but I've offset the cost of these supplements by skipping drinks here and there and doing a little less clothing shopping. A real challenge for this former shopaholic. Any of my original fashion blog readers out there? Get it?! 😉
Anywho, I like to think of these products as an investment in my health. And I believe health is one of the best things you can invest in!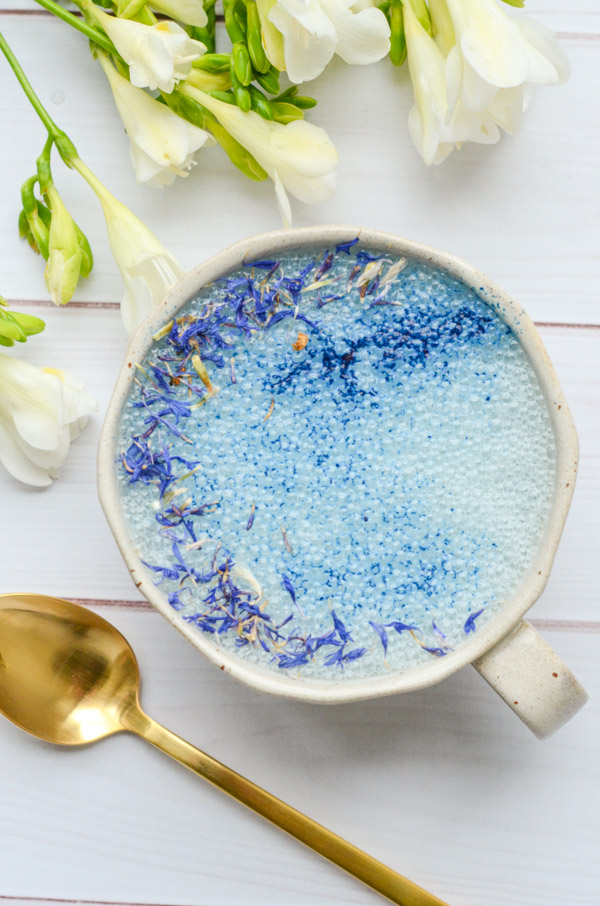 Get the recipe…
Print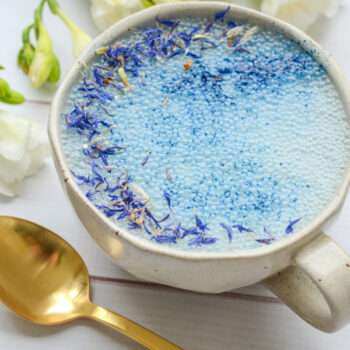 Goodnight Moon Milk Recipe with Blue Majik and Reishi
Author:

Prep Time:

1

Cook Time:

5

Total Time:

6 minutes

Yield:

1

1

x
---
Description
Get ready for bed with this Goodnight Moon Milk Recipe featuring Blue Majik and Reishi. This anti-inflammatory drink has the adaptogen reishi-known for helping de-stress and re-set sleep cycles.
---
1/2 teaspoon

reishi powder

1/4 teaspoon

Blue Majik
dash of cinnamon
dash of ground ginger
dash of pink Himalayan salt

1/2 teaspoon

maple syrup

1 teaspoon

water, plus additional, if needed to blend paste

1 cup

milk of choice (I use unsweetened oat or coconut milk)

1/4 teaspoon

vanilla extract
edible flowers, optional, for garnish
---
Instructions
Combine reishi, Blue Majik, cinnamon, ginger, and salt in a large mug. See Note below about the "dash" amounts – this should be just a touch. Stir. Add maple syrup and water and stir until the powders are dissolved, adding additional water as needed.
Heat the milk in a small pot over low to medium low heat until warmed to your liking (I stop it just as it reaches a simmer). Alternatively, in a separate mug, you can heat the milk in the microwave for about 1 1/2 minutes.
Pour milk into the mug with the paste mixture and stir to combine. Stir in vanilla extract.
If using, place handheld frother towards the bottom of the mug (so it doesn't splash around) and be sure your mug is much larger than the amount of liquid in there. This is because when you run the frother, the liquid can rise up to 2 inches (at least that's what happens in my mug). Once you're sure you won't make a mess, turn the frother on and let it run for about 20-30 seconds, or until it's frothed to your liking.
If you want to garnish the moon milk, sprinkle a wee bit of Blue Majik on top and spread some dried, edible flowers around the top. See bottom of the blog post for this recipe for the edible flowers I used.
Enjoy!
---
Notes
If using a milk frother instead of a wand: Set aside about 1/4 cup of the milk (or however much would fit into the milk frother you use). Prepare the rest of the recipe following the directions. Put the 1/4 cup milk into your milk frother and froth according to your device instructions. Pour frothed milk into the drink at the end of step 4 (just before you garnish it) and stir gently to combine.
Note: I use coconut milk from the carton, not the can. The can version is typically much more concentrated and would not be great (straight out of the can, at least) for drinking.
Regarding the "dash" of cinnamon, ground ginger, and salt…while a dash is (I believe) 1/8 teaspoon by some measurements, my "dash" is like a flick or two of the spice bottle. Which is not really even measurable and would certainly be less than 1/8 teaspoon. Especially the salt!
Be sure to play around with the spices in this to tailor it to your taste. For example, I found that I don't like too much ginger, but a touch makes the moon milk taste a little special. Same with the cinnamon.
Recipe Card powered by
Shop This Recipe
More Healthy Drink Recipes
Healthy Macadamia Maca Hot Chocolate Recipe
Pumpkin Pie Spiced Green Smoothie Recipe
Read More Here
Click here to read more about reishi powder on my post about natural cold remedies and immunity boosters
***
Thanks for stopping by and checking out this beautiful blue Goodnight Moon Milk Recipe made with Blue Majik and Reishi mushroom powder. Cheers!
Help support The Chic Life by sharing this recipe with your friends. Add these graphics to your favorite healthy drink Pinterest boards.