Hi friends! I have a delicious treat to share with you today – my latest cleanish eating dessert recipe, which is this Healthy Vegan Spelt Coconut Sugar Blondies Recipe. To make this, I took a classic blondie recipe by America's Best Test Kitchen and lightened it up. Ready to dig in? Let's go!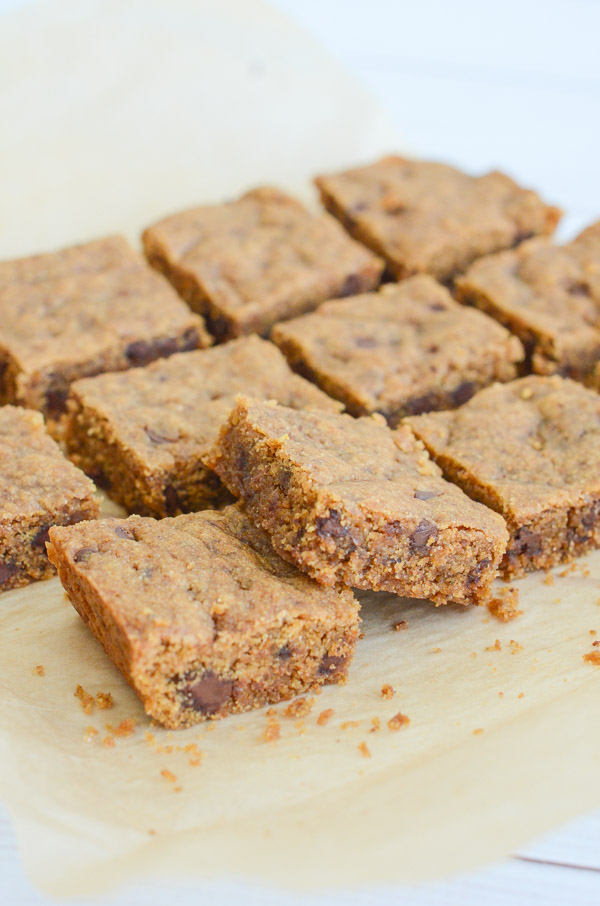 Why I Developed This Healthy Blondies Recipe
I love baked goods. They're a weakness of mine. But I find traditional blondies, brownies, and bars too buttery and sweet for my taste.
So, I took this version of America's Test Kitchen blondies and adjusted it to make it healthier. Plus, I reduced the baking pan size from 9″ x 13″ to 8″ x 8″ so you have less blondies to eat, since this can become problematic when you're baking for yourself.
After all, nothing encourages you to overeat like having an excessive amount of food in the home. So, a smaller baking batch works really well for me and hopefully for you too.
While I'm sure the ATK recipe is perfect and delicious for classic blondies, making recipes a little healthier is one of my favorite things to do.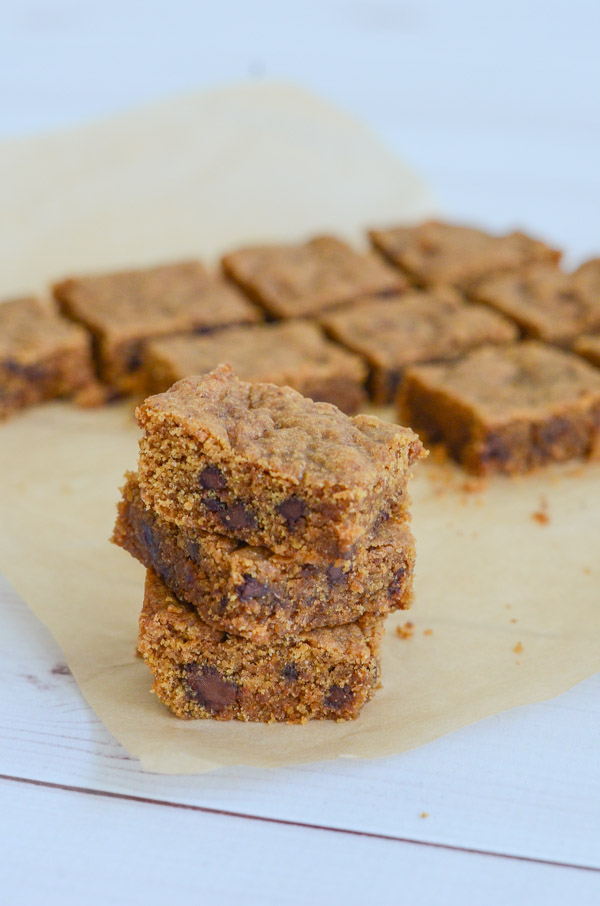 How I Made This Healthy Vegan Spelt Coconut Sugar Blondies Recipe
Here are the adjustments I made to the original blondie recipe to make this Healthy Vegan Spelt Coconut Sugar Blondies Recipe:
Changed the baking pan size from 9″ x 13″ to 8″ x 8″
Reduced sugar
Used coconut sugar instead of brown sugar
Made the recipe vegan
Reduced chocolate chip add-in by over 1/2
Note: Not all of these changes necessarily made the Healthy Vegan Spelt Coconut Sugar Blondies Recipe "healthier". For example, in my research coconut sugar isn't healthier than table sugar. But the changes do fall in line with my values of eating less processed foods and making my way towards a more whole foods, plant based diet.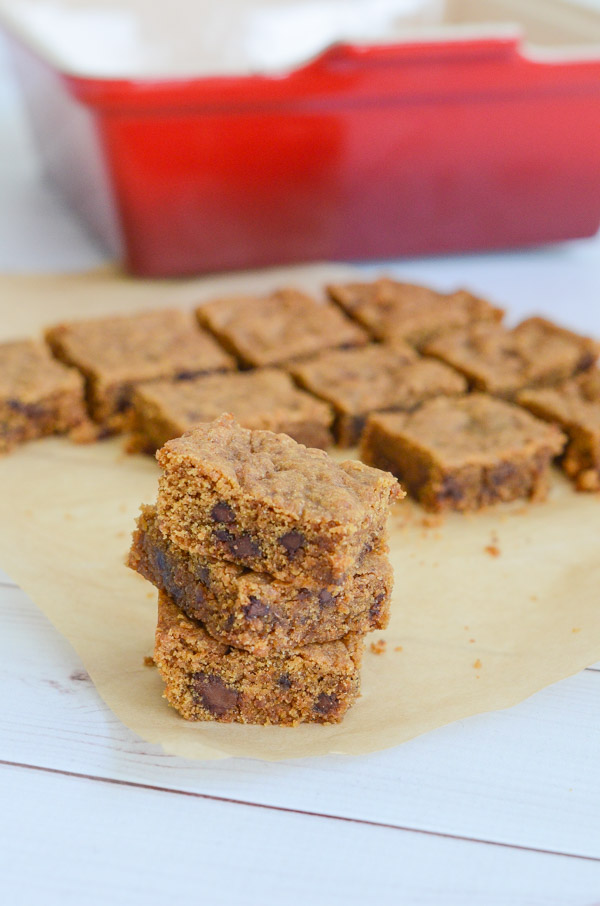 The result is an adorable little blondie that is cute and light.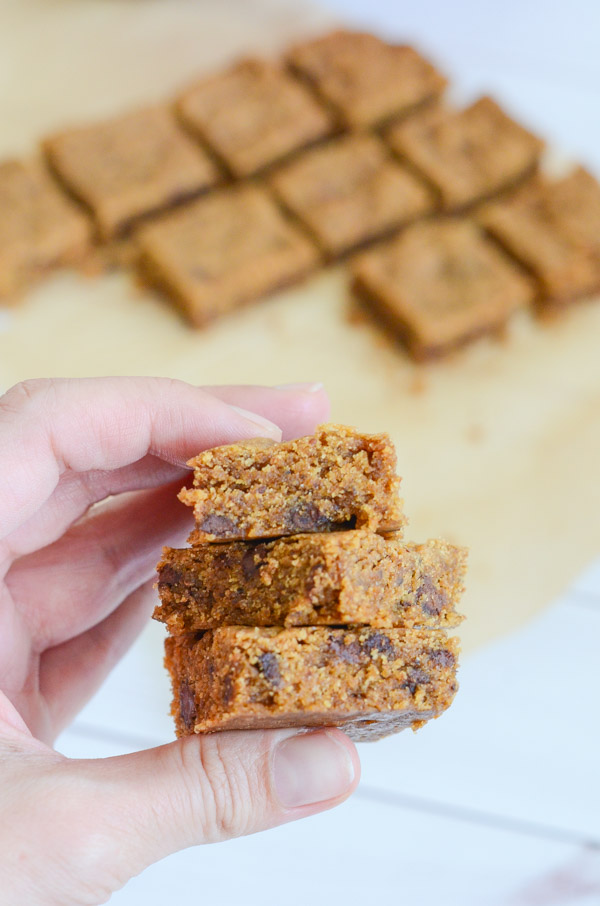 Oh, and the blondies are a bit on the small side once you cut them into 16 pieces. So, I usually eat two of them.
Per meal.
So sometimes 4 blondies a day. Haha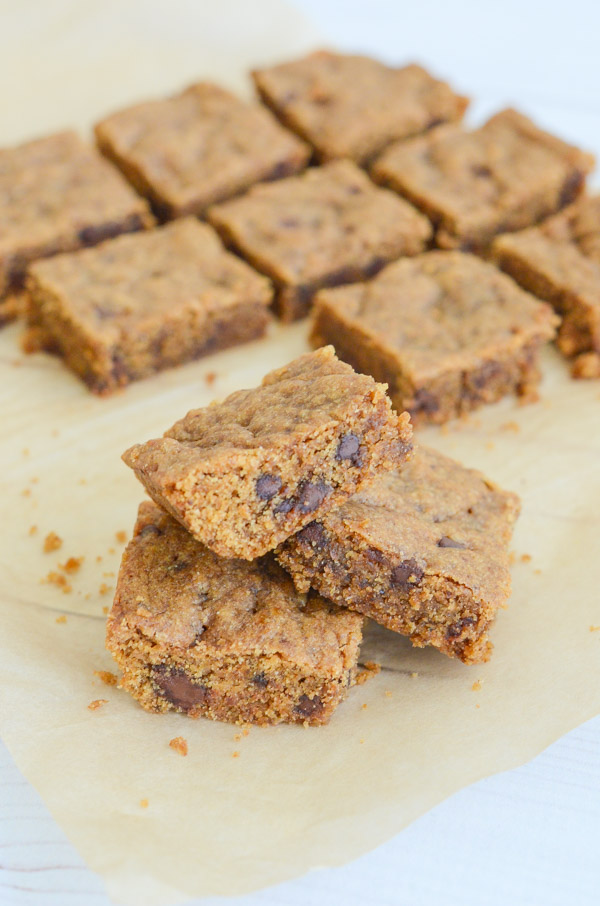 And although these blondies aren't healthier than a piece of fruit, sometimes when you want something baked and chocolatey, you should just go for it.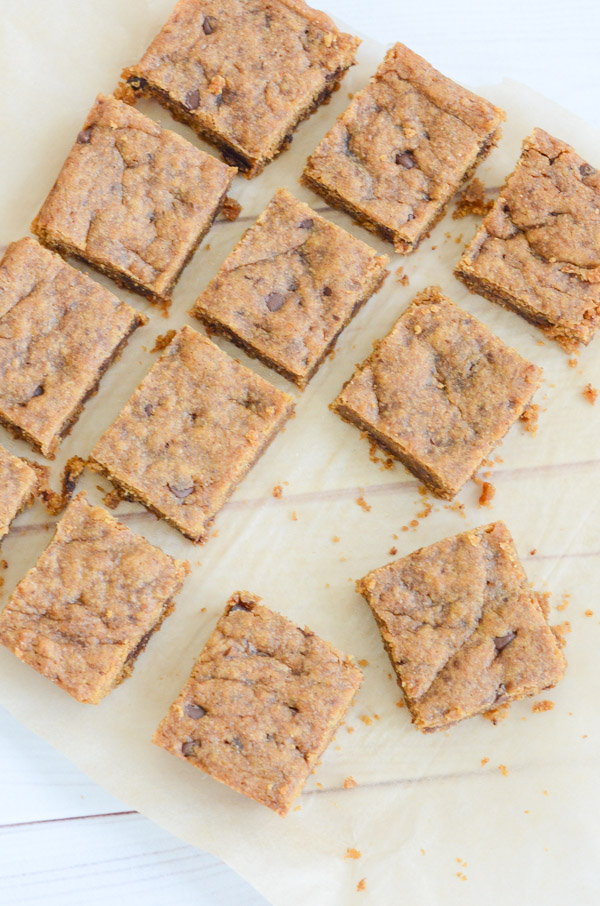 I practice food freedom, which means I avoid restriction. So making a traditionally unhealthy dessert ever so slightly more healthy and closer to clean eating makes me happy.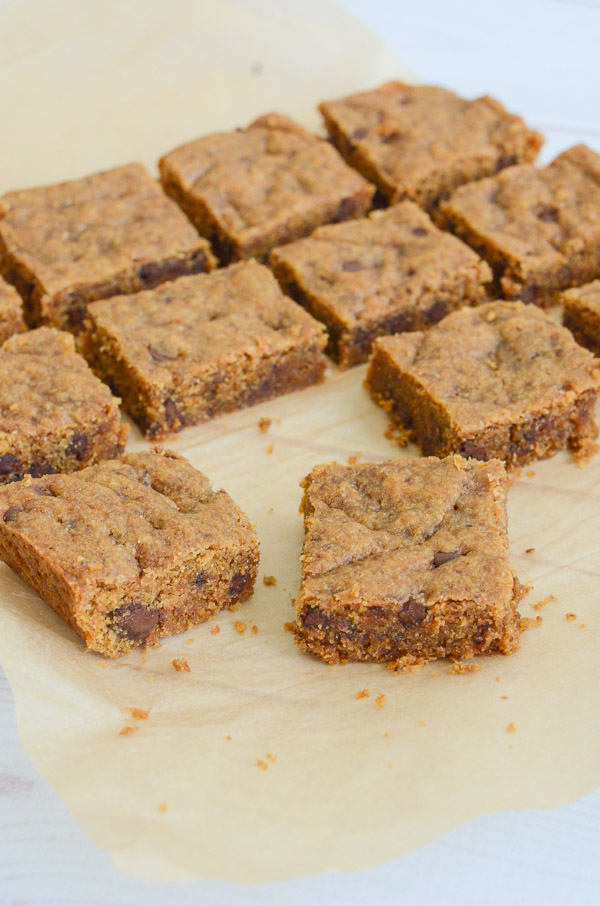 Sometimes it's not about making the perfect decision, but choosing something better than you did before.
Exciting News!
I have exciting blog news to share. I've upgraded my recipe plugin to a new premium plugin that has a nicer display. And I've also added a nutrition calculator! Woop! A quick note on the nutrition calculator – your exact nutrition information may vary depending on which products you use and if you make any changes to the recipe. I hope this additional information provides a nice estimate to help you with your healthy eating goals.
Currently, I'll be applying this new recipe formatting to my go-forward recipes. I'll be working my way through the old ones too, so hopefully you'll see some quality updates on your favorite existing The Chic Life recipes soon.
Speaking of my new recipe feature…here it is!
Print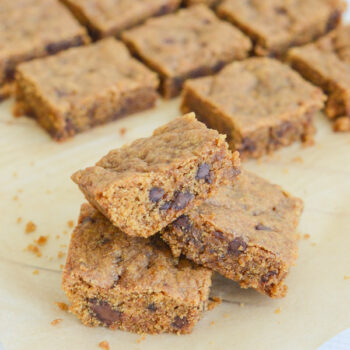 Healthy Vegan Spelt Coconut Sugar Blondies Recipe
Author:

Prep Time:

6

Cook Time:

22

Total Time:

28 minutes

Yield:

1

6

1

x

Category:

Dessert

Method:

Baking
---
Description
I lightened up a classic blondie recipe and added whole grains to make a healthier, more clean eating style blondie recipe. This version is made with spelt flour and coconut sugar and is also an easy cleanish eating vegan dessert.
---
1 cup

spelt flour

½ teaspoon

baking powder

½ teaspoon

salt

⅓ cup

dark chocolate chips (use vegan version to keep the recipe vegan)

½ cup

vegan butter, melted and cooled (I used Earth Balance)

½ cup

coconut sugar

1

flaxseed egg (1 tablespoon ground flaxseed mixed with 3 tablespoons water, set aside)

1 teaspoon

vanilla extract
---
Instructions
Pre-heat oven to 350 degrees F. Line an 8 x 8 inch baking dish with parchment paper (for easy removal).

Prepare flaxseed egg and melt vegan butter, if you haven't already.

In a medium bowl, add flour, baking powder, and salt. Whisk to combine evenly. Whisk in chocolate chips.

In a medium bowl, whisk vegan butter and coconut sugar until combined evenly. Whisk in flaxseed egg and vanilla extract until combined.

Pour mixture into prepared baking dish. Bake until the blondies are cooked through (when a toothpick inserted comes out clean), about 20-24 minutes. Cool for about 2-3 hours (or 1 hour if you're impatient like me), cut, serve, and enjoy!
---
Notes
Placing the baking dish on a trivet to cool so air can circulate under the pan can help expedite the cool down time. If you're anxious to eat your blondies. Not that I did this because I was so excited about eating my freshly baked blondies.
Keywords: Healthy Dessert, Dessert, chocolate, bar
Recipe Card powered by
I especially love the Instagram call-out at the bottom because seeing you guys make my recipes is one of the coolest things ever! I seriously show the photo to whoever is sitting next to me and gush over what an awesome job you've done!
Rough Calorie Comparison: Traditional vs Healthier Blondie Recipe
Since the pan sizes are so different, I had a hard time estimating nutrition information on the original recipe. So, I estimated what it would be if it was roughly 1/3 the ingredients (since that's what I did when I started converting the recipe, before I reduced the sugar and chocolate chips further).
Here's the rough calorie calculation on the original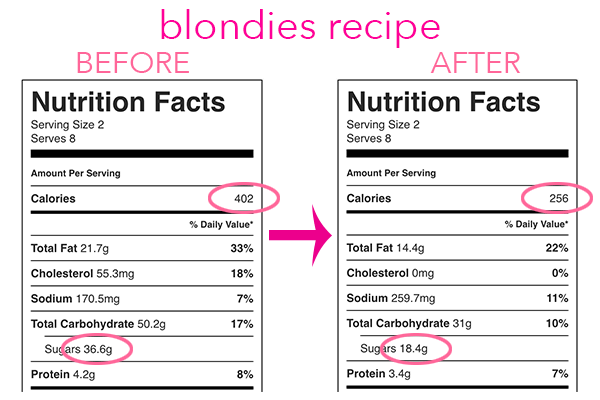 Again, this is a rough estimate calculation for general comparison, but I think it does show the value of reducing sugar.
More Clean Eating Recipes
Coconut Cake Batter Doughnuts Recipe
Healthier Chocolate Pumpkin Doughnuts with Chocolate Glaze
Vanilla Chia Seed Pudding Recipe
Just Right Oatmeal Chocolate Chip Cookies Recipe (also made with Earth Balance)
***
Thank you so much for checking out my Healthy Vegan Spelt Coconut Sugar Blondies Recipe. Hope you enjoy baking it. I'd love to hear your thoughts in a comment or shout out on social media. Cheers!
Please share this recipe with your friends, because that really supports my blog and helps me keep creating more awesome recipes like this one!