Have you guys jumped onto the maca craze yet? Or maybe you've never even heard of the word before reading it here. I recently added some to an amped up hot chocolate to see if I could concoct a superfood hot chocolate. And while this recipe won't be for the full-on-superfood version, this one does have some added health benefits thanks to the star ingredient – maca. So let's jump into this Healthy Macadamia Maca Hot Chocolate recipe. And I'll make the superfood one for you another time, okay?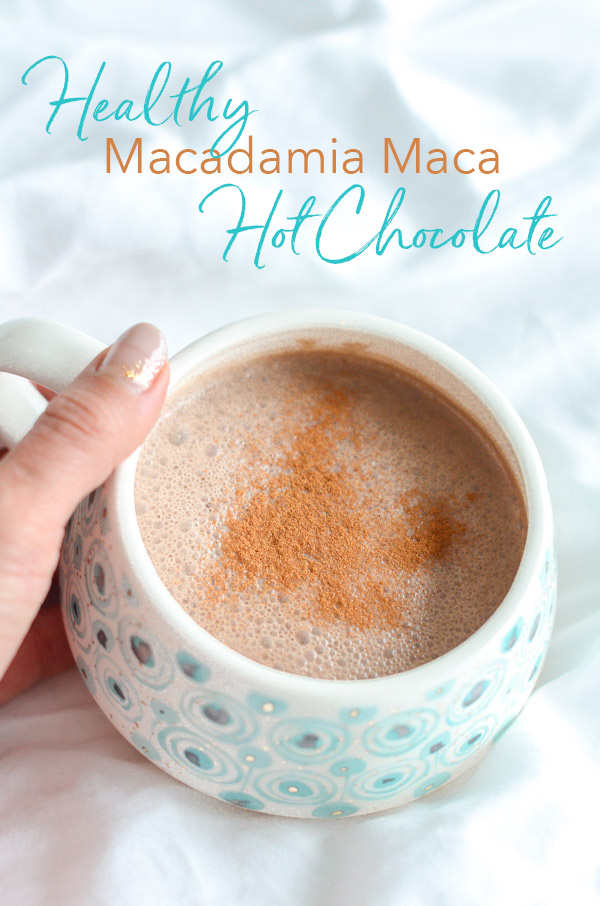 What is Maca?
Maca is a root vegetable that dates back to 3800 BC. Apparently, it has been used for many years for medicinal purposes. And I guess we're just coming around to including it in our diets to improve health.
Since maca is typically sold as a powder, I was curious what it looks like in its vegetable state. So, I googled it. To me, it looks a bit like beets. And it even comes in different colors like beets do.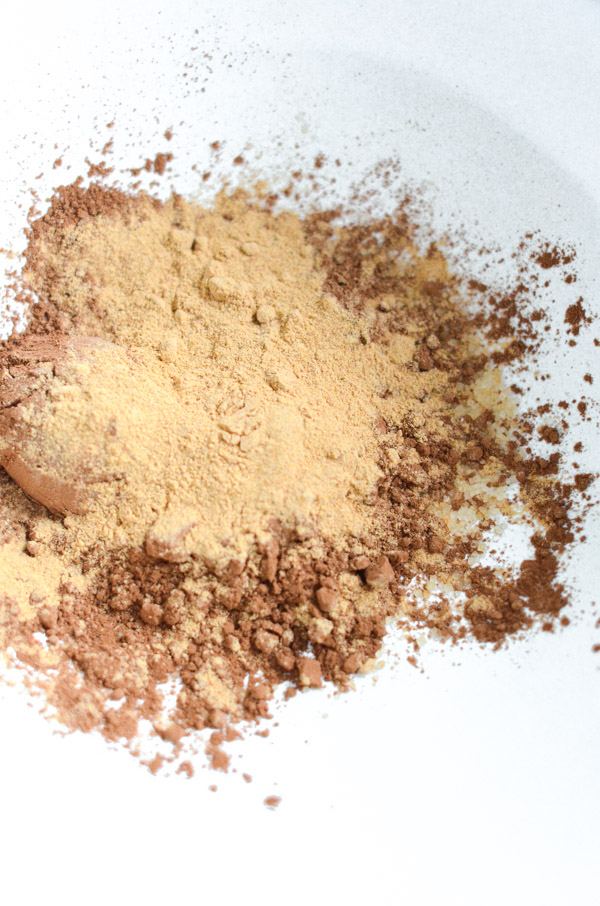 Maca Health Benefits
Dr. Axe wrote a nice article about these 5 maca health benefits:
Rich in Antioxidants
Enhances Energy, Mood and Memory
Improves Female Sexual Health
Balances Estrogen Levels
Boosts Male Fertility
Click here to read more about each.
Additionally I read over at BBC Good Food:
Maca powder is also a good vegan source of iron, with just one 5g teaspoon providing almost 10% of the RDA for men and women over 50 years old, and 5% RDA for women aged 19-50 years old.
Pretty awesome for my vegan friends.
I'd read a lot about how maca was supposedly good for energy and balancing hormones. But some of these other benefits were new to me until I researched them for this post.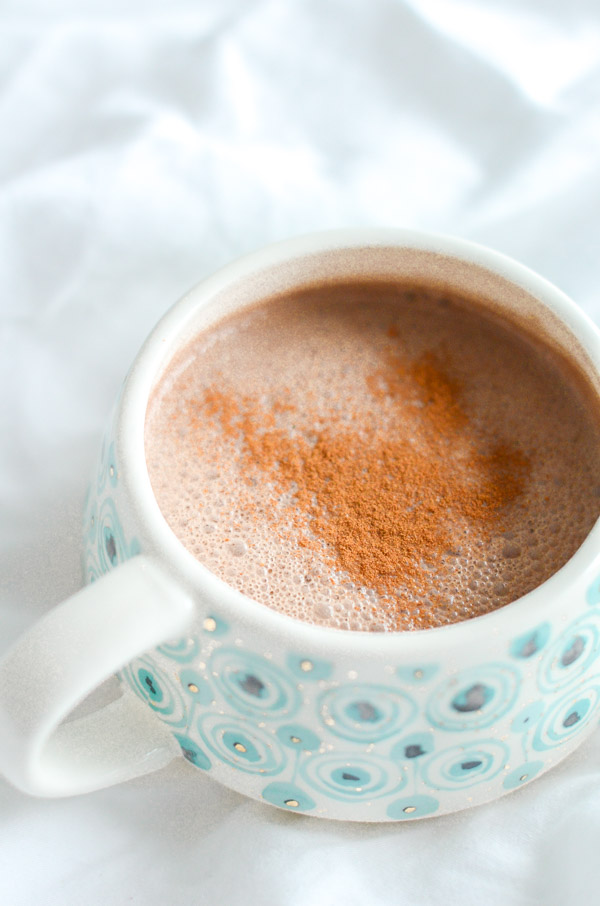 Which Milk for this Healthy Macadamia Maca Hot Chocolate Recipe
As for the milk, I've been enjoying Milkadamia macadamia nut milk in my daily coffee. I purchased the barista style version to use in this recipe since I steamed some of the milk to make it more fancy. But it didn't get as frothy as I expected. It was more frothy than the coconut milk I used in my Healthy Coconut Chai Tea Latte Recipe. But not as frothy as I've gotten from soy or almond milk. They get really nice foam with it at Matcha Bar when I have my matcha lattes. So it may just not be as compatible with my frother. Still, I enjoyed it quite a bit because it's a fun variation from typical non-dairy milk options.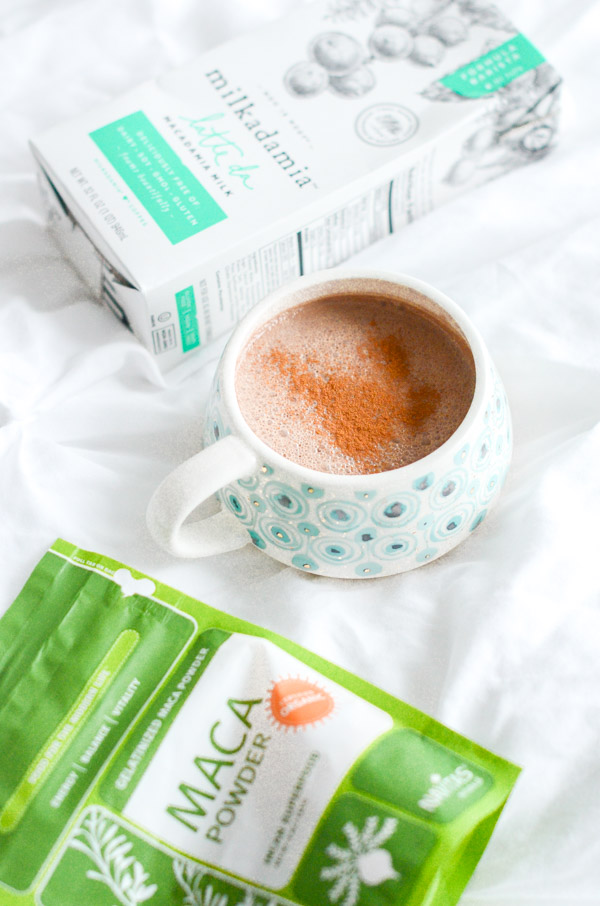 Print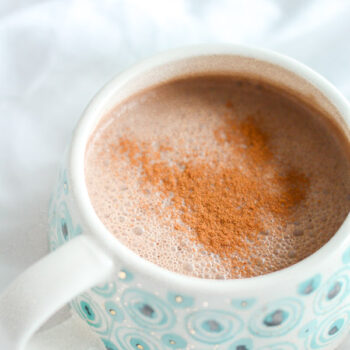 Healthy Macadamia Maca Hot Chocolate Recipe | Energy Boosting
Author:

Prep Time:

5 mins

Cook Time:

5 mins

Total Time:

10 mins

Yield:

1

1

x
---
Description
This Healthy Maca Macadamia Hot Chocolate recipe is energy boosting and tastes great too! Perfect for a gentler pick-me-up than coffee. Not to mention maca has many other wonderful health benefits.
---
1 tablespoon

unsweetened cocoa powder

1 teaspoon

maca powder

1 teaspoon

raw sugar, plus more to taste

1 tablespoon

water

1 1/3 cup

macadamia nut milk

1/4 teaspoon

vanilla extract
cinnamon, to add on top, optional
---
Instructions
In a medium bowl, whisk together cocoa powder, maca powder, and sugar. Whisk in water until a paste forms. Note: You may need to add a bit more water.
Whisk in macadamia nut milk until evenly combined. Note: You may want to add the milk slowly and work the clumps out. It may seem like a mess for a minute, but just keep whisking, and you'll get there. Trust me!
If you're using an Epica steamer, set aside 1/3 cup of the chocolate mixture. Next, heat up the remaining mixture either stovetop over low heat or in the microwave until it reaches your desired heat. About 5-7 minutes stovetop or 1-1 1/2 minutes in the microwave.
Meanwhile, pour the chocolate mixture you previously set aside into the frother and froth according to product directions.
Pour the main portion of hot chocolate into a mug and top with the frothed hot chocolate. Sprinkle with cinnamon if you'd like and enjoy!
---
Notes
Note: I used the Milkadamia barista formula macadamia nut milk so I could use my frother to make it a little fancier
I used Navitas Naturals maca powder and Milkadamia barista style macadamia nut milk
Recipe Card powered by
More Healthy Drink Recipes
Healthy Coconut Chai Tea Latte
***
Thanks for stopping by! Hope you enjoy this Healthy Macadamia Maca Hot Chocolate Recipe!
Here's a shareable graphic you can use to share this post with your friends and loved ones: