Hi friends! Popping in with a super short and sweet post and video. I'm sharing my Simply Gilded Teresa Collins Washi Tape Haul plus some other cute planner supplies.
If you love pretty and girly planner supplies, you'll love these!
*VIDEO* Simply Gilded x Teresa Collins Washi Tape Collab Haul (Plus Other Washi Tape Designs!)
Click here to watch the washi tape haul if the above player doesn't work.
Washi Tape Haul Photos
Some of these washi tapes may be front runners for my top choices for best washi tape 2019. I made a video and blog post about that last year, and it was really fun to do!
One of my fave things about all of these washi tapes is that they're so in my fave color themes.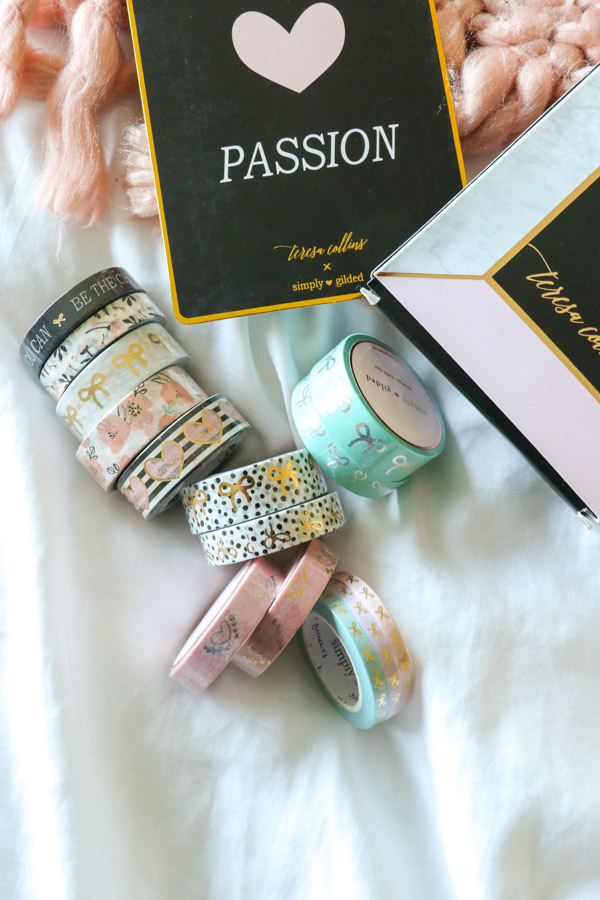 Not to mention the pretty bow and heart icons and metallic gold to add extra pops to layouts made with these cute planner supplies.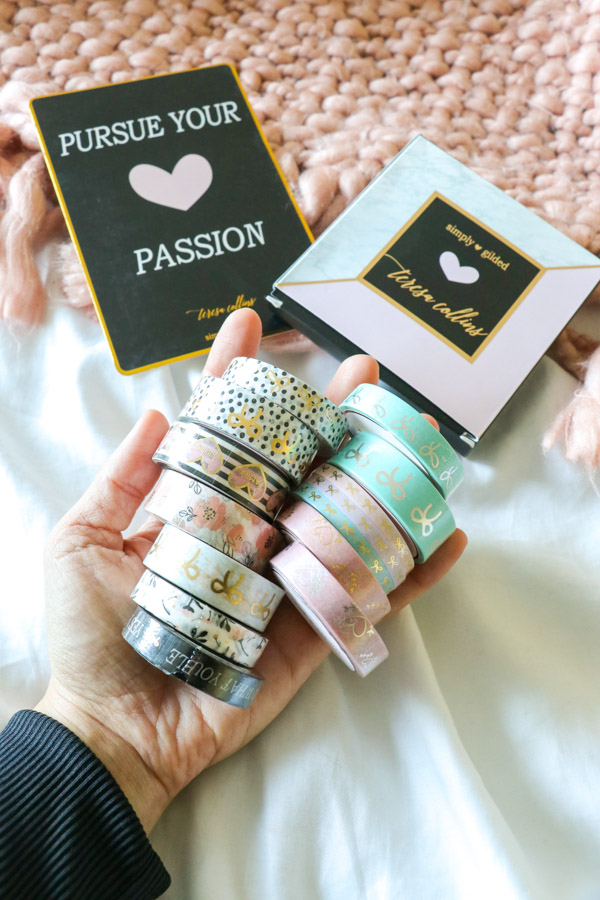 Both brands have strong messages for women. While Teresa Collins has many messages about empowerment and pursuing your passion, Irene of Simply Gilded encourages you to find and tap into your inner creativity. Pretty awesome, right?
Because my planner is so focused on keeping me thinking positive and feeling good vibes, using products from brands like these makes me happy. Looking at the washi tape is more than just pretty colors and patterns. The decorations made with these supplies will also make me think about the messages both brands share. Woop!
Shop This Video
Check out these links or visit Simply Gilded's main site. But note – these designs can sell out FAST! And many are not restocked. So it's sort of get it while you can.
♥ Simply Gilded x Teresa Collins Washi Tape Collab
♥ Robin's Egg Blue bows washi tape
♥ Dalmation Print washi tape
♥ Pastel bow trio washi tape
♥ Bokeh Hearts Washi Tape
More Planner Inspo
Find more Planner Supplies ideas here
Learn how to decorate your planner here
***
Stay tuned because I filmed a Plan with Me using the Simply Gilded x Teresa Collins collab set washi tape and hope to edit and upload it soon! Be sure to subscribe to my email list and/or follow me on social media to get notified when it's live!
Thanks for reading and watching! Hope you enjoyed this post about my Simply Gilded Teresa Collins Washi Tape Haul.