Hi planner lovers! Here's my latest Plan with Me featuring the Simply Gilded "Desert Dance" subscription box. These planner decorations are in my Erin Condren LifePlanner 2019 – vertical layout. These leave plenty of whitespace for writing. Yay!
*VIDEO* "Desert Dance" Plan with Me – Easy Planner Decorations
Click here to watch this Desert Dance Plan with Me if the above player doesn't work.
Planner Decoration Ideas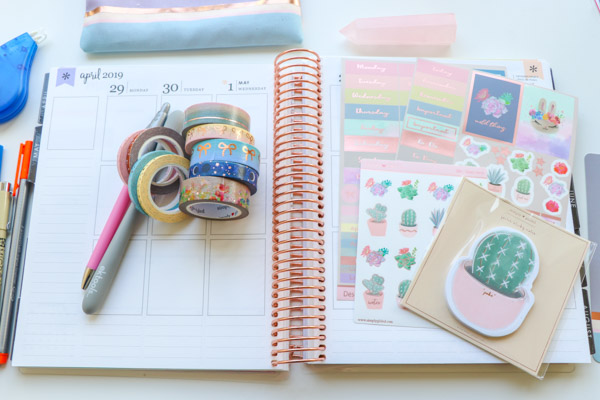 Here's what the planner looked like while I was setting up – no stickers added yet!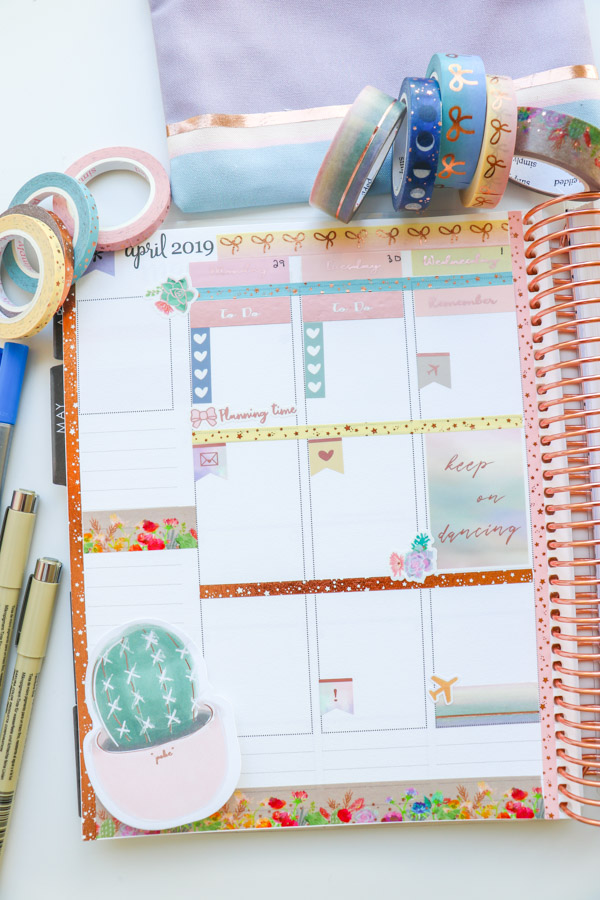 And here's what it looks like after.
I used 100% washi tape, stickers, and even a sticky note (the large cactus in the lower left corner) from the Simply Gilded sub box. Although I was tempted to pull in some quotes and what not from some of my other sticky notes.
Does anyone else find they try to stick to one kit whilst decorating their planner?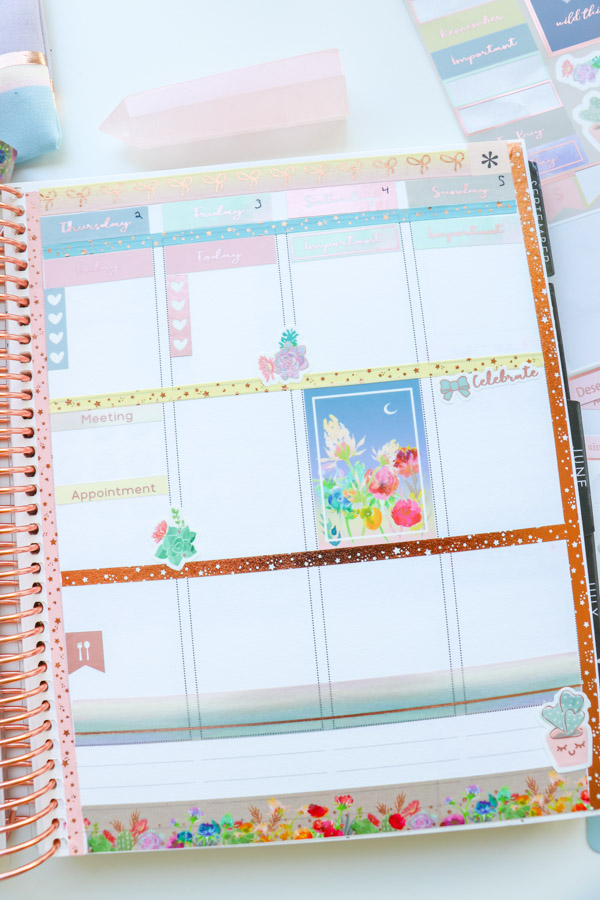 This was a slightly different than normal week since I had a HUGE week to tackle a big personal project – clearing out my storage room. This is part of an effort I'm calling "Project Get Your Life Together". I filmed a vlog for the trip that occurred during the later part of this week. But I haven't edited it yet. It's long and intimidating. It was a tough one to film, so…hopefully I can share it one day.
Anywho, since the schedule was very different, I decorated it to match the plans for the week. Lots of meetings, appointments, and lots of QT in my storage room.
The strip of ombre washi at the bottom signifies the duration of this trip.
And the little icon and label stickers were super useful for calling out the key things needing my attention this week.
Did I mention I LOVE how colorful the main desert theme stickers and washi tape are? So easy to coordinate with my various pen colors and what not. Woop!
More Planner Fun
Plan with Me Simply Gilded "Simplicity" – pink and blue spring theme
***
Thank you so much for reading and watching! Hope you enjoy!
Cheers!