Who's looking for some new YouTube channels to follow in 2020? As you guys know, I'm a big believer that what you consume becomes a part of you. So, I recommend being super mindful of what you decide to watch, hear, and whatnot. In this post, I'm sharing 5 positive YouTube channels to follow 2020.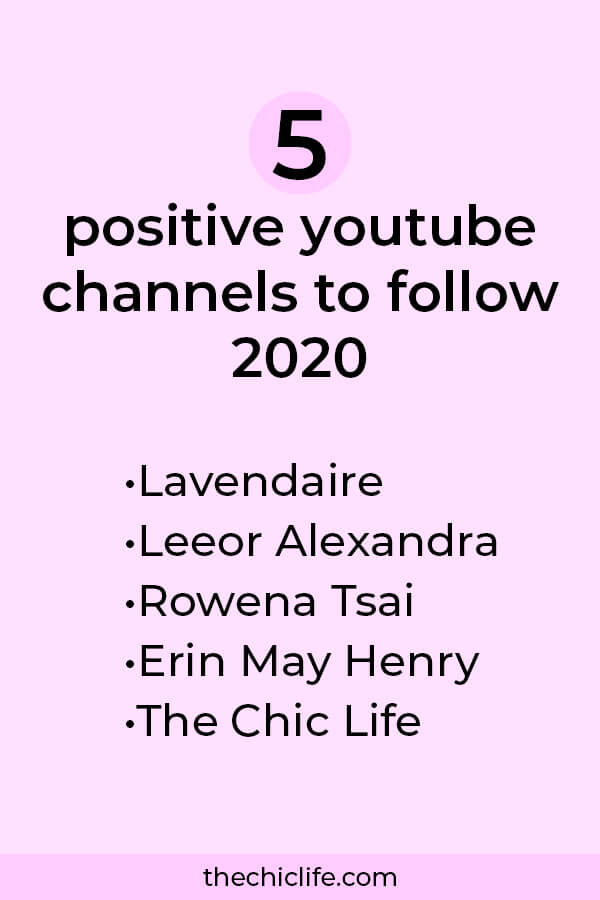 5 Positive YouTube Channels to Follow 2020
If you're looking to enjoy some good vibes through YouTube, here are some great channels to follow. From self care to manifestation to building your own business. There's a little something here for everyone!
Lavendaire
Lavendaire: positive lifestyle, self care, and more – I love Lavendaire's soothing vibes and her positive energy comes right through her videos!
Here's one of my fave Lavendaire videos – While she covers many topics, I think I like her personal development related videos the best:
***
Leeor Alexandra
Leeor Alexandra: manifestation, meditation, and good vibes – One of my absolute favorite channels for all things manifestation, woo, and spirituality – she's so fun!
Here's one of my fave Leeor Alexandra videos – she has so many great videos on spirituality and Law of Attraction, but one unique thing she does that I love is her affirmation videos – I love playing these and following along at home:
***
Rowena Tsai
Rowena Tsai: self care and personal development – she's so put together!
Here's one of my fave Rowena Tsai videos – aren't habit videos the best?! Check this one out:
***
Erin May Henry
Erin May Henry: uplifting female entrepreneur tips and inspiration for those of you building your empires while we're stuck at home (she's also my business coach!) – She also talks manifestation and woo and her high vibe energy will make you feel energized from even one video!
Here's one of my fave Erin May Henry videos. Erin is AH-MAZING at helping women build their personal brand, and lucky for you, she just released a new video about this:
***
The Chic Life
The Chic Life: my channel! Just in case you didn't know, I'm on YouTube, and I'm making content to to help you stay uplifted, supported, positive, and inspired. I hope to make you feel like you can step into your power and go after your dream life!
Here's one of my favorite The Chic Life videos – this was an important video for me to make because I really want to help YOU manifest your dream life successfully – this is a great way to do so:
***
More Positive Inspiration
5 High Vibe Songs to Play from YouTube for Stress Relief and Calm Energy
How to Quickly Reset a Bad Mood and Get Back Into Good Energy
How to Overcome Turbulent Times the High Vibe Way
How to Manifest ANYTHING 2020 | Law of Attraction Explained
Manifestation Habits That Changed My Life
***
Thank you for stopping by and checking out my list of 5 Positive YouTube Channels to Follow 2020!
What's your favorite uplifting, good vibes, positive YouTube channel?