Have you seen Emily Mariko's viral TikTok recipe – the now famous Salmon Rice Bowl? It looked like such a fun combination of foods that I'd never personally put together before, I knew I had to try it. But I'd make it vegan. Though I am a flexitarian, I'm eating mostly plant-based these days. Plus, the salmon bowl was already so well done. Could this idea be good with a vegan protein, I wondered? Turns out the answer is yes! And enjoying fun foods like this are a great way to continue to prioritize your health and live your best life. Read on for this Vegan "Salmon" Rice Bowl Recipe.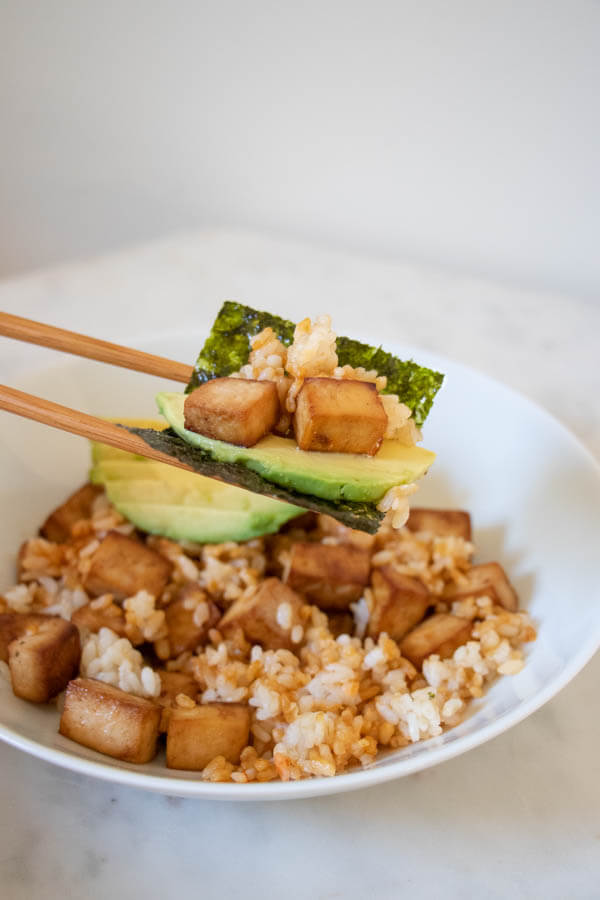 Deconstructed Sushi Roll Vibes
If you like sushi, I think you'll like this one. At first bite, this Vegan "Salmon" Rice Bowl recipe tasted almost familiar, even though I knew I'd never eaten this type of bowl before. What I realized is that it's sort of like a deconstructed sushi roll. Sans fish for this vegan version, of course.
You've got the:
seaweed
rice
protein (tofu in this case)
soy sauce (not always eaten with sushi, but something I eat a lot of my rolls with)
sriracha (not on all rolls, but I've had it before)
avocado (also not on all rolls, but def on many of the ones I've eaten)
And all of those ingredients are SO delish!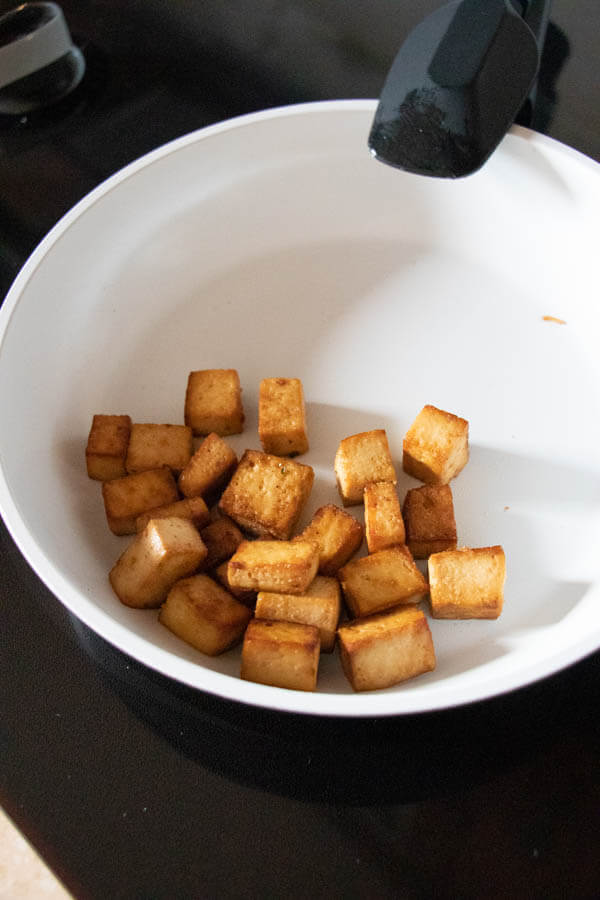 So, What's the Vegan "Salmon"
I've been experimenting with vegan food for many years now. And whilst I certainly don't know everything, I have yet to stumble upon a salmon substitute that I love. Plus I should note that I'm trying to move away from meat substitutes and more towards whole foods.
So rather than trying to find something that would taste like salmon, I opted to go with something simpler. This was to use leftover tofu from a recipe I already have on major repeat – Simple Soy Roasted Tofu.
After all, one of the coolest features of Emily Mariko's recipe is the use of leftovers. And I frequently have leftovers of that tofu recipe. So convenient!
Re-Heating Your Tofu and Rice (The Deal with the Ice Cube)
One of the things that blew minds around the world was Emily's use of an ice cube to re-heat her salmon and rice. She placed her salmon and rice in a bowl (rice on top) and added an ice cube before covering the bowl with parchment and microwaving.
The ice cube helps create steam to help with re-heating. Read more about the ice cube thing here.
Whilst I've never used an ice cube, this totally makes sense to me. In my Asian house, when we re-heat rice, we sometimes sprinkle the rice with a little water. The moisture helps for sure.
So if you're using cold leftover tofu and rice, you'll want to go this route to stay true to Emily's original recipe.
Re-Heating Your Tofu (If You Have Already Warm Rice)
In my Asian house, we always have a rice cooker. Which means we always have hot rice. So no ice cube needed for me.
I heat my leftover tofu either in a pan or in the oven since the ice is really for the rice. If you don't have already warm rice, you may want to opt for the alternative heating option above. I've written the recipe below my style.
For re-heating in the pan: If I'm using a ceramic or non-stick pan (where the food won't stick), I'll dry heat the tofu. Otherwise, I'll add a little extra oil. Sauté for about 3-5 minutes, or until warmed through.
For re-heating in the oven: Re-heat in a 350 degree F pre-heated oven for about 5-8 minutes, or until warmed through.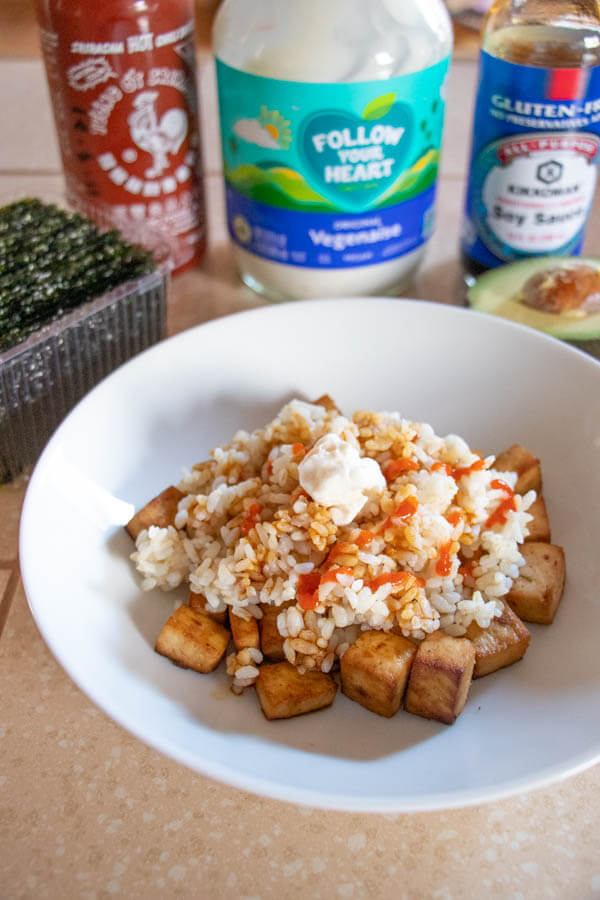 Vegan "Salmon" Rice Bowl Recipe Layering
Here's how you assemble your bowl (if you're using already warm tofu and rice):
In a bowl, add your tofu
Next, top with rice
Drizzle with soy sauce
Drizzle with sriracha
Add a dollop of vegan mayonnaise
So easy!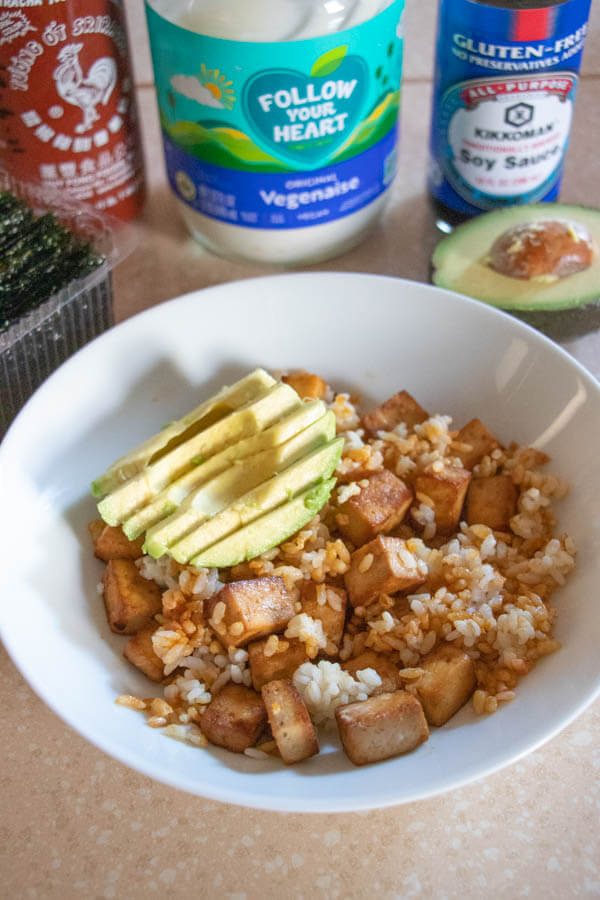 After combining all of your ingredients, you mix them together. Then top with sliced avocado.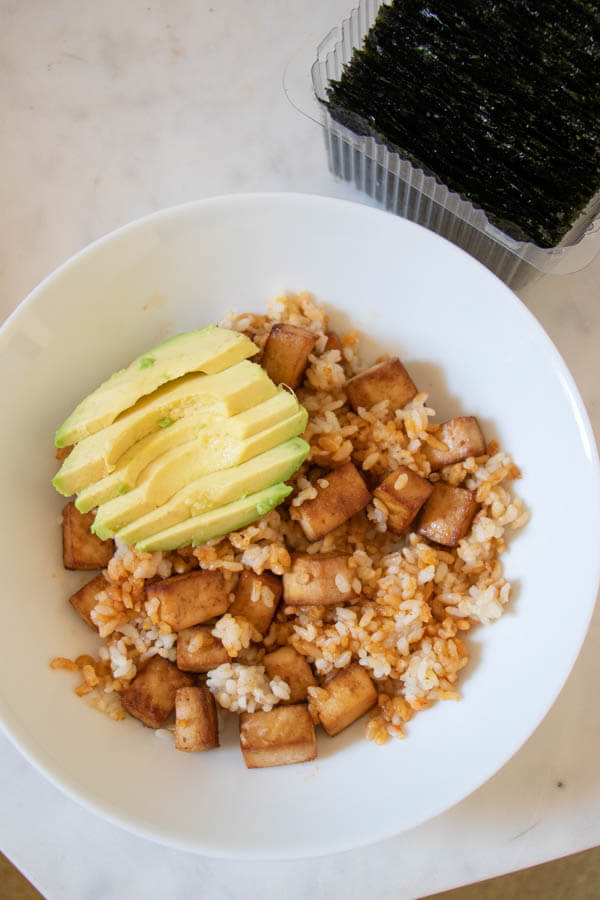 And finally you serve this Vegan "Salmon" Rice Bowl recipe with roasted seaweed snack sheets. For flavors, I like sea salt, but the sesame is good too.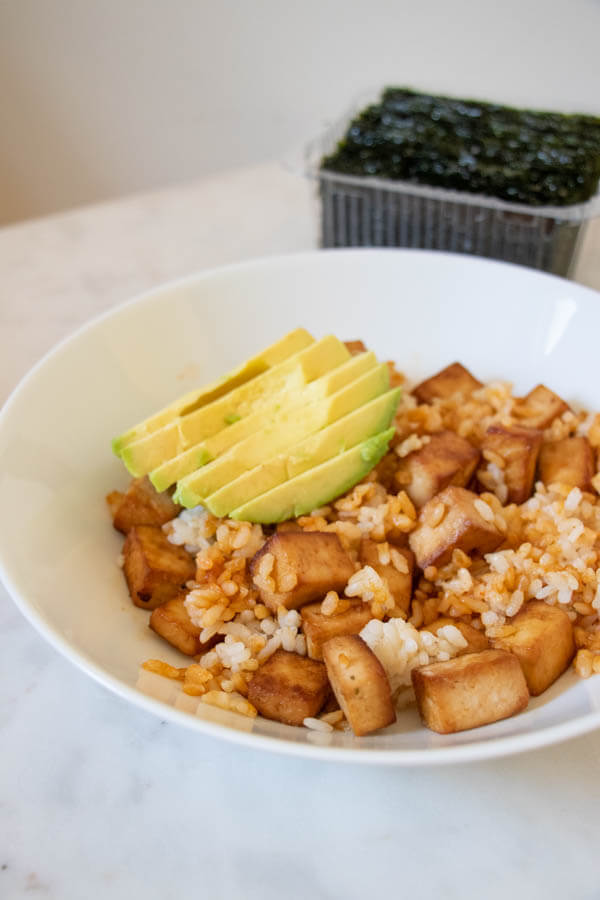 If you want to stay authentic to Emily's original, you'd serve this with a side of kimchi. I keep forgetting to buy that when I'm at the Asian market, so I'm presenting it here without it. But I bet that's delicious!
And kimchi is a great probiotic-rich food that is good for your gut health. Things continue to ramp up in the gut health world. We're seeing that gut health is essential to SO much of our overall health. If this isn't something you're paying attention to yet, maybe take a peek?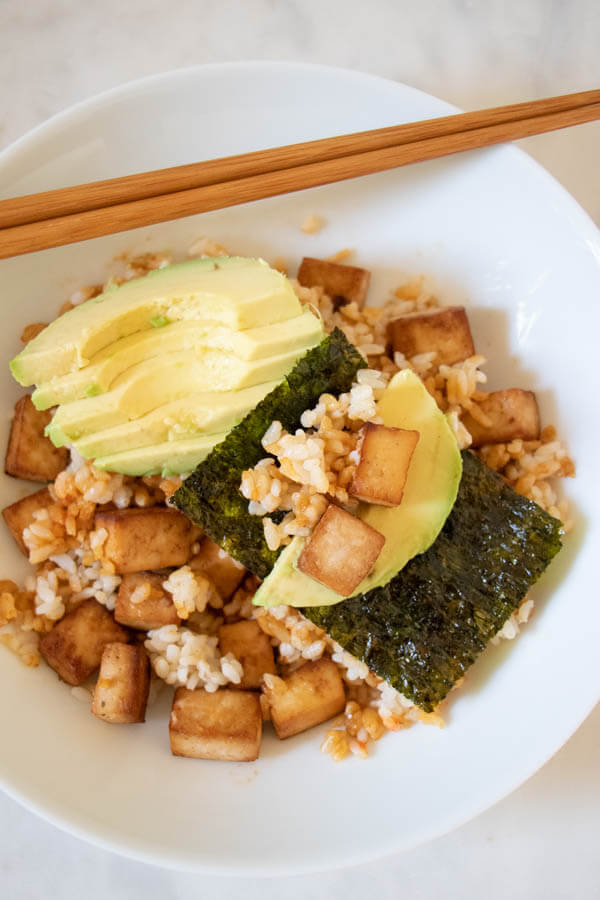 And here's a beautiful bite ready to be enjoyed. Mmm. Happy eating!
Print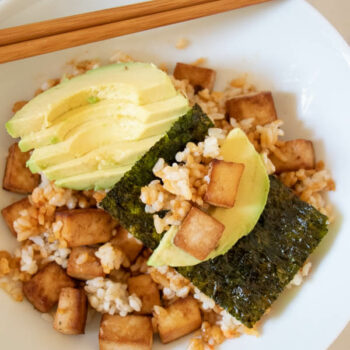 Vegan "Salmon" Rice Bowl Recipe (Emily Mariko's Viral TikTok Recipe)
Author:

Prep Time:

5

Cook Time:

5

Total Time:

10 minutes
---
Description
This vegan version of the TikTok famous Salmon Rice Bowl Recipe is adapted from Emily Mariko's original viral video and recipe. Cool thing – not much cooking needed here. We're just re-heating and eating! Please adjust the proportions for your hunger.
---
3/4 cup

leftover Simple Soy Roasted Tofu

1 1/2 cups

cooked rice

1 teaspoon

soy sauce
Drizzle sriracha
Dollop vegan mayonnaise

1/2

avocado, sliced

1

package roasted seaweed snack sheets

1/4 cup

kimchi, optional
---
Instructions
Pre-heat a medium-sized pan over medium heat. Add tofu and cook until warmed through, about 3-5 minutes.
In a bowl, add tofu and top with cooked rice. Drizzle with soy sauce and sriracha. Add vegan mayo on top. Stir to combine evenly.
Top bowl with sliced avocado.
Serve with seaweed snack sheets and optional side of kimchi. 
Enjoy!
---
Notes
I googled how much tofu is considered one serving, and the answer I found said 3/4 cups. HOWEVER, this recipe is SUPER flexible. Please adjust the amounts to your hunger and taste preferences.
I actually never measure ANY of the ingredients when I make this. I eyeball it. But I've provided some amounts above as a general guideline. 
The seaweed snack sheets typically come in two sizes. I find that I easily devour one of the larger sizes when I eat this for a meal. And if I have any sheets leftover, I just eat those on their own. Lol! 
Recipe Card powered by
More Fun Vegan Recipes to Enjoy
Teriyaki Tempeh Rich Bowls Recipe
Lazy Low Carb Fried Rice Recipe
Healthy Vegan Taco Salad Recipe
Raspberry Banana Smoothie Bowl Recipe
***
Thank you for stopping by and checking out this Vegan "Salmon" Rice Bowl Recipe (adapted from Emily Mariko's Viral TikTok Recipe)