I may be the only one excited for the time change. I know we lose an hour, and that is no bueno, but I'm in it for the extra sunshine every day. I've already started enjoying it. Days will seemingly last longer, I'll have better (more?) light for photos, and maybe I'll even get a few more people into my Zumba classes. People seem to like to come more when there's more light outside. Anywho, on to the food…
I made this simple and healthy breakfast for a pre-Zumba meal this past Saturday and posted a photo of it to Instagram. It's a hot blueberry-honey breakfast quinoa. People immediately started asking for the recipe, so I decided to fast-track it ahead of a couple other posts in the works.
When I'm feeling extra organized, I like to make a batch of quinoa and use it in a couple different dishes. I think most grains taste better cooked in broth, but I like to cook quinoa in water so I can make savory and sweet dishes from it. This particular breakfast was as easy as combining a few ingredients in a pot and gently heating through. Top with almonds. Eat. Enjoy. Rock the day.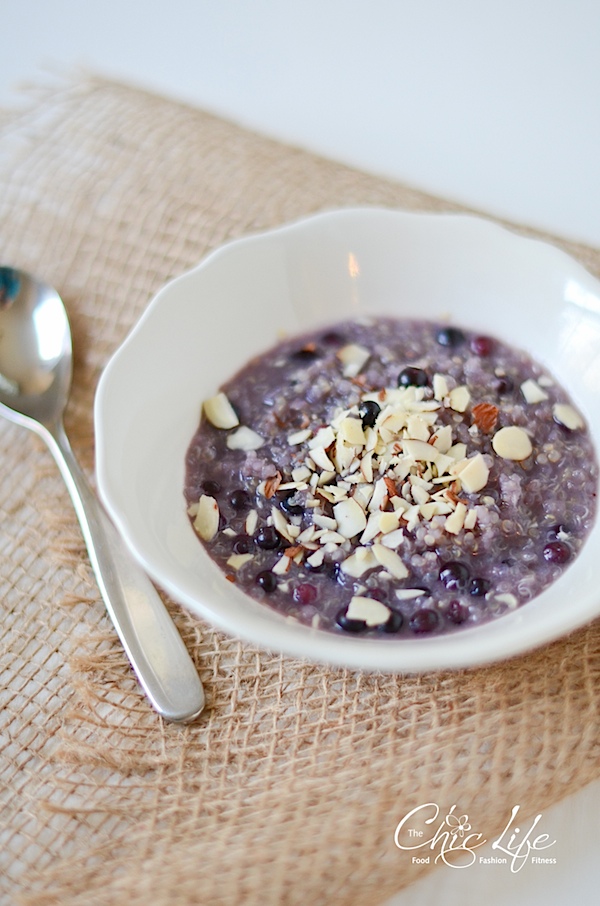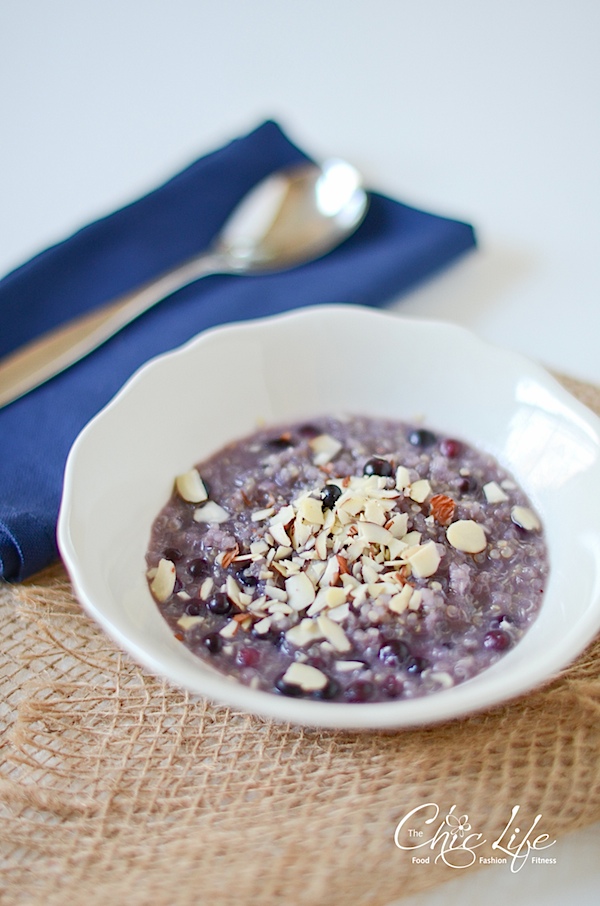 Hot Blueberry-Honey Breakfast Quinoa
Make a big batch of quinoa cooked simply in water, and this breakfast will come together in a jiffy. Just toes everything in a small pot and cook until it's the consistency you like. So easy! I've given you some portion ideas, but you can tweak this recipe to suit your appetite. I can't eat a lot before I work out, so I made a very small amount, but just adjust as you prefer. Try fresh blueberries when they're in season.
Prep time: 5 minutes
Cook time: 10-20 minutes
Total time: 15-25 minutes
Yields: 1 or so, depending on ingredient amounts used
*Vegetarian, Vegan options listed*
Ingredients:
1/2 cup cooked quinoa
1/4 cup blueberries (frozen or fresh should work – I used frozen wild blueberries that were a little smaller than most)
1/4 cup milk of choice (I used rice milk; use vegan milk for vegan option)
1 teaspoon honey (or sub agave/maple syrup/etc. for vegan option) for a lightly sweet flavor, add more if needed
dash or two ground cinnamon
small pinch salt
sliced almonds, optional, for garnish and texture
Directions:
Combine quinoa, blueberries, milk, honey, cinnamon, and salt in a small, non-stick pot. Heat over medium low heat, stirring occasionally, until quinoa has reached your desired consistency. Note: Exact time will vary on your consistency preference and stove heat.
Serve in a small bowl and top with sliced almonds. Wait until it's safely cooled to eat and enjoy!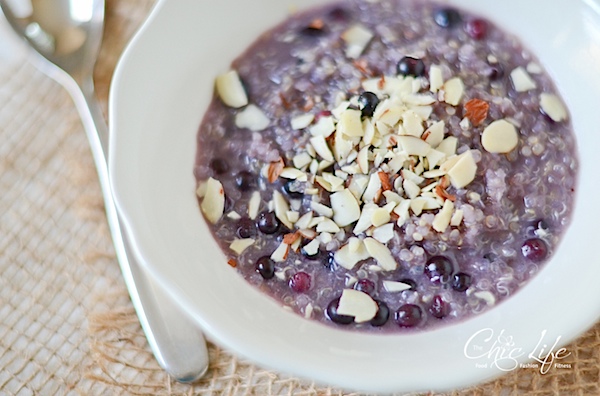 I'm looking forward to eating this more this spring…especially with fresh, local blueberries from the farmers market!
Reader question: Do you like or dislike the spring time change?