When I was in college and living in my first apartment, every time I would visit my parents, they would send me home with a few tupperwares of frozen soup.  My favorite of the group was always the Beef & Barley Soup.  Having these home-cooked meals in my freezer and available whenever I wanted some seriously good food (and by that I mean, not fast food or a sub) was a life-saver.  Hubby and I still come home with frozen soups, even today!
I think mom my originally got her recipe for the soup from some cookbook…but since I don't know which one it is, I'll just share what she gave me.  If any one knows the origin of this recipe, please let me know so I can give credit where credit is due.
Mom's Beef and Barley Soup
Ingredients:
1  Cup of Barley
1  tsp. salt
4  Cups boiling water
1/2-1  pound good beef, cut small
2 tbsp butter
3 stalks of celery, diced fine
1  Onion,chopped  fine
1  large carrot, diced fine
1  shallots' diced fine
10  Cups of water or less if you want the soup thick, just guesstimate
5  Beef bouillon cubes
2  chicken bouillon cubes
1  veggie bouillon cube, optional
1  tsp. salt
1/4 tsp pepper
1  garlic clove, chopped fine
1  tbsp parsley  fresh or dried, use more if fresh
Directions:
Combine barley, salt and 4 cups of boiling water in a sauce pan( any pan that will hold at least 4 cups of water). Heat to boiling then simmer for 30-40 minutes,covered till barley is soft. Drain in colander, rinsed well with cold water, set aside.
While the barley is cooking, brown the beef in 1 tbsp of butter in medium-high heat. then add the onion,celery,carrot and shallot and the rest of the butter about 3-5 minutes till soft.  Add the 10 cups of water, bouillon cubes, salt and pepper, and garlic. Bring to boil. Reduce heat to low or simmer about 30 minutes till beef is soft. Add parsley and barley. Cook for 10 minutes. If too thick add more water.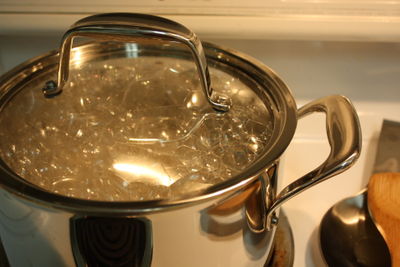 The barley had the longest cooking time, so I started that first.  While the barley simmered, I got started on the soup.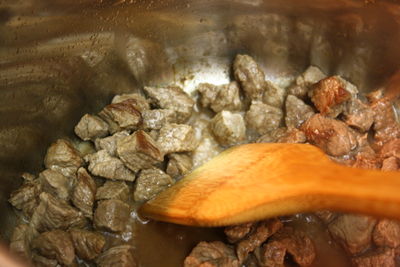 I cut the beef (my mom cuts hers into itty-bitty pieces – about 1/2 inch squares) and got it started sauteing.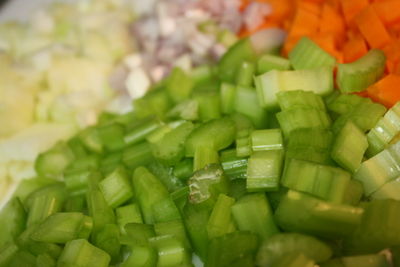 As far as veggies, the soup starts with the trinity (onion, celery, carrots) and some shallots.  The more I cook with shallots, the more I love them – they are so light and fresh tasting.  I really enjoy them in pastas.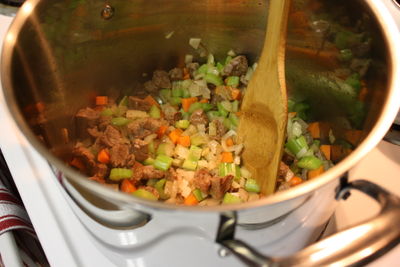 Once the beef was browned, I added all those yummy, healthy veggies and sauted some more.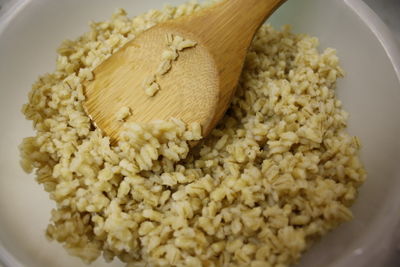 While the veggies and beef sauted, I drained the barley.  I still had a ways to go before adding it to the soup, though.  I added the water and boullian cubes (etc) and let the soup simmer for 40 minutes.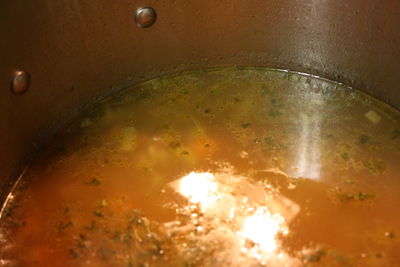 Then, it was time to add the barley to the soup and let it cook for another 10 minutes.  In that time, I pre-heated the oven and cooked two of those Pillsbury Oven Baked Dinner rolls.  Have you tried them?  They are a staple in our house.  With these babies, you can have fresh baked rolls without having to go through the trouble of making them from scratch.  One of these days, I'd like to make some from scratch, but after a busy day, these will do the trick.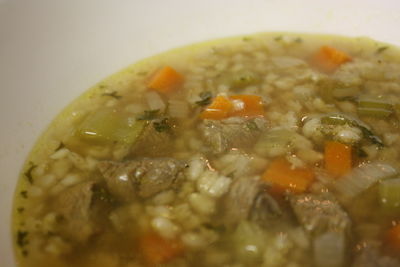 This soup was perfect to help me get back on my feet and feeling better.  The hot broth felt super comforting on my throat and I just love those chewy little bits of barley.  Yum!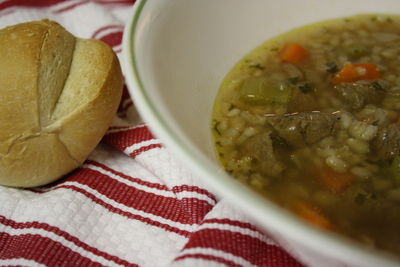 The best part about this soup is that it makes a lot and reheats well.  I don't know about you, but for some things, if you freeze it and try to reheat it, it tastes…funny.  But, this soup tastes almost as good from the freezer as it does straight from the pot the first day you made it.  Seriously…give it a go. 
Hubby and I said we would start going to the farmers market on the weekends and making a big pot of soup to eat that day and freeze for later, so we can have home-cooked meals at our fingertips.  So far, we haven't followed through with this plan and our local farmers market is closed.  Tonight's dinner yielded 2 tupperwares full of soup for lunch tomorrow and (only) one to go in the freezer.  Ah well…we have a trip scheduled to see my parents very soon.  We'll have to stock up again.