I'm working on going to bed earlier, so I'll make this quick. 🙂 At least I'll try…
7:30am/9:30am – Coffee/Coffee, and a Bagel – satisfied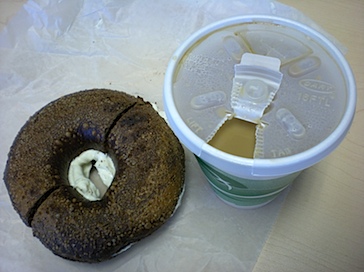 I woke up around 6:30am today, but hit snooze for what seemed like forever. I'd really like to work on getting a regular schedule. I used to think if I went to bed earlier, I'd wake up earlier, but now I'm thinking that I may have to force myself to get up early (and possibly exercise in the AM) and by doing so will be so tired at night and I will have no choice but to go to bed early. (I should add that I sometimes/often have a hard time getting to bed, so being extra tired/sleepy helps me a lot). I had a Fresh Market Breakfast Blend cup of coffee (about 1 1/2 8-ounce cups worth) with 2 tsp sugar, 2 tbsp 2% milk.
Anywho, today was my Monday bagel day, so I got a pumpernickel with plain cream cheese and a small Mocha Java coffee with milk and sugar. Not sure how much the nice ladies at the bagel place add to the coffee, but I estimate I ate about 2 tbsp of cream cheese. Some days I get light, but today, I went for the real thing.
11am – Flatbread Snack – satisfied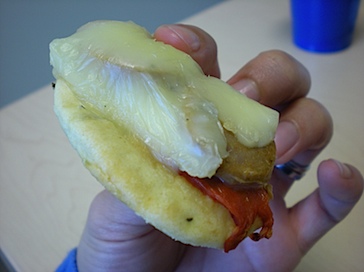 My co-worker brought some yummy samples of apps he made – handmade flatbread (which he saw on smittenkitchen.com), topped with roasted red pepper, 2 small pieces of chicken sausage (I don't usually like sausage but this stuff, from Trader Joe's, was surprisingly tasty), and a piece of cheese (not sure what kind…prolly mozz). He handed it to me this way and I didn't have any plates around, so I just downed it right then and there. It was a nice snack to tide me over till lunch. I also had a cup of water.
1:45pm – Turkey Sammy, Almonds – satisfied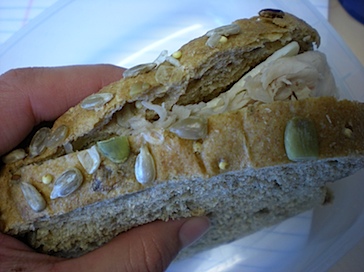 I guess the bagel and snack held me over longer than I expected, because I didn't end up eating lunch till around 1:45pm. I had some roasted turkey break with white american cheese on Great Harvest Dakota bread. I know…no toppings, no sauce…kinda boring, but I kinda like it like this most days. I also end up eating these when my pantry is running low and I'm not trying to get anything since I'm getting all that produce delivered tomorrow.
I also had some salted almonds and a big cup of water.
3:00pm – Lemon Ginger Hot Tea – satisfied
Shortly after lunch, I had a craving for something hot, so I made a cup of Yogi Tea in Lemon Ginger with 1 tsp of sugar (since I don't have honey at the office, which reminds me – mental note – get honey for office). It was so good and helped me stay warm in the cold office.
6:30pm – Kind Macadamia + Apricot Bar – satisfied
I ended up staying extra late for work. I worked about 10 hours today and didn't leave till just after 7PM. Thank goodness I had some snack bars laying around because I was starving! I had my Kind Macadamia + Apricot bar and it was delish! I can see this becoming one of my faves very quickly. It was so nice to have a fruit and not bar that:
1. did not have raisins in it (not obvious ones at least…guess I should have read the label)
2. wasn't all goopy, heavy, and thick tasting
3. had great texture
This bar reminded me of a jacked up granola bar, but more chewy with nice hints of apricot and coconut. Yum!
8:00pm – Namaste Yoga – upbeat + relaxed (yes, both!) 🙂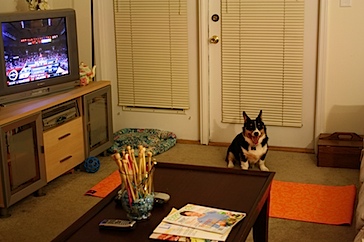 I thought this photo of Bailey yawning was pretty funny, no?
I was so tired after work, mostly mentally, I think, that I didn't really want to do anything. For sure, I wasn't going to the grocery store…thank goodness for storing leftovers properly (see below). Anywho, by the time I got home, I felt like I could really use something to de-stress, so I decided that since my wrist wasn't bugging me as much as it did last week, I'd try out that Namaste Yoga I DVR'ed off of FitTV. The lesson was quite short – about 20 minutes after commercials and stuff. I used to do Power Yoga at the Y and that was quite the experience, so this was a piece of cake. Still, I was surprised at how much the class worked my arms…they are a bit achy as I type (as is my back).
Although I didn't feel like getting dressed up to go work out somewhere, it was great to be able to do something quick from the comfort of my home. I was so glad I did the Yoga because it put me in a much, much better mood. That is one of my favorite parts of yoga – how uplifting it is.
9:00pm – Veggie Soup + Toast – A Wee Bit Shy of Satisfied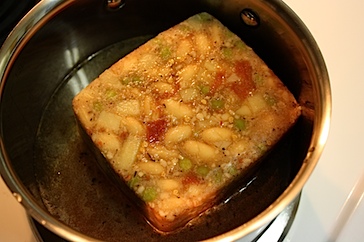 Just before getting started on my yoga, I put a frozen soup into a pot (covered) over low heat, in hopes it would be done by the time my yoga was over.
Would you know, the soup was done (read: defrosted) by the time the class was over! But, hubby was away at class, so I waited till he came home to eat since it could stay warm on the stove. I also made 2 small pieces of toast to go along with the soup. Both the veggie soup and Great Harvest Flax Oat Bran bread were leftovers I put in the freezer earlier. I love having these emergency foods on hand for those nights when you simply don't have the energy to, or simply don't want to, cook.
9:30pm – Blueberry Crisp – Satisfied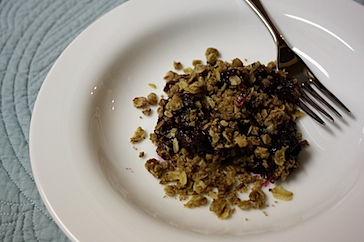 Since dinner was so light, and since my blueberries were getting old, I made a blueberry crisp for dessert tonight. I estimate that I had about, or just over, 1/2 cup. I like to think of this as a slightly healthier version of "dessert", even though it's probably not great (not like a piece of raw fruit), but hey, at least I got one fruit serving! 🙂