Of all the impressive eats I found in San Francisco, I have to say that my dinner at Millennium Restaurant was my absolute favorite. Although I'm not vegetarian, I found their online menu intriguing, and I was most looking forward to trying this restaurant out from all the ones I researched. I was not disappointed. Let me start at the beginning of this dining adventure, though.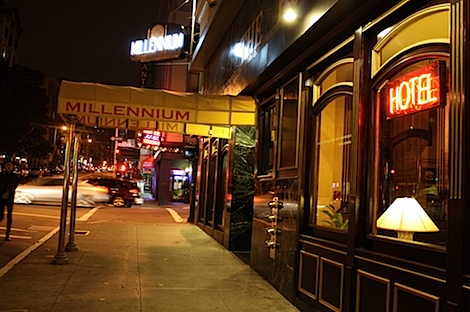 I stayed late at the office, hit up a couple quick stores (Zara was closed, though! Waa…), and met up with my friends to grab a late dinner at Millennium at Hotel California. I felt like I was walking forever from the financial district to the shops and then restaurant…especially because I had my purse, laptop, and luggage in tow! It was a long walk to the restaurant and my feet (in my 2 1/2 inch boots) were killing me! But, the walk was well worth the dinner I enjoyed at Millenium.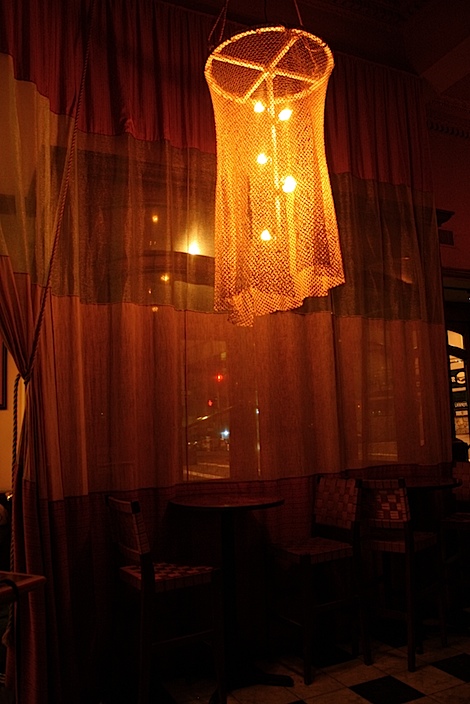 I had tried to call ahead reservations earlier in the day but was told the restaurant were booked till 10PM. Popular place! We decided to try to sit at the bar and upon entering the restaurant were greeted by a couple friendly hosts who told us that bar seats, at least 3 side-by-side, may not open up for awhile.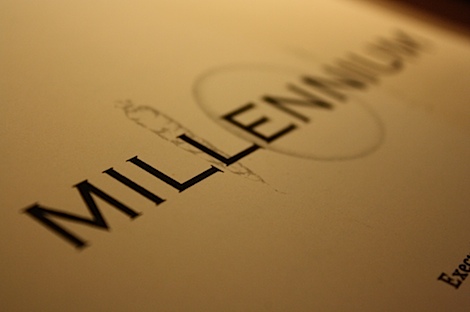 My friends (1 a new friend and 1 my BFF from middle school who lives in SF now) knew how badly I wanted to eat at this particular restaurant so we got comfy in the waiting room while the host was kind enough to take my (heavy!) suitcase to the back.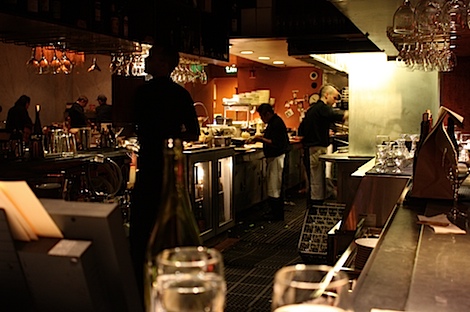 Well, it must have been our lucky night or just meant-to-be because we only had to wait about 5 minutes before 3 side-by-seats opened up at the bar!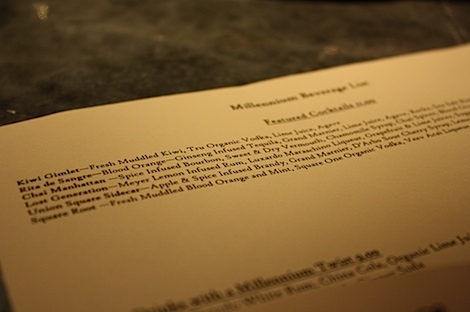 Cocktails were first on the agenda and I was super excited about this part. The cocktails were what made me want to come here over the other vegetarian SF restaurant (Greens) that I heard good things about (still want to try it next time). The restaurants use of organic syrups and organic fruits were so unlike anything I find around my hometown.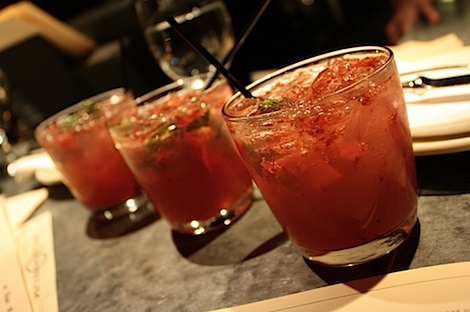 The 3 of us each started with a Square Root: "Fresh muddled blood orange and mint, Square One organic vodka, Veev acai liqueur.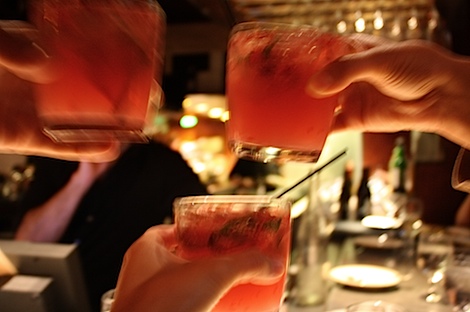 Cheers!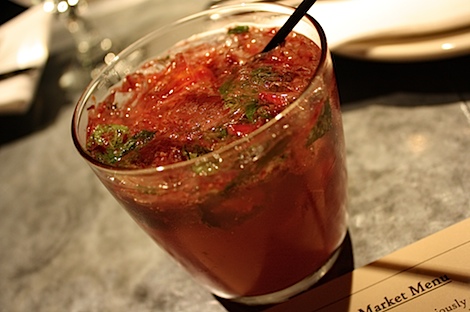 The drink tasted as good as it sounded and I enjoyed my cocktail slowly over the duration of the meal.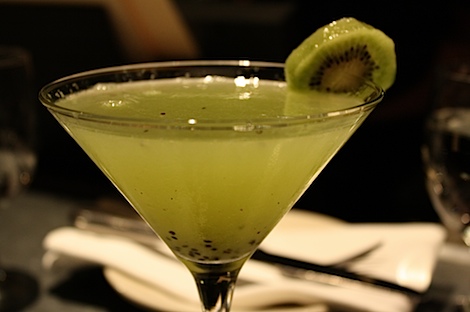 I am a slower drinker than most. My friends were soon ready for round #2 and ordered a Kiwi Gimlet, which I watched the bartender make from a real, fresh kiwi fruit! So cool!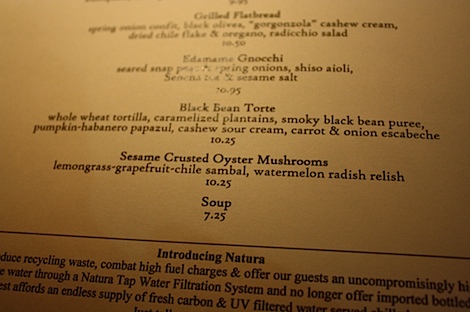 I lucked out that my BFF from middle school is now a foodie, too, because we were able to try more flavors by splitting a starter, an app, and an entree!
The appetizer list had many good options, but we chose the Black Bean Torte.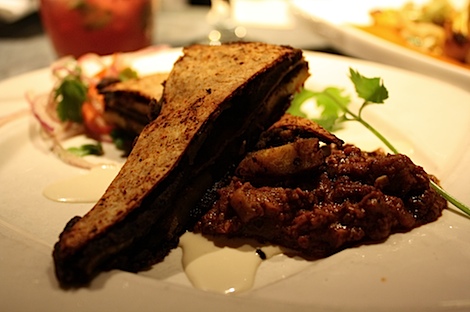 "whole wheat tortilla, caramelized plantains, smoky black bean puree, pumpkin-habanero papazul, cashew sour cream, carrot & onion escabeche." The flavors were so different and yet worked so well together. The torte portion was a bit sweet yet still a savory appetizer.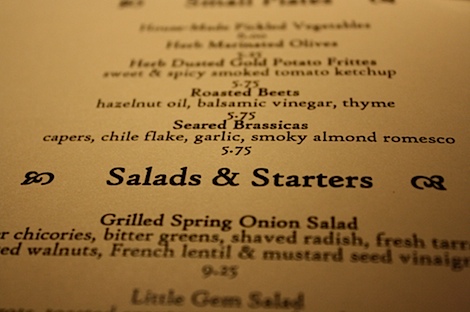 We also got some Seared Brassicas, which we learned were veggies like cauliflower, broccoli, etc.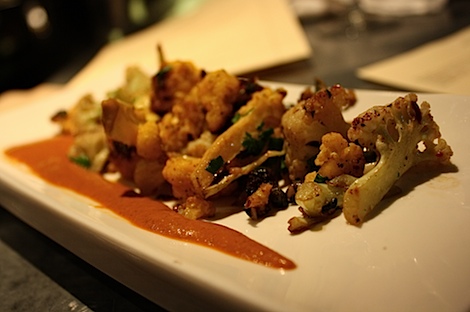 "capers, chile flake, garlic, smoky almond romesco." This little dish was one of my favorite parts of the meal – the cauliflower brassicas were seasoned so nicely – they were spicy and smoky and simply delightful to eat.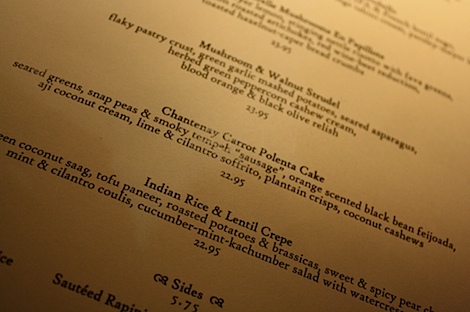 For our entree, we selected the Chantenay Carrot Polenta Cake.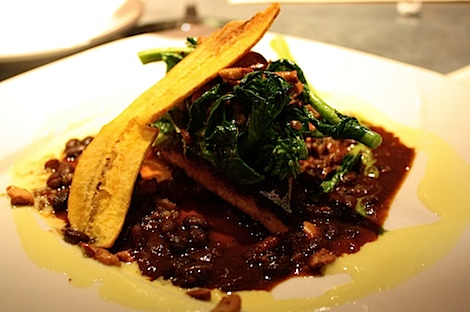 "seared greens, snap peas & smokey tempeh 'sausage', orange scented black bean feijoada, aji coconut cream, lime & cilantro soffrito, plantain crisps, coconut cashews."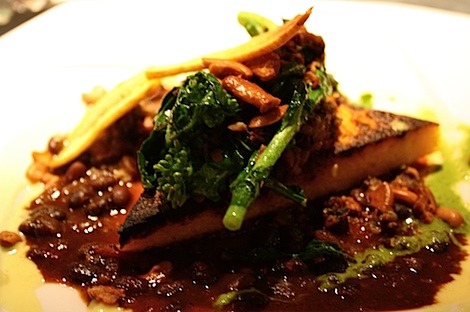 A little blurry, but another view of the entree. The dish was awesome – the flavors all melded together so tastefully and though it was hard to decipher individual flavors, I didn't care. I enjoyed the entree bite for bite without worrying about what exactly I was eating. I will say I could tell when I was eating the tempeh and it was gooood!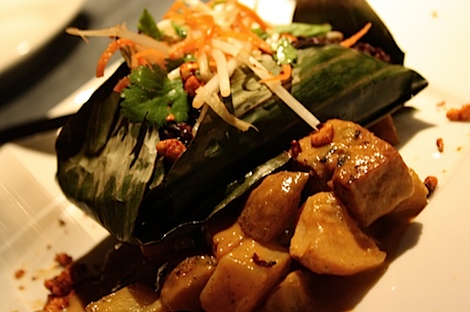 Here's what our other friend got – some sort of tamale with some rice and mushrooms inside and root veggies on the side. It looked really good, too!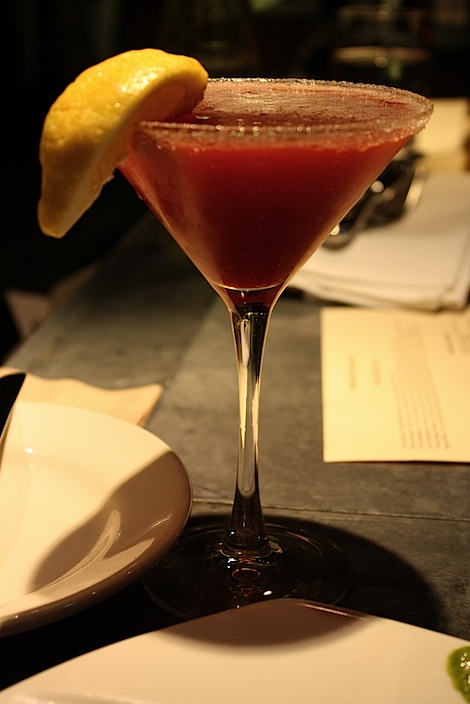 Another cocktail for my friend – Union Square Sidecar – a concoction of yummy apple flavors. Seeing all the other cocktails made me wish I drank faster so I could try more! I'll know for next time!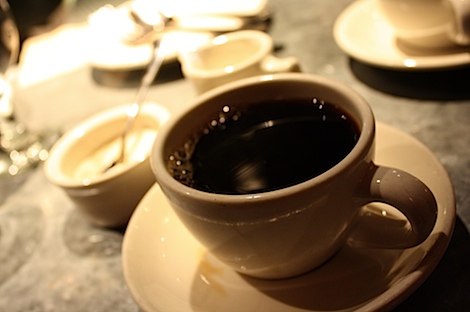 A dinner for moi wouldn't be complete with out coffee and dessert (yes, I had 2 desserts on this day of my SF trip…this one…and that yummy yogurt stuff, which was healthy, so a second dessert was ok, right? I think so.).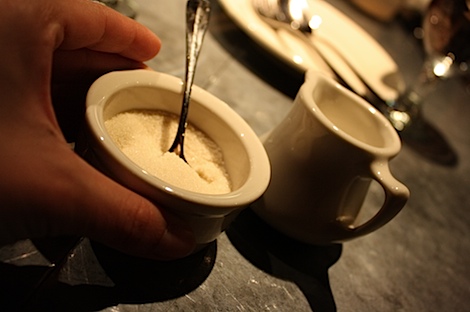 Check out the cute, little sugar and creamer set they brought out – so tiny! The creamer was soy, too! The sugar was something special, but I forgot.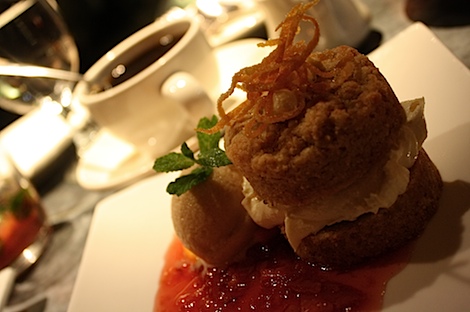 And now, perhaps my favorite course of this most-delicious vegetarian dinner (I forgot the exact name so here's what I think it was called): Earl Gray Shortcake with Earl Gray Ice Cream and (I think) White Chocolate Cream. Omg…soooo unique and soooo darn good! Wow! I've seen a recipe for Earl Gray Chiffon Cake that I've been thinking about attempting, but to find it in a restaurant with matching ice cream…I'm impressed!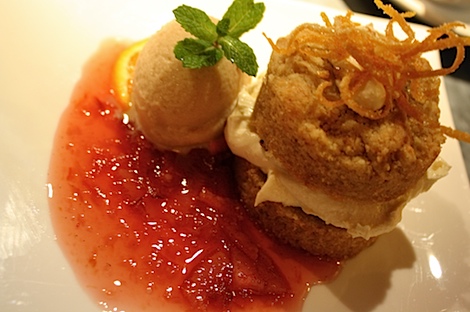 Here's another picture because it was that good! Check out the candied fruit peel on top!
Our friend got a chocolate-y-peanut-buttery-cake with ice cream, which also looked quite tasty.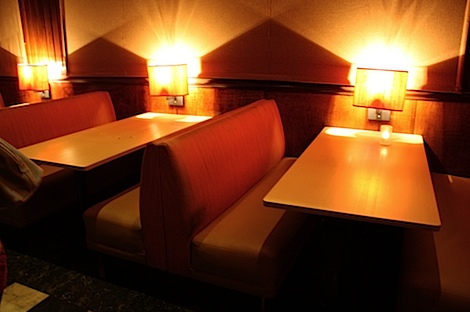 The restaurant, itself, had a cozy + warm environment. Here were the booths next to the bar area where we sat.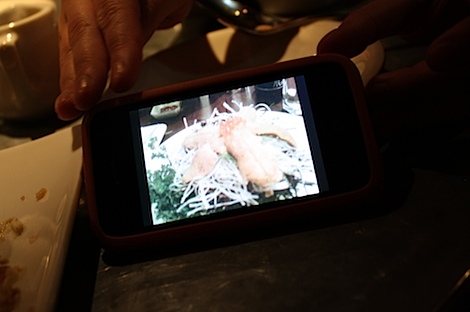 I have to admit, I was a bit apprehensive about sitting at the bar because I usually like to get comfortable at the table in a big chair or booth during meals. The bar ended up being the best place for us. I was able to have great conversation with my friends, and we even met some fellow foodies. A super cool French chick sat next to us and talked to us about her favorite restaurants in SF (besides Millennium, of course) and she even had tons of photos on her iPhone to share, including the one in the photo above. She doesn't have a food blog (yet), but I told her she should totally start one. You could tell from her photos that she had great taste in food!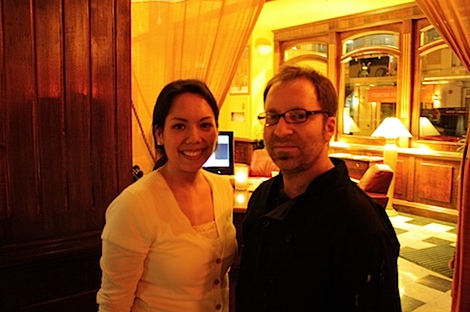 As we were wrapping up our meal, I mentioned to my friends that it would be cool to take a photo with the executive chef, Eric Tucker. My brave friend quickly asked the host who said that Eric didn't like to take photos so he wasn't sure if he'd come out for a photo-op. The host ended up asking the manager who worked some magic, I guess, because Eric came out long enough for a couple quick photos and for me and our new French friend to tell him how amazing everything was. How cool!
It doesn't get much better than this, folks. I didn't even miss the meat from my dinner – everything was that delicious! I'm no restaurant connoisseur, but I have been getting tired of seeing the same ole, same ole at restaurant after restaurant so my dining experience at Millennium was like a breath of fresh air for this girl! From the delicious cocktails to the tasty starters to the fabulous entrees and of course to that amazing dessert, the theme for Millennium carried through proudly and strongly – interesting and unexpected flavor combinations using fresh, healthy, and environmentally foods that will delight your inner foodie.
You don't have to be a vegetarian to enjoy a meal at Millennium, so if you find yourself in SF, definitely check it out. Since I don't know when my next trip to SF will be, I may have to get the restaurant's official cookbook to tide me over till then. A bientot, Millennium!