Now a make-up post for Saturday…
6:30 am – Coffee – Content (5)
I woke up extra early to get ready to head over to my venue to set-up for Pink at the Plaza with Lucas, the Avon Walk for Breast Cancer operations manager. I had time to enjoy a brewed cup of coffee before heading over to the venue.
To-do:
Buy something to mark the booth spaces
Measure out and place booth spaces
Mark booth spaces
Direct vendors to appropriate spots
Set up my booth
9:00 am – Vanilla Soy Latte + Sweet Potato Ham Biscuit – First Signs of Feeling Full (6)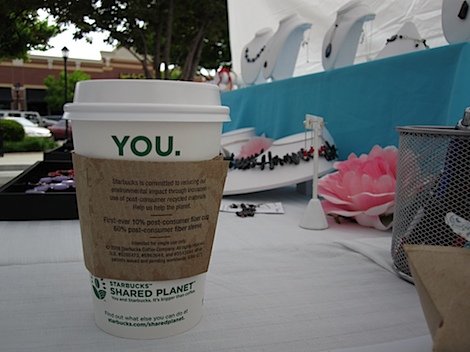 After I had everything set up, I headed over to Starbucks to grab a vanilla soy latte – tall this time. Hubby called me back from Starbucks with a potential customer inquiring about a design, so I had to rush back instead of trying to hit up the restaurant next door for food. Here's a picture of my latte from inside my booth.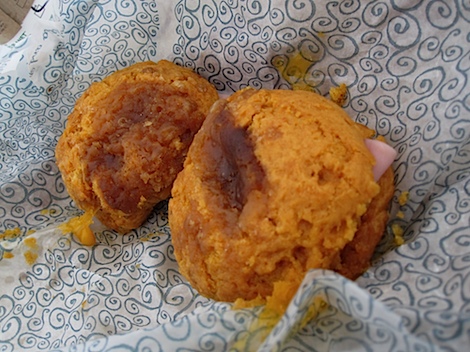 Luckily, hubby went over to get sustenance for me. I asked him to get whichever the person behind the register said was better: Sweet Potato Ham + Cheddar Cheese Biscuits (which sounded promising) or the Quiche of the day with fruit (which is almost always a good option). He got the biscuits…I didn't really like them. The biscuits were kind of soft and too sweet – they even had a dollop of brown sugar on top that I thought tasted weird with the salty ham and cheese. Oh well…I'm sure a lot of people out there live for this one, but it wasn't my cup of tea. I only ate 1.
2:00 pm – Smoothie + Margarita Pizza – First Signs of Feeling Full (6)
My friend stopped by at some point in time and we walked around the booths while hubby watched mine. We also headed over to Robek's for a smoothie since Robek's generously donated coupons to all the event vendors with a couple extras to pass out.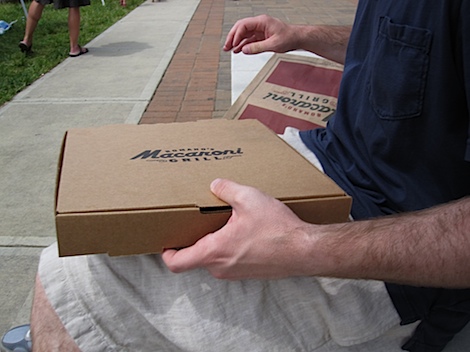 After we got back from the smoothie place, hubby walked around a bit himself and came back with a Pizza Margarita from Macaroni Grill .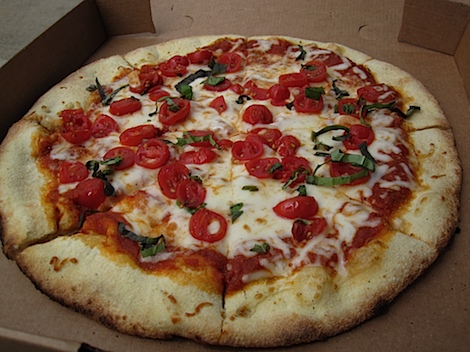 I love their pizzas here! This one is especially delish with all the tomatoes and fresh basil.
8:00 pm – Olive Garden – Full (7)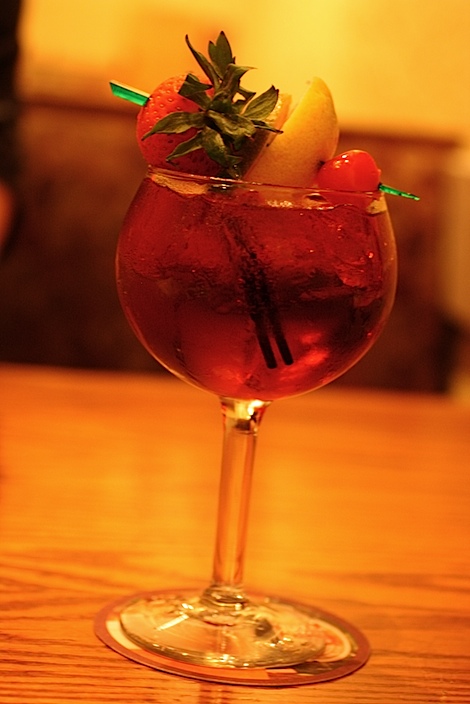 After a long day of hanging out in a booth at a craft show in the sun (not to mention all the carrying of booth items to and from the car, setting up the booth, tent, tables, jewelry displays…phew!), the last thing you want to worry about is dinner. We were actually going to have some more of those TJ's fish sticks with roasted potatoes and steamed cabbage, but the potatoes were already sprouting so we took it as a sign to go out (I know…weak excuse…haha).
We went to Olive Garden and I started with a red sangria.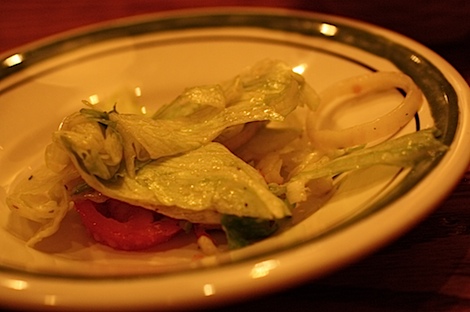 Next, we had salad, which we always love here.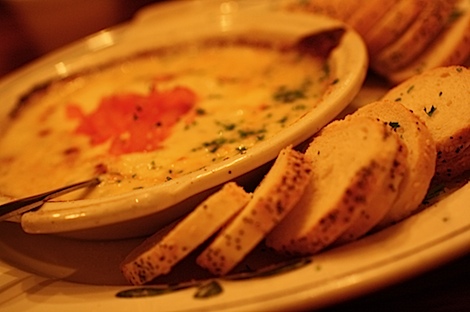 We also really like the cheese dip here. There's something about that slightly smoky and slightly spicy taste of the cheese that is irresistible.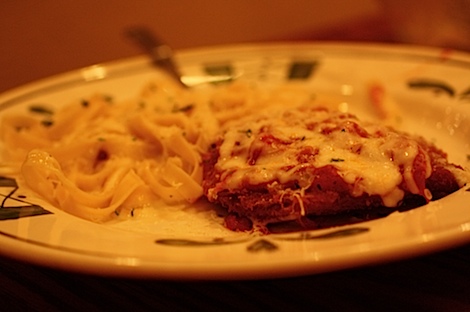 Hubby and I split the Chicken Parmesan, but we sub fettucini alfredo for the spaghetti and red sauce. I couldn't even finish my half (I'm sure hubby will enjoy those leftovers today).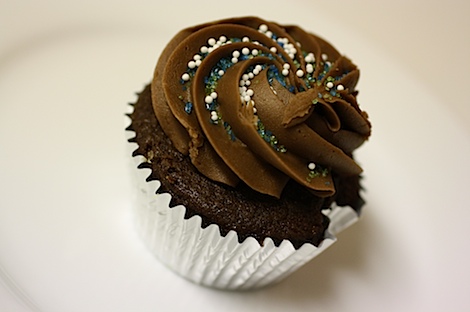 Hubby and I went home for a treat I picked up on the way home from Pink at the Plaza – cupcakes!
I got him a double chocolate cupcake as a thank you for helping me today with the event.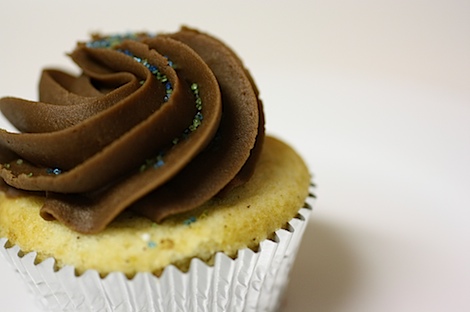 I got myself a vanilla cupcake with chocolate icing to thank myself. Sometimes we need to thank ourselves for all the hard work we do, don't ya think?
Ok, one Pink at the Plaza post coming up next!