7:30 am – Coffee + AB Toast – First Signs of Feeling Full (6)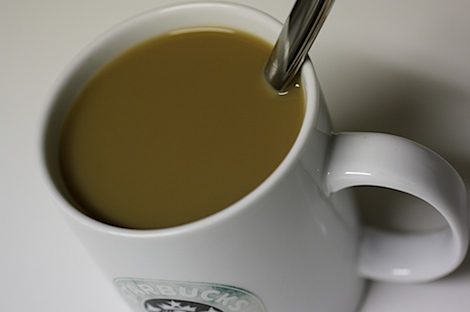 This morning I brewed some Fresh Market Spring Blend coffee for my morning cuppa.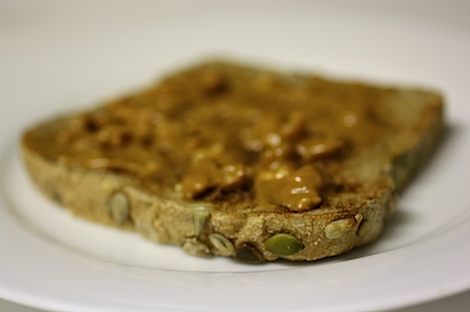 We had a few slices of Dakota bread leftover from last week, so I tried to use them up today before they went bad in a sandwich for later and a piece of toast with Barney Butter.
11:30 am – String Cheese – Content (5)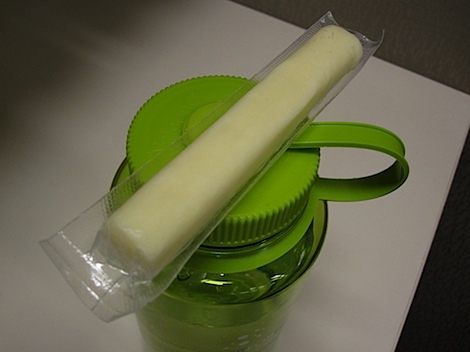 I had a few meetings this afternoon, so I grabbed a string cheese to snack on before they got started.
1:30 pm – Toasted Sandwich + Pear – First Signs of Feeling Full (6)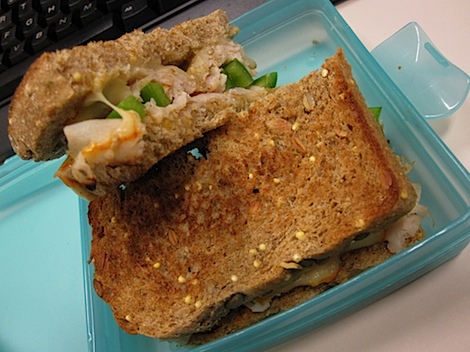 Today's sandwich was a repeat of yesterday – Dakota bread, muenster cheese, turkey, green pepper – heated for 20 seconds in the microwave, then toasted in the toaster oven.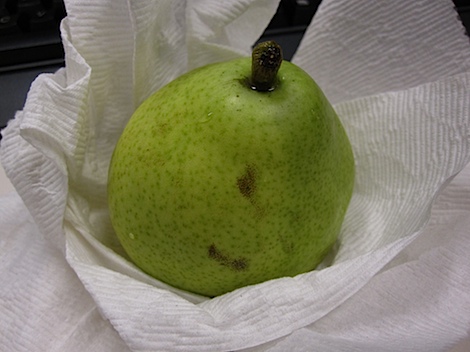 I also had a pear.
5:00 pm – Clif ZBar – Content (5)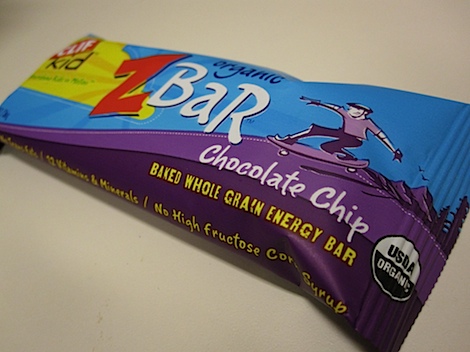 I had a big workout planned for after work – a special Cinco de Mayo zumba party! I decided to have a pre-workout snack before getting off the clock and changing for zumba – Clif Zbar in Chocolate Chip.
6:00 pm – NO Zumba! Rained Out! – Frustrated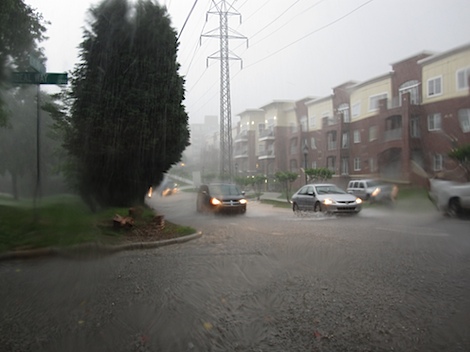 I had been looking forward to tonight's Cinco de Mayo zumba for weeks…seriously! I planned my whole day around it today! I was so excited! However, when I left work, the rain was coming down so hard, I could barely see the car in front of me…and we were going about 10 MPH! Then, it started hailing. Then, I almost got stuck in 2 sections of the road where it was completely flooded and the water level was above my tires! I was determined to get to zumba, so I still headed over, but I came to a hard-stop when the cars on the road I was taking to zumba stopped and started turning around. The road was flooded out! I turned around to see if I could get around it and the other road I wanted to try was flooded too! I took it as a sign that I needed to go home.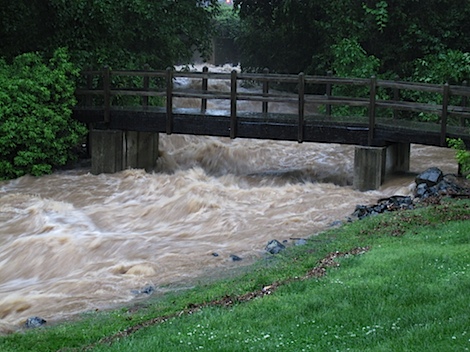 Check out how flooded this creek is! The water was moving so fast!
I headed home and pouted around for awhile…I was really upset I didn't get to do my zumba class – so upset I wanted to cry! I know…dramatic, but I've been really motivated to work out and you know how sad it is to miss something you're looking forward to when it's completely out of your control, no? I also felt really bad for the instructor because I know she put a lot of work into her event planning door prizes and Gatoritas…I hope she does it again next year so I can go!
9:00 pm – Sushi – Full (7)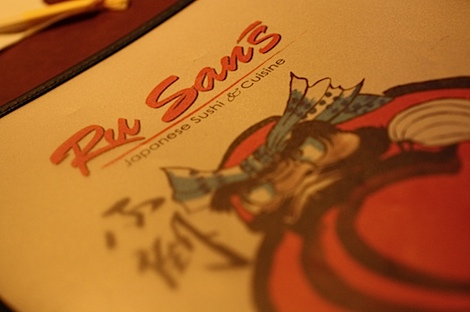 Although most people probably had Mexican tonight to celebrate Cinco de Mayo, we ended up getting sushi.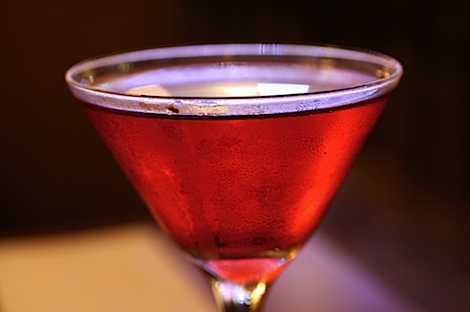 I had a Saketini – sake + pomegranate juice.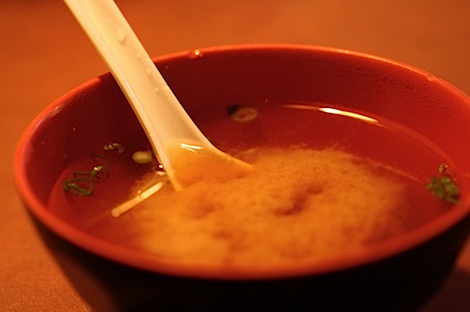 I had some miso soup…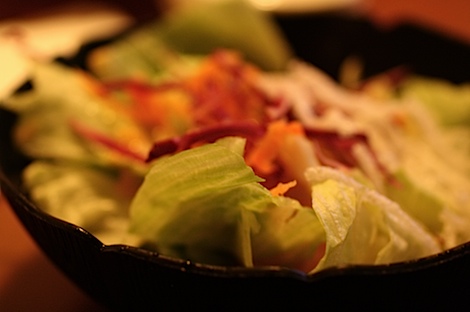 …and a salad with ginger dressing.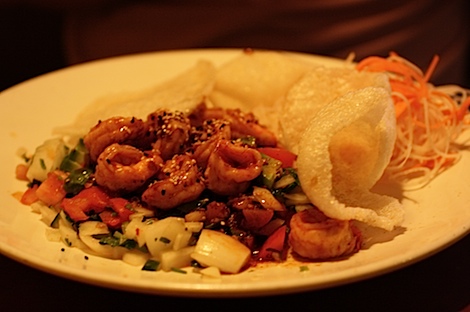 Hubby got some spicy tiger shrimp app that looked more like an entree to me. The shrimp were amazing! So spicy and tasty with a drizzle of fresh lime juice. I think I liked his shrimp better than my sushi.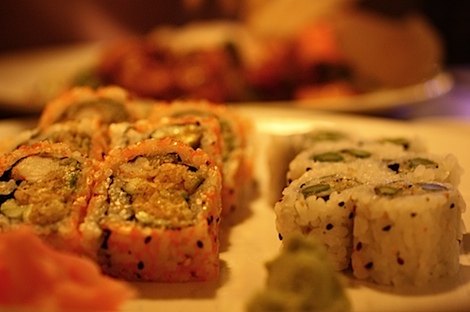 For sushi, we ordered a Crunchy Mui Bueno (shrimp tempura, cucumber, avocado, crunchies, spicy mayo) and a tempura asparagus roll.
Although I was craving some salty tortilla chips, the sushi was fab and I thoroughly enjoyed my dinner.
What did you eat for Cinco de Mayo?