Today started with one of my best oatmeal combos yet – chocolate (unsweetened cocoa powder) and dates!
Pre-cooking:
1/4 cup rolled oats
1/2 cup 2% organic Earthfare milk
sprinkle chia seeds
1/2 tsp agave
1 tsp unsweetened cocoa powder
Zap in the microwave 1 minute, stir, 1 minute more
I pitted the dates while my oatmeal cooked in the microwave. I don't care for the texture of dried fruit when it plumps up during cooking, so I like to add mine post-oatmeal cooking so they retain their chewy texture.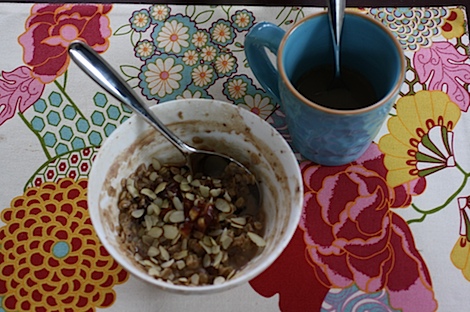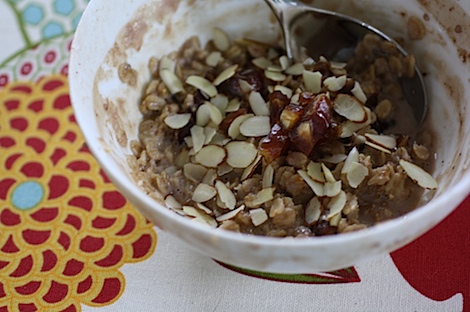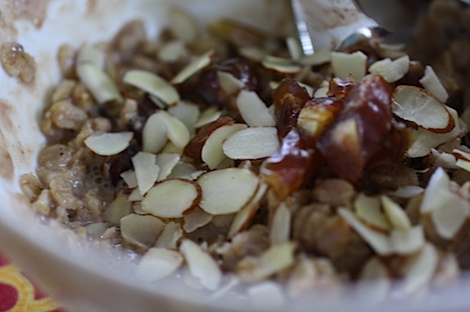 I always forget how sweet dates are! I totally didn't need any extra sweetener, so I was glad I didn't add much to start with. Wow, did these flavors go well together or what!? I'm loving my chocolate-date oatmeal!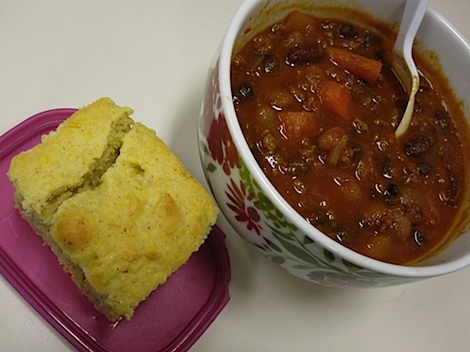 I had leftover Ellie Krieger (Grassfed) Beef + 3 Bean Chili and Bob's Mill GF cornbread for lunch.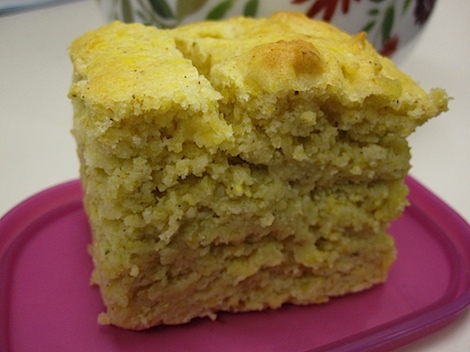 During lunch, I realized my cornbread (a middle piece) was not quite cooked through. So, I zapped it in the microwave for 30 seconds and all was well.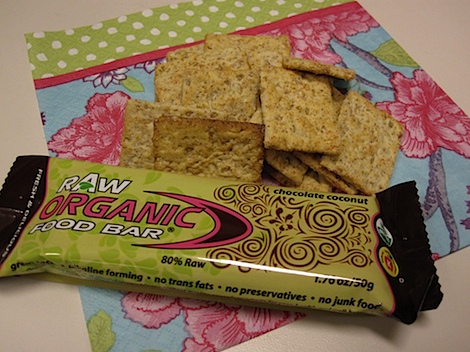 For zumba fuel, I had some Kashi crackers and an Organic Food Bar (Raw) in Chocolate Coconut (won for free).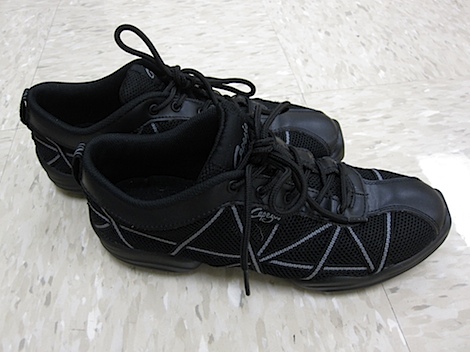 I've been wondering if my old zumba shoes were giving me the support I needed for the intense workout I was getting from zumba. I think they are a bit worn down in addition to being more for dance than dance fitness.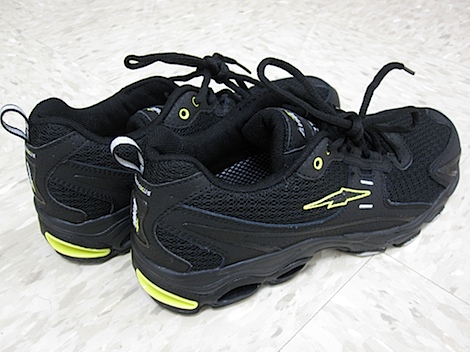 I purchased these Avia aerobic shoes off of Shoes4Fitness.com and decided to test them out tonight.
The verdict – the shoes ROCK! My feet felt very cushioned and gave me plenty of support. So far so good, I'll keep you posted as I wear them more.
I had a great workout – 2 back to back classes with my zumba friends. I felt great after class…like I could fly! I love how happy good workouts make me!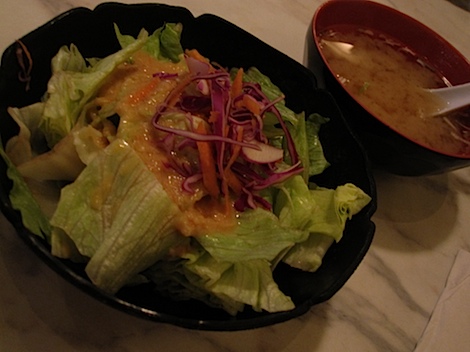 I got a sushi dinner with the girls – miso soup, house salad w/ ginger dressing, tempura zucchini (not pictured) and a 3 piece california roll (also not pictured).
Dinner was small and simple, but really hit the spot. Yum! I ate everything I ordered – a win for me because I do not like to waste money or food.
House Update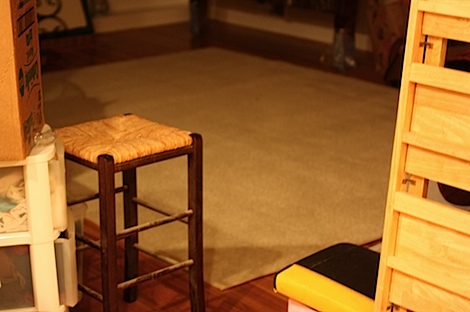 Not as much to report on house-wise as I'd like. Do you remember that carpet we found in the remnant section at a local rug store?
Hubby and I decided to use that one piece to make 3 rugs for our house. The remnant was 12'x20′, so we took 2'x12′ and made a runner, 8'x11′ and made a rug for the living room, and 8'x12′ and made a rug for the sunroom. When I say "made", I mean "had made". 🙂 The carpet store does their own in-house edge-finishing.
Above is the rug in our formal living room, which is still cluttered with boxes and what-not thanks to out (still) lack of furniture.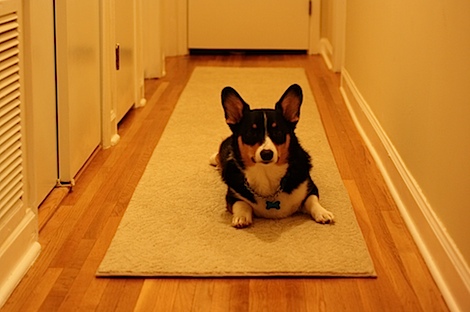 Here's the runner – now I have something soft to step on for my "changing room"!
I love how the carpet is one color but has some personality in the texture.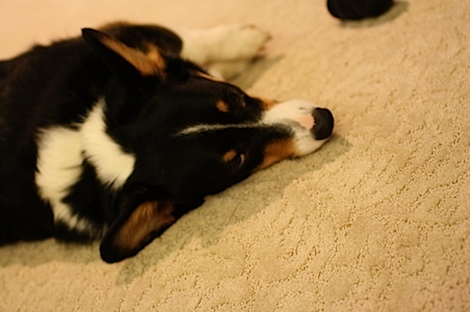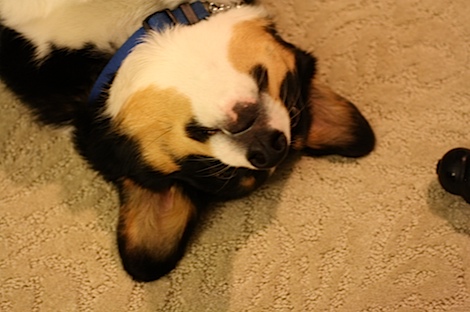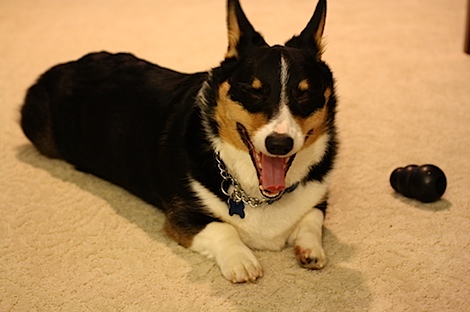 Bailey is really loving the new rugs. His little paws don't agree with the hardwoods, so he's pretty happy to have the soft carpet to hang out on.
I enjoyed 3 of these TJ's Dark Chocolate Wedges with some 2% Earthfare organic milk. There are several dark chocolate bars at Earthfare that I'm eager to try, but I'm waiting for one to go on sale (or for my wedges to run out…heehee).
Do you have any dark chocolate you recommend? Brownie points if it's organic or fair trade. 🙂
Turkey Day Challenge
There's still time to enter for the Thanksgiving Food Challenge. Whether you're hoping to help your family/friends/co-workers eat a more healthy Thanksgiving meal or you'd like to take the challenge for yourself, the result will be awesome! We already have several inspirational entries!
Please join in on the fun. I truly believe every little bit helps. Thanks to everyone who's entered already!
It's easy to enter. Here are a couple simple substitution ideas:
Sub wheat flour for white flour
Sub an organic ingredient instead of conventional
Sub maple syrup, agave, or brown rice syrup instead of sugar
Sub a lower fat milk
Does any one else have any healthy substitution ideas you'd like to share? (Please note in your comment is the substitution is intended to help make a dish vegetarian or vegan, etc. Also please be sure you're leaving tips here, but your entry on the Thanksgiving Food Challenge post)