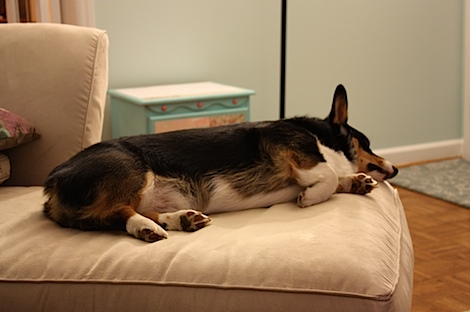 I took my first photo with my new camera last night. I couldn't think of anything better than my dear doggie Bailey.
I love my point and shoot, but it's so good to have my DSLR back!
It was supposed to snow today, but when I woke up…NO SNOW! For my winter weather-land friends, you're probably wondering why anyone would be excited about snow, right? I live in the South! We rarely get snow, so we get pretty excited about it! 🙂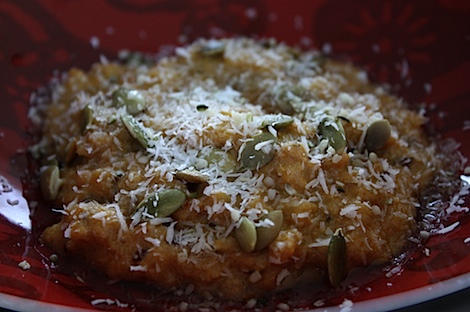 I was determined to see flurries, so I made them appear in my breakfast in the form of organic unsweetened coconut flakes.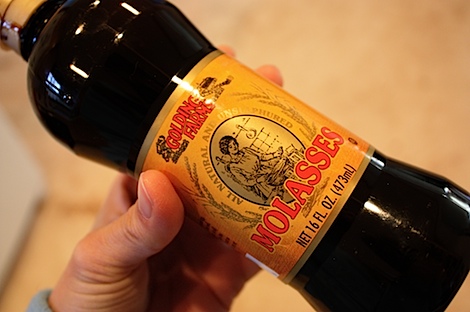 Today's secret ingredient – molasses! To give my oats a depth of flavor.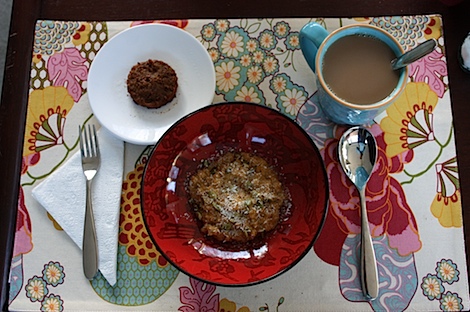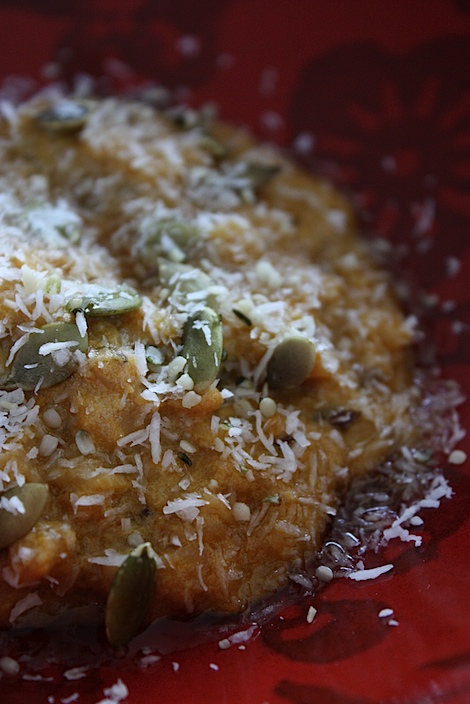 Pre-cooking ingredients:
1/4 cup extra thick oats
1/2 cup skim milk
1/2 tsp flaxseeds
pinch salt
1/4 cup organic canned pumpkin
Cook stovetop about 5 minutes.
On top:
drizzle maple syrup
pepitas
organic unsweetened coconut flakes
HEMP SEEDS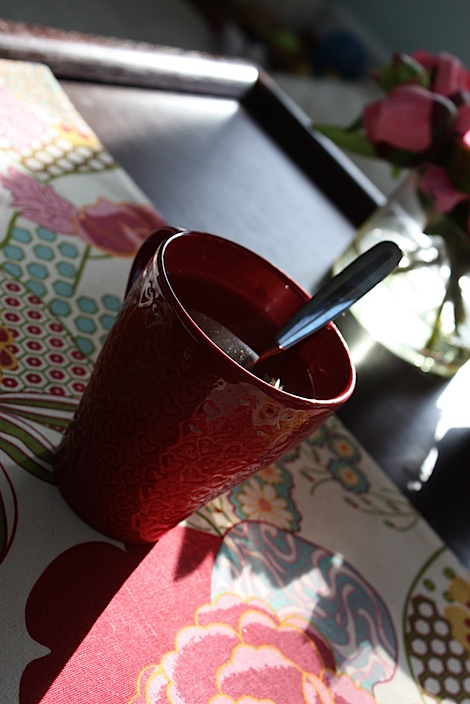 I worked from home today, which was nice. I had plenty of OT this week and got started early enough to take a couple breaks to photograph some work our contractor and team was doing on our kitchen today.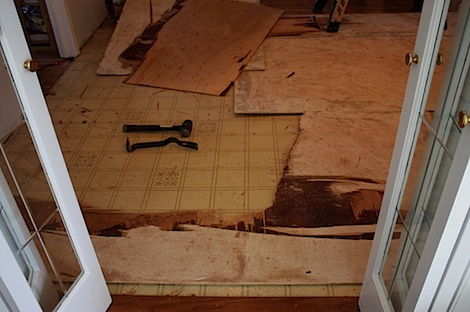 They started to rip up the floor that was under our old linoleum.
There was another layer!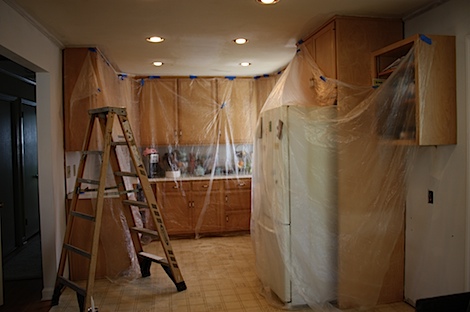 They covered up our old kitchen cabinets with plastic wrap. They also covered the fridge and microwave and moved the stove out of the room.
As a result, I couldn't get to my FOOD!
(Oh and other frustration – one of our cabinets arrived but was BROKEN! Grr….we had to return it and I can only hope it doesn't take another 5 weeks for the replacement cabinet to get here.)
I would have just gotten a sandwich or something from a local deli, but not THIS month. Not while I'm doing the Eat in Month challenge!
Be forewarned…I do not recommend the following for lunch…I just couldn't get to anything else!
I had two slices of Great Harvest honey whole wheat bread. Plain. Straight outta the bag. Yup. I did. I love bread. I mean I LOVE bread! I like it any way I can get it…even just plain when it's fresh and tender. mmmm This bread is pretty nutritious, too!
I also had a Larabar in Peanut Butter Cookie to get some protein to go along with those carbs.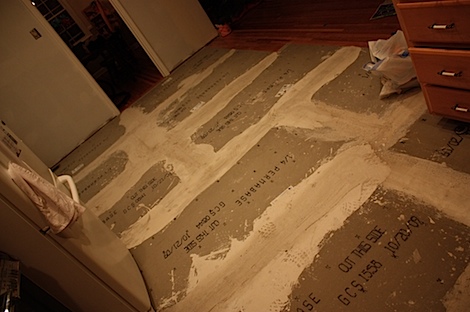 By the end of the day, we had a lovely new sub-floor. Our tiles will be going on top of this.
I had actually really been looking forward to leftover mac and cheese for lunch but moved those plans to dinner instead.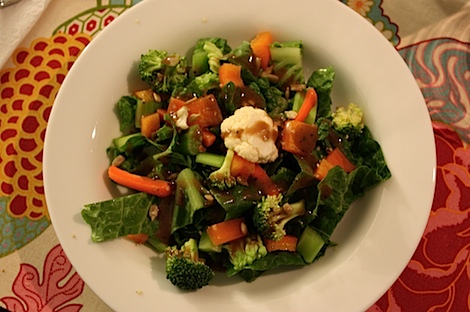 We had our veggies raw – salad form: organic romaine, broccoli, cauliflower, organic baby carrot, orange pepper, sunflower seeds, HEMP SEEDS, and balsamic dressing.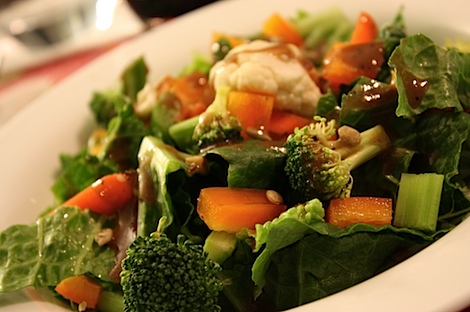 I wish I had some leftover bean salad to put on this!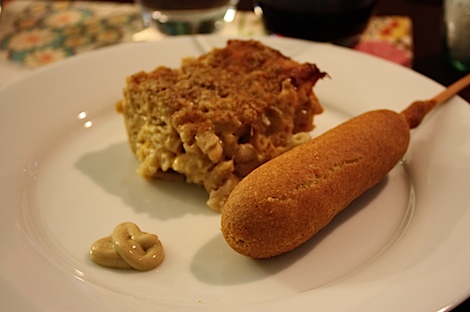 Fo the rest of dinner, we just cooked up a frozen TJ's meatless corn dog and re-heated some mac and cheese in the oven.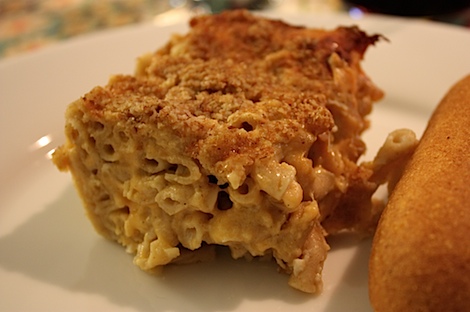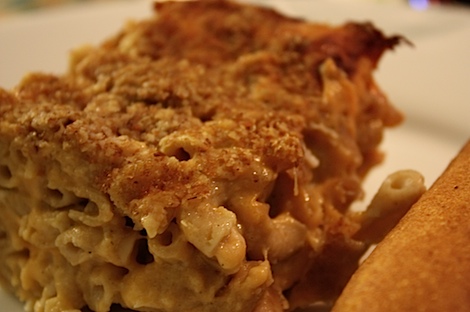 Did I mention we had mac and cheese? Mmm…so good!
After dinner, I had a hankering for something sweet.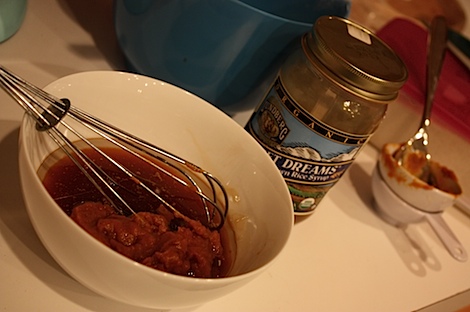 I did a play on Dreena's Homestyle Chocolate Chip cookies, since I liked the recipe from earlier this week so much.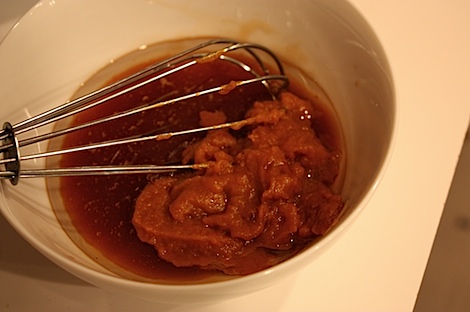 I decided to make my cookies with some of that organic canned pumpkin to make Vegan Pumpkin Chocolate Chip Cookies.
I also had to sub brown rice syrup for the maple syrup. This made the batter super sticky and a bit harder to work with, but the end result was still nice. Not quite as sweet…just as delicious.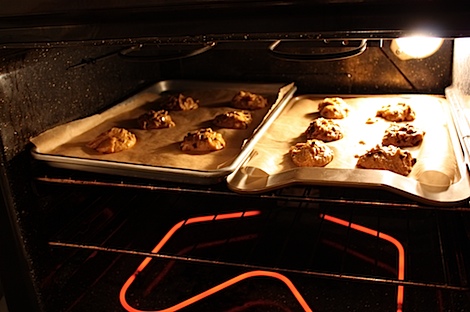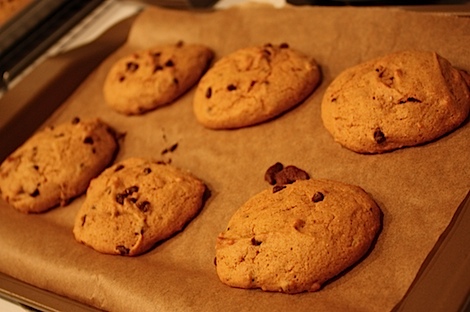 I did two batches (well, I dropped 1/2 the cookies and then adjusted the remaining) – one with slightly more flour (because the batter wasn't as thick as when I made it the other day).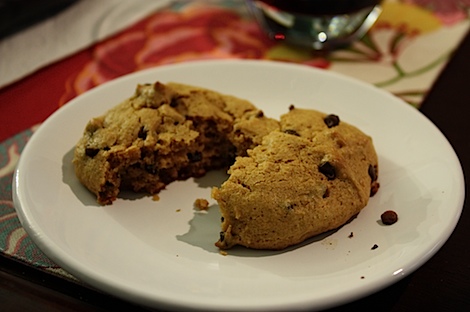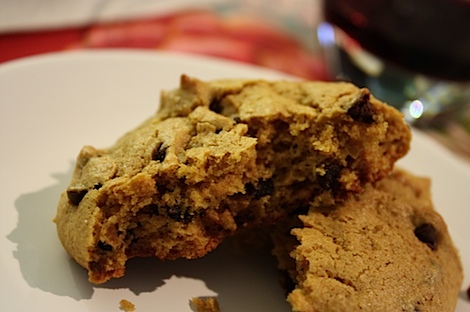 I tried one of each batch, mais oui. They actually tasted the same and had nearly the same texture. I think the batch with less flour just didn't poof up as much.
They were both delicious! I wish I woulda put more pumpkin in, though! Ahh…I know for next time.
I think I need to tweak the adapted recipe before I post it.
Man, I am quite the Cookie Monster lately, no?!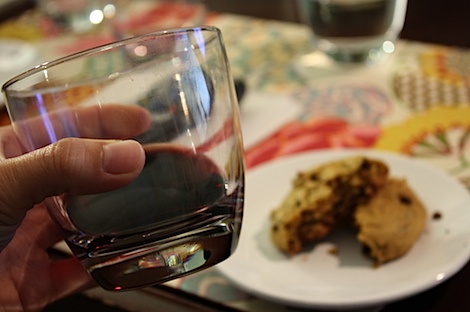 I enjoyed my cookies with wine…and hubby and I watched The Ugly Truth. I thought it was a tad vulgar but pretty funny overall.
I signed up for something super awesome starting up next week. So excited! Details next Tuesday! 🙂
What's your favorite comedy from 2009?