Happy Monday!
Thank you to everyone who's voted in my TCL-content survey. If you haven't voted already, I want your feedback! Pretty please,of course. Click here to check out the options or vote in the sidebar to the right (gonna leave it up there for at least a week). By voting, you help tell me what to blog about – what you come to TCL to see and what you'd like to see in the future. 🙂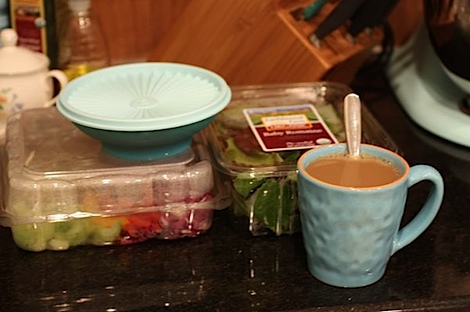 I was running a bit later than I wanted so I decided to sip my coffee while I put lunch together and just take breakfast to work.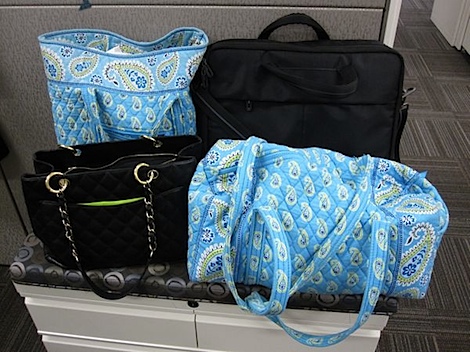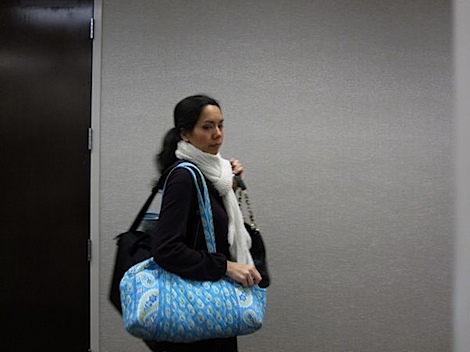 Anywho, today, as most days, I was the crazy bag lady. I don't know how people take everything to work with them that they need for the day. (and scuse the face..I think I was turning around or something).
I often have:
My purse
A bag with work-out clothes/shoes
Laptop bag
Bag with lunch/breakfast
Anywho, all these bags just won't stay on my shoulders…it drives me crazy!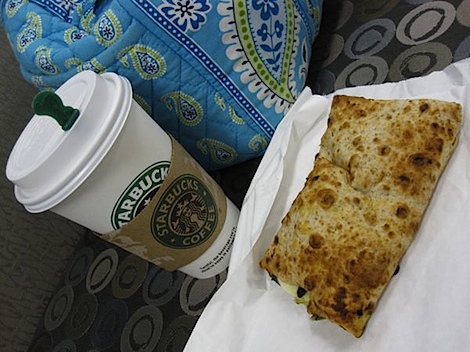 i brought something to eat for breakfast, but I decided to save it for an afternoon snack and splurge on something for Starbucks Monday.
I got my usual drink – grande vanilla soy latte.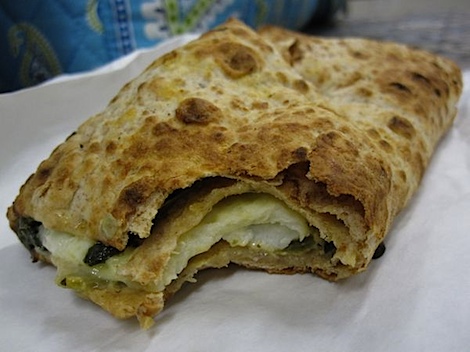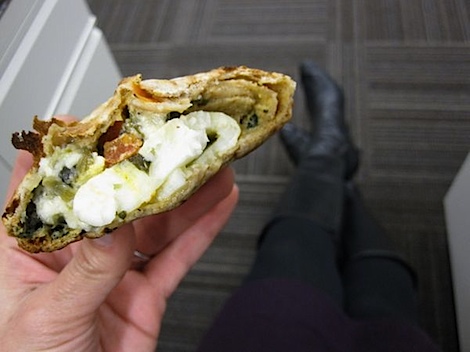 For my splurge, I also got a spinach-feta wrap. And by "splurge" I mean cost-wise. These little sammies are relatively healthy at around 280 calories with a whole wheat tortilla and egg white. I wasn't completely impressed with the ingredient list since I couldn't read some of the ingredients, but not a bad option for "fast food."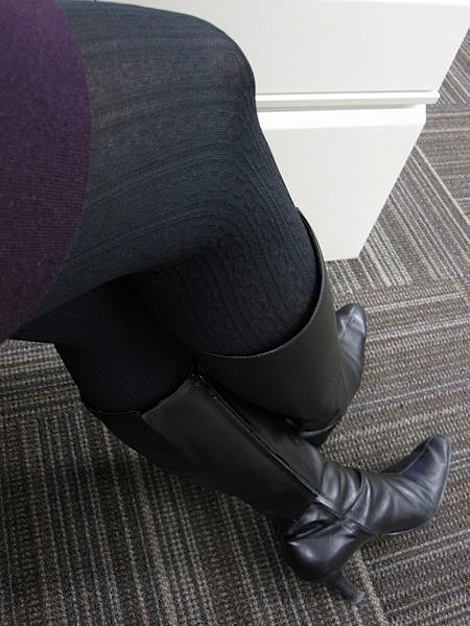 Btw, like my tights? I decided to wear boots today since it was raining and soggy pants drives me bonkers. As for the tights, I like the way the look but HATE the way they feel on. They're tight and binding and constricting. Ugh!
Tights tip: Buy one or two sizes up so they don't fit quite so tight. Helps a little but I still don't love them.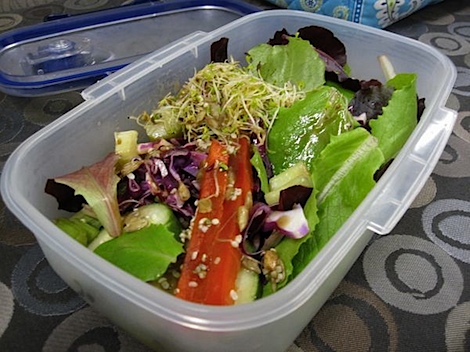 For lunch, I had a salad with my salad bar toppings and some stuff from the fridge/freezer:
baby romaine
bell pepper
purple cabbage
sprouts
celery
sunflower seeds
hemp seeds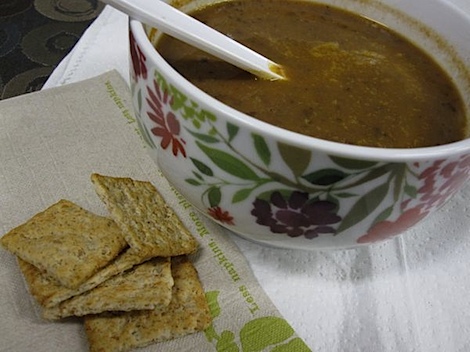 I also had leftover roasted tomato + black bean soup, which I prepped yesterday, and some Kashi honey sesame crackers.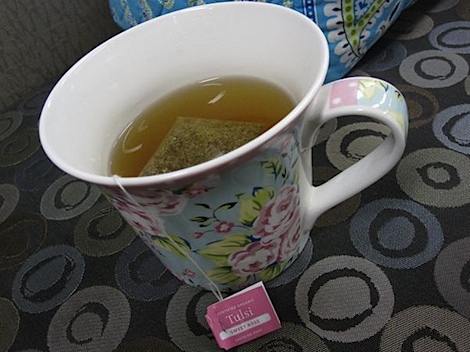 Tulsi tea in Sweet Rose to stay warm in my cubicle and to try to ward off potential colds.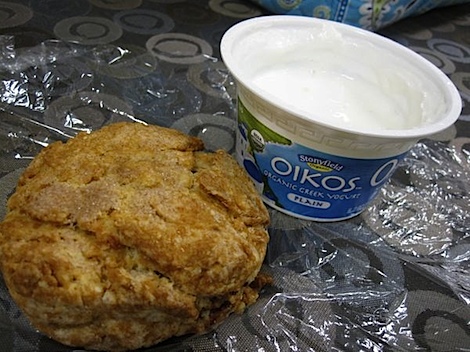 As planned breakfast made a return in the afternoon in the form of snack. I like to load up on snacks on the days I have mega workouts and 2 hours of zumba call for good snacks.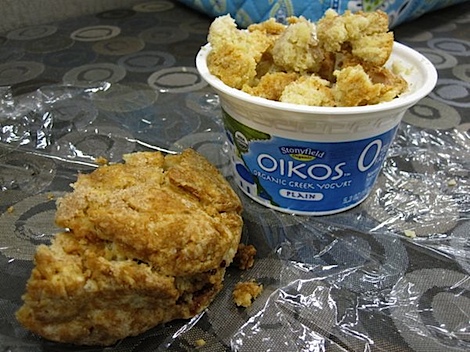 I opened the yogurt yesterday to serve with last night's soup and decided the leftovers would be good for breakfast, which then turned into a snack. I crumbled in half an Earthfare strawberry scone.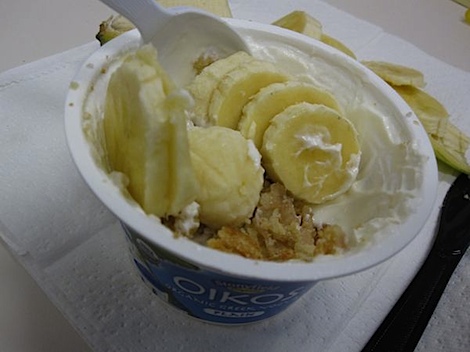 I wanted the taste a little sweeter so I added in some sliced banana. Plus I got a good fruit serving in. Score!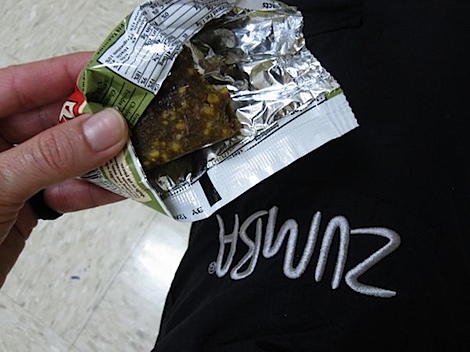 On my way home from work, I ate half a Larabar in pistachio. I saved the other half for between my 2 back-to-back cardio workouts.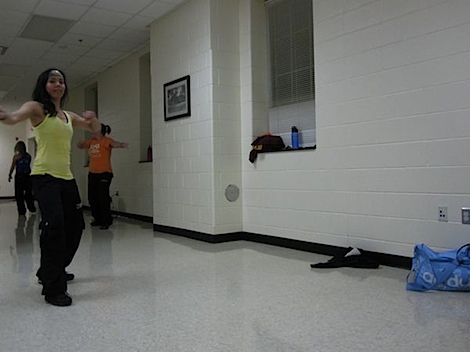 Zumba!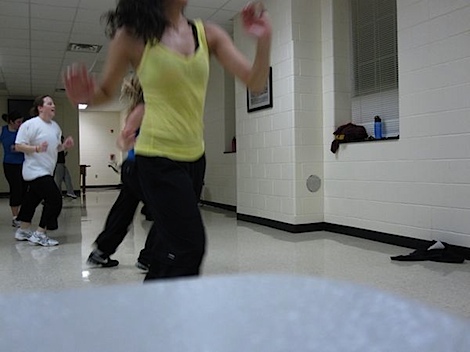 I tried to take some photos using the timer during class. I am apparently not so good at this, but it's hard to set up the camera and then get back into the dance. Plus, I don't want the other participants to think I'm a weirdo! 😆
Hopefully, I'll do better next time.
Kat tried to help and take some photos but I guess we were moving too fast. Oh well, A for effort – thanks Kat!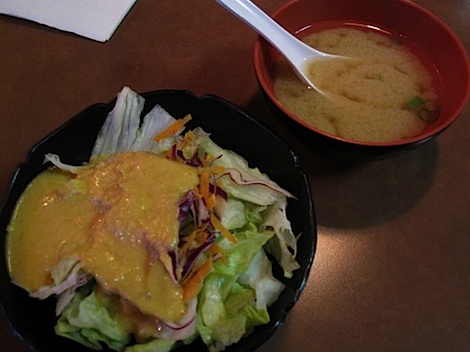 As for dinner, it was the return of the sushi!
I started with miso soup and a salad with ginger dressing. I like the soup because it's healthy but the salad I eat because I like the flavor.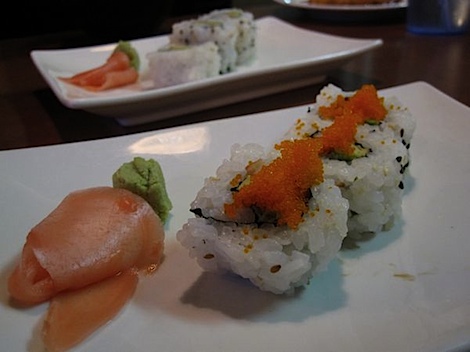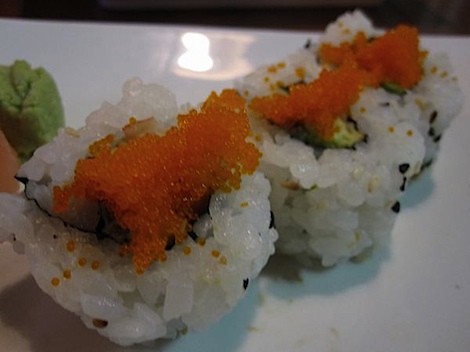 I also got a Cali roll with masago.
Tempura zucchini – for taste. Not sure how healthy a veggie is once it's battered and deep fried. lol But, I do like a good splurge after an a$$-kicking workout.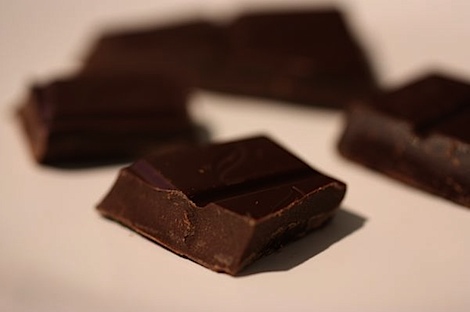 I enjoyed some dessert at home – Green + Black dark chocolate and skim organic milk.
Tidbits + National Eating Disorders Awareness Week
Remember to vote in my poll – I really value your feedback and would love to hear from you via the poll or email – thechiclife at gmail dot com – what do you want to see more of on TCL? What do you love most about TCL?
* * *
I'm still answering Formspring questions – click here to ask me something and see my previous answers.
* * *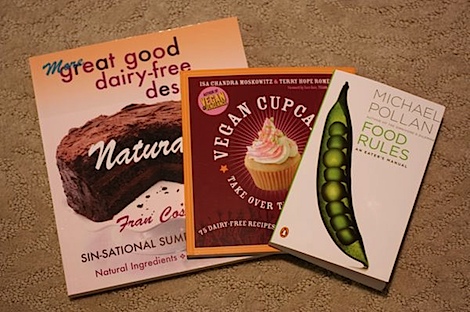 I ordered some books I've been wanting to get for awhile, and I was so excited to see them here already today:
* * *
It's National Eating Disorders Awareness Week from February 21st-27th. Check out NEDA for some great information for those suffering with ED or friends and family of someone who is or if you'd just like to become more aware of ED. The web site says "Everyone can do just one thing to raise awareness," so I thought blogging about this would be a good way to help.
With this week in mind, I thought I'd mention that there are some great inspirational projects you can participate in to help encourage positive body image and self-love.
If you'd like to help promote positive body image and self love to lots of people – strangers, friends, co-workers – why not post an Operation Beautiful note somewhere – or maybe a couple places?
If you'd like to promote self-love and positive body image for yourself (hey, we need to encourage ourselves from time to time, too), check out these ideas for ways to love yourself the way you are:
What do you think about positive body image and self love inspirational projects?