I started today on a positive note. 😀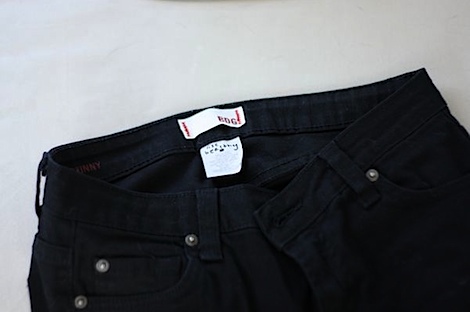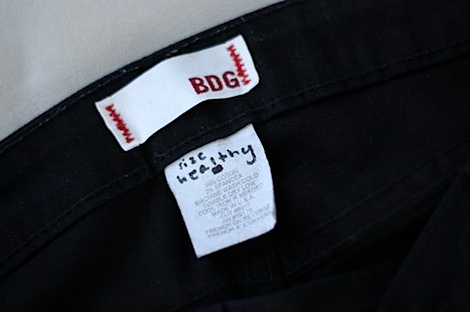 Though I was way too late to participate in the contest, I still wanted to do Angela's Size Healthy label update. I wrote my new size "healthy" on my skinny black jeans. So fun and encouraging. If you haven't done this to one of your pants yet, go for it!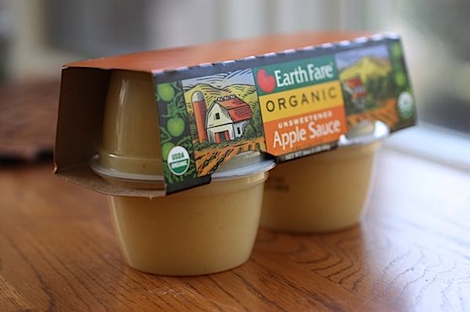 As for breakfast, I decided to do something with the Earthfare organic unsweetened apple sauce I have in the fridge, almost at all times.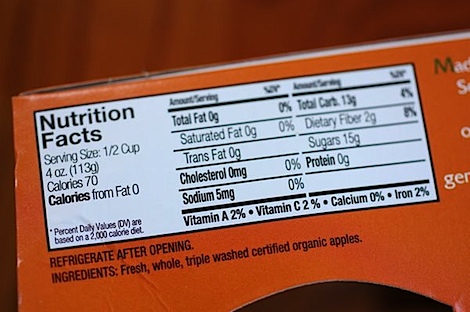 Since I've started reading food labels, I've think I've started making better and better food choices to become a more clean eater. The last time I checked out traditional applesauce labels, even those marked "all natural" contained high fructose corn syrup.
This apple sauce contains "fresh, whole, triple washed certified organic apples" – no extra sweetener. Now isn't that a novel idea?!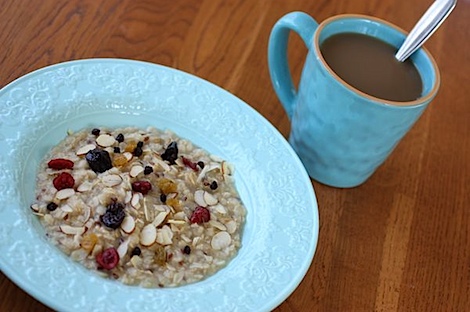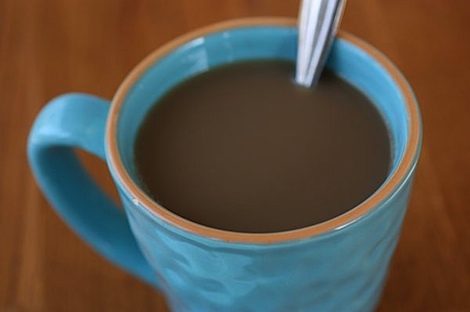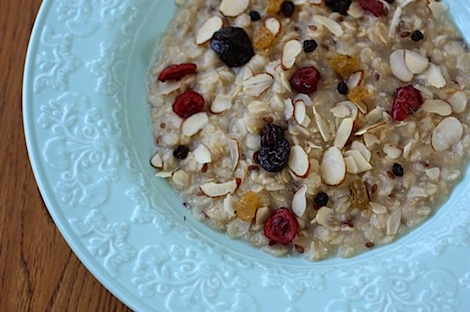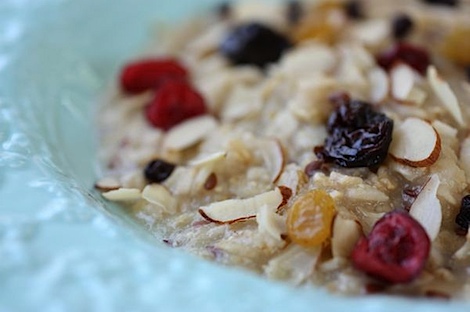 I decided to stir some applesauce into my oatmeal.
Applesauce Oatmeal
Pre-cooking:
2/3 cup water
1/3 cup (the last of my) extra thick oats
1/2 tsp flaxseed
1/2 container (about 1/4 cup) applesauce – I ate the other half while I cooked my oats
I brought the water to a boil and then cooked the oats stove top till thickened up.
Post-cooking:
3 tbsp skim milk – organic – stirred in while still in pot to warm through
sprinkle sliced almonds
1/2 packet of Starbucks dried fruit – raisins, cranberries, blueberries – given to me by a co-worker for free. Score!
The verdict: Applesauce wasn't my fave mixin. I definitely prefer pumpkin. The applesauce had a sort of "grainy" texture that was ok to eat, but not something I see myself craving. I do really like pieces of apple in my oats still.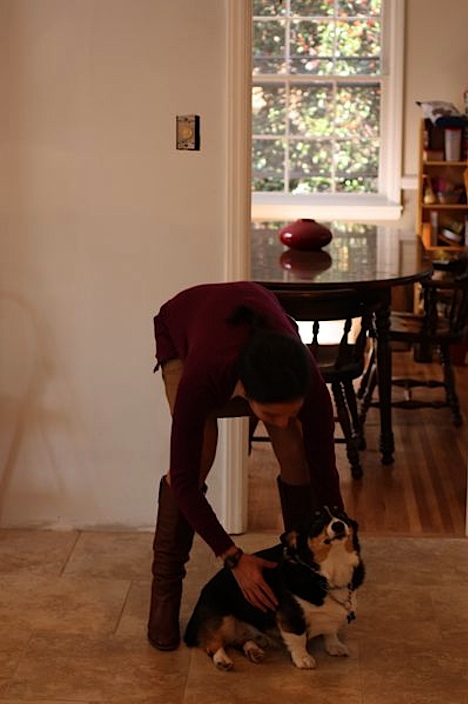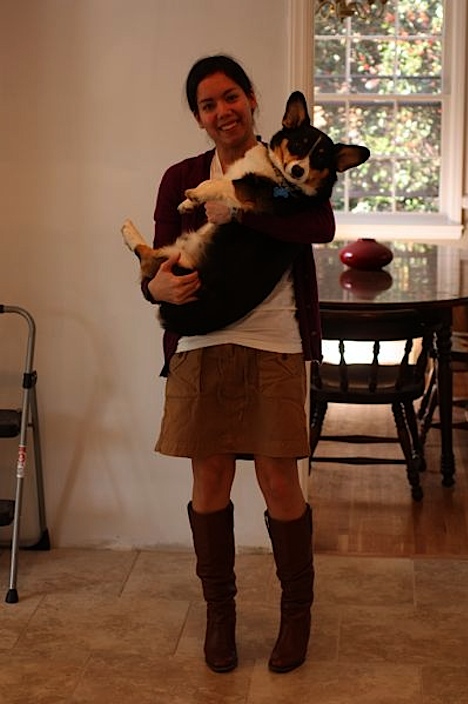 The weather outside was gorgeous today so I rocked a skirt and some knee-high boots to run errands with hubby. I can't wait till spring gets here!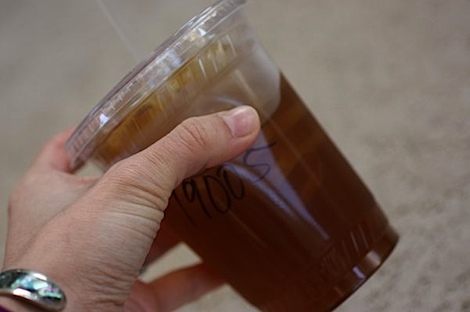 While we were out shopping we got some snacks – some iced yerba mate tea (love this stuff! so tasty, so good for you)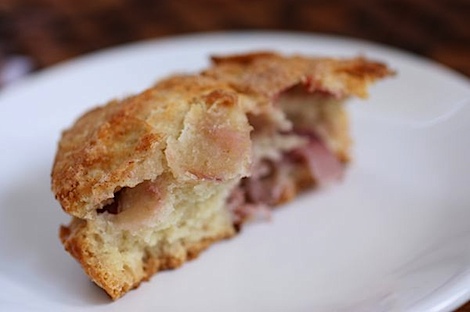 And half a strawberry scone.
Groceries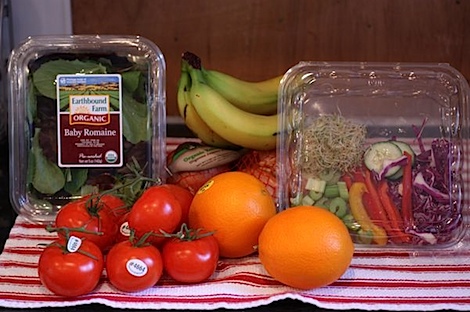 We picked up some groceries for dinner and the week ahead: vine-ripened, pesticide-free tomatoes, baby romaine, bag of organic yellow onions, organic bananas, organic navel oranges, some salad bar toppings (since it's just me and hubby eating, I find getting toppings from the salad bar can sometimes be more cost-effective rather than buying whole sizes of each food).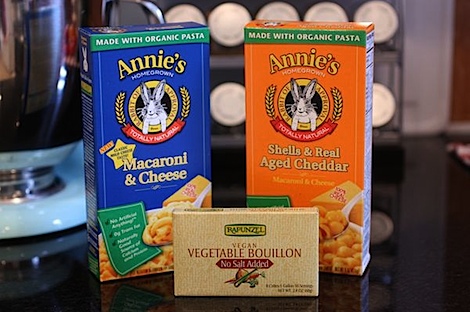 We also got 2 boxes of Annies mac and cheese (on sale) and some vegan vegetable boullion no salt added cubes.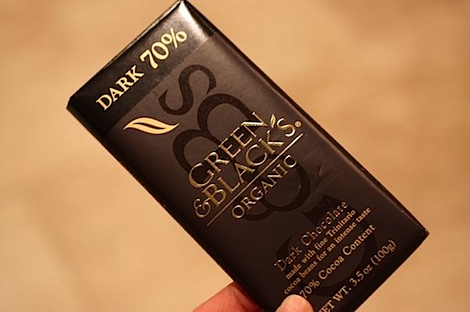 Plus some more dark chocolate – Green & Black's organic Dark 70% chocolate – so smooth, so yummy. I think I need to eat some of this tonight.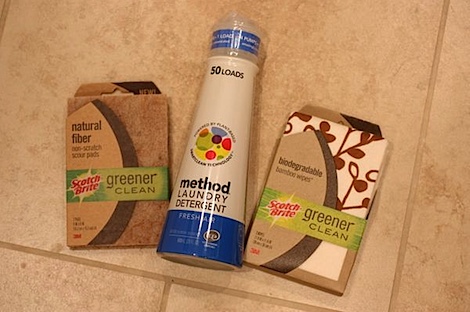 For the home, we got some eco-friendly supplies: Scotch Brite Greener Clean – scour pads and bamboo wipes, plus the new method laundry detergent (need to write a review on this once I've had the opportunity to try it out) – get a $2 off coupon by clicking here.
Sunday Prep Day – Ellie's Roasted Tomato + Black Bean Soup
I've decided that Sunday will become my official Sunday Prep Day. I've almost always tried to prepare for the week ahead the day before the week starts, but now I'd like to share my schedule with you guys in case it helps other people. I'm working on nailing it down, so for now, I'll just share what I did today.
For a meatless dinner, I decide to try one of the recipes from Ellie Krieger's new book – So Easy. I went for the Roasted Tomato + Black Bean soup (found the recipe online here – click).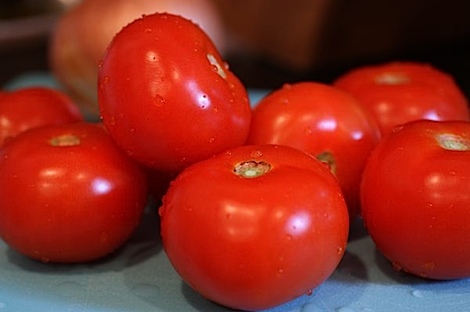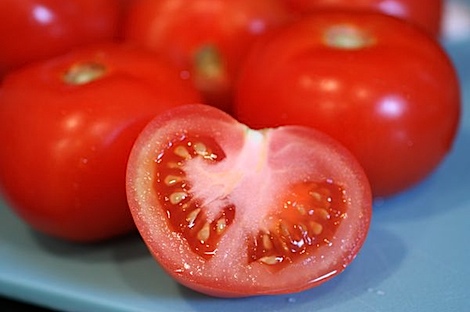 I used the tomatoes we picked up today to start dinner. They were so vibrant and red and pretty!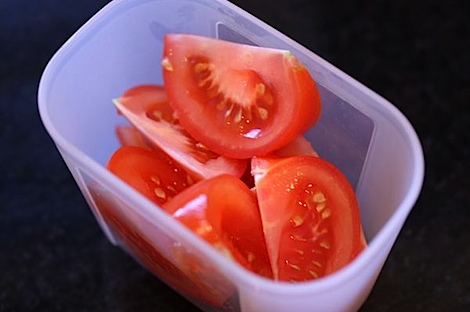 I got one extra tomato to eat on salads later this week. I went ahead and rinsed it and chopped it up today to save prep time later in the week.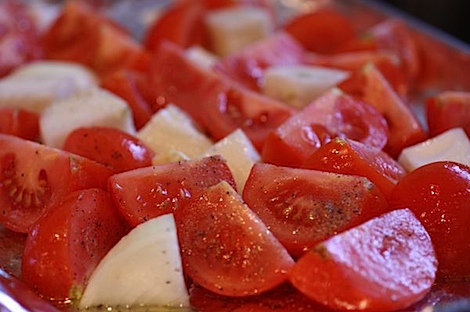 I got the tomatoes, onions, garlic, and EVOO started roasting in the oven and then hubby and I took Bailey for a quick walk around the neighborhood to enjoy the last of the day's sunshine.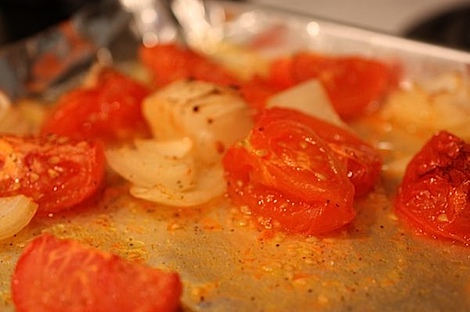 When we got back the veggies were nearly done roasting so I was able to continue dinner.
I used 3 cups of vegetable stock I had leftover from the vegan chickpea casserole I made the other night.
For the last 2 cups of stock required, I used 2 cups of water and a vegan vegetable boullion cube.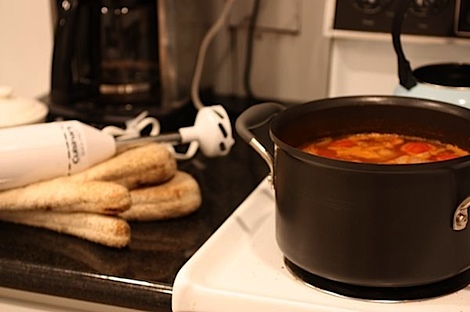 I got to bust out my immersion blender. I love using it!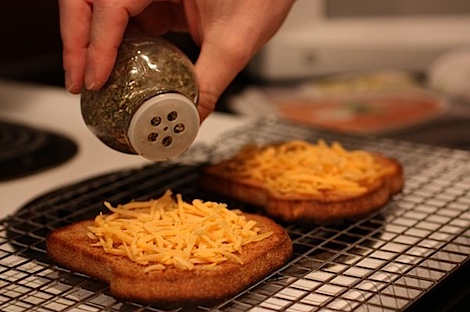 Hubby and I made some cheese toast with some dried herbs for seasoning.
All together – with the rest of my yerba mate tea.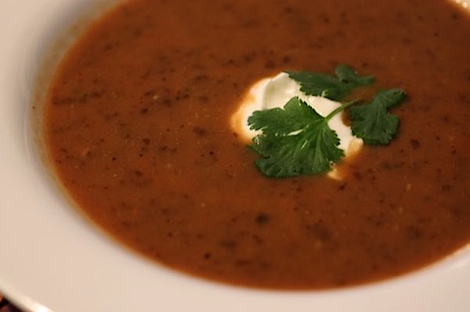 I served the soup with a dollop of plain OIkos greek yogurt (instead of the recommended sour cream). Plus, fresh cilantro gave the dish a burst of bright flavor.
Not sure if you've noticed but I'm a BIG fan of using fresh herbs. Not only do they brighten the flavors of food, but I think almost all of them are good for you too. Even cilantro (click for info on cilantro and coriander health benefits).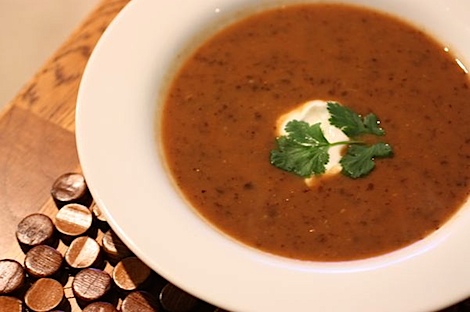 The soup was really good. I loved the rich roasted flavor with the chili powder and cumin. The dollop of greek yogurt gave a creamy bite and the cilantro really took the flavor over the top. Served with whole grain bread, this meal became complete.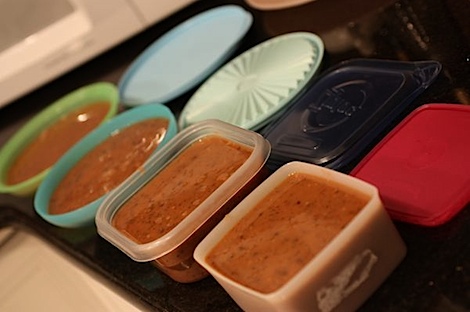 I even have a couple servings to take to work this week and a couple to freeze for later.
While we ate dinner, I let the soup cool down a bit. Once we were done eating, I ladled the soup into various tupperware containers to cool even more. I always try to bring my soups to room temp before placing in the fridge or freezer.
In fact, they're probably ready now!
*
*
*
TCL Pages + Content Suggestions?
In other news, have you checked out my pages (check out the links along the top of my blog, just under my header image)? I'm working on updating and adding new pages as time permits.
Recently, I've added or updated the following pages:
Motivation – Challenges or other encouraging ideas
Best Posts – My best ideas, tips, and articles
Recipes – A collection of links to recipes posted here on TCL – original and adapted
If you have a page you'd like to see me put together or if you have questions you'd like me to answer, please send them via my Formspring page or shoot me an email at thechiclife at gmail dot com.
PS: Head's up – I'll be posting a poll to gauge you guys for what kinds of content you'd like to see here on The Chic Life. I'd love to get some more feedback so I can continue to give you, my dear readers, the content you want to see.