Happy Monday!
TGIM as Jenn would say. 🙂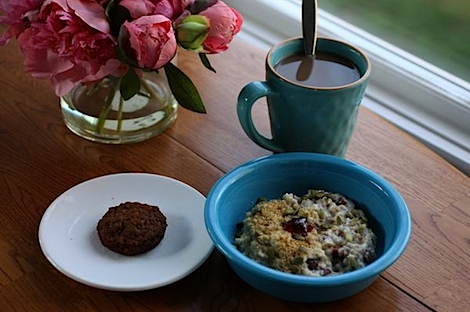 Today's breakfast was outstanding!
You know, I used to rush rush rush all the time on my way to work and would often skip breakfast or eat something crappy and fast. Over time, I started making time for breakfast and I haven't looked back. A great breakfast puts me in a good mood for the rest of the day.
Do you make time for breakfast or do you skip it or maybe do something fast?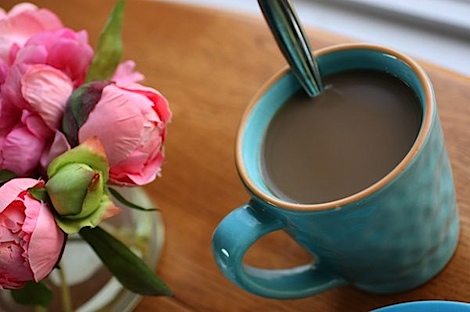 Fresh Market Spring Blend. I did have a cup of water while I was cooking breakfast to get Project Hydrate started as soon as possible.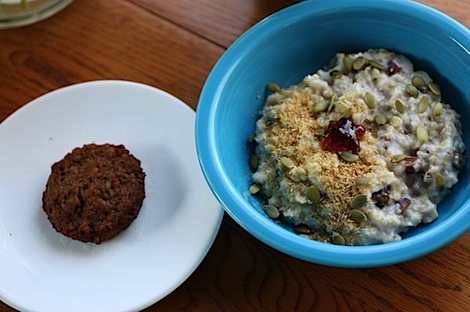 Oatmeal + Morningstar "sausage" = perfection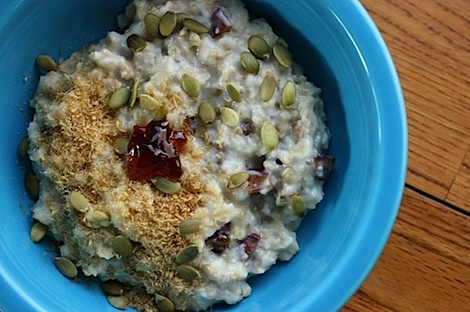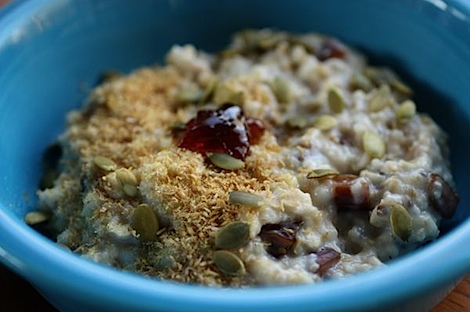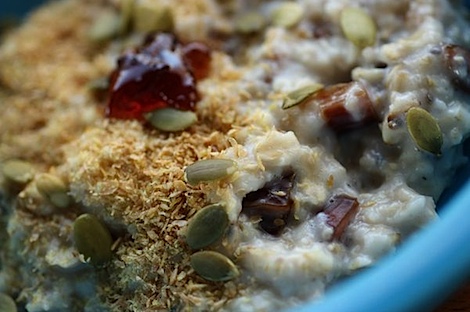 The oats mixture was really diverse in ingredients: milk, water, oatmeal, chia seed, dates, flaxseed meal, dates, pepitas, and a wee bit of jelly. The dates were my sweetener. I used about 4 of them chopped up. Oats cooked stovetop.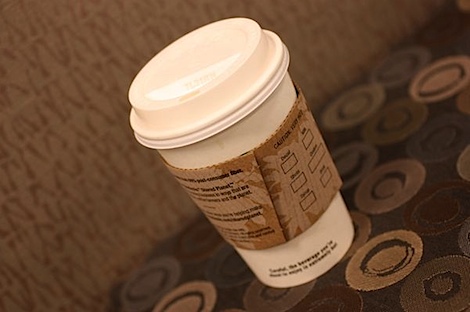 I celebrated Starbucks Monday with a tall vanilla soy latte.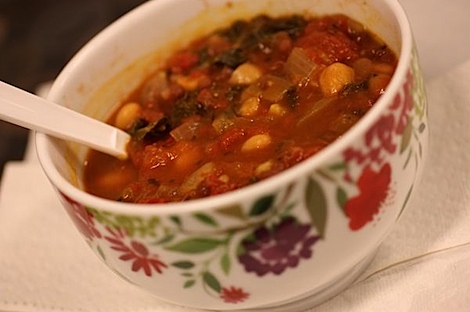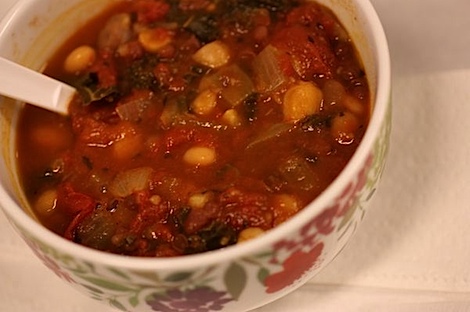 Lunch = leftovers of last night's Clean Food soup. It re-heated so well! I especially love the texture of the kale in the soup, tender but not overly soft.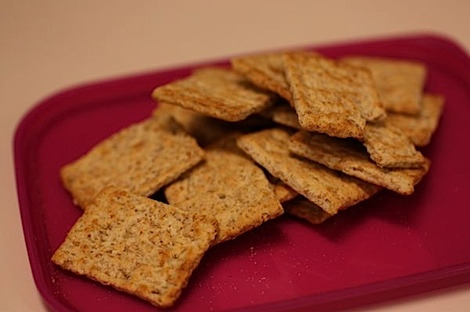 I also had some Kashi honey sesame crackers.
I had some Tulsi tea around 11am, but forgot to take a photo. Oops.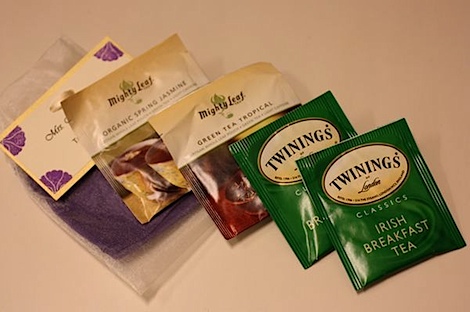 I broke into my wedding favor from that fabulous wedding last year for one of my dear skating friends.
They did a mixture of Asian and Irish teas to celebrate their two families ancestries. So cute!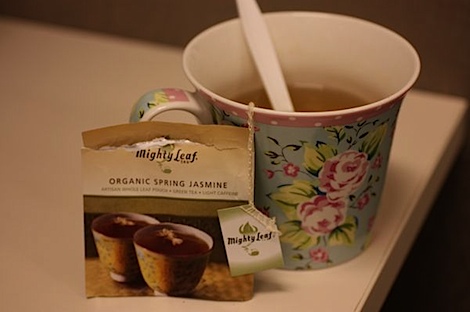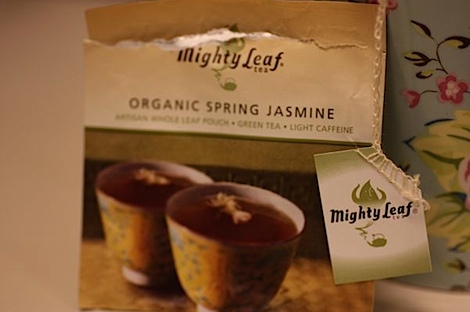 I broke into the Organic Spring Jasmine tea (Mighty Leaf).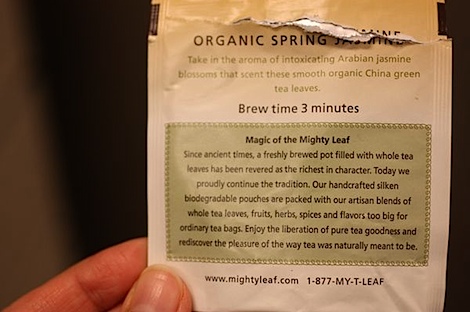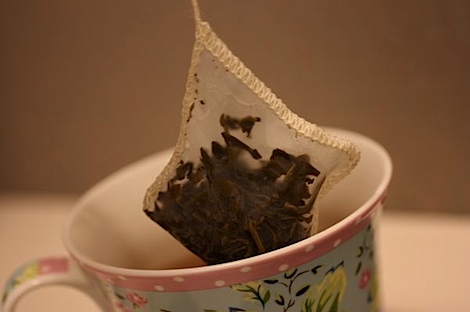 The tea bags were really nice and almost-fabric like. Great tea! Loved the flavor…and the fact that it was organic.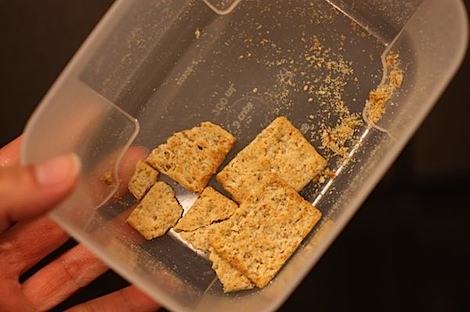 To fuel up for a workout later, I scrounged around my cubicle and finally decided to finish the last of my crackers.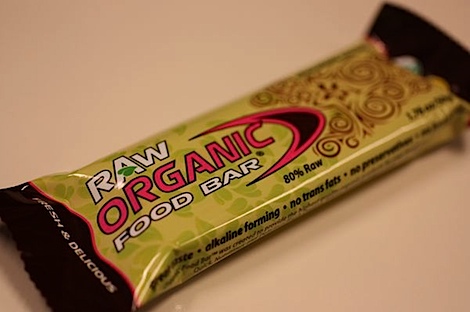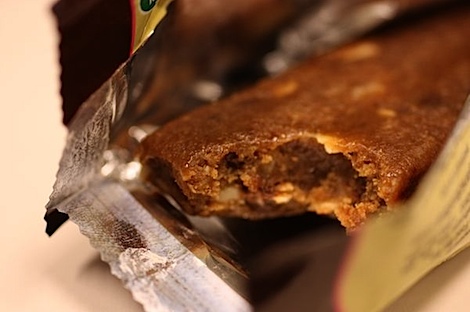 I also had a Raw Organic Food Bar in Chocolate Coconut (won on twitter). I love these things!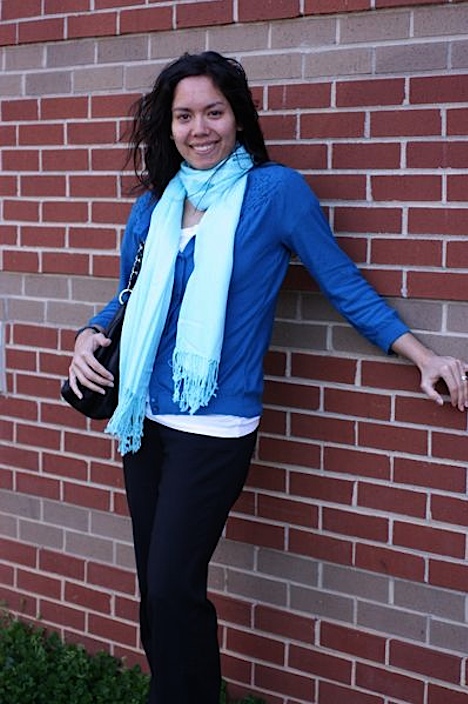 PS I wore my new top today…but no makeup. I haven't been feeling much like wearing make up lately.
Kat was my fabulous photographer!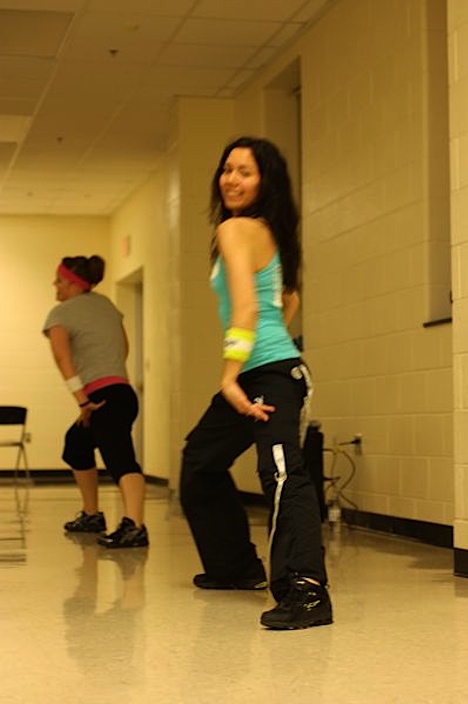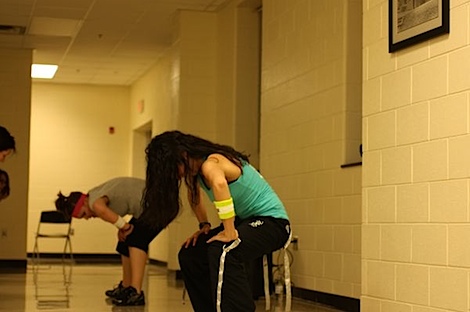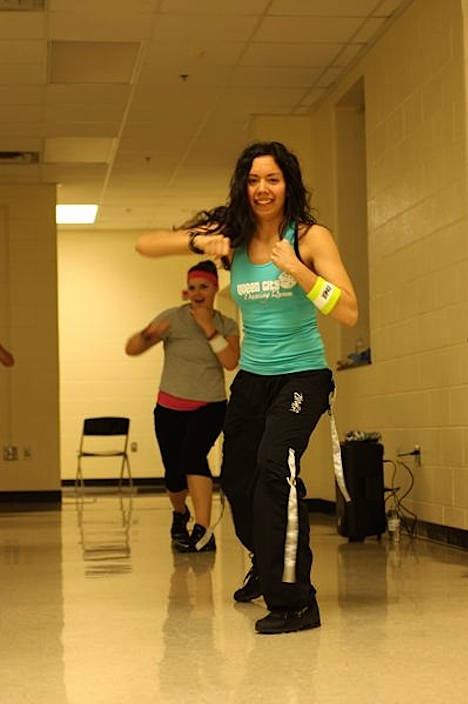 She also took these photos of me and Megan doing a new song I choreographed (with a little help from a couple friends) – Meet Me Halfway by the Black Eyed Peas!
Thanks Kat! 😀
I had water and an Aria protein shake between and after a double header of 2 zumba classes.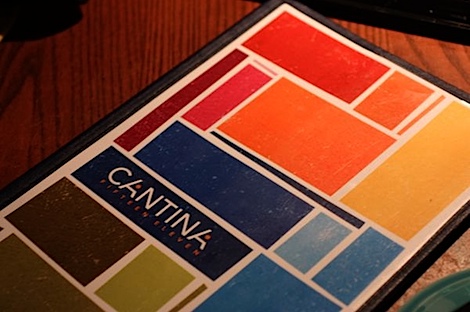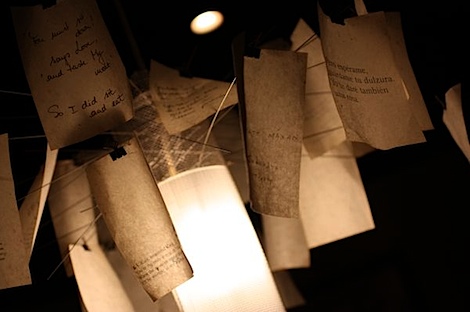 Post dinner we headed out for a b-day celebration.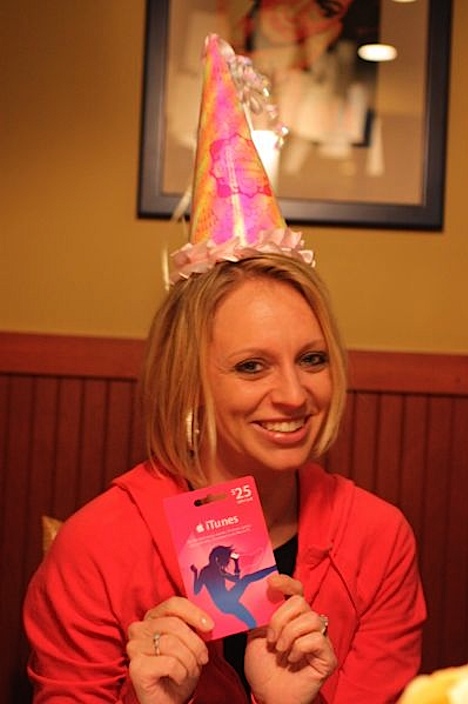 Stacy – the b-day girl!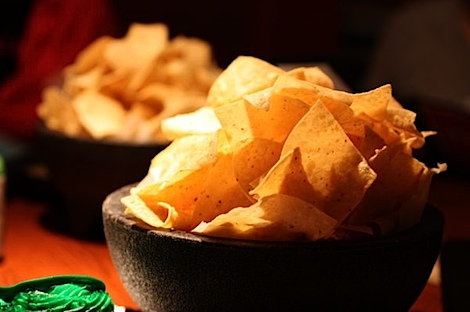 I never seen bowls bursting with so many chips!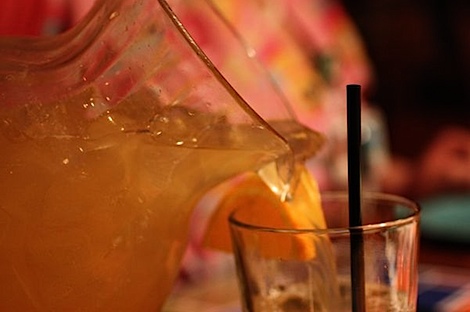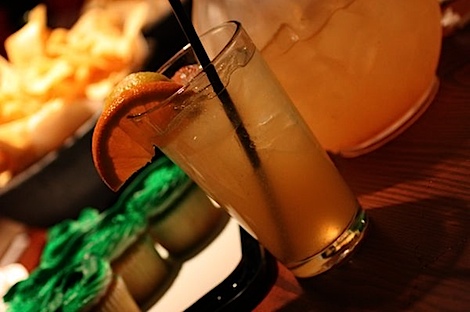 I had a cup of white sangria.
Some chips and salsa…I didn't count, I just grazed.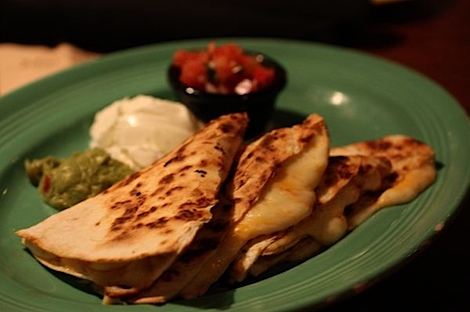 I ended up sharing cheese quesadillas…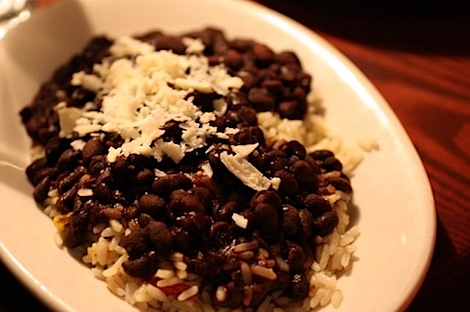 …and black beans and rice with the b-day girl. Thanks Stacy!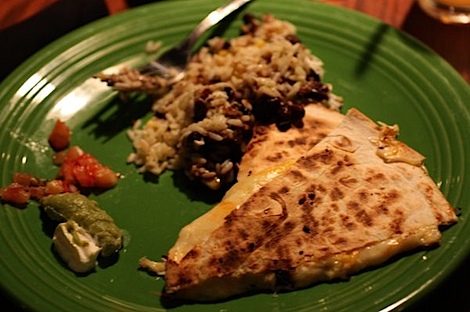 My portion – I only managed to finish half of this. Hubby is already looking forward to the leftovers for lunch tomorrow.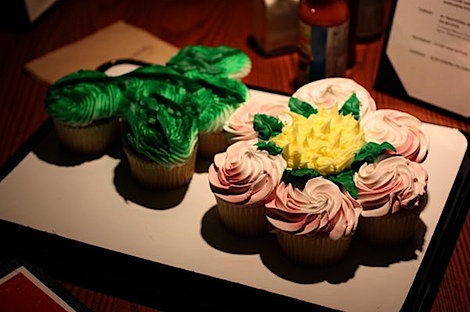 Our fabulous cupcakes, sponsored by Megan!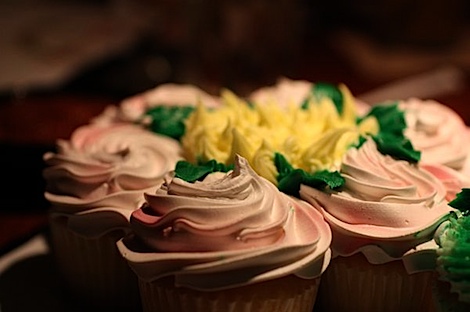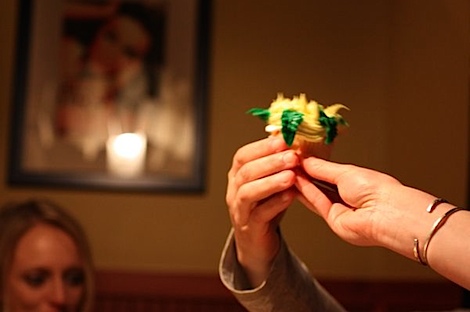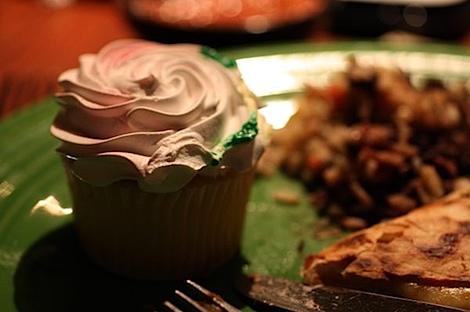 I had one of the pink frosted cupcakes – delicious!
Happy Birthday Stacy!!!!!!!!!!!
Project Hydrate Day #15
I guess Day#15 marks roughly the half way point. I think I could spend a year perfecting the art of hydration, but so far the following tips seem to be helping the most.
Project Hydrate tips:
Prepare – If you know you're stepping away from your main water source (i.e. going out to run errands) take a water bottle with you…or two
Be Aware – Remind yourself to hydrate. Keep a glass of water or water bottle in eye sight so you remember it.
Don't let business be your excuse – It takes about 10 seconds to open a water bottle and take a sip or two and put the top back on. While I'm guilty of using this excuse, I try to remind myself that taking a couple "breaks" to drink water won't put me in the weeds.
Start early – I normally don't start drinking water until 10:30 or 11am because I normally am drinking coffee first thing and then I'm busy commuting to work or settling in at my desk, checking email, working on deliverables, etc. By having a glass of water first thing when I wake up or while I'm getting ready, I add another cup of water to my daily intake.
Consumed:
pink water bottle ~4 cups
turquoise water bottle ~3 cups
1 cup water
2 cups hot tea
1 sangria – that sounds right? 😉
Randomness
I've started some discussions on my Facebook page. Tell me what you want to see on The Chic Life, tell me your Project Hydrate tips, tell me anything on my wall. I'd love to hear from you!
You can also ask me more questions on my Formspring page. I have a STACK of hand-written notes for some most-awesome posts to answer your questions (and you guys have some great ones!), but in the meantime please feel free to ask me more.
A year ago today, I was blogging about some of the best crab cakes I've ever had in my life EVER in San Francisco. Mmm…
Also, I have SO MUCH COOL STUFF in the works, I am bursting at the seams! I can't wait to tell you guys! Really…I'm so excited. You can tell, right? 😉 Facebook friends and Twitter followers will get tips and be first to hear, so join up if you haven't already.