No, not these Ambers (doo doo doo doo doo doo…this is the Aaamber Show)
Theme Song
This post best enjoyed with 311 "Amber". Don't some songs just feel like the theme song for your day? The easy rolling of this tune makes me think about the warm sun and cool breeze and the easy Saturday morning I had.
BIB
Hiyas! How's the weather where you are? Today started out beautifully with bright blue skies and the gentle breath of spring whisping through the air.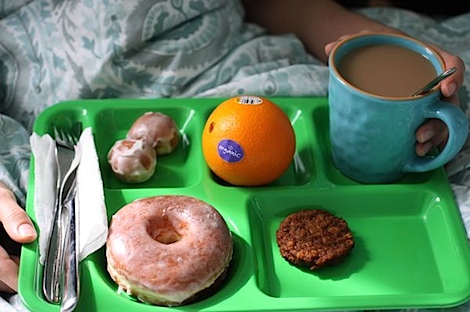 Hubby woke me up to take my breakfast order: Morningstar "sausage", local doughnut and doughnut holes, an organic orange and some Fresh Market Spring Blend coffee for BIB (breakfast in bed).
Fantabulous way to start the day, no?! 😀
*
*
*
Bridesmaid Stuff
I headed out to run errands today. I curled my hair, too. Not sure why. Guess it must have been the weather. I don't even curl my hair for the work week! lol I made sure to fill up my BPA-free water bottle so I could work on Project Hydrate while I was out and about.
With the magnificent weather, windows DOWN, music UP was a MUST!

I went out to try on bridesmaids dresses.
Bridesmaid Dress Shopping Tip: Make an appointment.
I made an appointment for today last week and boooy was I glad! There were people waiting for rooms to open up and to get assistance in the dressing rooms. I waltzed up, they pulled my dress, the first size I tried on fit perfectly, I went up to the front and placed my order (they didn't have my color in stock). Done and DONE! Easy-peasy. I wish all shopping trips were that easy. Thank you David's Bridal!
Btw, my dress is in "mermaid." Any guesses where the wedding will be??!!
Great Bread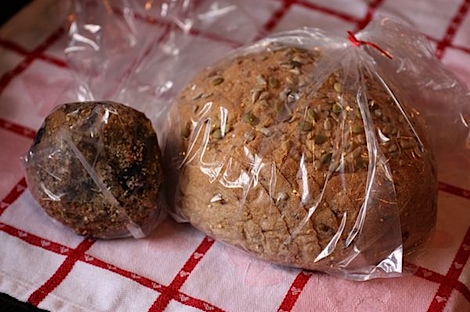 I picked up bread for the week – Great Harvest Dakota. Plus, I got a berry oat bran muffin for hubby and I to split tomorrow.
Camera Wishlist

I stopped by a local camera shop to get an idea of how much the lens I want would be. The name brand version would be over $1000!!! But, the shop guy suggested a non-name-brand lens that was half the price at $649. Yowch! Gonna be a long time before I can afford that baby.
Plus I still want a flash!!
Photography is expensive! I need to find some photography gigs to pay for my Camera Wishlist.
Health Food Shopping

I was feeling a veggie juice and since we don't have our own juicer yet, I swung by a local health food shop to pick on up. I also ended up getting lunch and some health food goodies.
I love shopping in health food stores – it reminds me of my chidhood. Thanks to health-freak Dad, my sis and I spent many-an-hour wandering the health food shops. They make me so curious! I want to know what everything is, what it's good for, and what it tastes like.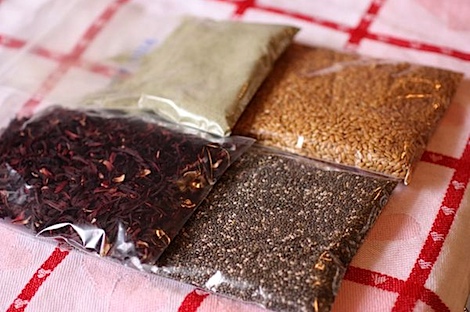 Chia seeds, organic golden flaxseeds, hibiscus flower petals, kelp powder.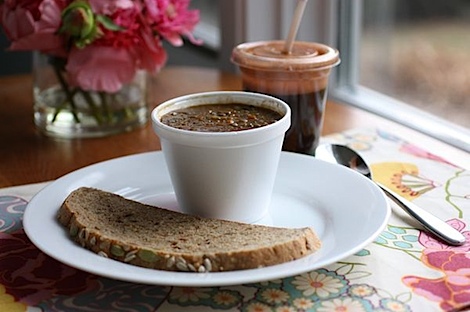 Lunch: curry lentil soup, a piece of fresh-baked Dakota bread – no toasting or topping required, and an "everything" juice (I can't remember the full ingredient list but it was something like: carrots, apple, cabbage, spinach, celery, beet, ginger, garlic…and maybe some other stuff).
I picked up a veggie chili for hubby – even got the soup buy one get one free.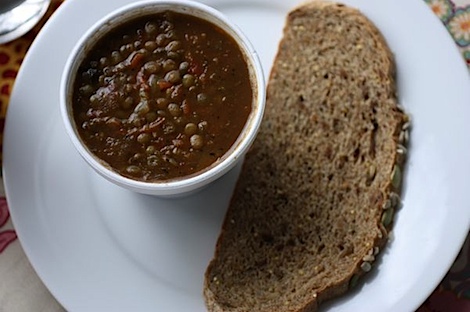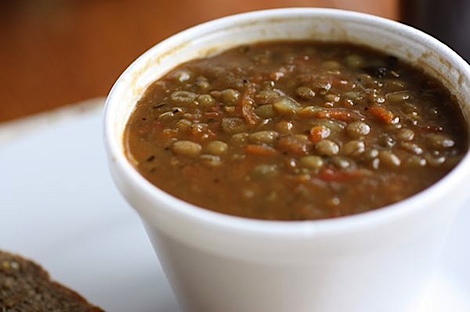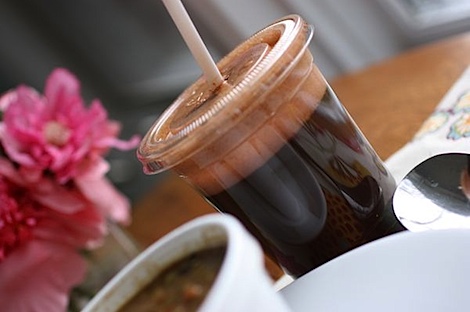 Such an easy lunch but sooo tasty, too!
I only finished half the soup, which I'm actually kind of excited about because it means I get to eat the other half tomorrow. Yay!
Ok, time to go. Bailey has a date with our neighbor's doggie and I gotta go work on Project Hydrate!
If you didn't see my question above, where do you think the wedding I'll be in will be? Maybe you can tell from the dress color?