TGIF!!!
No one guessed my top 5-10 countries on my last post, but I'm going to tell you anyways.
Here are my top 5-10 countries:
6. Netherlands
7. Norway
8. Ireland
9. Germany
10. Finland
Click here to view my top 1-5 countries for The Chic Life visitors.
I can't believe France isn't in my top 10!! I'm only sad because I minored in French in college and France is the only country I've visited outside of the states (besides the Bahamas).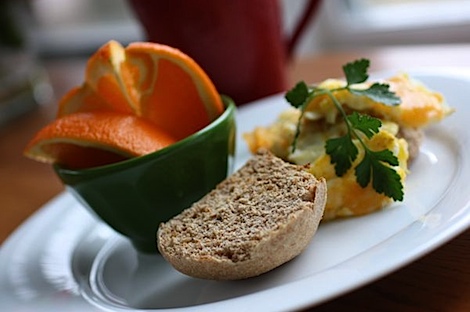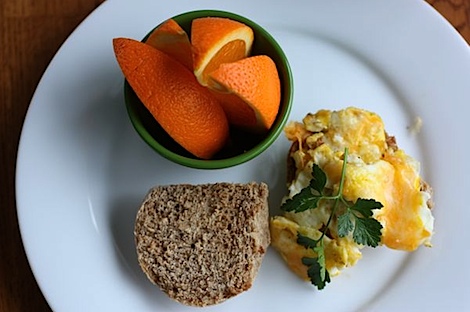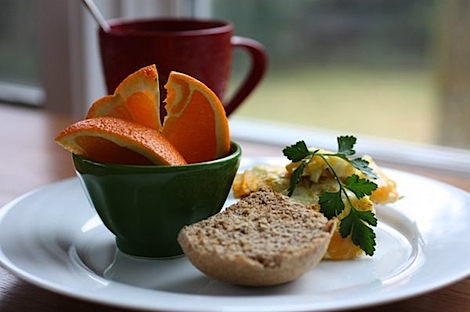 So as you guys know, I typically do bagels on Fridays for Bagel Day Friday. Since I've started trying extra hard to give whole grains a priority in my eats, I desire bagels less and less. I mean, I still think they're tasty, but they definitely don't keep me as full as long as whole grains.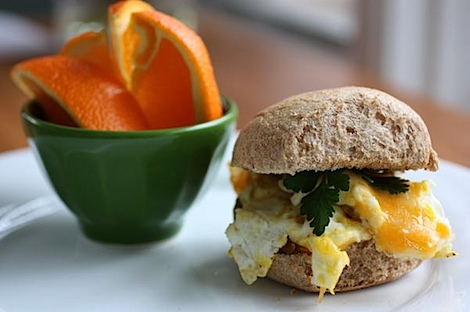 My new fave is whole wheat roll egg sammies in lieu of bagel breakfast sandwiches.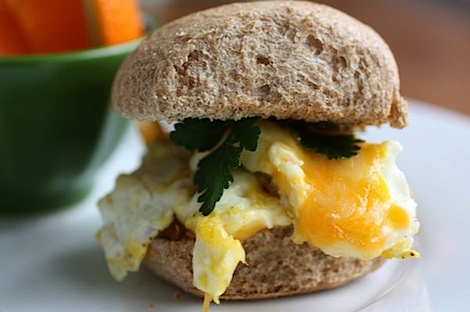 Since I WFH today, I had time to cook up some eggs for breakfast for me and hubby, so I made some WW egg sliders with cheese and parsley. Plus 1/2 an organic orange on the side.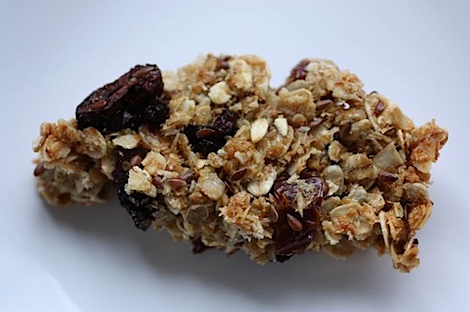 Plus part of a homemade granola bar.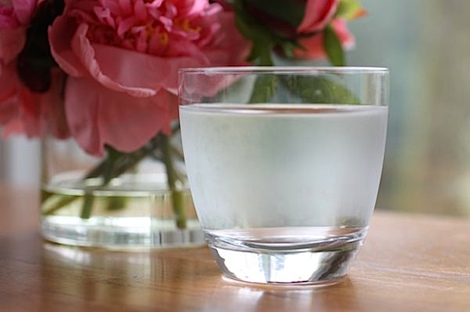 I got started on Project Hydrate a little earlier than normal with some cold water.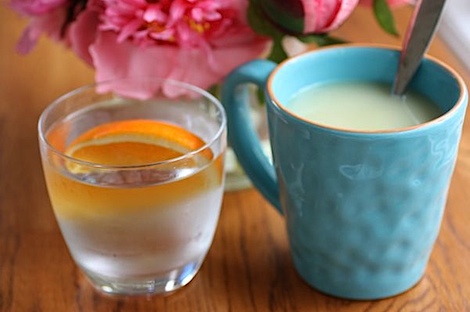 Then, Fran reminded me that fresh citrus is delish in water, so I put a sliced orange in my next cup of water. I don't think it was as good as lemon, lime (or cucumber – ok, that's not citrus but it tastes good) would have been. Plus a yerba mate latte.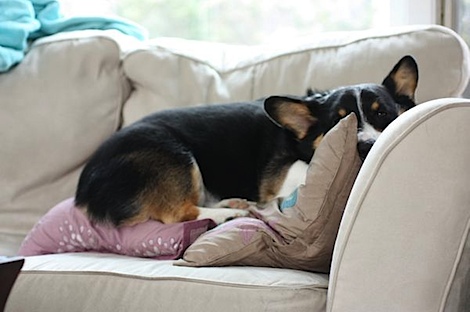 Bailey was lounging on the couch so oddly today.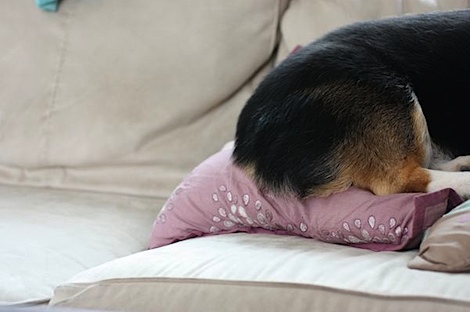 He was laying on top of two pillows so he was like 4 inches off the couch. 😆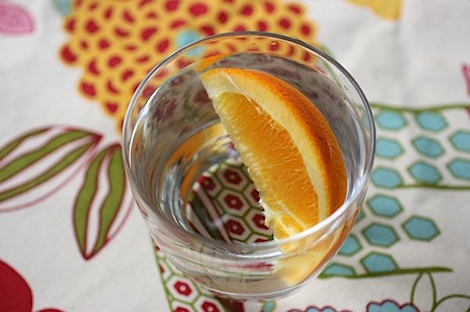 More water!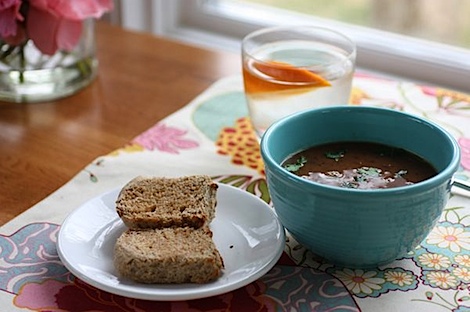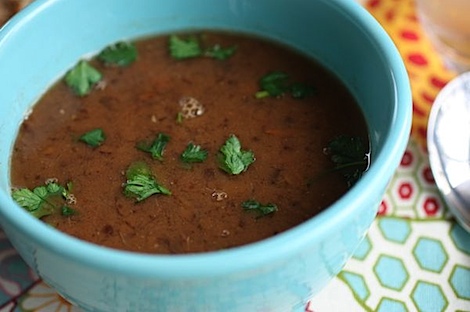 I heated up some roasted tomato + black bean soup, which I had stowed away in the freezer. I heated the soup stovetop on a low heat while I was on a phone conference.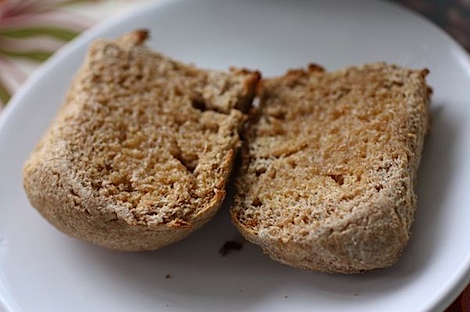 Mmm…CARBS! I love them! Do you avoid carbs?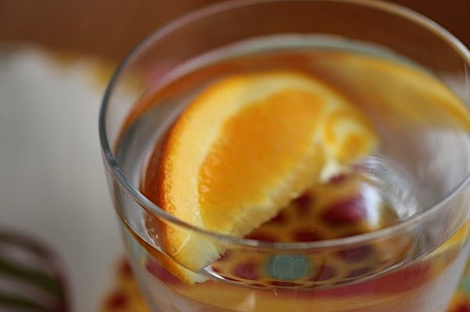 Water is so much more fun to photograph with something in it.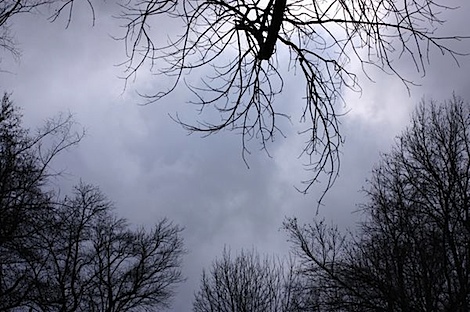 The weather was pretty blah today. Gray skies galore.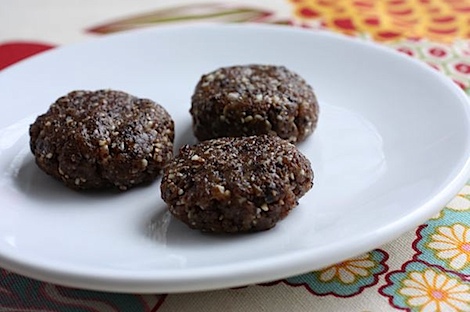 I snacked on some Chic Energy Bites in Cheerful Cherry. They tasted like candy! I'm always surprised how sweet dates are!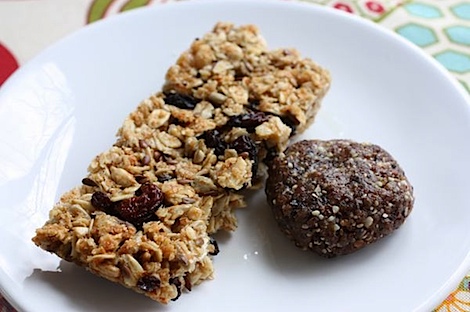 A little later on I fueled up for zumba with another homemade granola bar and another Cheerful Cherry bite.
*
*
*
I was super stressed by the time the day was over, so I danced off my frustrations at ZUMBA! One fabulous hour of Zumba!
I stayed after class and played with choreography with some of the other instructors. I think we may have choreographed Bad Romance by Lady Gaga!!! I've been wanting do this song in class for months now and have been playing with some choreo and now I finally got around to showing someone the choreography I had. We made some tweaks and will probably change it some more, but I'm feeling optimistic. 😀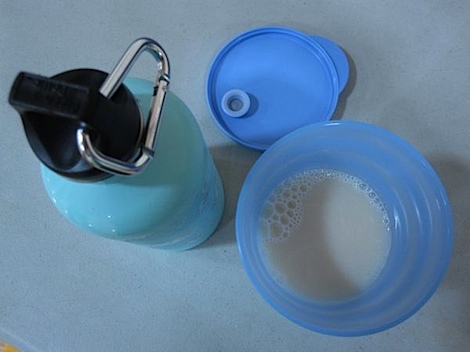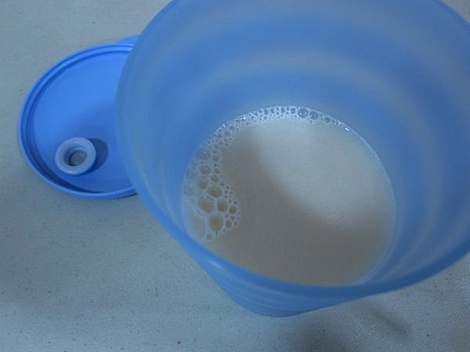 Aria protein shake post workout.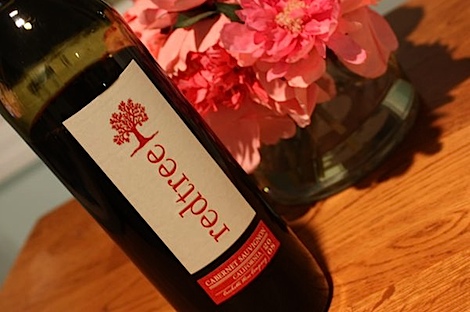 Hubby picked up a bottle of wine for us – redtree cabernet sauvignon, plus…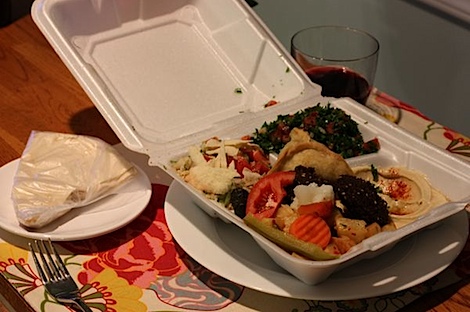 …take out from my fave Mediterranean restaurant.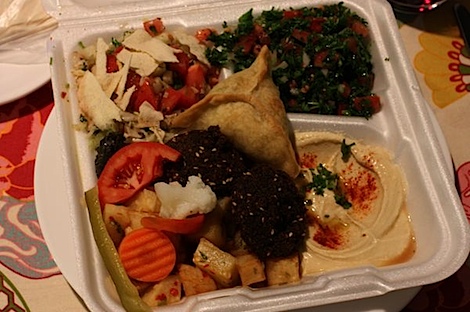 I got the Vegetarian Combo.
Hummus, pickled veggies, potatoes.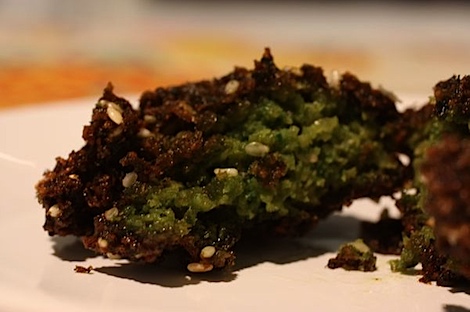 Taboulleh, falafel.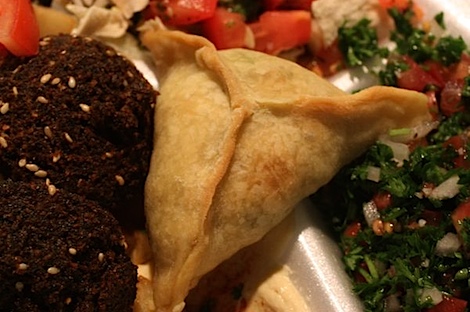 Spinach pie.
Fattoush, yalanji (stuffed grapeleaf).
Pita bread, red wine.
With a meal like this, I'm not even missing the meat! So, so good! Totally hit the spot! I'm happily meatless this Friday. 😀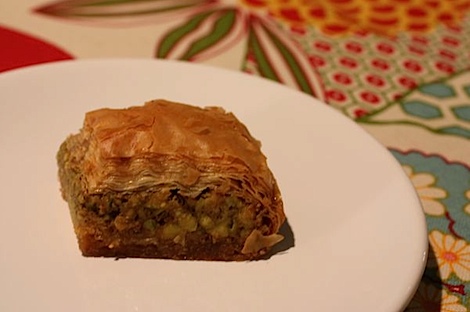 Baklava.
Man, I've had some good eats today! Yum Yum!
Project Hydrate Day #5
After learning my lesson yesterday, I tried even harder to get my liquids in for Project Hydrate.
Consumed:
6 cups water
1 protein shake (made with about 1-1 1/2 cups of water)
1 hot tea
So, I hit my goal today of 8 cups…however, I also worked out for an hour and boy was it HOT in there tonight! I sweat a lot. I think I should have had at least a glass or two of water to make up for the sweat, so technically, I think I only hit 6 cups. Doh! But, still, I'm going to call this a WIN for today because I still did better than I normally do. Win…yup! 🙂
Tidbits
Did you see that my Meatless 4 Lent (M4L) Guest Post series kicked off today? I know a lot of people are looking for vegetarian recipes for Fridays right now, but why not try some vegan ones, too?
Click here to see our first guest poster – the one and only Veggie Girl who shares her best ever vegan blondie recipe – click to view (and like you didn't know but she's kind of famous for them!)
Anyone want to guess what my top 5 states are for The Chic Life blog visitors?
Phew! So much to do this weekend…busy busy! Trying bridesmaids dresses on tomorrow…yea yea!
Reader Question: Did anyone else go meatfree for Lent today? Maybe you just don't eat meat anyways? What did you eat?