Before I forget, you guys are hilarious with your cupcake eating styles. Here are some:
Tasha – I'm a topper – I eat the top first, then the bottom half. It totally reminds me of the Muffin Stump episode on Seinfeld! =)
Katie – I have to admit, I usually lick all of the icing off the top right away!
Caitlin – I eat all of the icing first (although I am picky with icing and if it is too sweet I won't eat it)!
Love it! Have a cupcake eating style? Weigh in here (click).
*
*
*
Today has been pretty fabulous. First a yummy breakfast complete with a homemade dark chocolate almond butter topping, then a yummy + refreshing lunch, plus some (short) QT with Bailey…
I had some new friends join my The Chic Life Facebook page (check it out for the inside scoop, to be the first to know about giveaways, and other cool stuff like that).
and then…
A food-bloggie-get-together!!!!!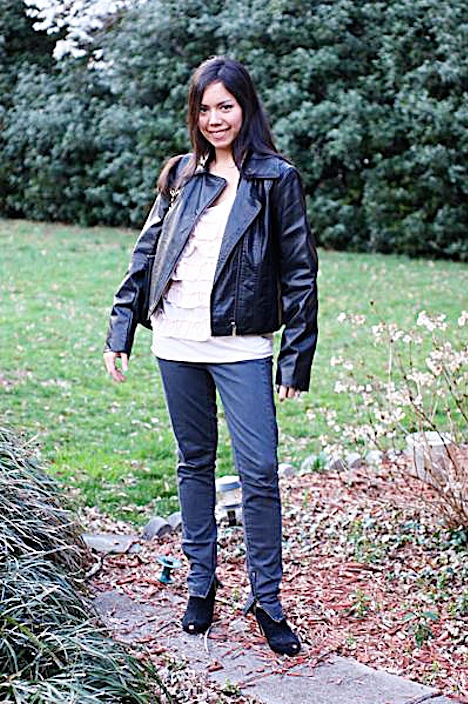 I got gussied up with some biker-ish jeans and a biker-ish jacket softened up with a girly pale-pink ruffle tank.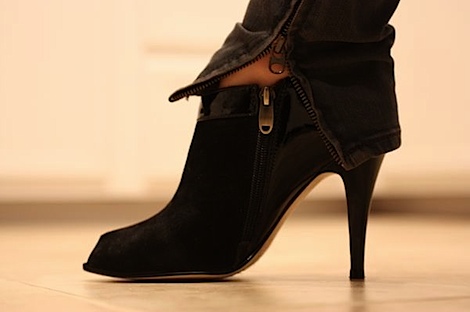 And if I look taller than normal, it's because I was wearing these bad boys. My ankle booties…Boo-yah! I scored these cute booties on clearance at Marshall's one day. I think they were full price over $100 but around $30 for moi. Yesss!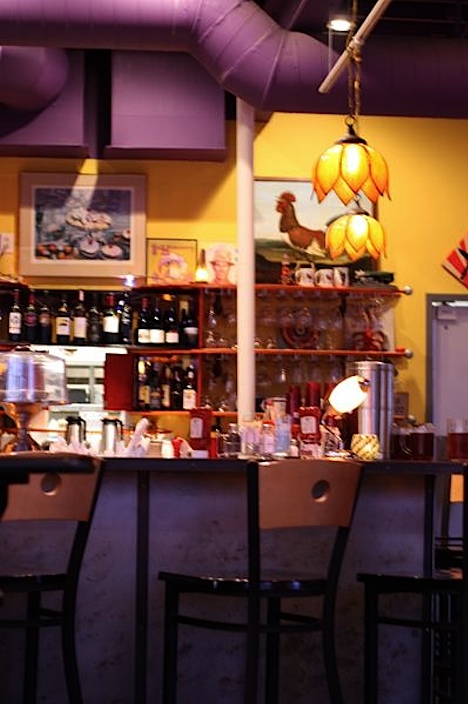 I met up with Jessie, Jennifer and Katie (who was stopping by on her way to FitBloggin – jealous!). We went to Zada Jane's, which happens to be a restaurant where I had another bloggie get together with Kath, Tina (from Carrots N Cake), Stacey, Michelle, Kate, Nate, Jason, Ben, and of course Mal.
I love the fun & funky vibe in Zada Jane's.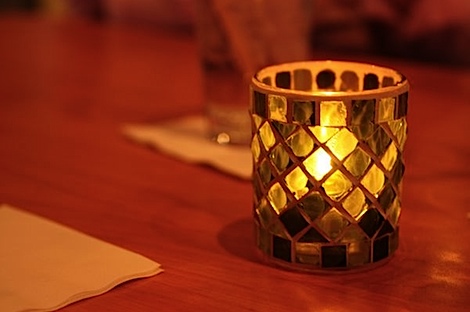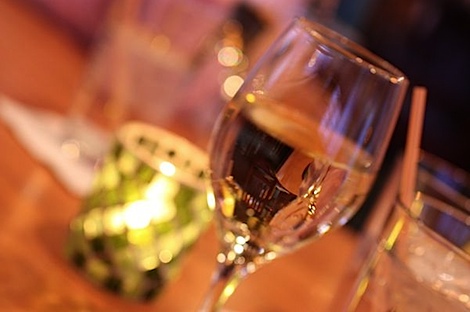 I had a glass of La Villa pinot grigio.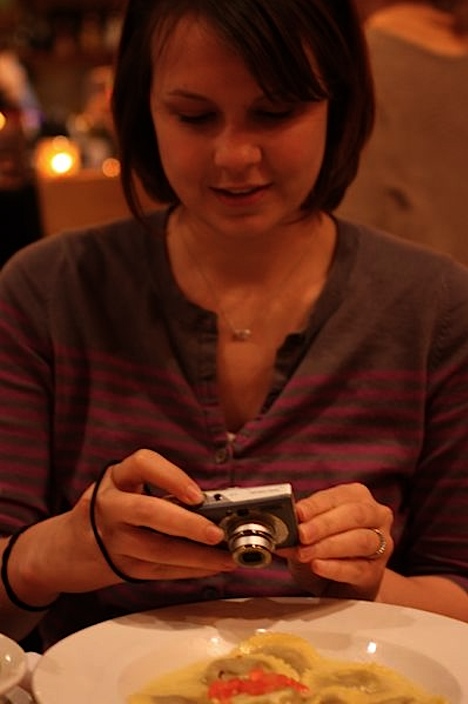 Jessie in action.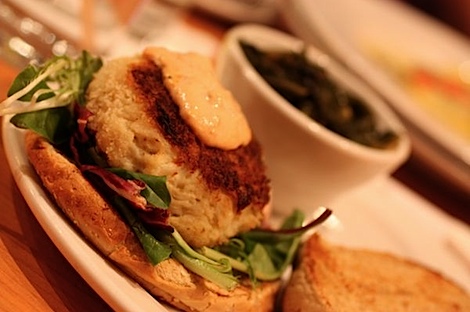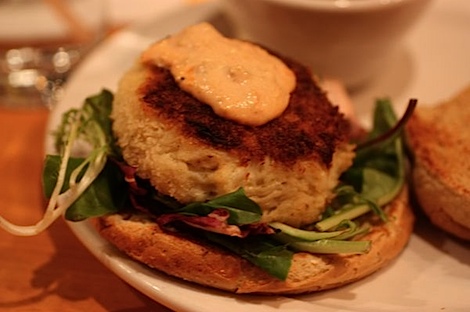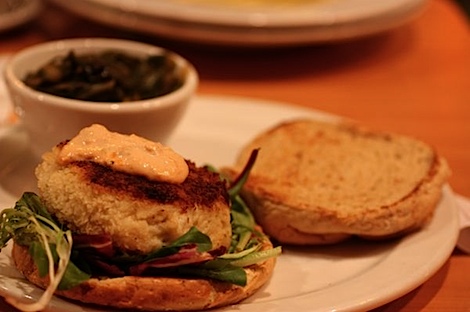 For my dinner, I chose the crab cake sandwich. I LOVE crab cakes, but I wasn't sure how I'd like it in sandwich format. I've always been a bit afraid to order a crab cake sandwich for fear of hating it, but you know what…it was DEE-LISH!
I ordered collard greens for my side, they were pretty awesome, too, though a little sweeter than I'm used to. I still enjoyed them.
I didn't quite finish my meal, but…I did save room for dessert.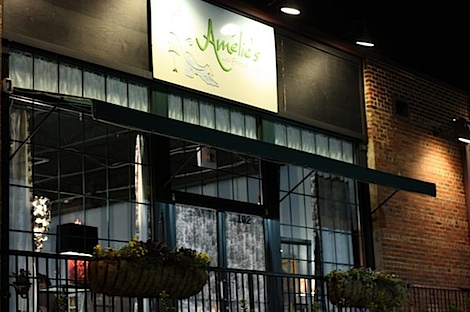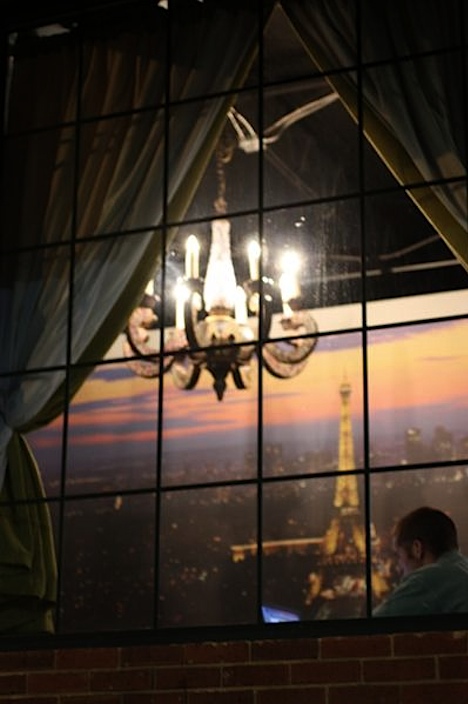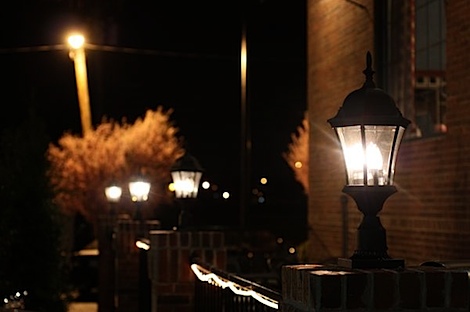 After dinner, we hit up local French bakery Amelie's.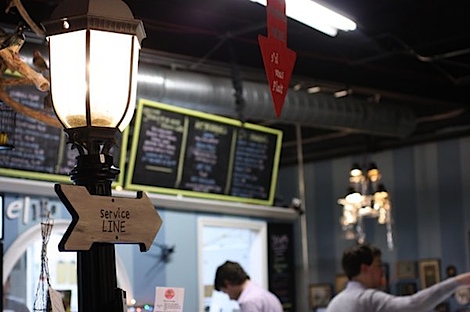 Inside…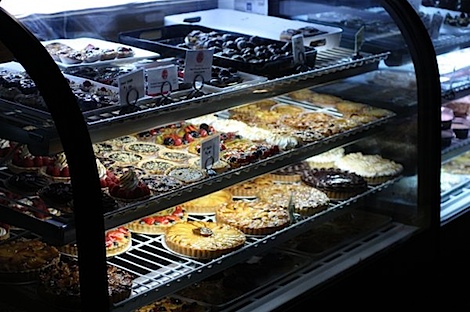 …there were plenty of yummy sweets to choose from.
We found a spot in the Atrium area behind the bakery. It was so bright! It felt like daylight out there! I loved the greenery. It was the perfect place for us girls to chat it up over dessert.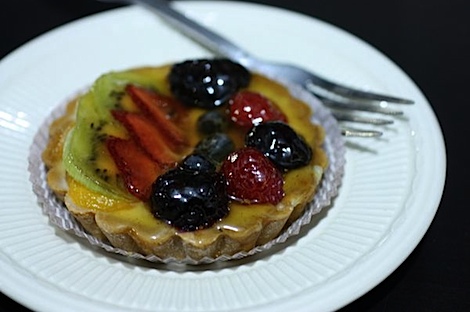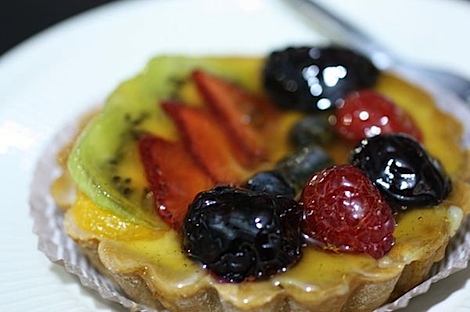 I ended up selecting the recommendation of the guy helping me – the fruit tart. Hellooooo
I have fond memories of fruit tarts enjoyed in France when I was on exchange in high school. I remember the last day of our trip, we were allowed 1/2 a day of free time. I wandered around the streets of the town we were visiting and hit up a patisserie like it was my job. I think I got a pain au chocolat, something else, and a fruit tart. Pain au chocolat is normally my fave, but that day, the fruit tart won my heart.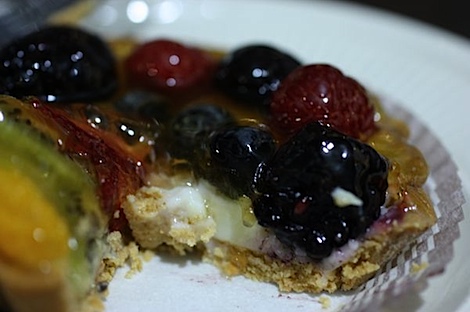 Though I think it's impossible to compare a French baked good to one IN France, this one was really really good!
I liked the selection of fruits on top of the tart – they even used kiwi. Yum! The sweet cream filling was really tasty. I could probably eat that stuff like pudding!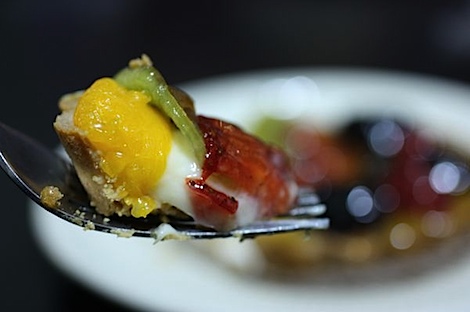 Nom nom nom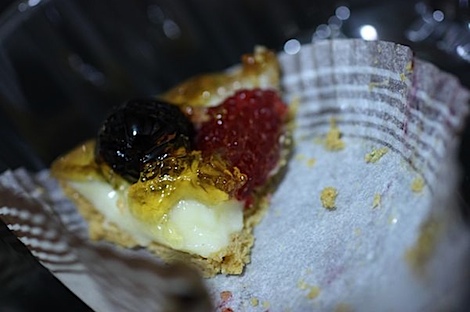 I traded in the last bite of my tart for…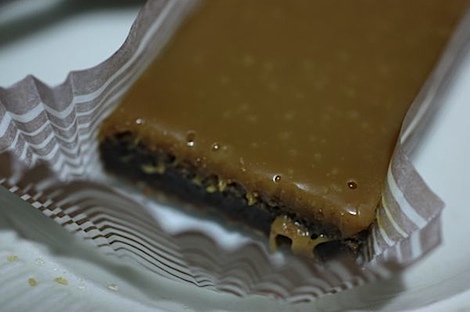 …a bite of the dessert I was bringing home to hubby. Amelie's famous salted caramel brownie. Jessie told me the brownie wasn't brownie-like in texture at all. She was totally right! The brownie was definitely delicious, though! I didn't notice any obvious salt flavor – it was very subtle (for any one who's scared to try it), but in general, I really liked the combination of flavors.
I mean chocolate + caramel = delicious!
Thank you ladies for the fun get-together! Let's do that again soon! 😀
Project Hydrate Day #11
The citrus in my water is really encouraging me to drink more. Starting earlier in the day helps, too, though I did get side-tracked this morning and didn't remember to do my "glass of water first thing" like I did yesterday.
Consumed:
1 ginger lemongrass hot tea
1/2 cup water with dinner
Yay! Met my goal today! 🙂 How are you doing?
Share your tips or problems (so we can send you some tips) on The Chic Life Facebook discussion (click here for direct link to the discussion).
Tidbits
Click here to check out my Facebook page and become a fan. Be in the know when you get the inside scoop on my FB page. 🙂
Like chocolate peanut butter but only have a plain nut butter? Click here for an easy recipe to make your own chocolate nut butter.
If you can't eat meat on Fridays for Lent or if you're vegetarian or vegan, check out this awesome guest post by Oh She Glows for veggie burgers!
This mushroom ravioli dinner from last May would be an easy vegetarian meal for a meatless Friday dinner.