Happy Project Hydrate Day #2!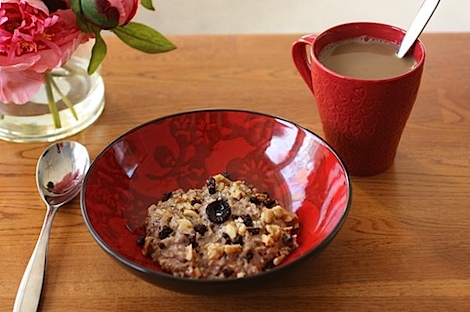 I wanted to do something fun with the dried cherries I picked up this weekend.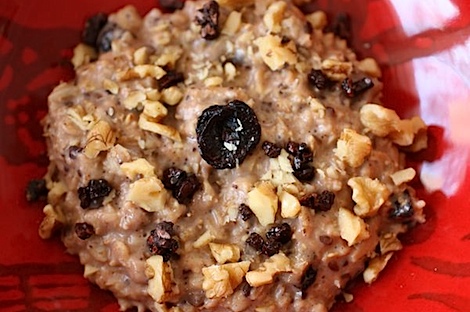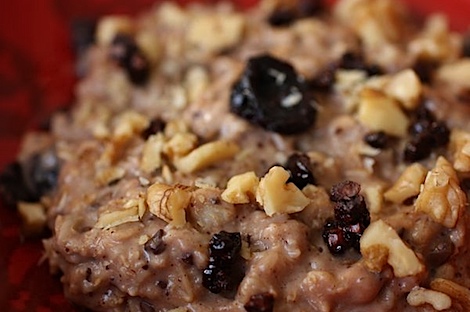 Chocolate Cherry Oatmeal
In the pot:
1/3 cup 2% organic milk
1/3 cup water
1/3 cup oatmeal
1/2 tsp flaxseed
1/2 tsp

unsweetened

cocoa powder
Cooked stove top till thickened up (don't let it boil if you use milk or it will curdle). Add a chopped date and small handful chopped dried cherries.
Toppings:
small handful chopped walnuts
I wish I would have added more unsweetened cocoa powder! I will do that next time b/c the flavor combo was pretty sweet!
*
*
*
Breakfast was awesome but work started out pretty stressfully. As a result, I forgot to drink any water until 10:30am because I was so distracted!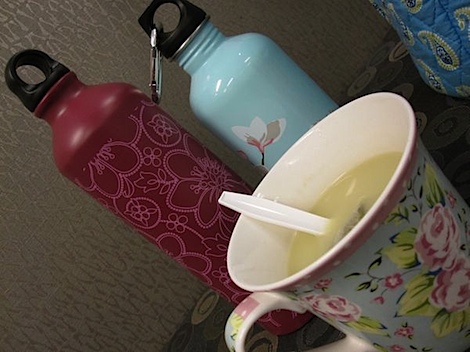 I finally remembered to drink something and made a mug of yerba mate latte (yerba mate with sugar and some cream).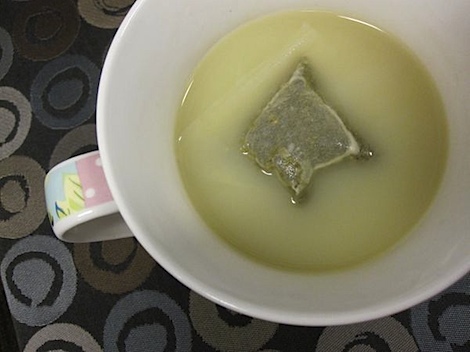 Wow! Yerba Mate is so good and so much better than black tea! I think I'm converted!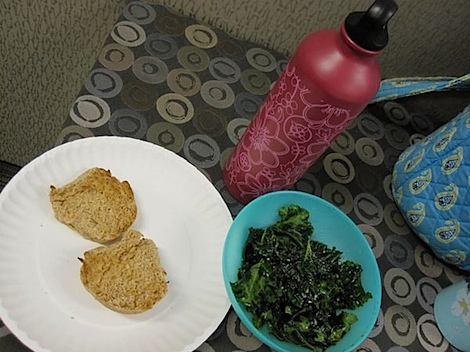 I had lunch #1 around 11:30 am – marinated kale and a toasted Great Harvest honey whole wheat roll (no toppings). I felt like spacing my eats out over the day, along with my water consumption.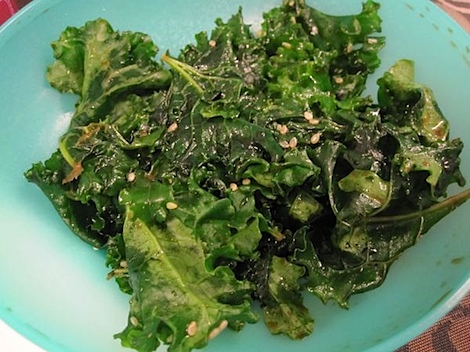 Mmm…kale. I can't wait to share my recipe with you guys!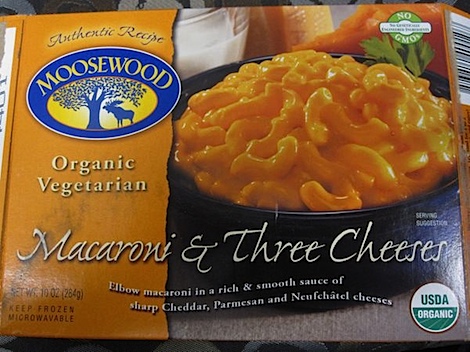 Around 2pm I had lunch #2 – Moosewood Organic Vegetarian Macaroni & Three Cheeses.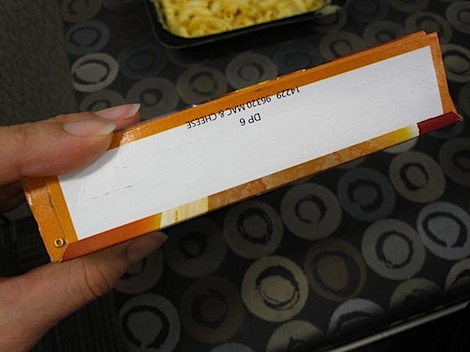 I ran into a snafu with the box when I couldn't find the cooking directions. I noticed this end of the box looked like it should have contained instructions and upon further investigation…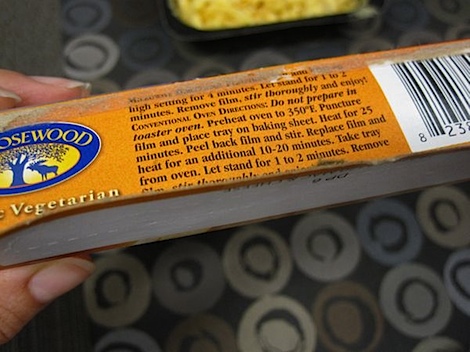 I discovered the directions behind the white cardboard – they just closed the box with the wrong flap on the outside.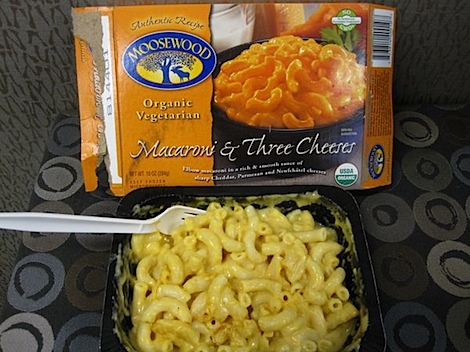 As you guys know, I'm not a fan of frozen meals in general, but I've found some really great options at Earthfare lately – perfect for busy, working me.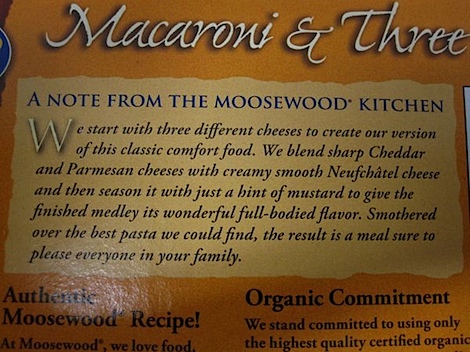 I love the little stories they put on frozen foods.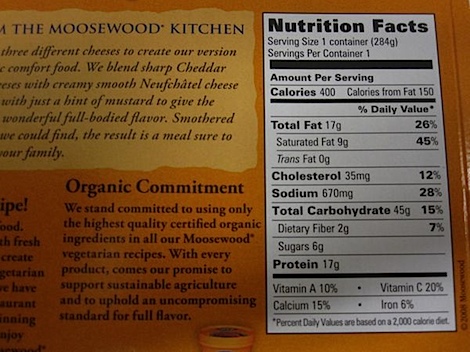 Nutrition Facts.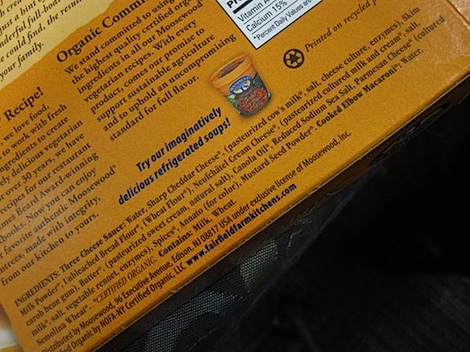 Look! An ingredient list you can read! Shocking! haha Honestly, this is why I prefer these healthy grocery store frozen meals – they use real ingredients – things I can prounce, not strange chemicals.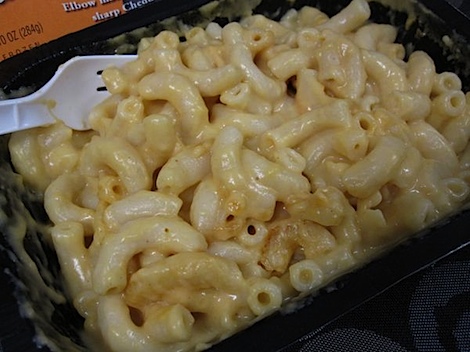 Overall, I thought the mac and cheese was pretty good. Not as good as my Dad's recipe, but it's hard to beat a homemade version, no? This version reminded me of a healthier Stouffers.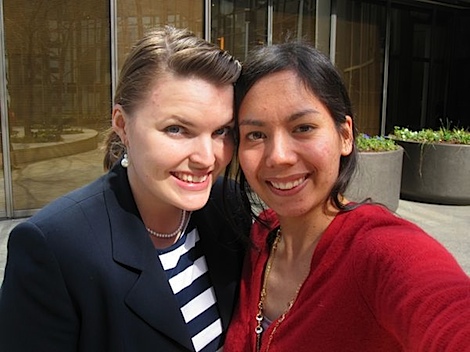 In the afternoon I met up briefly with Megan (looking all business-y and pretty in her suit!).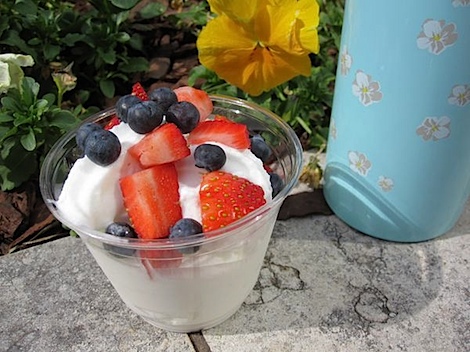 We took a quick chit-chat break and I enjoyed a frozen probiotic yogurt with blueberries and strawberries. The yogurt was sooo good! The perfect sweet and tart combo!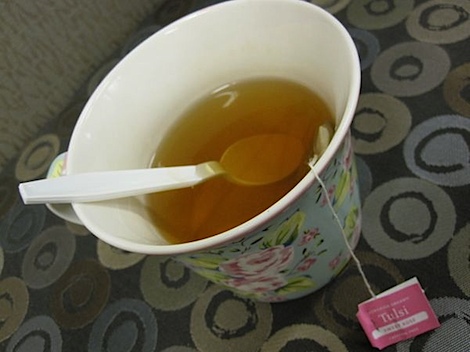 Tulsi tea in the afternoon.
I had a couple mini pieces of candy when a chocolate craving hit.
I didn't leave work till 6:30 pm and then headed out to meet some friends for a b-day dinner.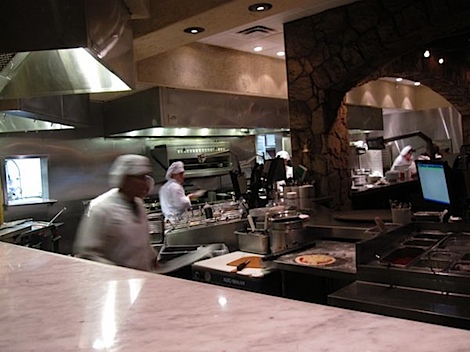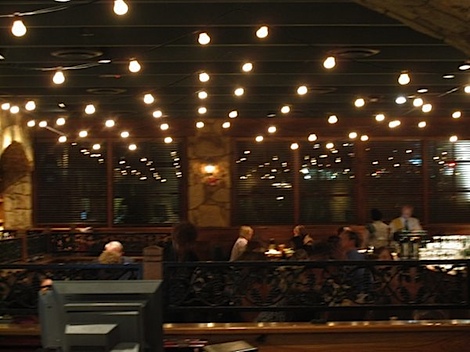 We hit up Macaroni Grill.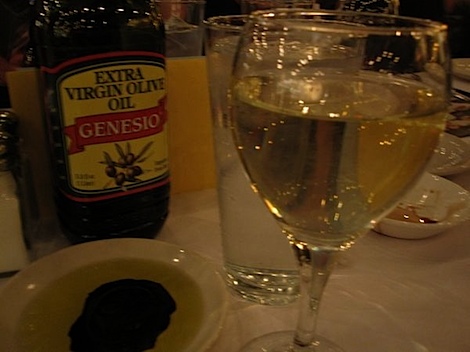 I had a glass of the Placido pinot grigio.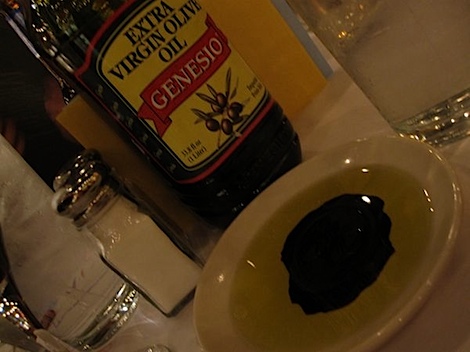 I adore balsamic vinegar in the olive oil for bread dipping. Yum yum!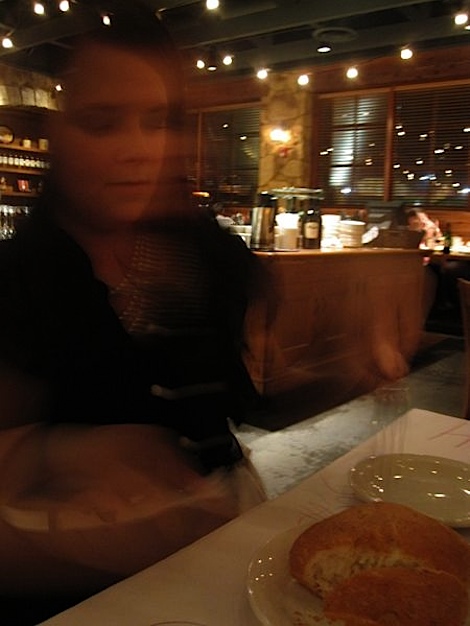 B-day girl Dana (aka RE) digging into the foccacia. Is that stuff addicting or what?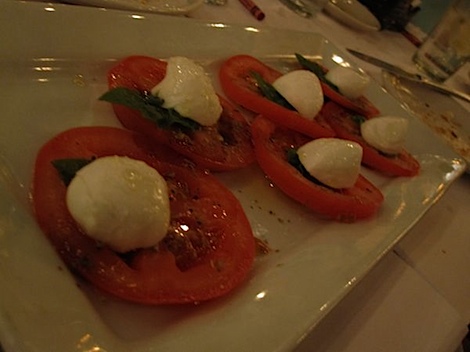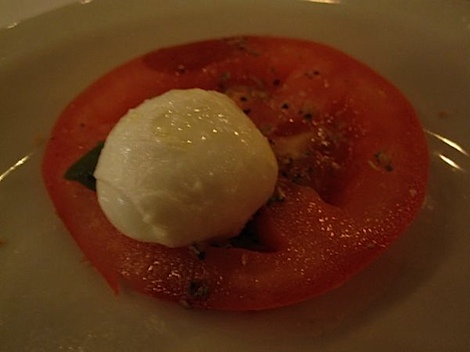 I traded my neighbor, Jim, some of my caesar salad for a slice of his mozzarella caprese salad. Ok, make that two pieces. 🙂 This is probably my fave salad at Mac Grill, but I usually don't order it since I can finish it.
Caesar salad. Did they go heavy on the cheese or what?! lol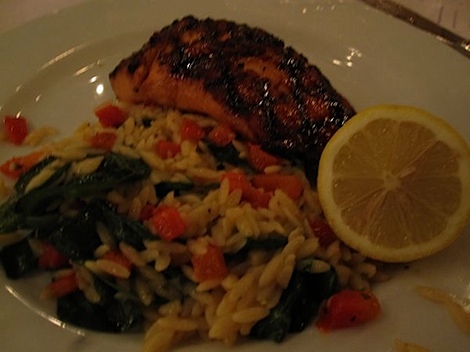 For my entree I got the Grilled Salmon with a teriyaki glaze, spinach orzo pasta. The fresh squeezed lemon really makes the flavors pop.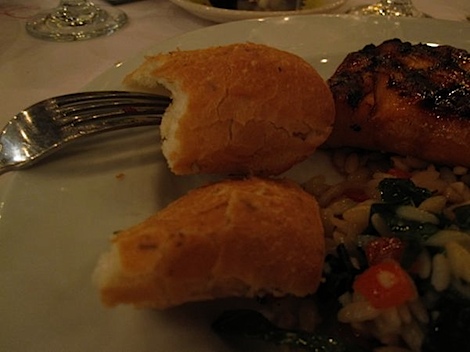 Bread – I had a couple more pieces than this. The stuff is irresistible!
I didn't quite manage to finish my entree. I ate about half. The portions at MG are so big – I usually try to split something with hubby (he was home sick – poor guy!).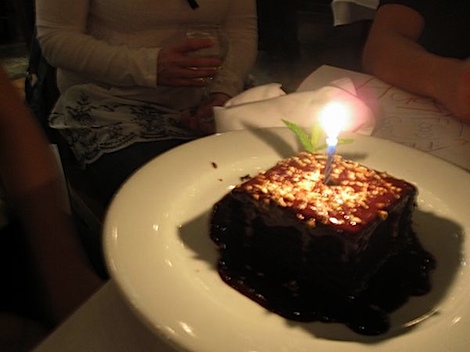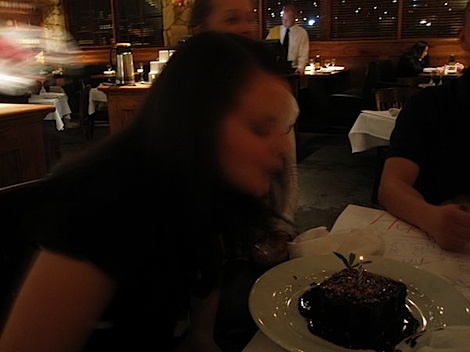 Make a wish!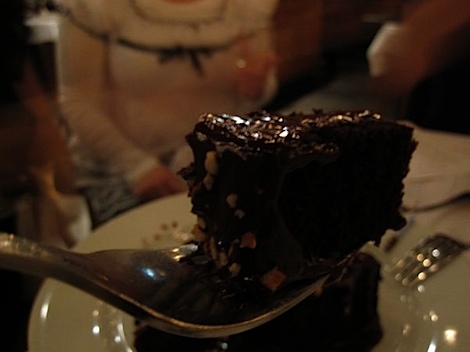 Dana was a sweetheart and shared her cake. I had a couple bites. Plus, I got a small bite of tiramisu from one of Dana's friends.
Totally snacked on a couple small pieces of granola when I got home. I may have messed up my granola bars, but the bars that didn't cut into rectangles will still be eaten! 🙂
Happy Birthday Dana!!!!!!!!!
* * * * *
Project Hydrate Day #2
I let myself get distracted and didn't get started on my water consumption till 10:30! I think starting earlier in the day is going to be the key to my success in getting properly hydrated.
Hot tea is working really well for me. Not only does it help me keep warm in the office, it's good for me and tastes yummy.
Consumed:
1 cup coffee consumed but I didn't count it towards the total
Pink bottle – finished around 2:30pm
2 cups of hot tea consumed – yay!
2/3 of the turquoise bottle consumed – oops! almost made it!
1 glass wine consumed but not counted towards the total
I know people say that you can get hydration from coffee and other foods/liquids, but I'm trying to be a stickler to start and I'm only counting the water and tea for now.
What are you counting towards your total hydration goal? How did you do with Day #2?