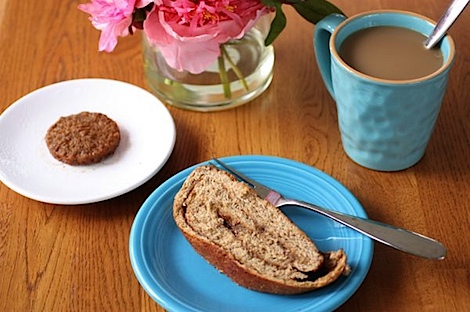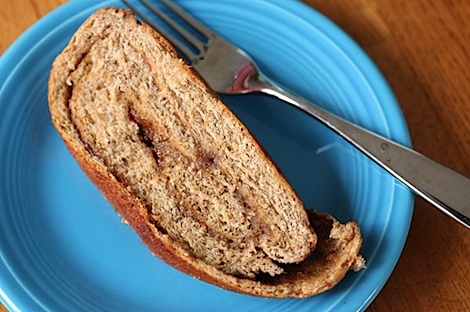 I kicked off today with the last of our Great Harvest cinnamon swirl bread. I really think this stuff is pretty good for you since it's whole grain. The sugar is the unhealthiest part.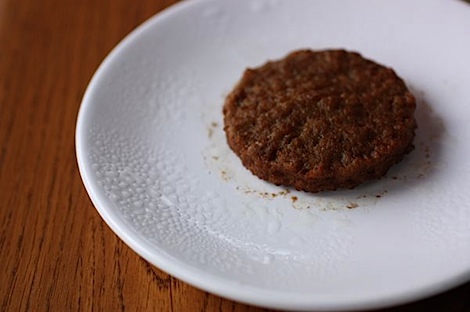 MS "sausage" for protein. Carbs + Protein + Fat = Good Breakfast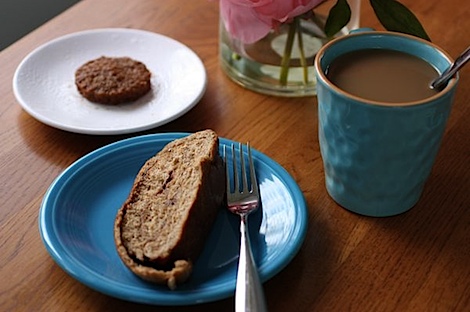 Coffee = Happy Me
Fresh Market Spring Blend Coffee = Extra Happy Me 🙂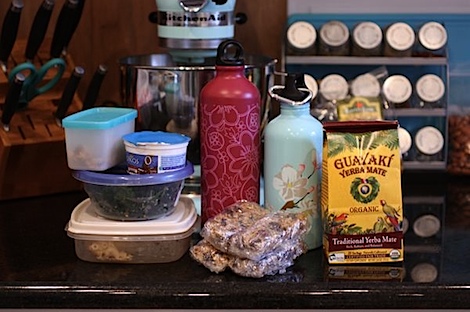 I had a lot of stuff to take with me to work today: lunch, snacks, granola bars for my zumba friends (Kat, I gave Stacy yours – go to her class this week lady), WATER (hello Project Hydrate!), and I put a couple tea bags of my new Yerba Mate in a plastic baggie to keep at work.
*
*
*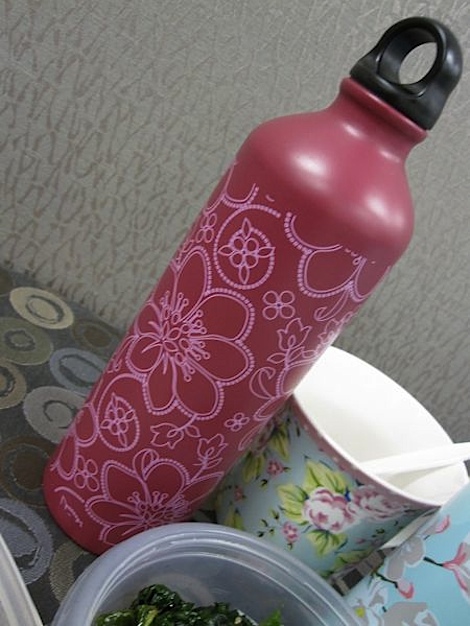 I typically don't do so hot drinking water in the morning. I seem to consume most of it after lunch but before 4pm. If I have hot tea in the morning, I do a lot better, but I could use some more H2O. So, this morning, I reminded myself to get started on my first bottle of water. I had twice as much water to drink than normal and I really wanted to spread my water consumption over the course of the day. I started with my new pink Gaiam water bottle.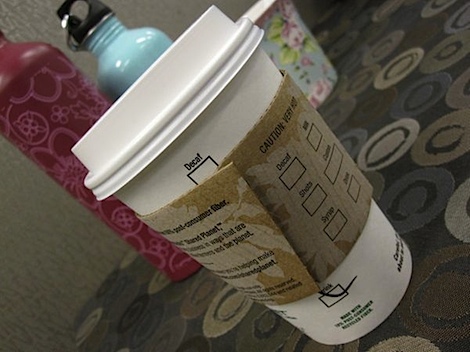 The result of my AM water-guzzling? I downsized my Starbucks Monday. Instead of a grande, I got a tall vanilla soy latte. I was feeling pretty full from the water, so I figured a tall would be just enough. Saved myself some money and calories! (Not that I'm counting, but why consume something if you're not trying to nourish yourself or at least satisfy an indulgence of sorts).
I was so full from the water and caffeinated from the Sbucks that I wasn't feeling tea, even though I really wanted to try my new Yerba Mate. Now I have something to look forward to tomorrow, though!
By 11am I was halfway done with the first bottle of water.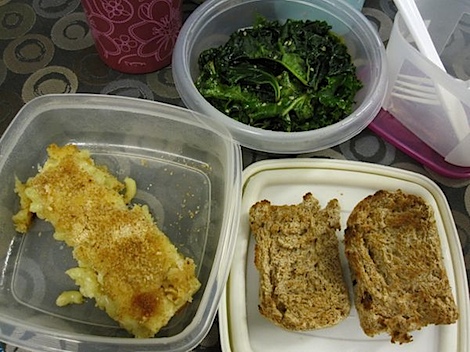 Lunch was a pretty sweet spread…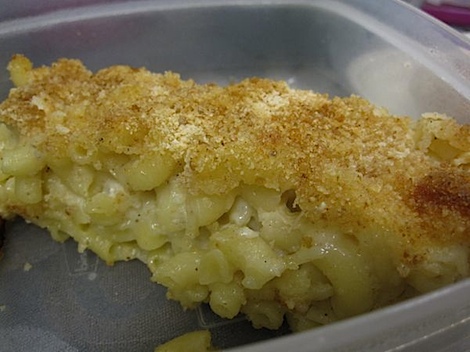 Fontina mac and cheese leftovers from last night's dinner.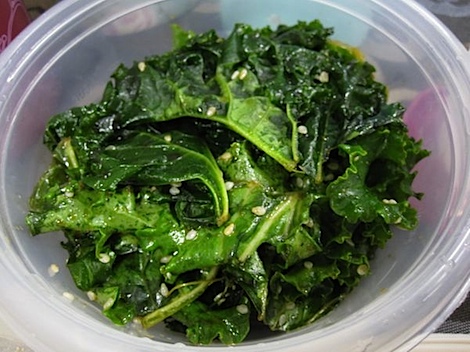 Marinated kale (I think I finally nailed the recipe…yay!) – Updated – recipe now posted! Click here to view.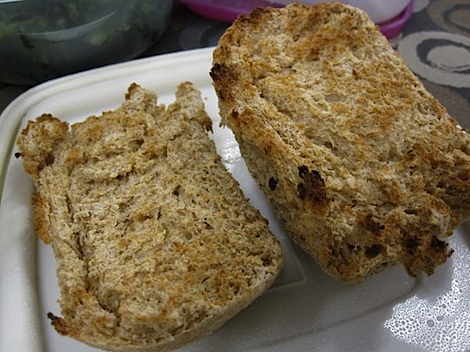 Toasted Great Harvest honey whole wheat roll.
I was SO GLAD I prepped food yesterday! I eat so much better (healthier, cheaper, and all around better) when I prep ahead. Lunch was a little light on the protein, but I had a snack to make up for it.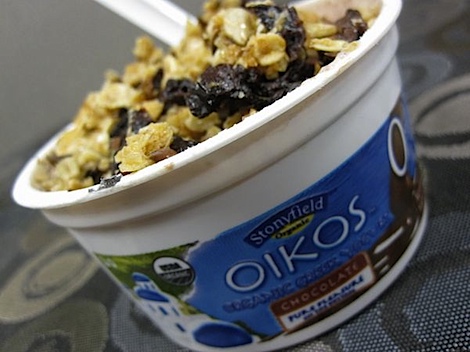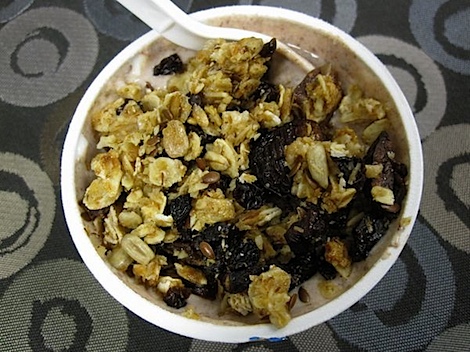 In the afternoon, I had a Chocolate Oikos with some homemade granola (from my oops granola bar crumbles). So tasty…so so good!
By around 3:30pm I had finished off my first bottle of water. Hooray! The bad part was that I typically don't consume many liquids after 4pm. I seem to wake up in the middle of the night needing a bio break if I drink much after 4. Is it just me?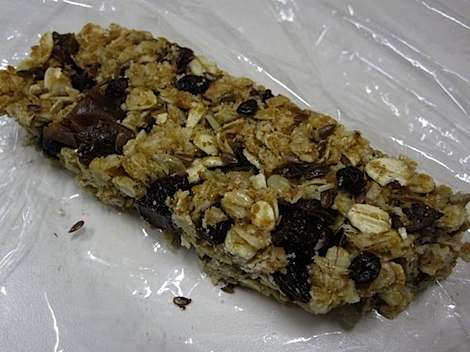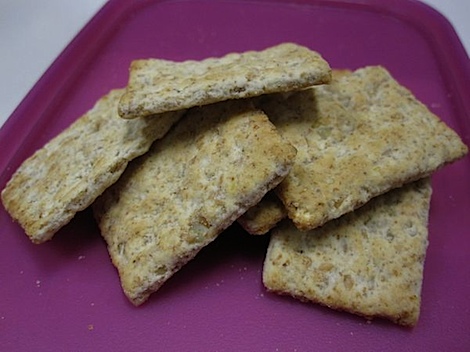 Zumba workout fuel = a homemade granola bar with dried cherries, dates, and currants plus Kashi crackers.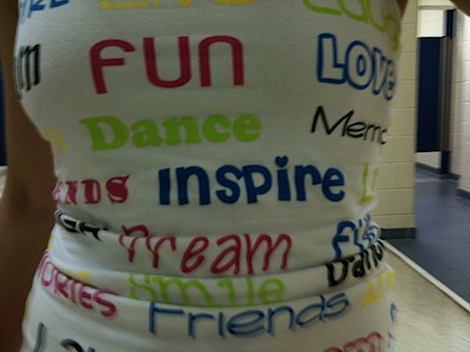 Double header zumba class! 2 sweet hours. And my hubby came to class tonight! He said he had fun and might come back. I hope he does. 😉
I worked on my second bottle of water during class, but only managed to finish about half the bottle.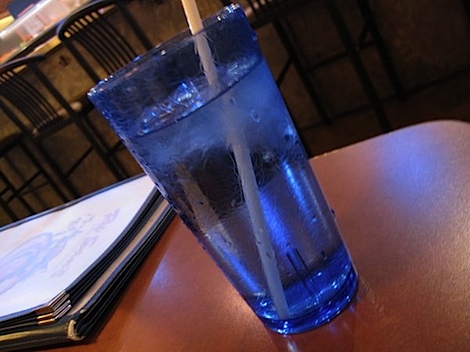 Post workout sushi with a big glass of water. Even with this water, taking my workout into account, I don't think I quite made my quota, but I did pretty good for Day #1.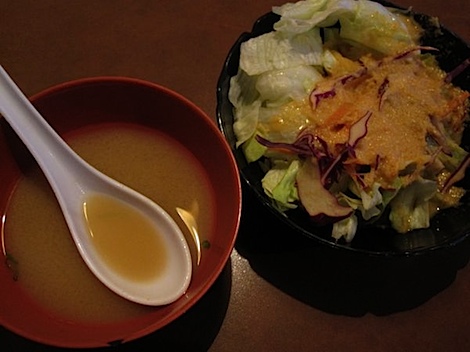 Miso soup and salad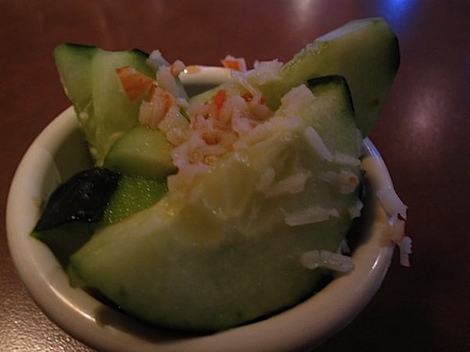 Mini cucumber salad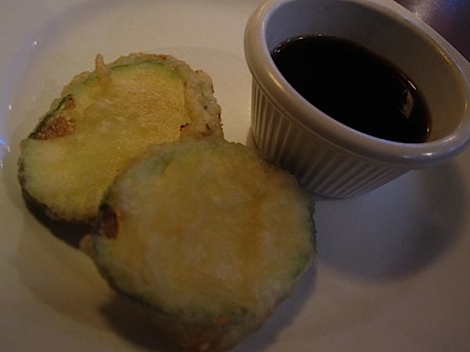 Tempura zucchini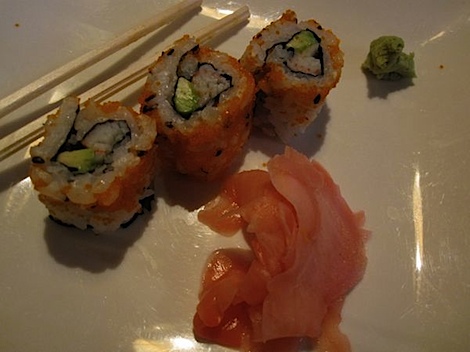 California roll with masago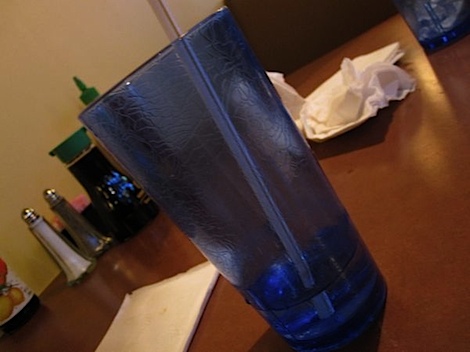 No problem finishing my cup of water after 2 hours of zumba. Phew! Dinner hit the spot, plus I got to catch up with a girlfriend.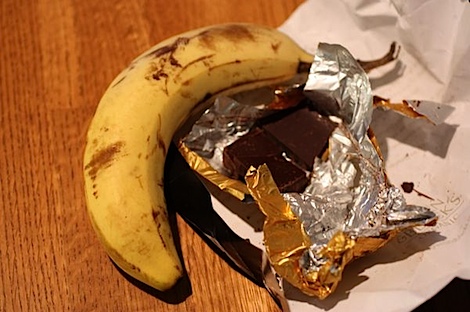 Dessert – banana and a couple small pieces of dark chocolate. Mmm
Project Hydrate Day #1 Comments
I knew Day #1 of Project Hydrate would be pretty hard for me. Sadly, I barely consume the water in this 3 cup water bottle. Now, I usually do have a mug of coffee in the AM, plus a cup or two or hot tea during the day, plus a little water at dinner (but not too much – see above), so I know I haven't been getting enough liquids.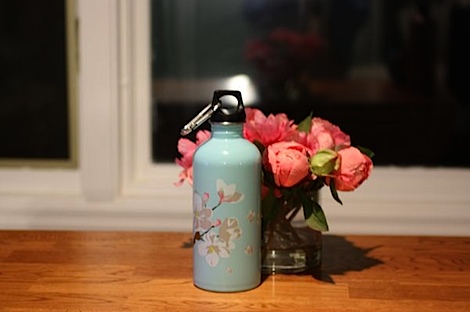 To illustrate, I'm attempting to go from drinking this…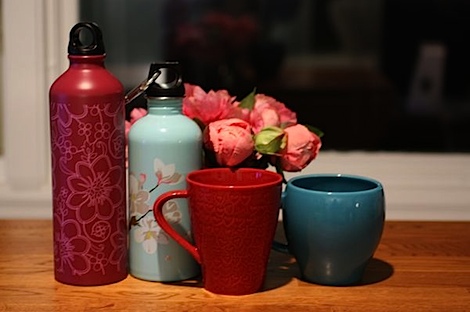 …to drinking this.
I think the key will be reminding myself to spread my liquid consumption over the entire day instead of trying to chug it all in one sitting (which is simply not healthy – do not try this at home people!).
Consumed:
Pink bottle – finished off around 3pm
Turquoise bottle – finished half of bottle around 8:30pm
1 large (probably 2 cups) of water consumed at dinner
No tea consumed
2 cups coffee consumed but I did not count them towards the total
I don't anticipate noticing many changes on Day #1, but I'd like to post some comments every day.
Comments:
Drinking all the liquids I planned for was difficult, considering how little I was drinking before. I think I need to get started on liquid consumption earlier in the day.
Consuming more water than normal in the morning helped curb my Starbucks habit.
Looks like if I can drink my two mugs of tea and half a water bottle more, I'll be meeting my planned intake.
How did you do today with Project Hydrate today for Day#1?