Most of you know that I gave up meat for Lent this year. But all who participate in Lent must also give up meat every Friday of Lent. With so many going meatless on Fridays, I thought I'd pull together a collection of guest posts with some great meatless food ideas. I thought I'd take it a step further to not only get vegetarian ideas, but some pescatarian and vegan ones, too! If you're participating in Lent, why not try a vegan dish or two for your meatless days? They're tasty and fun. 🙂
Our first Meatless 4 Lent (M4L) Guest Post comes from the fabulous Veggie Girl! Veggie Girl is known for her amazing vegan blondies and she shares her best batch ever with The Chic Life readers today: White Chocolate Coconut Almond Blondies!!! I'm drooling looking at her photo below…yum yum yum! Take it away Veggie Girl!
*************************************************************************
While reading the latest (February 2009) issue of Vegetarian Times magazine, I stumbled upon a recipe for White Chocolate Blondie Bites – I immediately thought to myself, "How perfectly tantalizing do those sound??" and proceeded to bookmark the recipe.
Since the original recipe is neither vegan nor gluten-free (gee thanks, Vegetarian Times, haha), I checked to make sure that I had my "usual substitution" ingredients on-hand; and I also wanted to make sure that I had the "add-in" ingredients listed in the original recipe as well.
Let's see… white chocolate chips (a vegan version, of course)?? Check. Sliced almonds?? Check. Shredded Coconut?? Ch…
Wait, no check. I was extremely unpleased to discover that I did not have shredded coconut on-hand (grr!!) – what was I to do about this??
After much thought, I finally came up with a fun, slightly-daring substitute for the shredded coconut: I used a Coconut Cream Pie flavor Larabar instead!! Oh yes, I really did.
Once I gathered all of the necessary ingredients, I set off to my kitchen in order to veganize and "gluten-free-ize" the original recipe.
By the end of my baking adventure, I had created a batch of…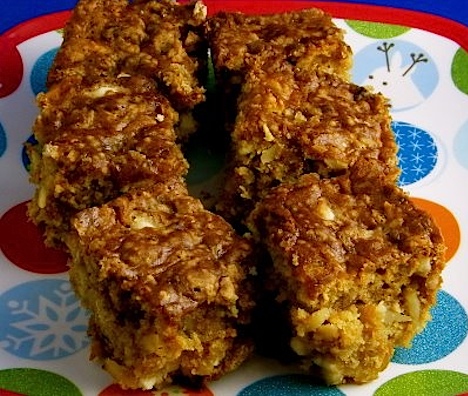 …White Chocolate-Coconut-Almond Blondies. These chewy, luscious, dense blondies were bursting with flavor – especially from the rich white chocolate chips, tender almond slices, and chunks of the Coconut Cream Pie Larabar. Pure bliss in an 8″x8″ pan, if you ask me.
And now for the "taste-tester" reviews:
My parents simply declared that these blondies "must be made again – they are by far the best batch yet!!"; and here is what The Co-Worker thought:
**Here is The Co-Worker's official review of the White Chocolate-Coconut-Almond Blondies**:
"It's a coffee cake… it's a bar… it's a snack…
No it's dessert! It's the white chocolate-coconut-almond blondie!
It tastes like all of the prior mentioned "blondie treats." It doesn't weigh you down with too much sweetness.
It's a light, fluffy treat… that you could enjoy with morning coffee, as dessert after a fine meal, or as an afternoon pick me up.
I loved the coconut which really was the exclamation point to a wonderful treat!"
Since these blondies were obviously quite favorable among my "taste-testers" and myself, I feel that the recipe is "share-worthy" – so here you go!! Please let me know what you think/if you try it!!:
VeggieGirl's White Chocolate-Coconut-Almond Blondies
(**Adapted from the White Chocolate Blondie Bites recipe from the February 2009 issue of Vegetarian Times magazine**)
Ingredients:
Directions:
Preheat oven to 350°F (180°C). Lightly coat an 8″x8″ baking pan with nonstick cooki ng spray.
In a large bowl, add in the "yogurt," canola oil, turbinado sugar, vanilla extract, and molasses. Mix well.
In the same bowl, add in the flour, baking soda, white chocolate chips, sliced/slivered almonds, and Larabar chunks. As the mixture starts to thicken up/combine, add as much nondairy "milk" as you need (but not too much) so that the batter is mixable.
Pour mixture into the 8″x8″ baking pan (coated generously with nonstick cooking spray).
Bake for about 32-35 minutes, until a toothpick inserted in the center of the blondies comes out clean.
Makes 16 blondies.
**Note: If you happen to have shredded coconut on-hand, then feel free to substitute that for the Coconut Cream Pie Larabar.
Considering how much I adore blondies, I really must continue to emphasize just how significant it is that this batch was labeled as "the best one yet."
I look forward to baking more batches of these goodies very soon – perhaps in my ample free time…
HA!! I can only hope 😉
*********************************************************************
Thank you so much Veggie Girl for sharing your recipe with us! And if you want some more fabulous vegan blondie ideas, click here for some vegan blondie inspiration and recipes. Or, just click here to see Veggie Girl's latest posts.
Check back for more M4L Guest Posts coming at you for Lent. 🙂