Today felt a bit like Friday. Not sure why.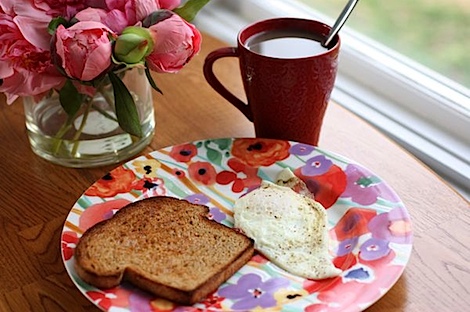 Since I WFH today, I got to enjoy a nice home-cooked meal: a fried cage free egg with whole grain toast with butter and some nice, hot, soothing coffee.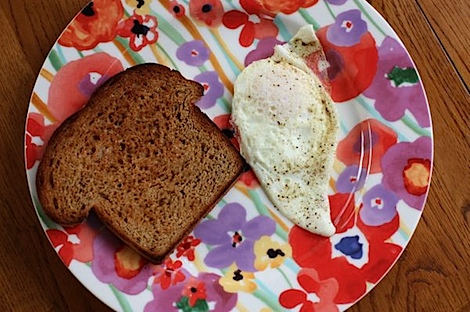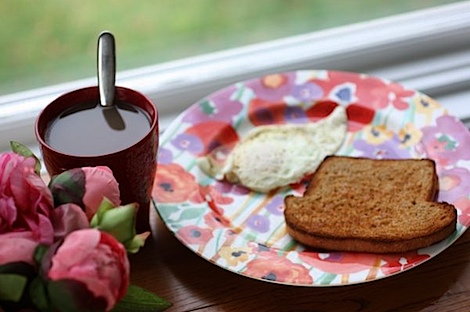 And yes, I totally went back to Anthropologie this past weekend to get the rest of the plate set that I love so much. Now I have enough for one whole place setting! If I were rich, or just had the money, I would totally get 8 placesettings of this set because I love it so much. It's got peonies, fun colors, and turquoise. check…check…CHECK!!!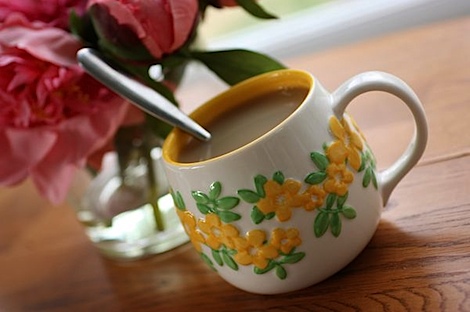 Hot tulsi tea with milk and sugar. Stay away sick germies! Tulsi power!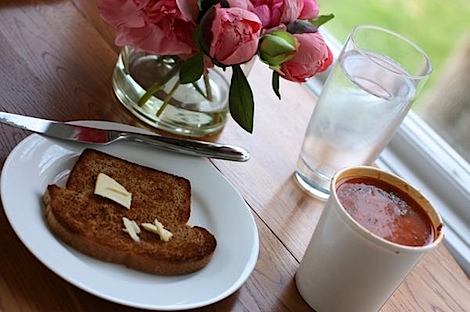 Hubby was a sweetheart and picked up lunch for me today…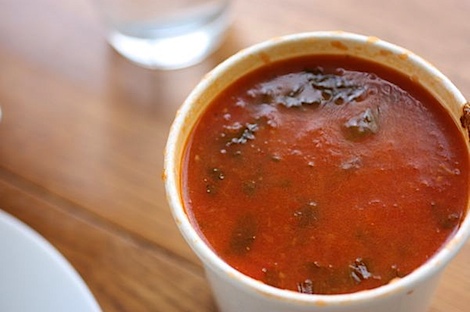 …tomato basil soup from Earthfare. This stuff rocks!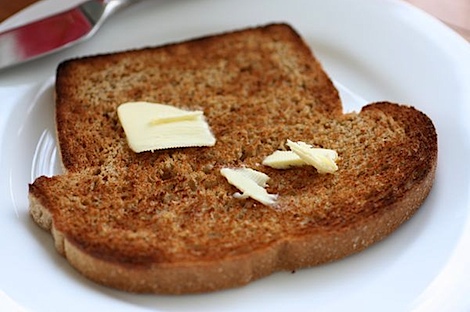 Great Harvest honey whole wheat toast with real organic butter.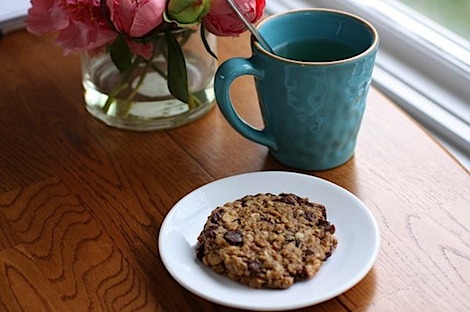 Hot Lemongrass/Ginger tea sans sweetener + a vegan whole wheat chocolate chip cookie. Hubby knows how much I like these cookies (made at Earthfare) and picked one up while he was getting lunch.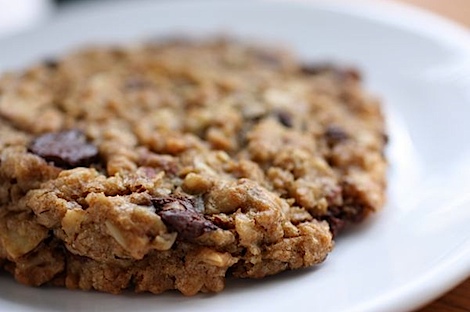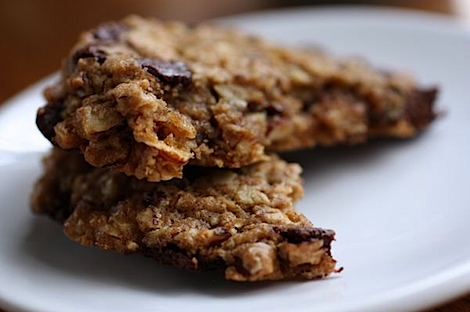 Yummers. So wrong but so right.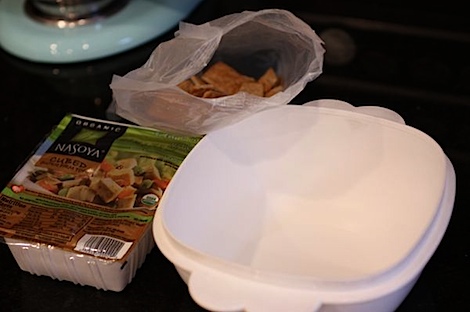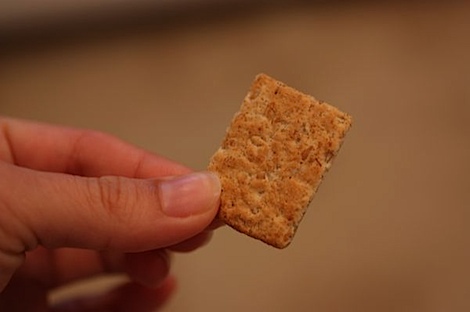 By the time I got to prepping dinner I realized 2 things:
Dinner was going to take about an hour (marinating + cooking time)
I was already hungry
I happily realized that I had brought some Kashi crackers home from the box I cracked open at work the other day, so I noshed on a handful of those to tide me over.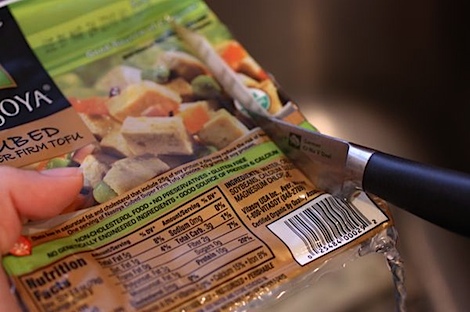 I really wanted to try out the tofu press I just got, but I had a package of cubed tofu that was about to expire that I really needed to eat.
So, I drained it the easy way – slit in th side.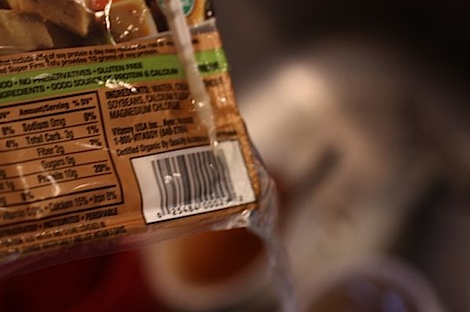 Pour the water out.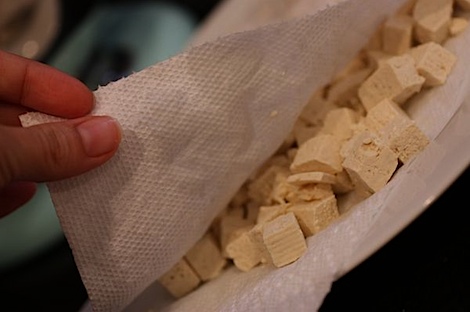 Because I wanted the tofu to really get the marinade, I placed the drained tofu on top of a paper towel, then covered it with another sheet. I didn't really press on it, but it did help soak up some of the liquid.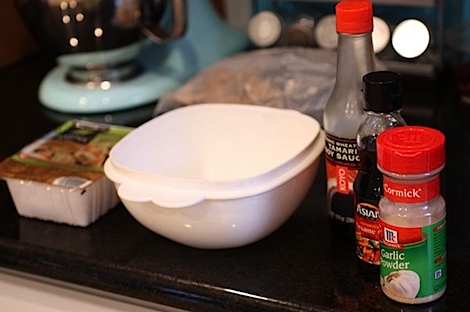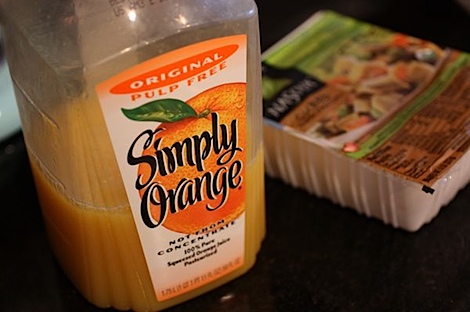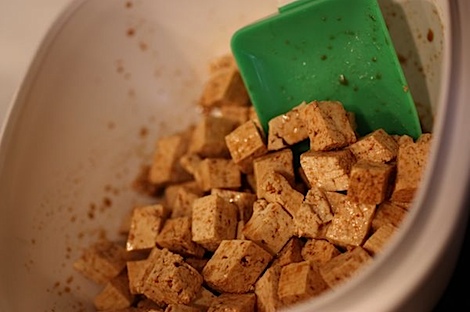 Into the marinade.
Hubby was out on a workout and was tasked with bringing home a vegetable. I was thinking maybe we could a nice Asian stir-fry. But, imagine my surprise when he came home with…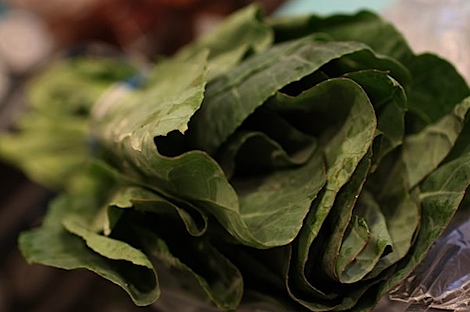 Collard greens!
I felt a bit like I was on Iron Chef or some crazy cooking show where they give you random ingredients (Asian-style marinade + Southern collards) and make you cook something.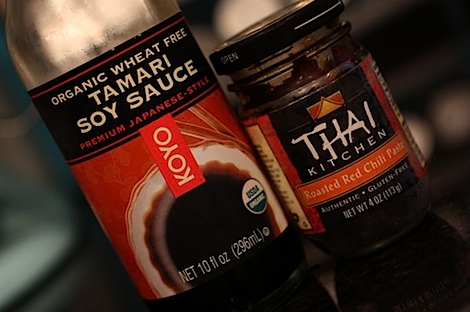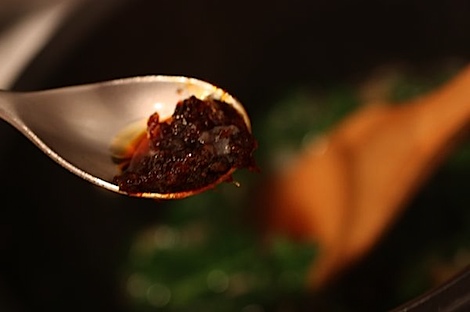 I decided to give the collards an Asian twist.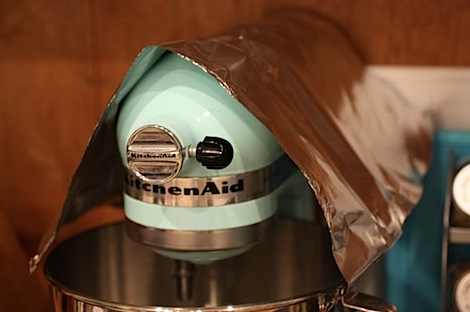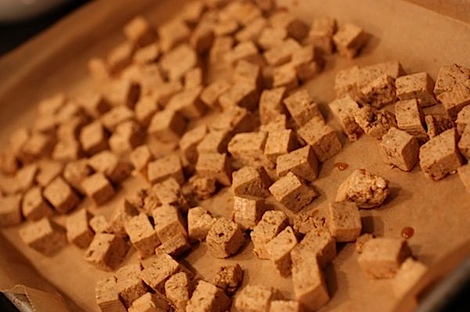 Tofu-Cooking Tidbit: Also, I learned something today in my TofuXpress press recipe booklet. Apparently tofu absorbs the flavor from aluminum foil, so you should use parchment paper. I forgot and tore off a piece of aluminum foil, but luckily remembered before adding the tofu, so I'll use that foil another day.
I actually had a phone conference till 8pm tonight so I really didn't have much of a choice but to prep dinner while the call was wrapping up. Sorry co-workers, but I was starving! Luckily, they told me I could drop just before our food was ready. Talk about a busy day!
So, how did it all come together?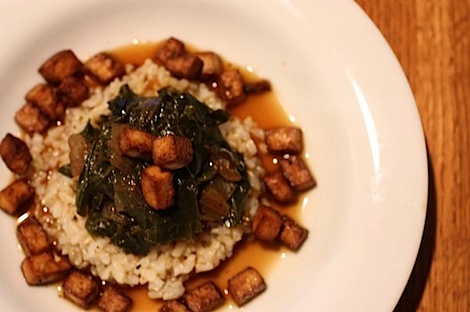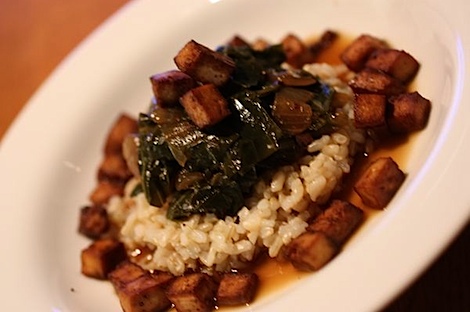 Pretty nicely actually. 🙂 I topped brown rice with the collards, then the tofu. I really liked the flavors together.
Seconds weren't nearly as pretty.
Asian-Marinated Tofu
Ingredients:
1 package cubed firm tofu, drained, blotted with paper towel
2 tbsp tamari
1 tbsp orange juice
1 tsp sesame oil
dash garlic powder
Directions:
Pre-heat oven to 400 degrees F.
Add all ingredients except tofu in a bowl. Whisk together till combined.
Add tofu. Stir to coat tofu (stir gently so you don't break it up). Marinate tofu for 25-30 minutes.
Line a baking sheet with parchment paper (not aluminum foil). Place tofu, but not marinade, on the paper and bake for 20-25 minutes, until lightly browned and cooked to your liking.
Asian-Inspired Collard Greens
Ingredients:
1 bunch organic collard greens, rinsed and chopped into about 1-1 1/2 inch pieces
2 cups vegetable broth
1 small onion, chopped
2 cloves garlic, chopped
1 tbsp tamari
1/2 tsp Thai roasted red chili paste
1 tbsp EVOO
Directions:
Heat a medium-large pot over medium heat. Add EVOO, add onions, cook for 3-4 minutes. Add garlic, cook for 60 seconds. Add broth, bring to a boil.
Add collards, tamari, chili paste, bring to a boil again.
Reduce heat. Simmer 35-40 minutes till collards are tender to your liking.
After dinner, my inner cookie monster struck again!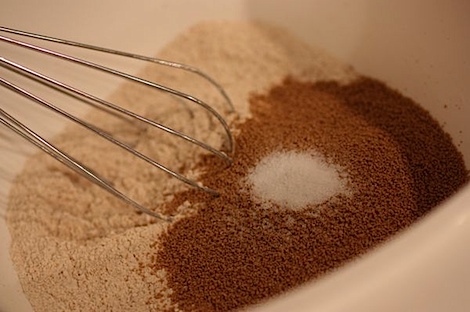 I decided to make Dreena's Homestyle Vegan Chocolate Chip cookies because they are so darn easy and they only make a few. I'm not vegan, but I love vegan baking.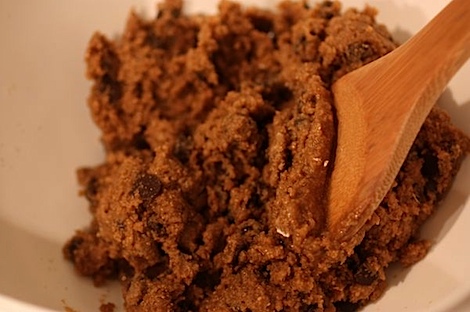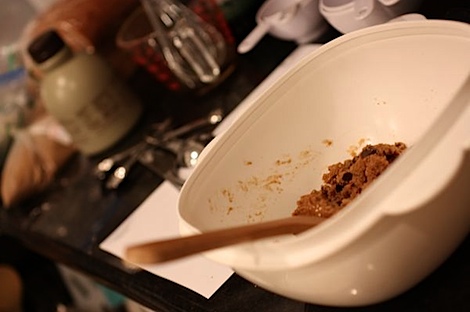 A couple random observations lately on plastics:
I don't think I like plastic anymore. Maybe it's the whole BPA thing, but I think we may have been better off when we used glass, wood, and what not for cooking and storing food. I'm going to start researching using more glass and wood products going forward.
Using a wooden spoon to cook oatmeal and stir cookie batter is fun. It makes me feel like Martha Stewart (she uses wooden spoons in some of her baking videos). And, it helps me get away from plastic to use wood. I think I'm going to try to use wooden utensils and tools more often.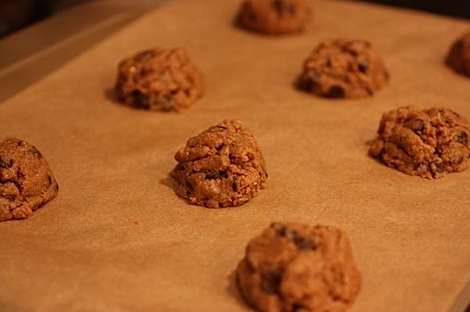 Anywho, the cookies went into the oven and a quick 11 minutes later, they were DONE!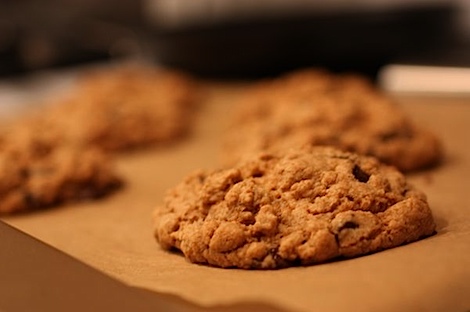 They actually puffed up really REALLY well! I think it was the new baking powder I got – it's Bob's Mill's baking powder. Their stuff seems to be all quality and top-notch. Oh yea! 🙂 So worth it to have the best ingredients in your kitchen IMO.
Though I purchased stuff on the cheap in college, over the years, I've been working to incorporate higher quality foods and ingredients in my pantry and kitchen.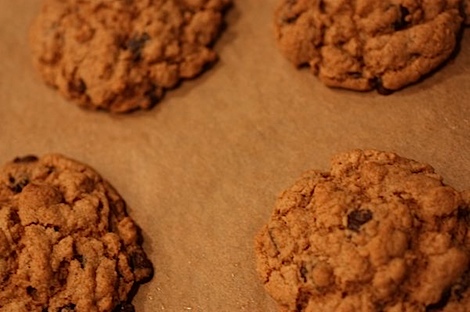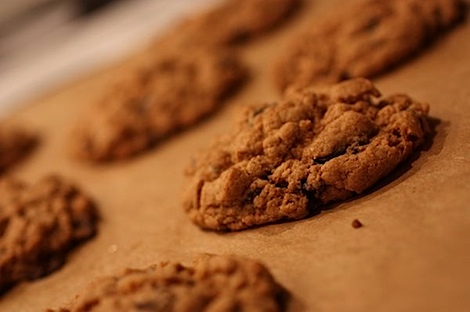 I adore these cookies – they are a personal favorite. (and eek! I still owe some to my Kate + Nate!)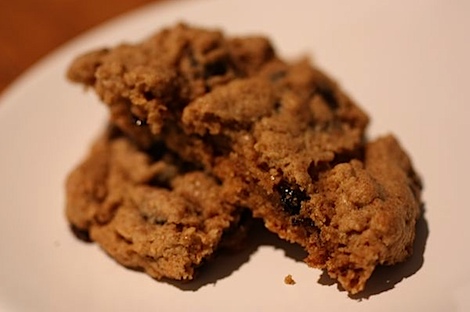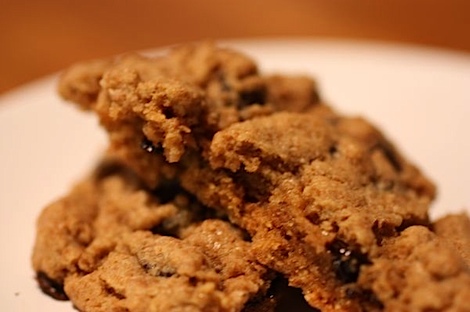 Somehow I managed to keep myself to just one of these bad boys.
Now, I know you really shouldn't eat so many sweets all the time, and I've been on quite the roll this week, but to be honest…I really don't feel that bad about all the indulgence. I think I balance my sweet tooth with my generally healthy eating (though I have been eating more sweets lately than normal). I do normally try to keep myself to one indulgence a day (like if i have a decadent lunch, I try to go light on dinner, or if I have dessert at lunch, then no dessert at dinner), but no one's perfect and I like to bend the "rules" here and there. Or rather…I dont give myself a hard time for breaking my own guidelines.
Ok, now someone pass me some milk. 🙂
***Reader question: Do you break your own "eating rules" or "eating guidelines"? Do you feel guilty about it?***
Project Hydrate Day #18

Did ok today but forgot my first-thing-in-the-morning cup of water.
Consumed:
4 cups water
2 cups hot tea
Be sure to check out my latest Meatless 4 Lent Guest post by The Clean Eating Mama with her Vegan Lentil Loaf recipe and tips for healthy living and personal story.
You can check out my other M4L Guest posts by clicking here or checking out the "M4L Guest Post" tag – see tags in the rightmost sidebar.
One year ago today I was blogging about a fantastic pasta lunch and THE BEST FROZEN YOGURT I'VE EVER HAD. I've had yogurts similar in the South, but none compare to how they prepared theirs! If only I could have one again soon. Shoot, now I think I have to get me some froyo this weekend with all this frozen yogurt talk! lol