I've been craving good Cuban food for awhile now since we had one of the best meals ever at a little Cuban restaurant in Miami a couple years ago. So, since we were in southern Florida, Cuban food seemed like a good idea.
After brunch and our tour of Key West, we hit up El Meson de Pepe's for lunch (the restaurant was recommended by our Cuban shuttle driver).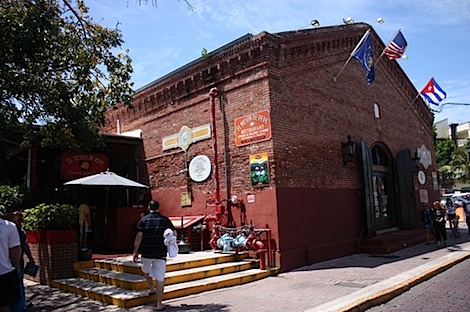 The restaurant was right near where the train dropped us of (like a block away), so the placement was pretty good. The restaurant was located in a part of Key West called Mallory Square.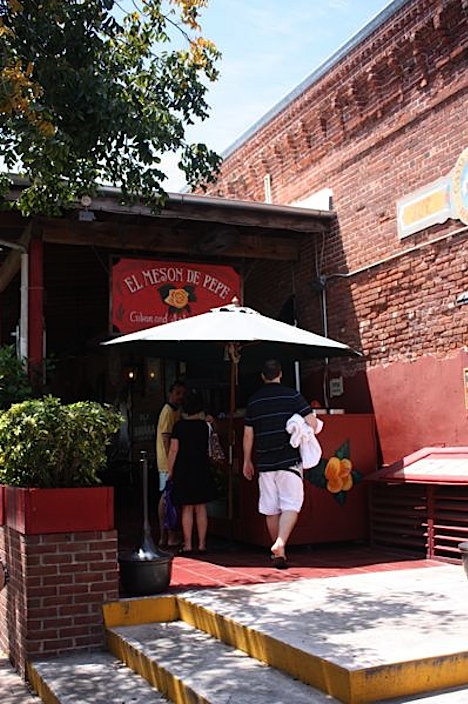 Luckily, there was no wait this time.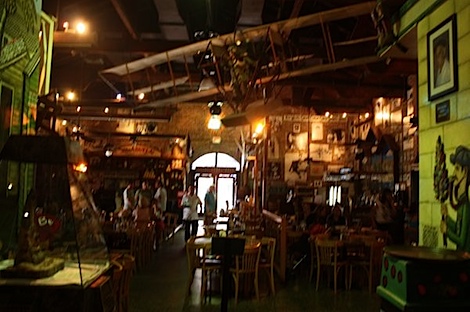 The inside was pretty neat looking…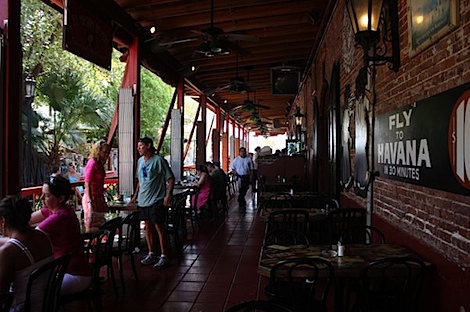 …but we opted to eat on their outdoor patio. I wish the patio would have had some views waterside, but it was still nice to just be outdoors.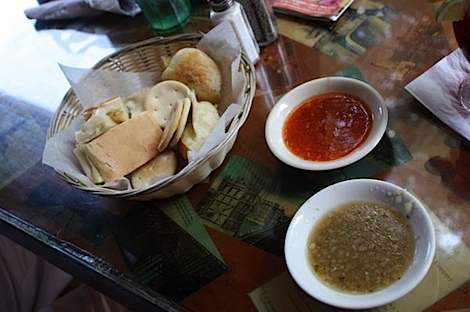 Our meal started with Cuban bread, crackers and mojo (dips).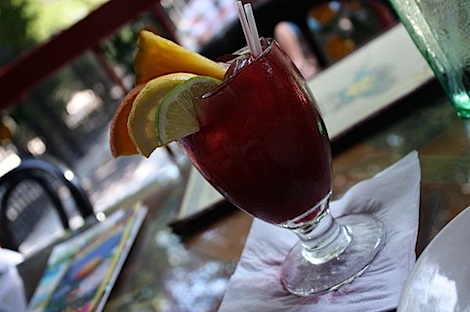 I got a sangria to drink.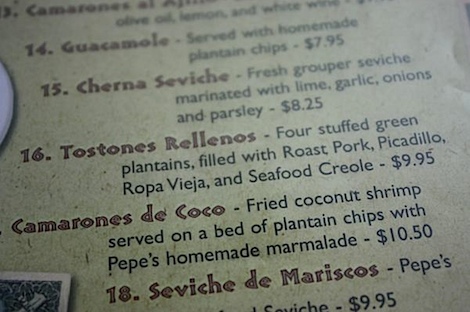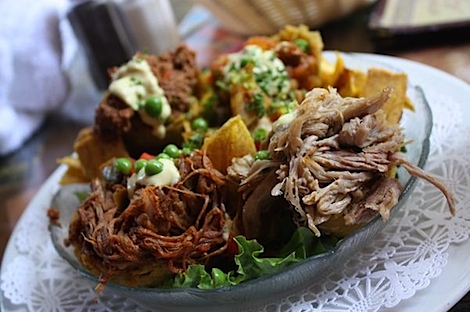 Hubby and I split an appetizer and an entree.
For our app, we got the Tostones Rellenos – an option hubby was eyeing and the waitress recommended. I really liked sampling all the flavors. My fave was the Ropa Vieja (yep, like my dinner at the wedding reception).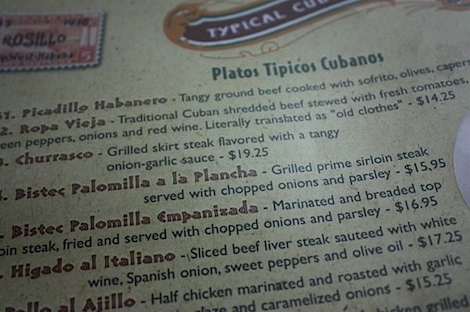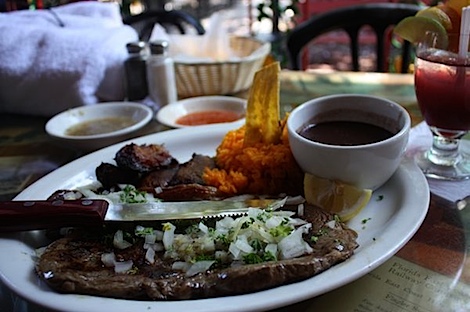 For our entree, we shared the Bistec Palomilla a la Plancha. It wasn't quite as good as I remembered, but is anything ever as good as you remember? Especially when it's been a couple years since you had it!? I think we all tend to romanticize things we enjoyed a long time ago. Overall, lunch was really enjoyable and I'm glad we chose Cuban for one of our meals. I think I may have a new fave Cuban dish though – the Ropa Vieja!!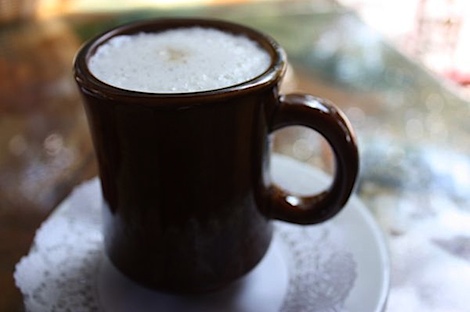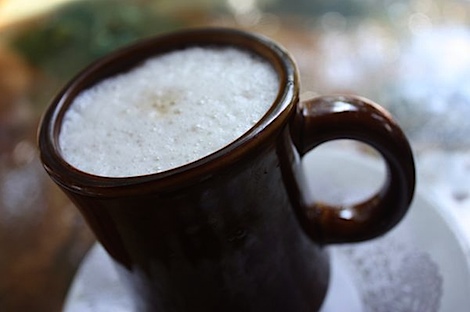 I also had a Cafe con Leche…because I could and because I can't get that around my town! It was tasty and a nice pick-me-up for the afternoon.
After lunch, we had the brilliant idea to try to walk to the Fort Zachary Taylor park where we heard the best beach was located. I tried to talk hubby into renting a bike (actually, I asked for one all weekend, but we never did rent one 🙁 I think I need to be more persuasive) but we didn't. Boy was that a mistake! We walked for a good 30-40 minutes in the hot sun to get to the beach.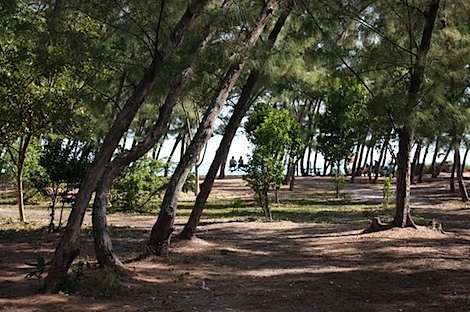 It cost us $2.50 each to get into the park.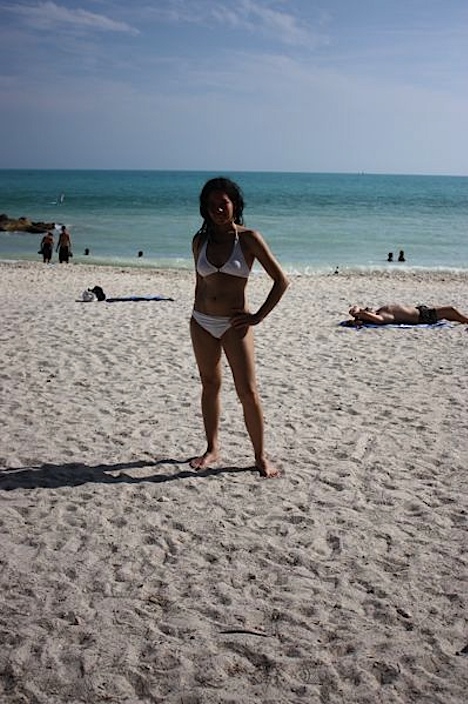 I made friends with a nice Russian man, Artem…or is it Arteum? (the dude laying out in the background), who let me have some of his sun tan spray. Thanks again A! A was in Key West visiting from Miami. He was in the states getting ready to select a university. Exciting stuff! Some days I wish I was in college again.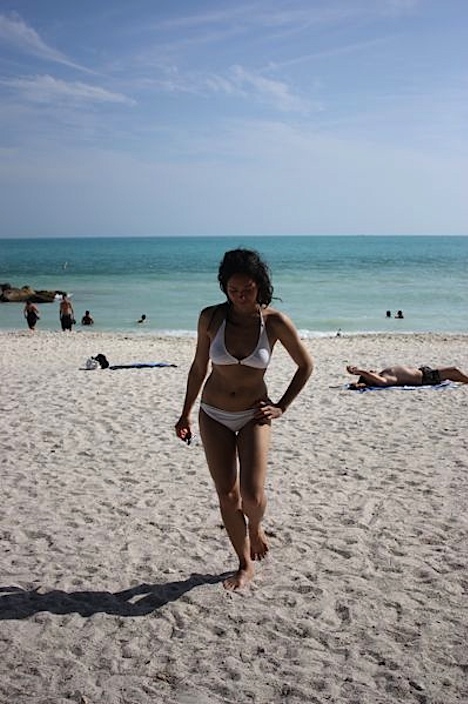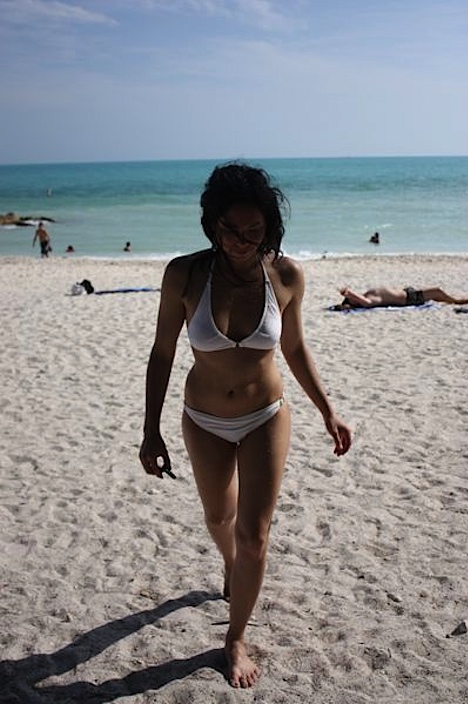 The beach was a bit disappointing. I guess I thought it would be like Miami or the Bahamas. It looked pretty and white and it was mostly sand, but when you got to where the water was, it was all rocks till you got deep enough your feet didn't need to touch any more. It was painful to walk into the water!!
I think I know now why people told me there are no beaches in Key West…there are some, but they're not that great. Or, maybe we went to the wrong one? Who knows. Hubby and I were just glad to get some sun.
We took a taxi back with two beautiful Italian women and ended up buying their fare. It was only $3 per person and they were really nice and basically let us share their taxi (they were waiting for one at the beach first), so it was good karma.
We had a little time to relax before it was time to get ready for a romantic Key West dinner! Dinner details next time. 🙂