Another fabulous, jam-packed day today!
Hubby and I hit up some garage sales this morning, but we didn't find much. The garage sales I've been going to lately hardly ever seem to have anything we need/want! grr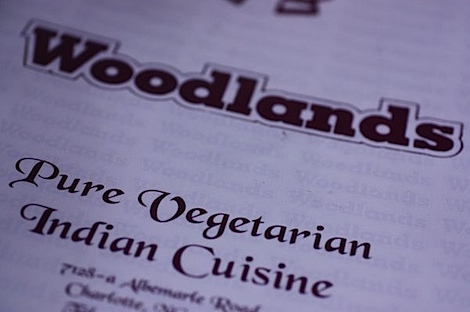 I met up with some friends to try out a local vegetarian Indian restaurant – Woodlands.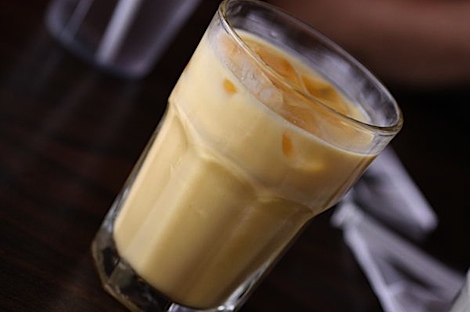 I started with a mango lassi. It tasted sort of like Kefir or a drinkable yogurt! Yum! Supposedly it's made with fresh mango, too! Neat!
We ordered a bunch of different things to sample and share with the table. Luckily, we had a tour guide since one of our friends is actually from Southern India! 😉 She tried to select items that you couldn't necessarily get at any Indian restaurant – mostly those specific to Southern India (I believe).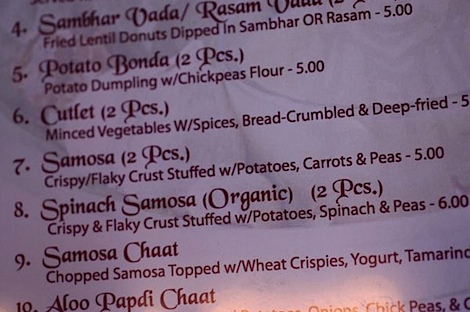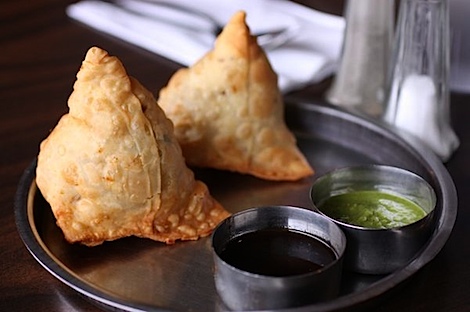 Samosas.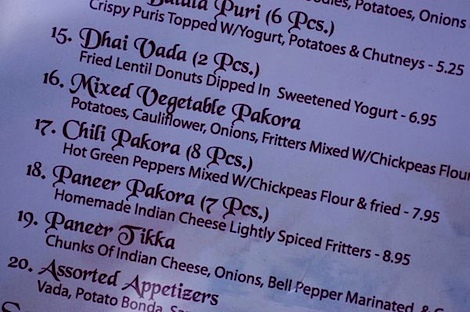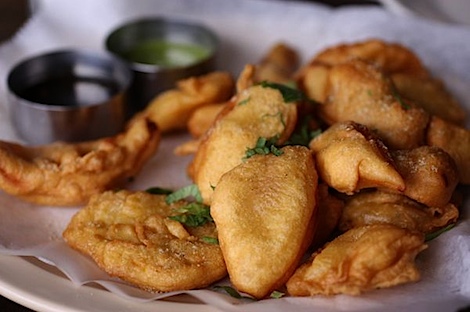 Mixed Vegetable Pakora.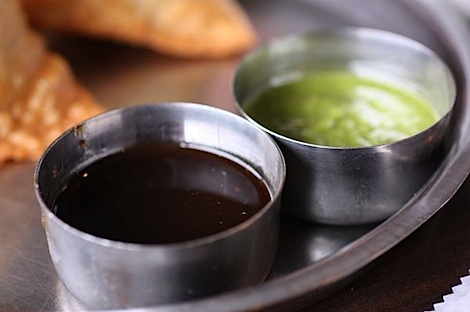 Dipping sauces – mint and a sweet one…forgot the name! Doh!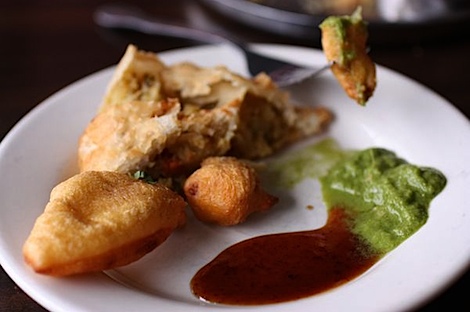 I had to try a little of everything. So tasty! Loved those sauces!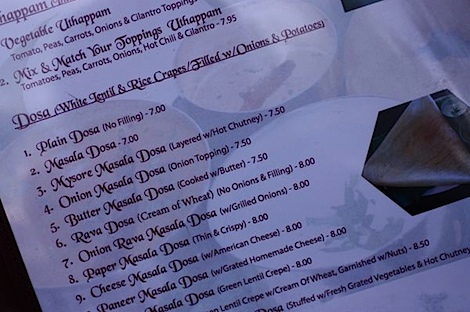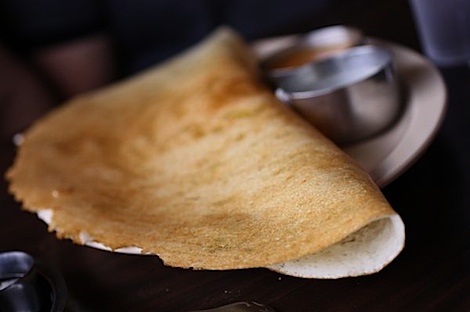 We got a masala dosa. Boy was that crepe BIG!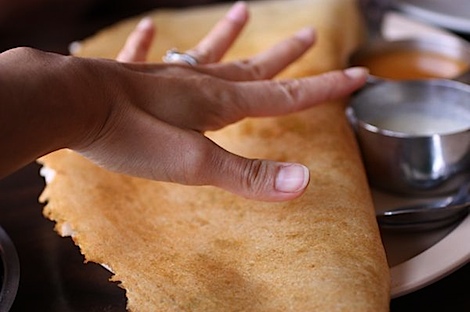 Not sure if you can tell from my hand but this thing was massive!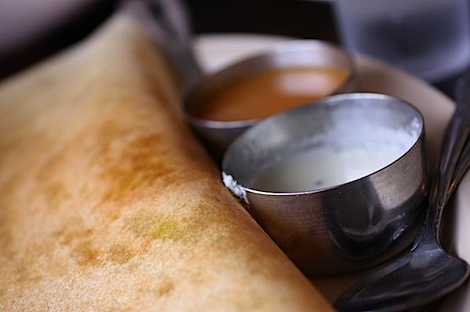 Sauces – in lentil and savory coconut.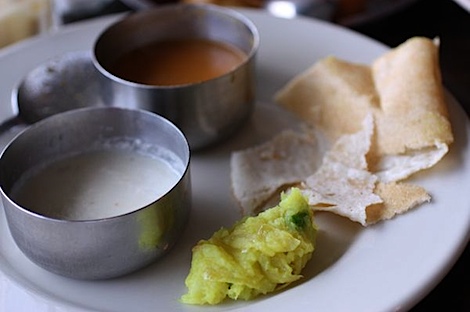 How to eat: break off some crepe, add some of the potato filling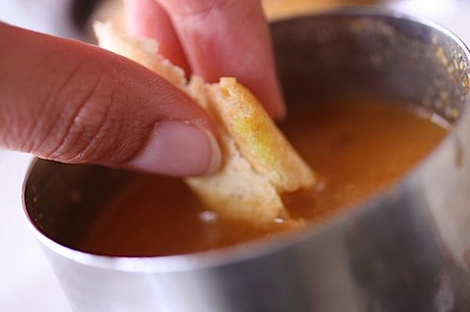 Dip.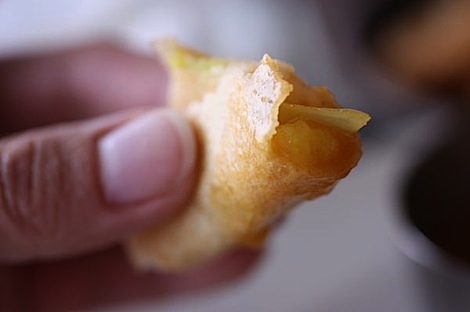 Enjoy! Yum yum! Very tasty again!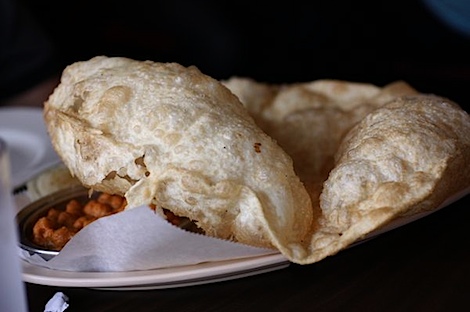 We also got a Chana Batura – puffy bread with chana masala.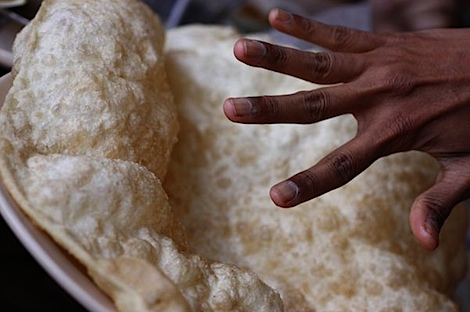 Again – the bread was massive! Here's my friend's hand for perspective.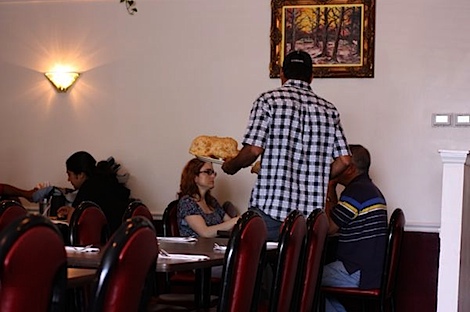 Here's one someone else ordered across the restaurant. Look at that thing!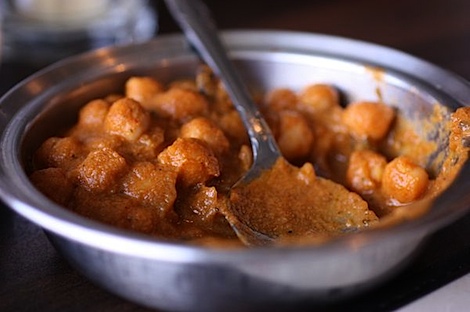 How to eat: break off some bread, spoon yourself some chana masala…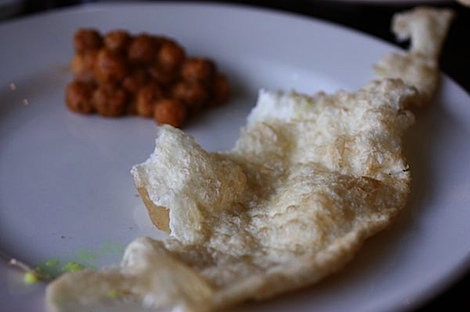 Use the bread to pick up some of the chick peas.
Enjoy!
I must be a total food dork because though the food was amazingly delicious (and I didnt even miss the meat!) I did want some extra veggies! 😆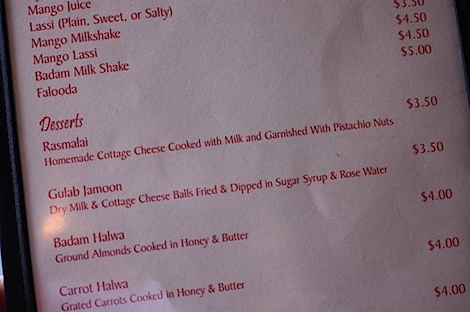 The meal wouldn't have been complete without dessert. We tried two: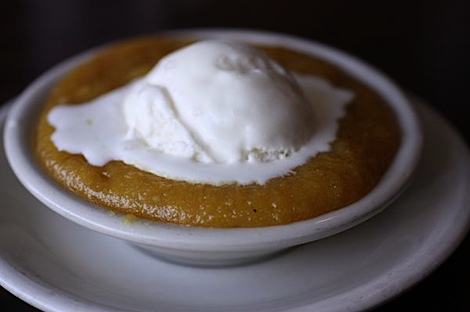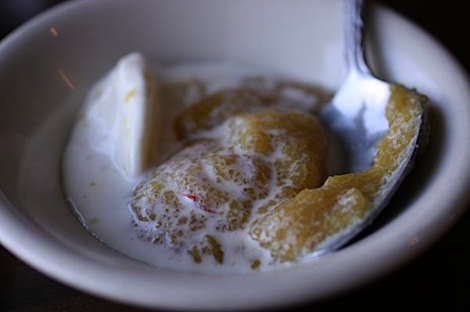 Badam Halwa with ice cream. This was my fave – sweet almond meal that tasted a bit like cream of wheat but better.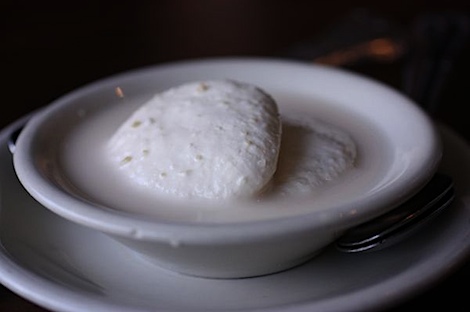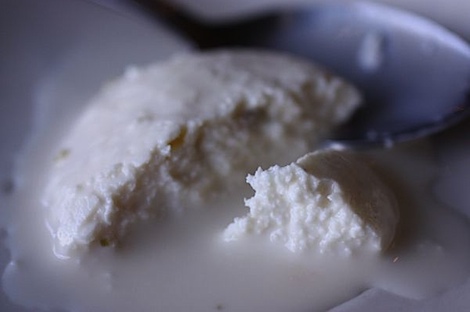 Rasmalai – a cottage cheese based dessert. Very tasty, too!
Not sure I ever would have picked these things out to try on my own but that's what "tour guides" are for! So glad our friend recommended them.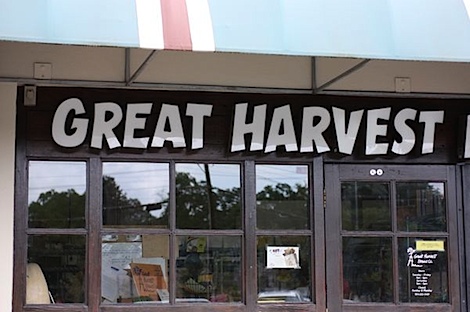 Two of my friends were from out of town and don't have Great Harvest, so after a conversation about good breads, and when we had some free time, we swung by a local Great Harvest where every one could sample galore. We all brought home plenty of goodies.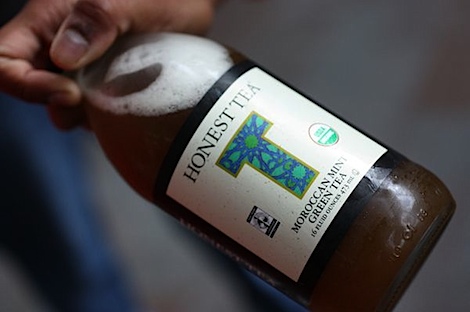 We saw a mini-movie called Lost Worlds at the local IMAX. I loved all the gorgeous scenery! Refreshment = Honest Tea Moroccan Mint Green Tea. I liked the other flavor I had better.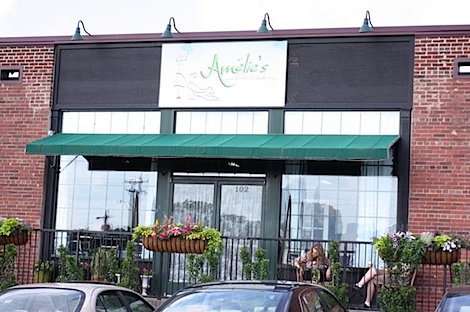 Next up we hit up Amelie's for a pick-me-up.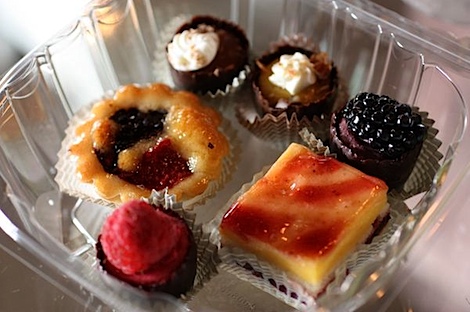 My friend got a bunch of colorful goodies. I spotted the last mini fruit tart, which I planned to order myself. But when my friend was looking for one, too, I let her take it.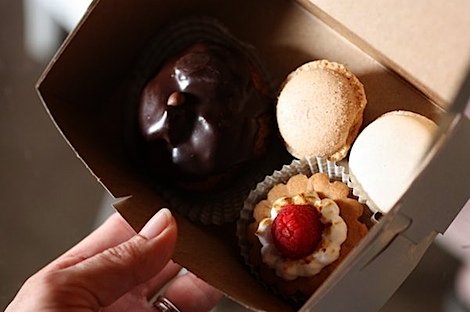 I tried a mini tart with a raspberry and a couple macaroons. I got a chocolate-filled cream puff for hubby.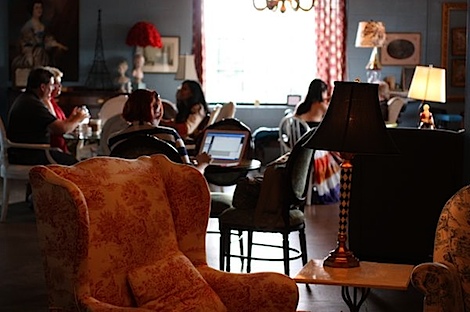 Loved the decor in here!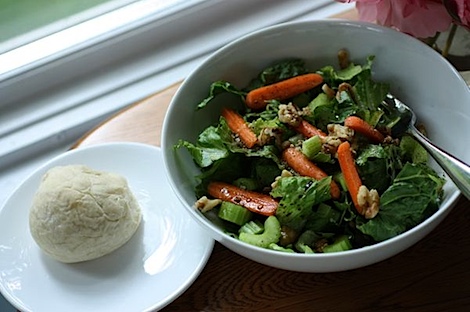 I had an afternoon snack of a big romaine salad with carrots, celery, parsley, walnuts, walnuts and hemp seeds. I used a drizzle of balsamic vinegar and EVOO, which was surprisingly delicious. Perhaps I don't need official "salad dressing" and more? Virginia roll on the side – straight up. These things don't need toppings!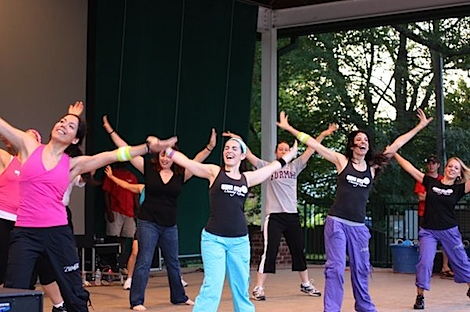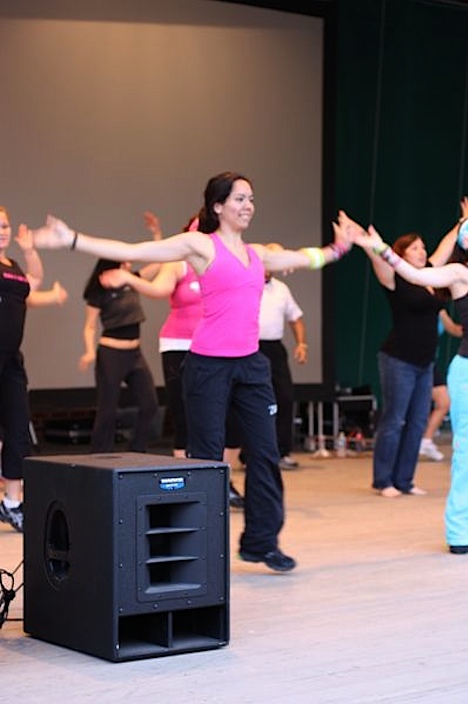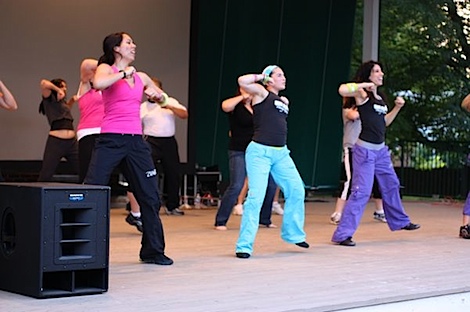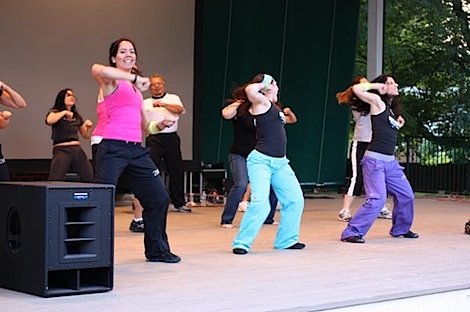 After my snack, it was time to get ready for a demo with my dance fitness group! Woohoo! I met some awesome ladies at the event and hope to see them in class soon!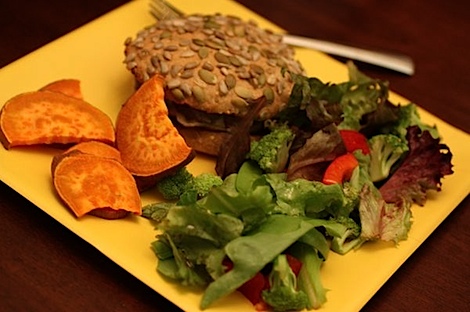 We rushed over to Kate + Nate's to hang out with friends for a bit. I had a half veggie burger with a fabulous Dakota-roll, sweet potato fries, and salad.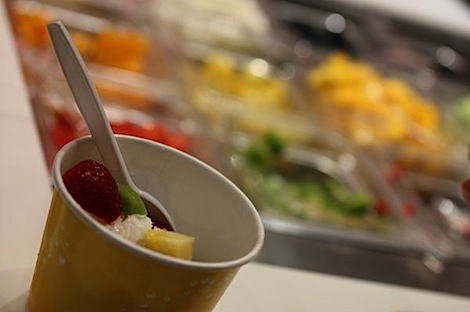 We made a trip out for froyo!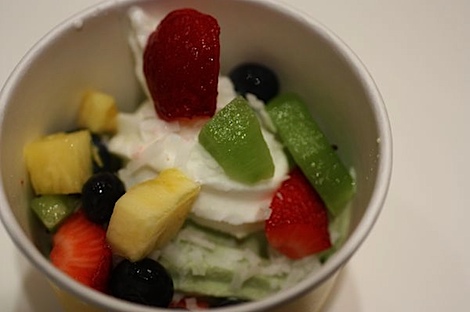 I got some green tea and tart plain frozen yogurt plus lots of fruit: strawberries, kiwi, pineapple and blueberries…oh and some of their yummy tender coconut. Gosh, I'm addicted to this stuff!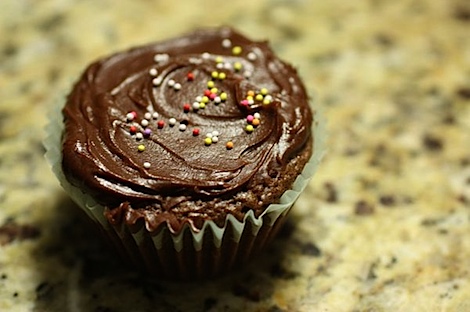 Back and Kate + Nate's I couldn't resist a brownie cupcake. So delicious!
More stuff planned for tomorrow…phew! This has been a busy weekend! I have folded laundry that needs to be put up…had it folded since last Tuesday? Maybe I can squeeze in some domestic-house-work time tomorrow? 😆
What did you do this weekend so far?