Organic Garden
So, sorry for the delay posting those garden project photos, but it got so dark so quickly last night!
I'm hell-bent on keeping my garden organic, so I've been reading a lot about companion planting. The concept is that you want to work with nature to maintain your garden by:
attracting good pests
deterring bad pests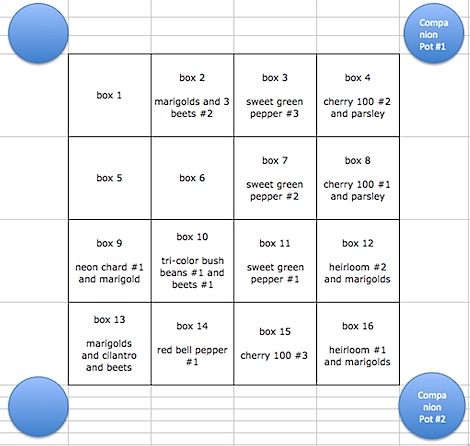 I'm planning to place some pots of good companion plants around the garden, rather than adding a border, so I can move the pots in case I need to get to the inner boxes. My plan was to place a bunch of pots so there would be about 4 on each corner and 1 in between the corner pots along each side.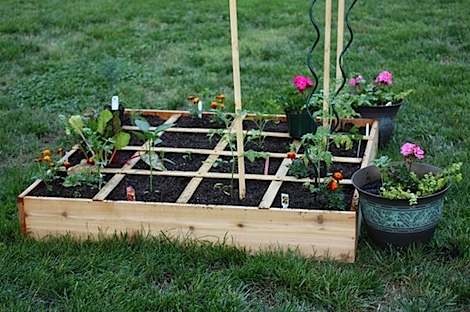 Plants and all the other stuff you need for them are expensive! So we're just starting with two.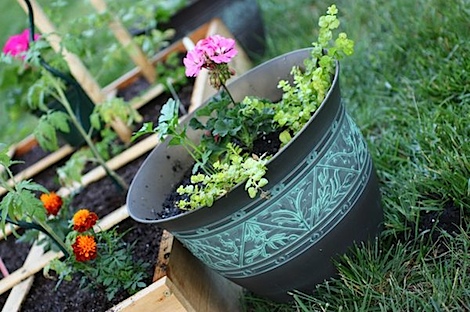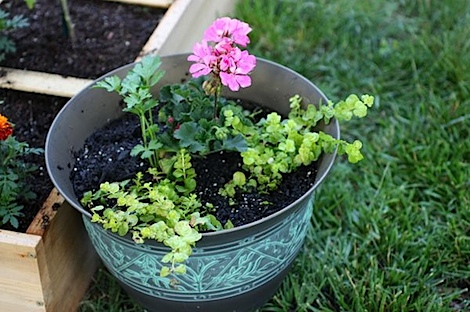 I caved and got plastic pots. Maybe I'll upgrade them next year, but these will do for now. I think they're pretty attractive, especially for plastic.
In the pots: geraniums, parsley, and creeping Jenny.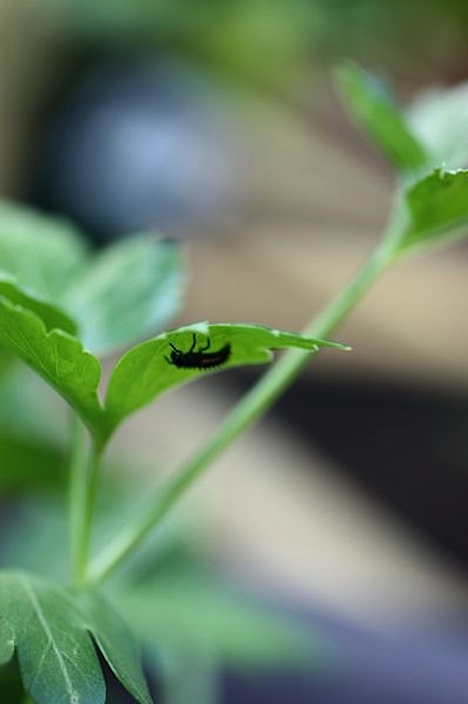 I like the parsley because it seems to attract these guys – baby lady bugs. They are kind of scary looking, but apparently they eat aphids, which are common garden pests.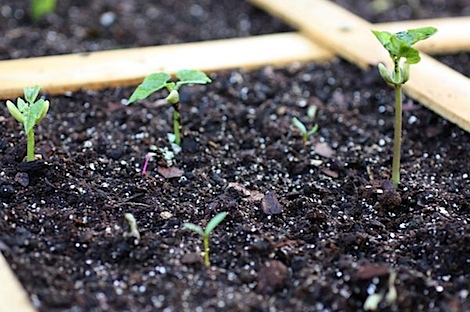 The green beans are really popping up! Look at em go!
Eats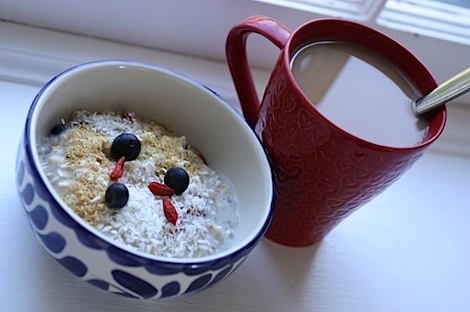 I really, really wanted to get Flying Biscuit pancakes this morning, but especially since I already went there last night, I decided to stay in.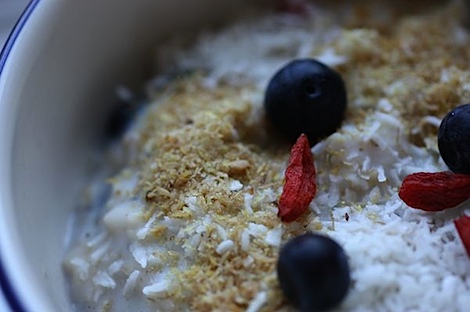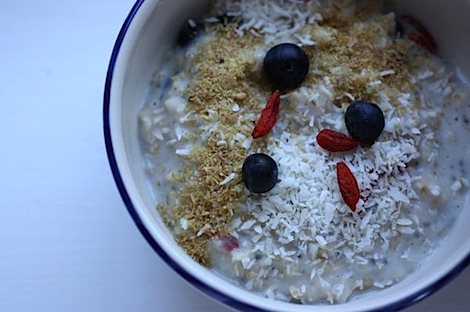 I made oats with 1/2 milk, 1/2 water, blueberries, goji berries, and coconut (plus flaxseed meal and chia seeds).
Since I had a big workout planned for after work, I decided to try a meat-free lunch in an attempt to sort-of follow the Thrive diet. I decided to whip up something using ingredients I already had on hand since I didn't really have time to go to the grocery store, even though I was WFH today.
Sweet Potato + Tempeh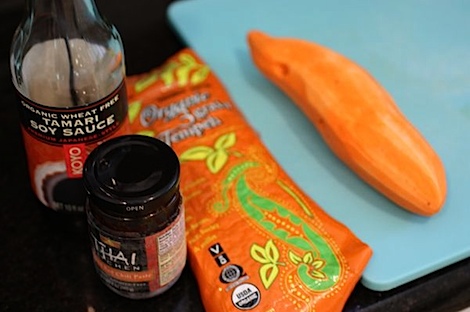 Sweet potatoes + tempeh were my bases.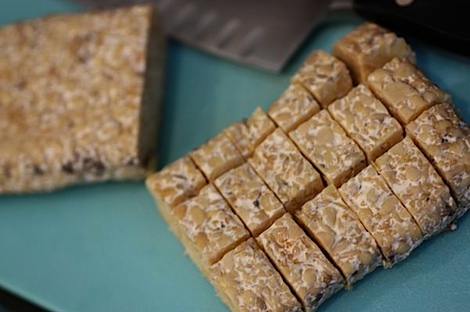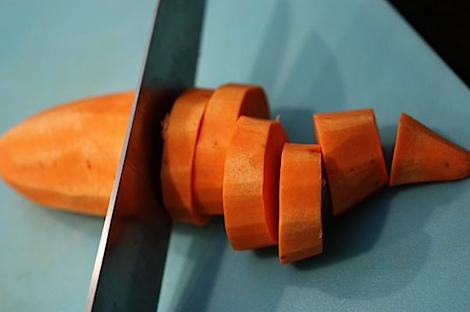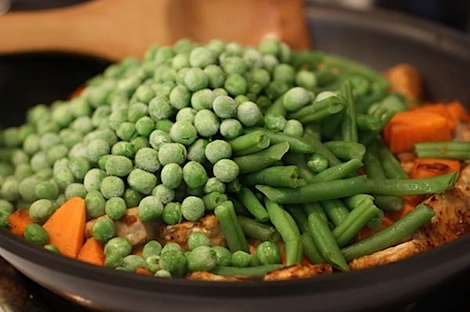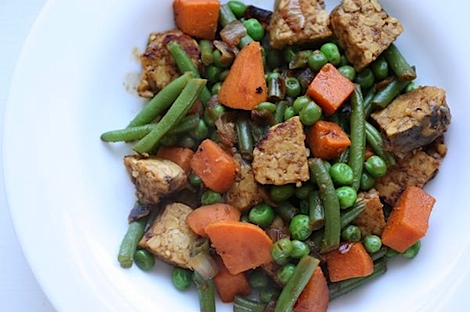 Sweet Potato Tempeh Stir-Fry
Vegetarian / Vegan
Ingredients:
1 package tempeh, cut into small pieces, about 1/2″ cubes
1 small sweet potato, peeled, chopped into small pieces, about 1/2″ cubes
1/2 – 3/4 cup frozen peas
1 cup green beans, frozen
1/2 small onion, chopped (I used some I had stowed away in my freezer)
1/3 cup OJ
2 tbsp tamari
1 tbsp roasted thai chili sauce
1/4 tsp salt
dash pepper
dash garlic powder
1 tbsp EVOO
Directions:
Steam tempeh 8 minutes. Remove from heat and set aside.
Meanwhile, boil sweet potato about 4-6 minutes, or until fork-tender, remove from water with a strainer (leave water in pot) and set aside. Add beans to pot and cook 4-5 minutes until cooked and just tender. Remove from heat, chop into bite-size pieces.
Heat a large saute pan over medium heat. Add EVOO, add onions, saute till onions translucent, about 3-4 minutes.
Add tempeh and cook for 2-3 minutes.
Meanwhile, mix OJ, tamari, chili sauce, salt, pepper, and garlic powder in a bowl. Add sauce to pan. Cook to combine flavors, stirring, for about 1-2 minutes.
Add green beans, peas, cook till flavors combined and sauce evenly distributed, about 1-2 minutes.
Serve and enjoy!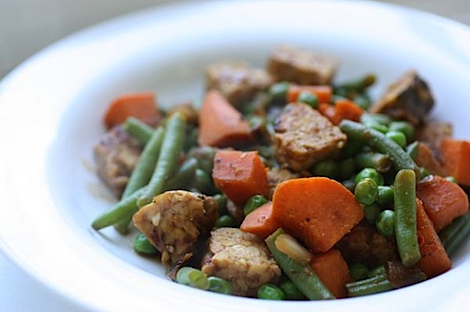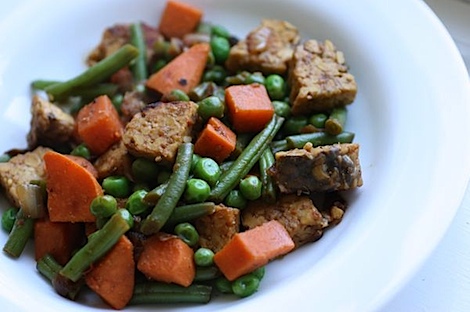 Not too shabby – tempeh experiment WIN!! 🙂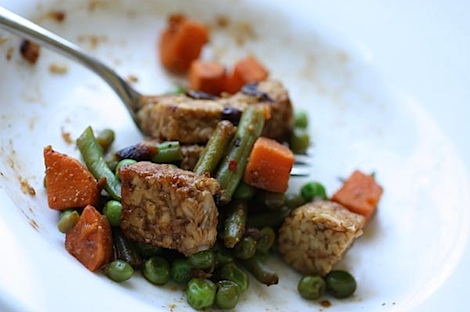 Seconds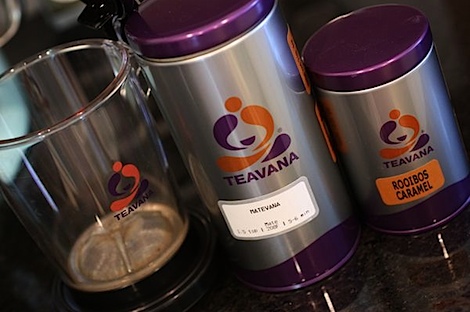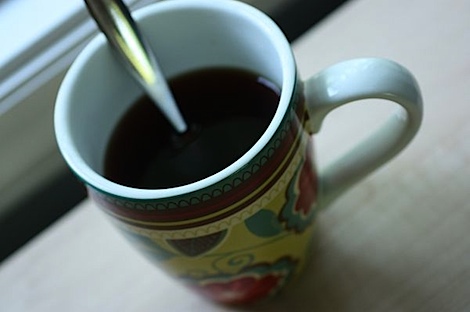 Tea = Mate vana + Rooibos Caramel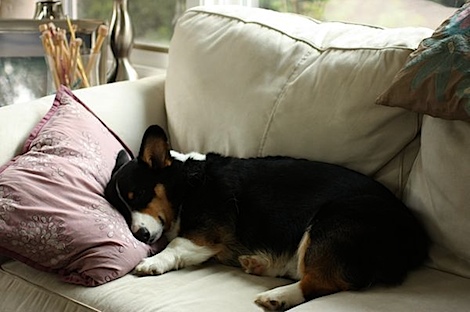 Bailey was a sleepy puppy all afternoon. Cute little sleeper!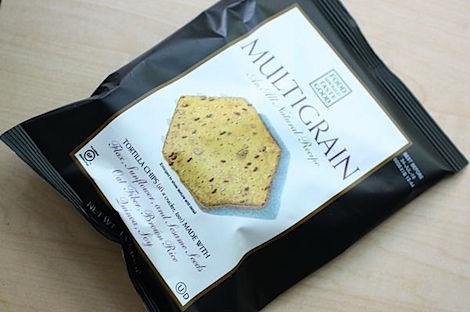 I had a mini bag of Food Should Taste Good chips (*) in Multigrain for an afternoon snack.
Vega Complete Whole Food Health Optimizer – Berry – Review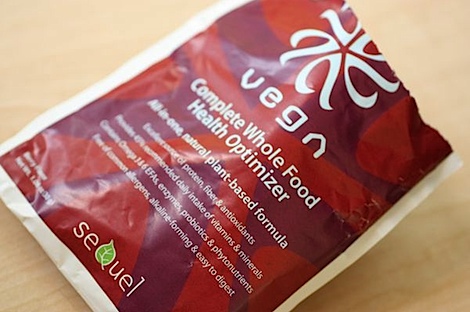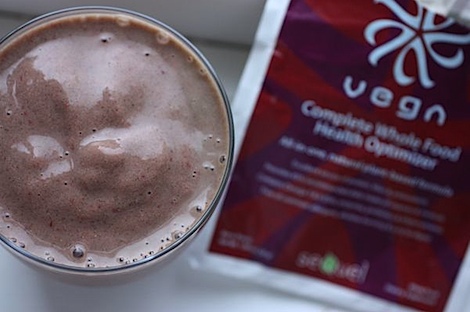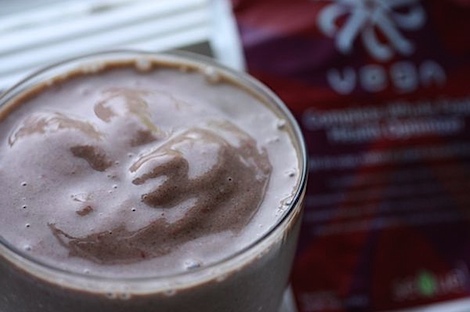 I broke into one of the Vega samples I recently received – the Complete Whole Food Health Optimizer in Berry (*). I've reviewed this product before in the Vanilla Chai flavor (click) and this one has all the awesome properties, features, and benefits, just in a different flavor.
I made up a smoothie with this berry health optimizer, strawberries, and almond milk. While I thought the flavor of berry-on-berry tasted really good, I actually prefer the Vanilla Chai for some reason. I think the berry flavor would be a nice addition to the Vanilla Chai in case you wanted to have more than one flavor. Especially for the times when you mix the health optimizer with just water…the berry would be a nice flavor to have on hand. But, if I had to pick one, I'd stick with the Vanilla Chai – it seems more versatile to me. 🙂
I think I drank the smoothie too close to my workout because I was a little more tired during the workout then I expected. I had a BURST of energy right after, though! 😆 Guess I should have had the smoothie more than 1 hour beforehand.
Zumba was fabulous, though! I had a great workout and we even got a special guest appearance from one of old instructors, Sara, who moved away a couple months ago. It was so good seeing her. 🙂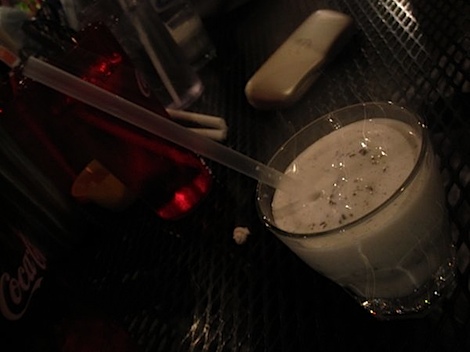 Post-workout, a few of us went out to Big Daddy's for dinner. Three of us split the adult cookies and cream milk shake, made with Kahlua.
Or so we thought…turns out the first shake was ordered Virgin. We thought they only had one cookies and cream on the menu, but it turns out there is a normal one and a spiked one. Oops!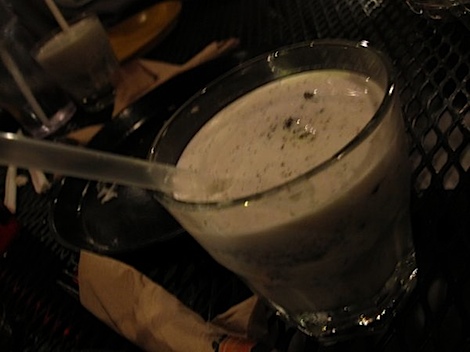 Smoothie take #2. Much better! 😉
My friends let me sample their fried pickles with ranch sauce. They are so tasty!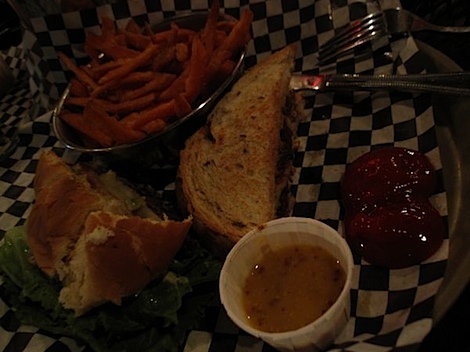 For my dinner, I split a patty melt burger and the black bean burger and got sweet potato fries. I almost managed to eat all the burgers, but I only managed roughly half of the sweet potato fries.
Anywho, I lucked out splitting my food with Alex who let me give him larger portions than mine. I mean, guys eat more, right? I probably served myself roughly 1/3 of each burger and him 2/3. Much better portions for me.
Now if I could only order off the kid's menu everywhere! 😆
Breakup Recovery Tips
Our last break-up recovery tips! If I left your comment/tweet/email off, please let me know! I'm sorry if I missed it, but it's midnight and I was ready for bed about an hour ago! haha
Rachel – I throw myself back in the fray headfirst with fun things that I couldn't do while dating such as speed dating or other ways to meet someone. I find the best way to get over someone is to meet that next someone!
Ashley – I always allowed myself one day to stay home, cry my eyes out, stay in my pjs, watch sappy movies and eat whatever I wanted. I found it therapeutic to get it all out. However, the next day the pity party was over. I had to pick myself up and resume my life. It was easier said then done sometimes. I found one of the really helpful things to do was reconnect with activities I once loved, but I might not have done so much with my ex around. Bubble baths with a good book, marathon Starbucks sessions with friends. They were little things that helped me feel more, well, me. I can remember once curling up in bed with a stack of new magazines and just reading until I feel asleep. I was so relaxed the next morning. I remember thinking how I had not done something that I loved for so long. Friends are key and family got me through a lot. It helps to be able to pick up the phone and pour your heart out when needed.
Thanks everyone for your tips! I know my friend has been reading each one!
Do you have a garden? Do you use pesticides?