I'm at my family's house for Mother's Day, so I'm going to try to make this quick. We have mom-celebrating to do!
I enjoyed the breakfast so much on Friday that I had a repeat on Saturday. This time, I served it in a cozy mug.
I had fitness training planned from 1-3pm, so I wanted to get some food for energy but had to eat it early so my food would be as digested as possible for training.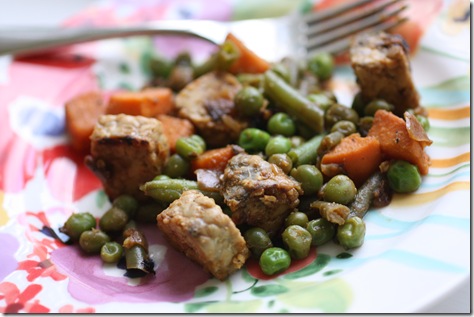 I decided on some leftover Sweet Potato Tempeh Stir-fry…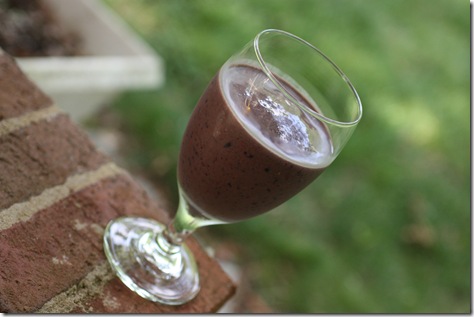 …and a smoothie. Vega health optimizer (vanilla chai) with frozen mixed organic berries and almond milk.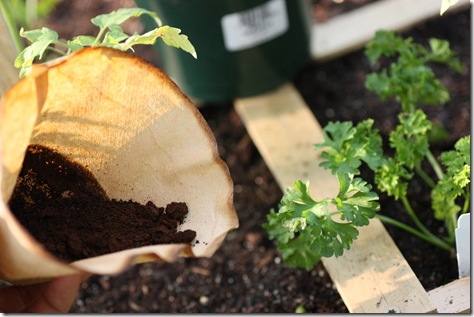 I read somewhere online that ants in a garden are bad because they drive pests up your veggies. I also read that ants don't like coffee grinds (among other things), so I sprinkled some in my garden Saturday morning.
Die ants! DIEEEEEEEEEE!!!!!!! I mean…please kindly leave my garden alone. Mmmkay? Thanks so much! 😉
Training went well, but I was so tired from yesterday's kick a$$ workout…phew! I'm so glad Sunday will be my rest day!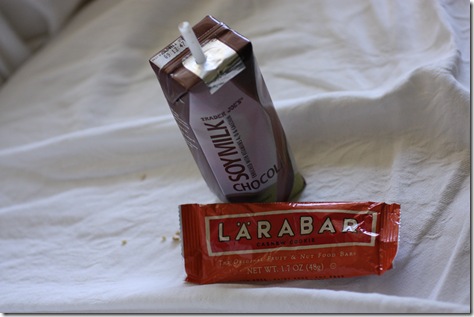 Luckily, I had post-work-out snacks planned – a Cashew Cookie Larabar and a TJ's Chocolate Soy milk.
After training, I headed to my home town to see my fam for a short Mother's Day weekend.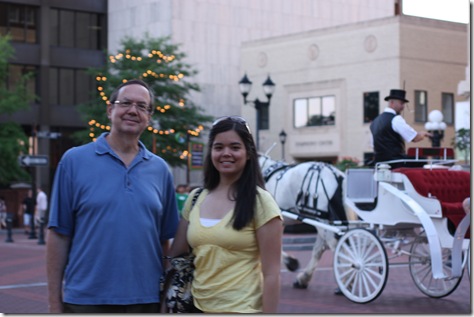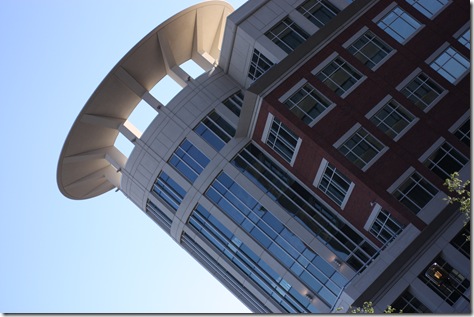 My dad, sis, and I headed to the downtown area…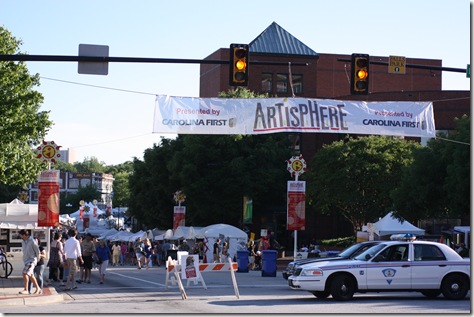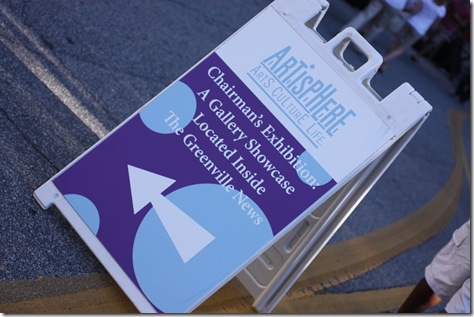 …because they were having an art show – Artisphere – and my family LOOOVES these things! I've grown up visiting arts & crafts shows. They are so fun to visit. I love seeing all the handmade treasures people create. It's amazing how much is out there and seeing the things people make with their hands.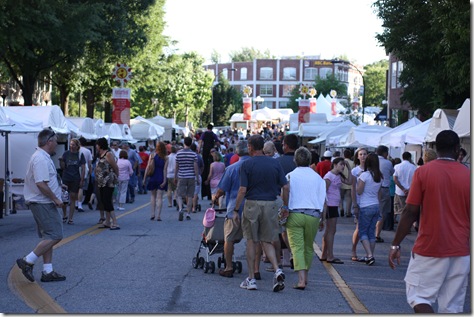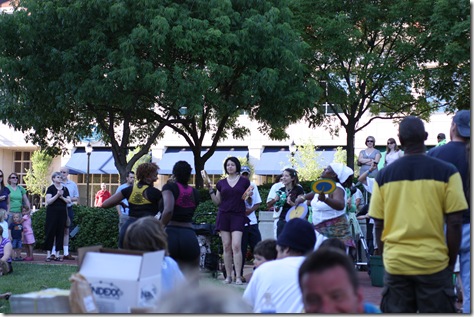 The place was packed with visitors and entertainers. There were booths and art and musicians and jugglers and acrobats!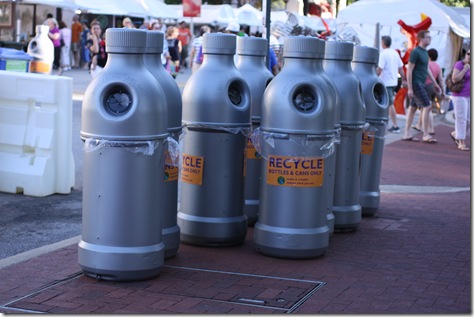 I liked how they had places all around for recyclables. These bottles look so small in this photo.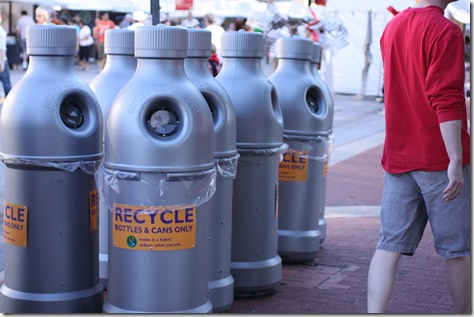 Here's some dude walking by for perspective.
I didn't take any photos of the artists' booths. A lot of them don't like it. They spend a very long time perfecting the layout and form of their booth and sometimes people come by to swipe their ideas and steal their booth layouts and sometimes even to steal their artistic style and vision. I've actually don't craft shows (when I was really into the jewelry) and people would come by and point at things and tell their friends that they could make that. So rude! Fine if you want to think that but don't say it smack-dab in front of the artist! That person spent a long time coming up with their craftwork.
Anywho, not all artists dislike photos of their booth, but I highly recommend asking permission first. 🙂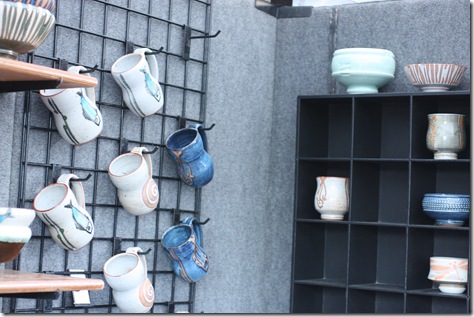 I did stumble upon one booth that caught my attention. Look at these fabulous handmade bowls and mugs! I wanted all of them! 😆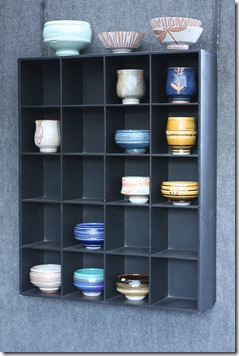 I didn't get one of each, but I did make a selection from this wall-o-bowls. They are perfect oatmeal bowls!!!!
In fact, now that I have the space (thanks to owning a home finally), I can see my cupboards full of handmade plates and bowls! I can't wait…I'm hoping to collect one special piece at a time.
Can you guess which bowl I got?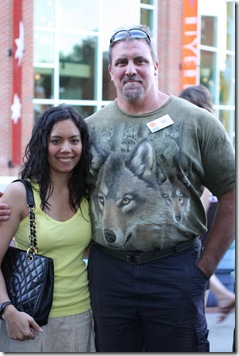 I did manage to get a photo with the artist himself, thanks to my Sis. This is Peter Streit. He's from FL and a really nice guy.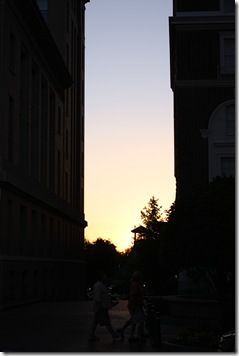 We left just as the sun was setting. The weather was gorgeous all day and the air was just gathering a hint of cool as the sun went down.
We decided to leave the downtown area in search of food. All the restaurants there were PACKED!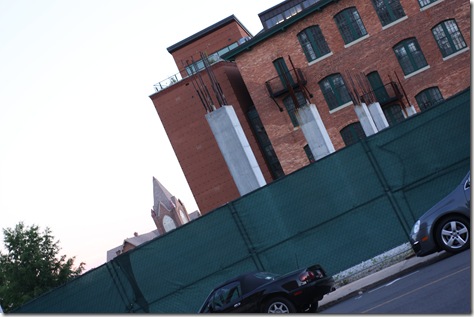 Check out these interesting scene I spotted on the way out. Those concrete structures looked like some sort of urban art, but I think they are actually remnants of a cancelled building project.
We ended up checking out a place I've been wanting to re-visit for awhile – Pita House! Here are some photos from dinner: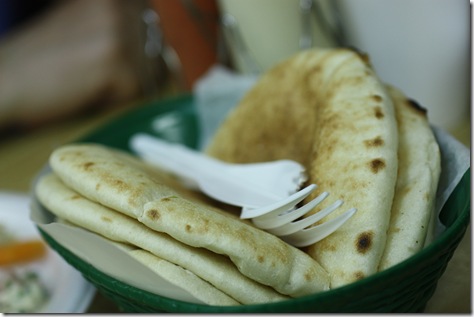 Pita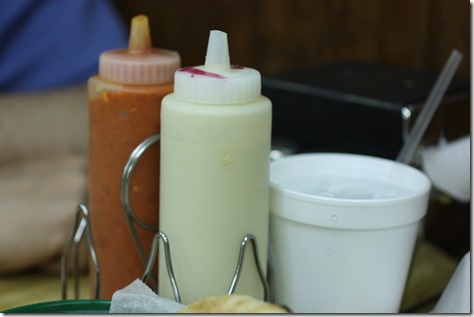 Sauces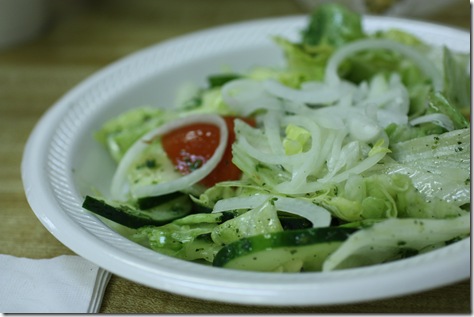 Salad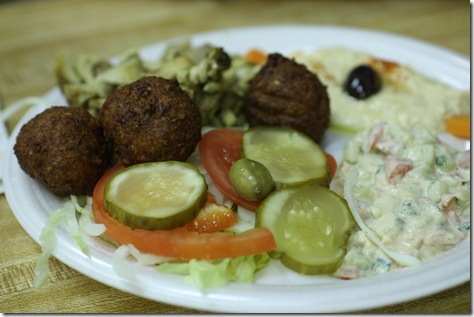 Combination plate: veggies, falafel, salad with tahini sauce, hummus, chicken swarma.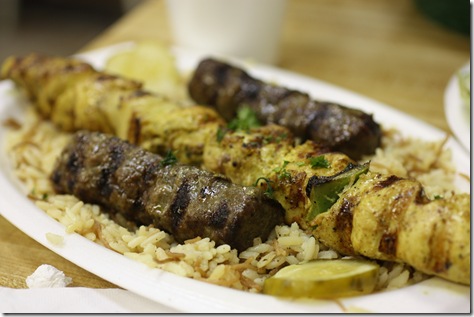 Kafta, Chicken, rice
My dad and I split all the food you've seen so far. We didn't even come close to finishing it though – there was so much! I made little pitas with some of the meats, the veggies and some of the white sauce pictured above – it's a sesame seed based sauce and freakin delicious!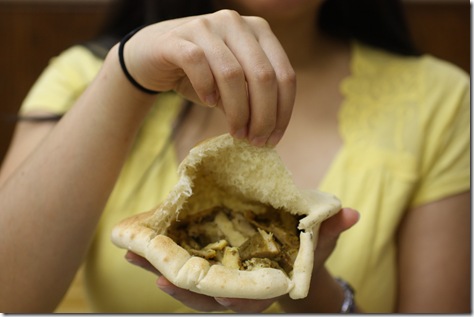 My sis got a chicken pita for her dinner.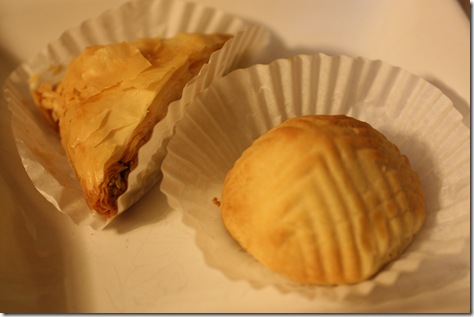 I, of course, saved room for dessert – baklava and ma'moul.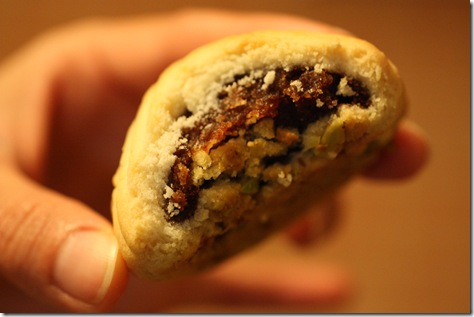 Ma'moul is a date-filled dessert. Crumbly cookie on the outside, tender date inside.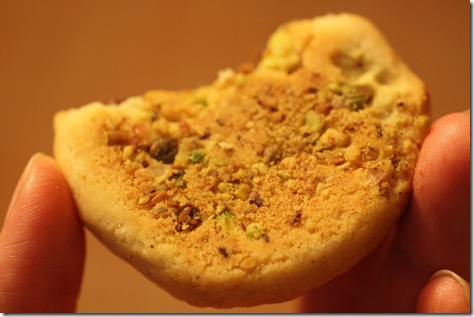 It looks like they press the cookie into pistachio pieces just prior to baking. Yum!
My sis and I watched Up. That move made me cry AGAIN! That intro with the music where they show the guy's life. So beautifully sad!
Anywho, time to take off and hang with my fam. Happy Mother's Day everyone!