As I've mentioned before, I'm not really a fan of running, even though I'd like to be. In fact, the idea of running a race terrifies me!
But the fact that a race terrifies me also really makes me want to challenge myself to rise up to the occasion. Heck, at one point I was afraid to do zumba and now look how things turned out!
As Eleanor Roosevelt said:
"You must do the thing you think you cannot do."
So today, with the encouragement of some really fantastic friends, I did something I thought I couldn't do.
I ran.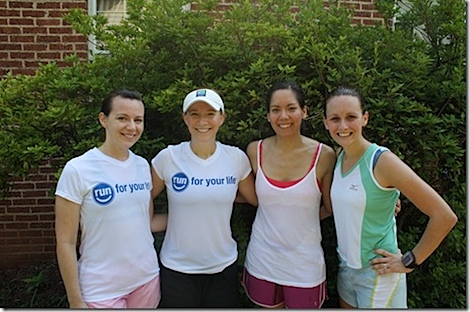 Here's my support group: Michelle, Kath, (me), and Caitlin. (Caitlin's photo) Talk about a great group to be there for my first big running adventure! 🙂
These wonderful, running-expert ladies were kind enough to take a break from their fast-paced running to do a Couch-to-5K style of interval running (2 minutes running and 1 minute walking) for 3 whole miles – probably the farthest I've ever gone running…EVER! Not one mile. Not two miles. THREE!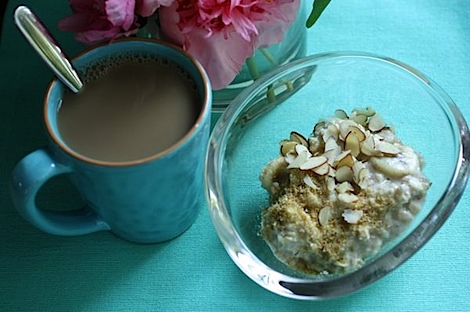 Stepping back, I woke up 2 hours before run time to get some fuel in my system and give my body time to digest.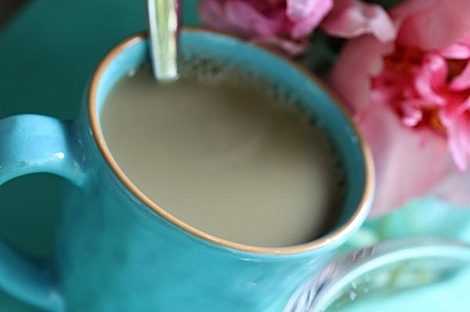 Hot coffee.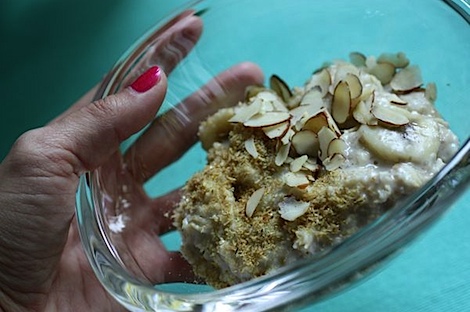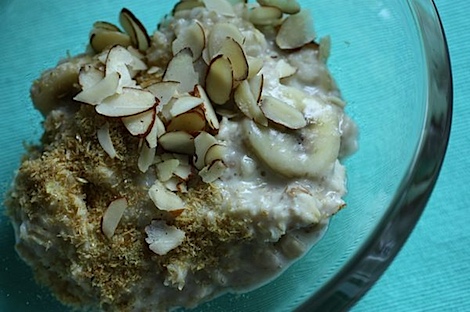 Banana oatmeal in my fantastic new bowl!
Pre-cooking ingredients:
1/4 cup coconut milk (carton kind this time, not can)
1/4 cup water
1/4 cup rolled oats
1 tsp chia seeds
Cooked stovetop till thickened up.
Post-cooking:
1/2 sliced banana (stirred in at end – I ate the other half, minus a bite for Bailey)
ground flaxseed on top
sliced almonds on top
Nom!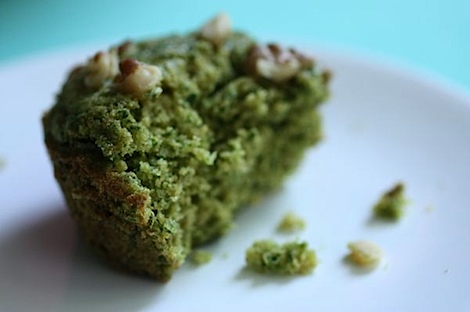 After breakfast, I decided it was a good idea to make my trial batch #2 of my Green Monster muffins. If you read earlier, you probably already saw the recipe because they were a success!! Hazzah! 🙂
Click here for my Green Monster muffin recipe.
Anywho, I pulled these babies out the oven just as it was time to leave the house. Cutting it close time-wise!
Then, it was off to Caitlin's place to meet up for our run. It was suuuuper hot outside! Eeks!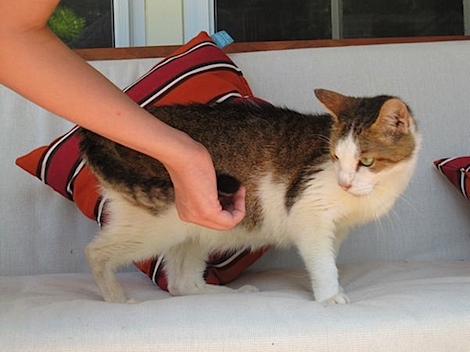 Michelle and I made friends with Caitlin's "new cat" till Caitlin and Kath showed up to for our group run.
I still can't believe how patient every one was with me. I was worried about slowing them down, but everyone was so encouraging, it was great!
We did running / walking intervals for 3 miles. I felt pretty good when we started out but started feeling tired around mile one. I pushed through the rest of the way and it seemed like it was over before I knew it! I thank zumba for keeping me in good cardio shape.
Caitlin used her Garmin for some lap stats:
Mile 1: 12:28
Mile 2: 12:53
Mile 3: 12:38
I've never tracked miles time-wise before, so I don't really know what they mean, but Caitlin said they were pretty good for both running and walking the miles.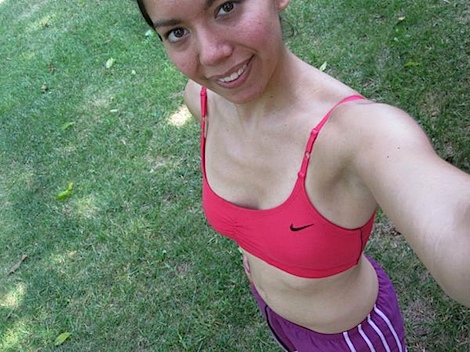 Future runner? Future racer? Either way I was just proud for running today. I had a great time! I think I need to hire Caitlin or Michelle to be my running coach! I'd hire Kath but she's moving!! 🙁
Michelle and I toyed around with the idea of running a 5K later this year on the car ride home. I've always thought it would be cool to run in a costume so I suggested we get a group to wear matching tutus (any takers?). Then Michelle said we could get shirts made too! Sweet! Hey, I am a sorority girl. Give me a costume party and event shirts and I'm in! 😆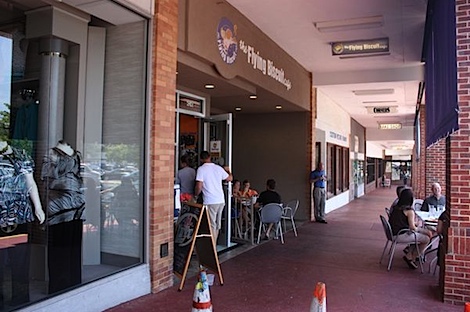 After heading home, showering and changing, a few of us met up at The Flying Biscuit for brunch.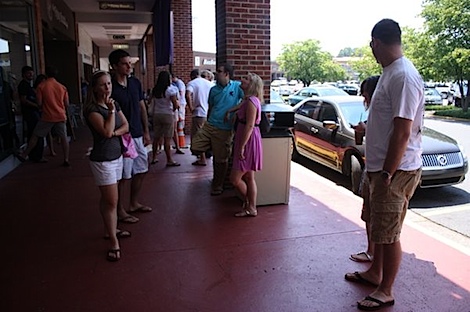 We had a pretty long wait in the heat outside, but it was worth it! I brought green monster muffins with me to help tide everyone over during the wait (which was like an hour!)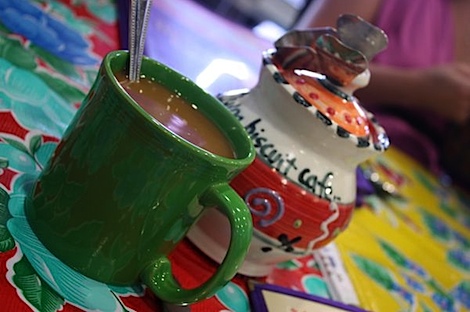 Hot coffee (what? it was cool inside) with sugar cubes and creamer.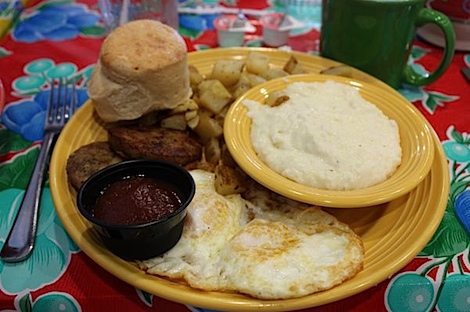 I got the high flyer: 2 fried eggs over medium, creamy grits and potatoes (you can get 1/2 and 1/2!! neat ordering trick for TFB), chicken sausages (I don't normally like meat sausages but they're pretty darn tasty here), a famous biscuit and apple butter.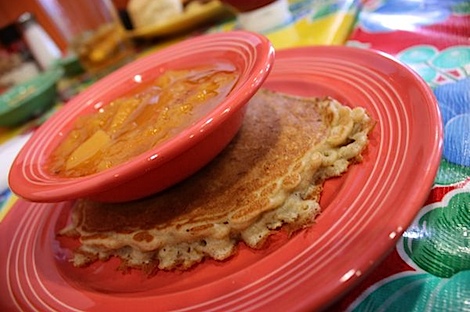 Oatmeal pancake and peach topping.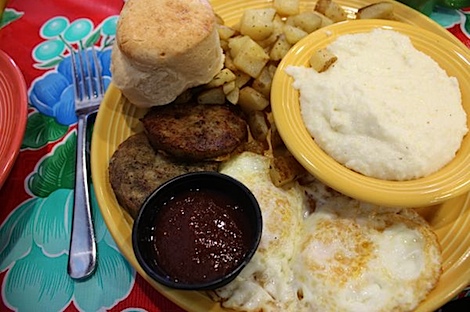 So freakin good!
I worked up a sweat and appetite this morning and guzzled a lot of water at brunch and ate quite a bit of my plate. More than normal at least, though I did end up taking some home to hubby.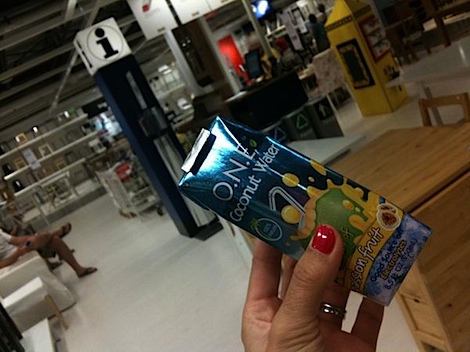 Michelle, Ben, Kath, Matt and me headed out to IKEA post-brunch. I brought a coconut water with passion fruit to help recover from the hot run earlier. I got these coconut waters with fruit flavors to test out because I saw them on sale at Earthfare but I definitely prefer the taste of just coconut water.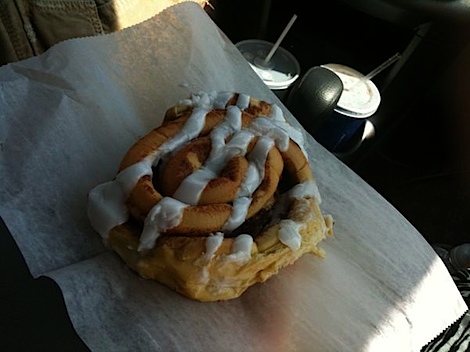 Michelle and Ben got cinnamon rolls!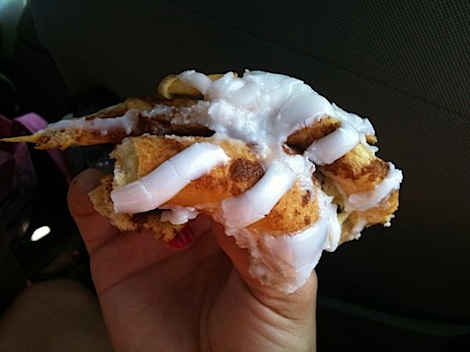 They shared a bite with me!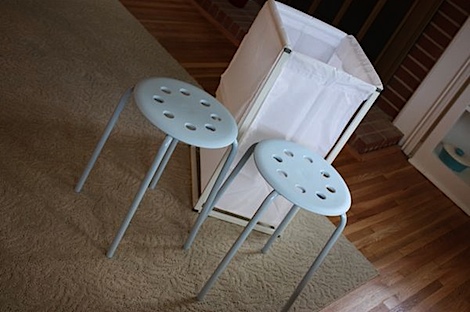 The goods: a laundry basket for our towels/linens, stools for our outside patio (inspired by Caitlin's), plus some curtains (not pictured).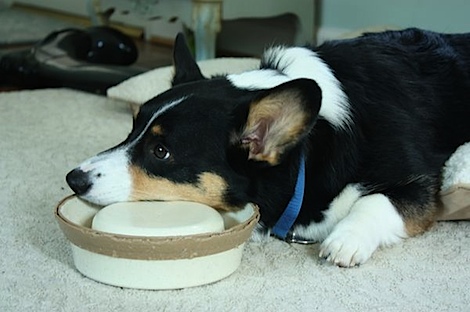 Poor Bailey was kind of bored today with me running all around.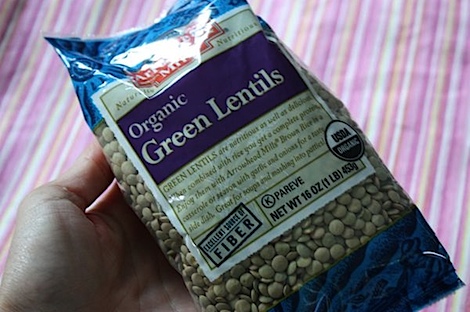 I broke out a fave vegetarian ingredient for dinner. Both hubby and I were feeling something "light" so soup sounded good to me.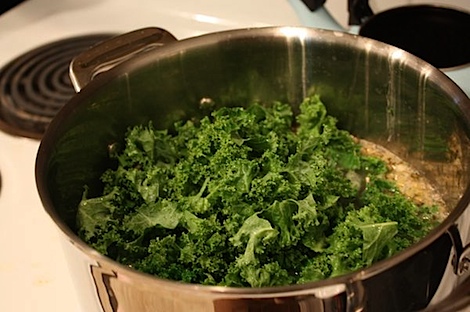 I loved the big bunch of kale added to this soup.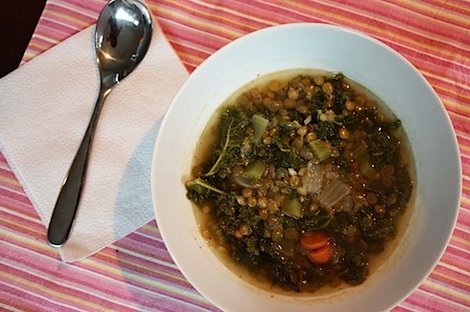 Dinner = Ellie Krieger's Lemony Lentil Soup from her So Easy cookbook.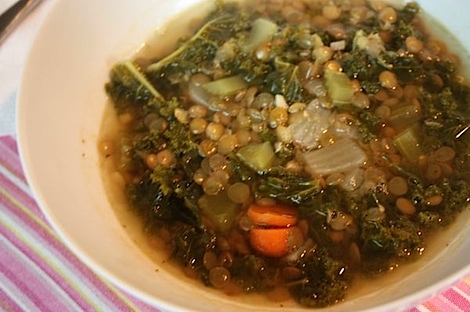 Lucky you I found the recipe online here!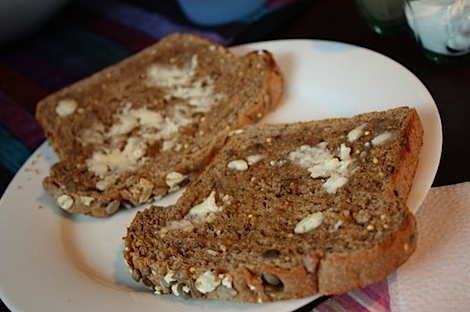 Plus some Great Harvest Whole Grain Goodness toast with real butter.
And for dessert – Yoforia!!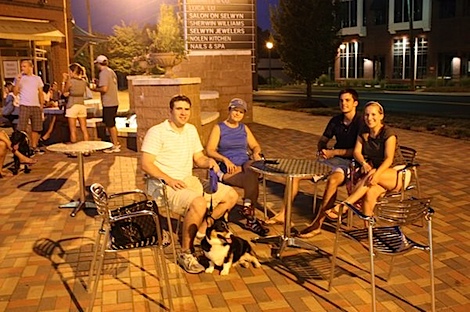 Hubby and I met up with Karen, Matt, and Kath for dessert. We even brought Bailey for some fresh air and socializing. That ham! 😆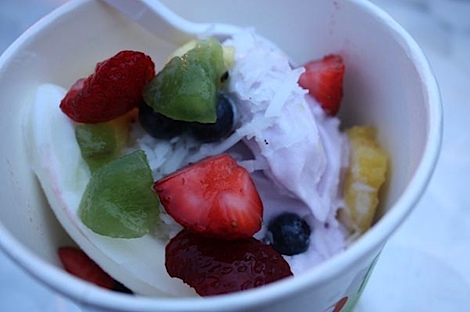 I got some tart plain and some taro. Toppings = coconut, kiwi, strawberries, blueberries and pineapple.
Is this stuff addicting or what?!
***
Another fabulous day guys! I feel so lucky to have such great friends to play with all day!
***
I think I've signed myself up for 6:30 am yoga with the girls tomorrow. Eeks! This means 2 back-to-back morning exercises for me and I never work out in the morning! I must say, while post-work workouts seem to work better in my schedule, I think morning workouts are a great way to start the day! Guess I'd better go dig out my yoga mat…get to bed! G'night!
Do you prefer morning, afternoon or post-work/night workouts? Why?