I was so not ready to go back to work today! Reading all the wonderful stories about friends at the beach made me want to be there so badly! And by "there", I mean "beach". At this point, I'll take any beach! lol Seriously, I think I'm due for a beach vacay, no?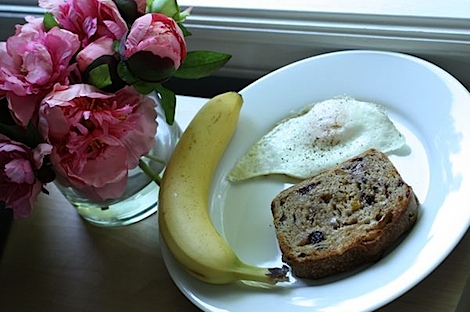 Being home has its perks – like sleeping in my own bed or being able to whip up a fabulous homemade breakfast for me and hubby.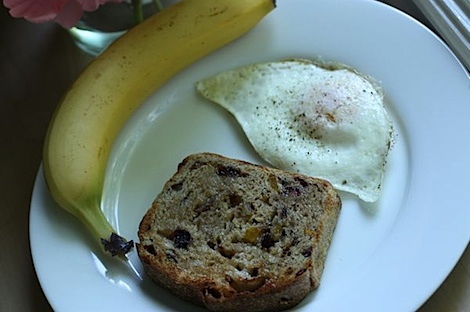 Today we had a fried, cage-free egg with a piece of mom's WW fruit + nut toast with real butter and a banana.
Pretty much all of today's eats seemed like making something out of nothing.
Take lunch for example.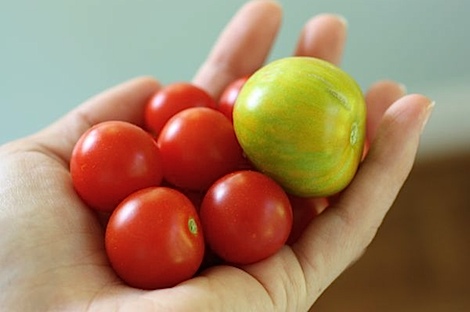 I had tomatoes from my garden and from my mom's garden that needed to be eaten: cherry, grape, and a single green zebra – the first of that plant! (so excited for my green zebras btw!)
So, what does one do with a bunch of tomatoes? Normally, I'd toss them over a romaine or spinach salad, but I wanted something different.
I scavenged my pantry for more ingredients. A grain was sounding good for a grain-salad of sorts. Rice was a bit boring. Wheat berries? They'd take too long to cook. No, I found something better…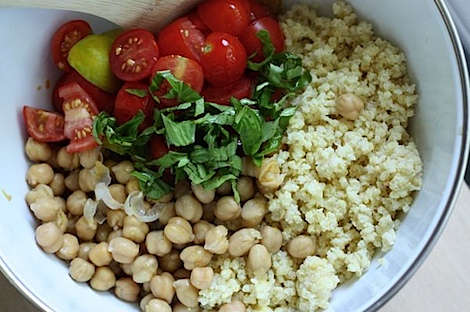 I decided to make a quick bean and grain salad using MILLET!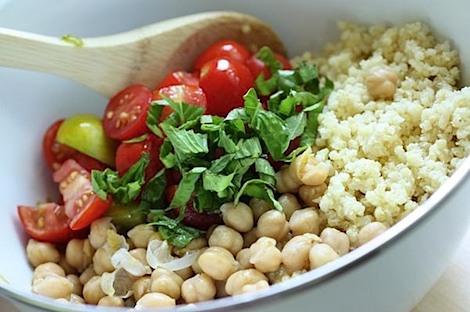 In the mix: garden-fresh tomatoes, garden-fresh basil, garbanzo beans, organic millet.
I added some canned garbanzo beans to complete the protein and help make it more filling.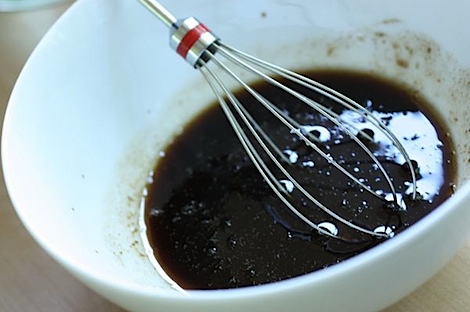 Plus a quick vinaigrette.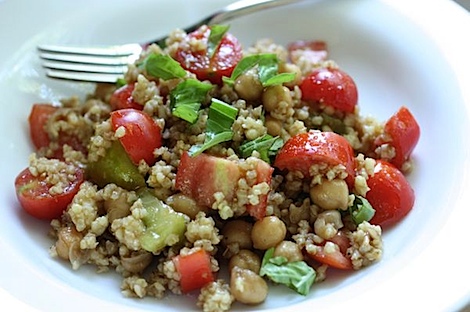 The end result was a sure-fire winner!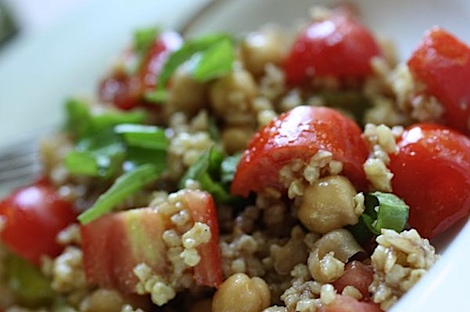 A perfect mix of grains and beans for a complete protein, plus veggies and fresh herbs!
This was a great summer dish and would be wonderful on a picnic. Not to mention, it uses all the fresh tomatoes and basil from your summer garden! Not to mention this is great for any one who is gluten-free or vegan or vegetarian.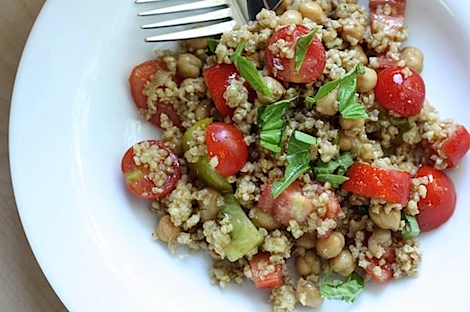 Summer Millet Bean Tomato Salad
(vegan, vegetarian, gluten-free)
Ingredients:
1/2 cup millet
1 1/2 cup water
1 cup, rinsed chopped tomatoes
10 leaves fresh basil, rinsed, chopped
1 cup canned garbanzo beans, rinsed drained
3 tbsp balsamic vinegar
4 tbsp EVOO
salt, pepper
Directions:
Boil water, add handful salt, and add millet. Cook 25-30 minutes till liquid absorbed. Set aside to cool.
In a small bowl, whisk balsamic, EVOO, and salt and pepper to taste (a pinch of each) till combined.
In a large bowl, combine cooked millet (can still be a bit warm), beans, basil, vinaigrette and mix to combine.
Serve room temp or cooled.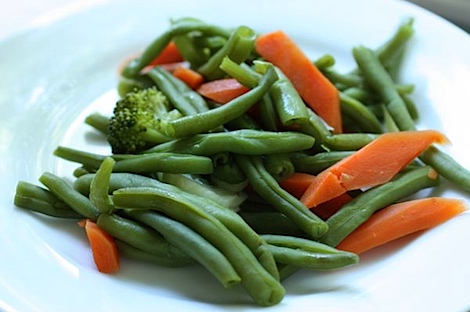 Plus I had some extra leftover steamed veggies with just some salt and pepper.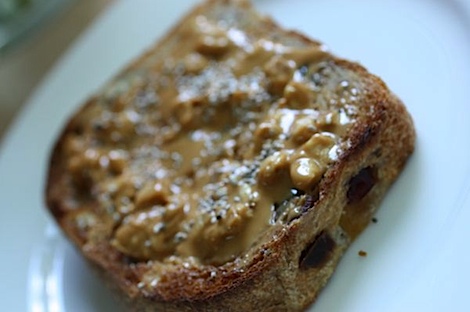 And I had another piece of mom's WW fruit + nut bread toasted with Barney Butter.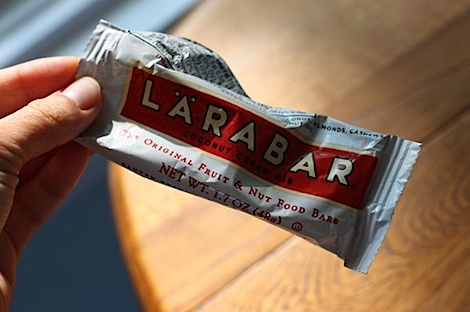 Pre workout snack = Coconut Cream Pie Larabar.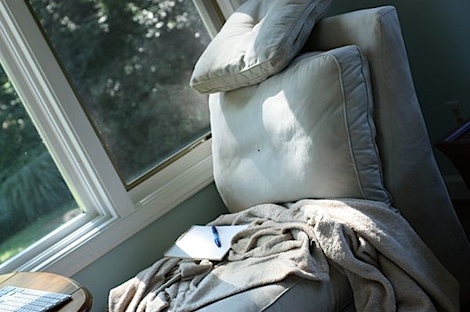 I took a breather after work was over to work on my to-do list. I swear, I feel like so many things get behind and then pile up. I think it means I'm procrastinating more than I think. eek! Anywho, I took a minute to cuddle up on my cozy armless chair by the window that looks out on my backyard to breathe and plan and organize my thoughts. It was wonderful! I really should do it more!
***
I had a wonderful 1 hour ZUMBA workout! So fabulous and uplifting every single time! 🙂
***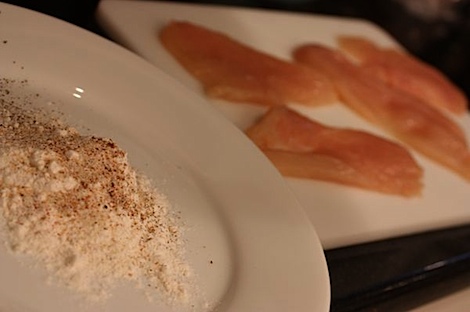 I had to get creative with dinner again. I called on my way home from zumba to ask hubby about dinner and he said he picked up chicken. Hmm…what to make with that?!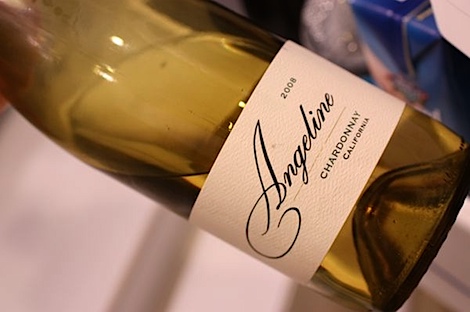 A white wine sauce was sounding nice, but this bottle was too tasty to cook with. I wanted to drink it!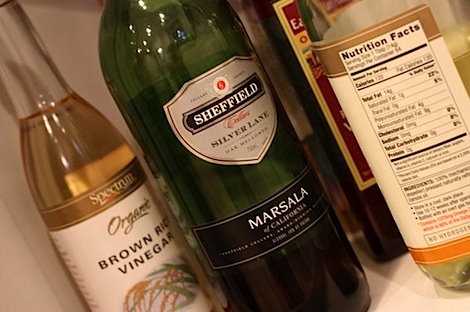 Enter Marsala wine…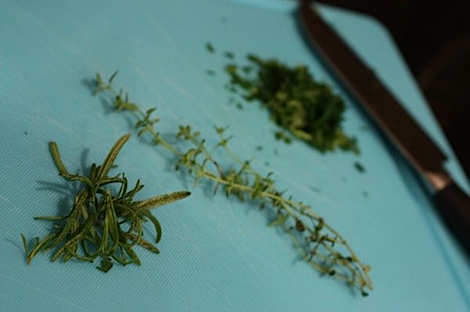 …and fresh herbs (rosemary, thyme, parsley) from my garden.
Yes a wine and herb sauce seemed nice and easy.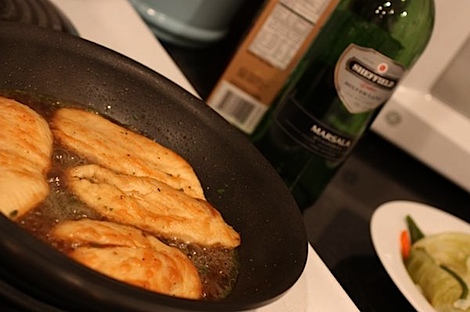 Quick-cooking chicken, a fast marsala herb wine sauce. Yes yes yes!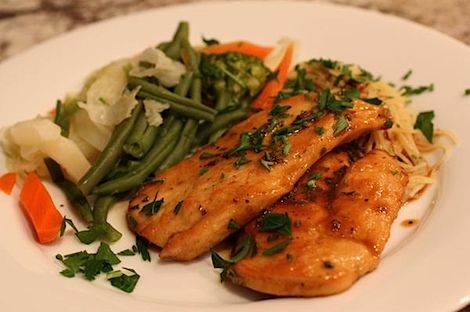 Another creative meal WIN! 🙂
I served the chicken on angel hair nests (have you seen these in the store – they cook in only 3 minutes!) with more leftover steamed veggies.
Pan Seared Chicken with a Marsala Wine Herb Sauce
Ingredients:
2 chicken breasts, sliced lengthwise in 2 to make 4 thin pieces
1/2 cup flour
dash salt, pepper, cayenne pepper, garlic powder
1 small stem-worth rosemary leaves, washed and removed from stem, chopped
2 small stem-worth thyme leaves, washed and removed from stem, chopped
About 2 tbsp parsley chopped
3/4-1 cup marsala wine
1/4 tsp butter
1 tbsp EVOO
Directions:
Mix flour with salt, pepper, cayenne, garlic powder.
Dredge chicken in flour mixture, shaking off excess flour.
Heat a pan over medium heat. Add 1 tbsp EVOO and saute chicken till browned on each side, about 4-5 minutes per side. Remove chicken to another plate.
Add wine to pan and scrape brown bits to incorporate in the sauce. Add rosemary, thyme, 1 tbsp parsley. Cook for 1-2 minutes. Return chicken to pan and cook for 4-5 minutes till chicken cooked through and sauce reduced.
Serve chicken with pasta by placing chicken on top of pasta on a plate. Add butter to sauce and whisk to combine. Pour sauce over chicken and complete meal with a nice veggie serving.
Enjoy!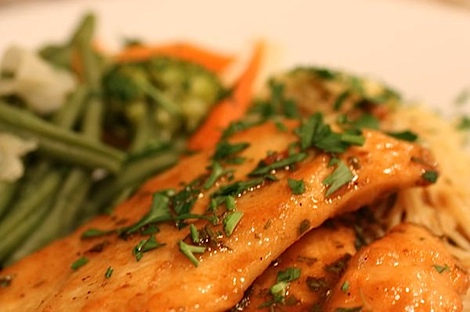 Nommmm!
What have you cooked up when you started with just one or two main ingredients (and the rest came from your pantry/freezer/fridge)? Did you get creative? Turn to an old favorite?