Do you work out after work? Does it make you eat late? How do you cope?
While I love my zumba workouts, recently, I've found myself eating dinner later and later.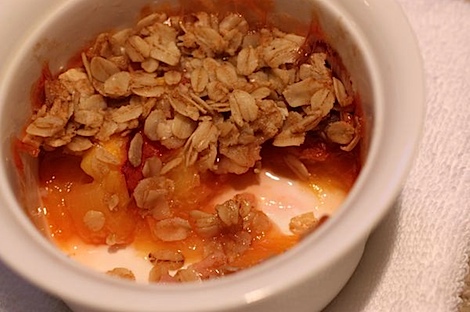 I normally don't like eating after 9pm-ish (so my body has time to digest my eats), but take for example this beautiful peach breakfast crisp (which I had last night after blogging…egads!). This by itself wouldn't be so bad (remember, this is a healthified version – click for recipe), but eaten so late, I don't think it's healthy at all – fruit serving or not!
Anywho, I think I need to make a better effort to eat earlier…find recipes that I can prepare faster…maybe even prep ahead of time (crock pot anyone?)…and possibly change my eating habits. Post-work-exercisers: how do you cope with your later schedule and eating?
***
This morning I tried something new for breakfast – breakfast quinoa flakes!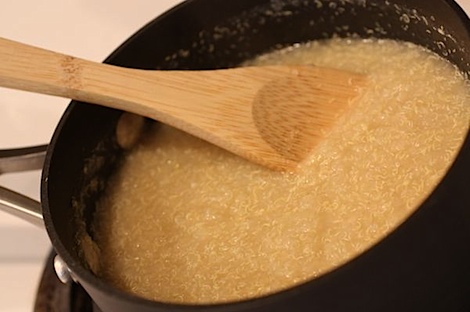 I whipped a pot (took no time!)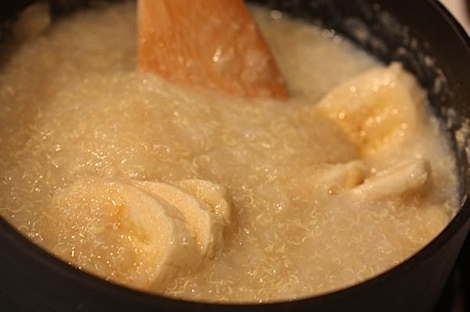 And added milk and sliced bananas. I usually don't add extra sweetener to banana-oats, but I find quinoa tends to require a little added in.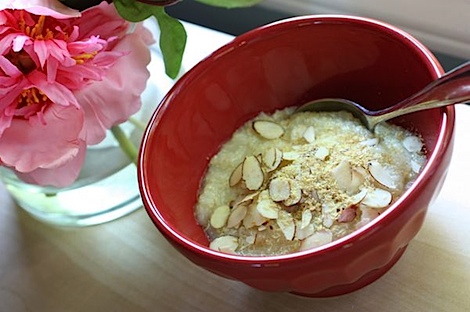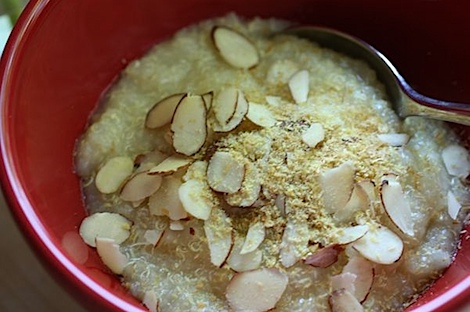 Turns out – this stuff is quite nice! Much easier to prep than my breakfast quinoa bowl, but that was also a nice use for leftover quinoa. Anywho, I'm happy to be able to add this to the breakfast rotation…plus, I'm hoping to use the flakes some time soon to make some yummy muffins or cookies!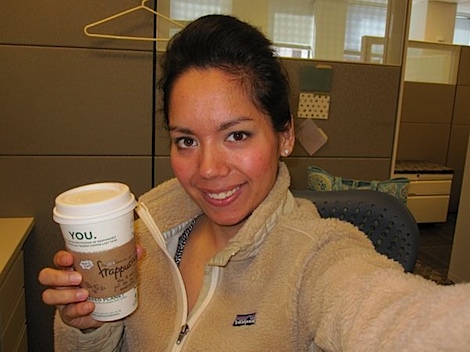 I celebrated Starbucks Monday today since I didn't go into the office on Monday. Grande vanilla soy latte = fabulousity!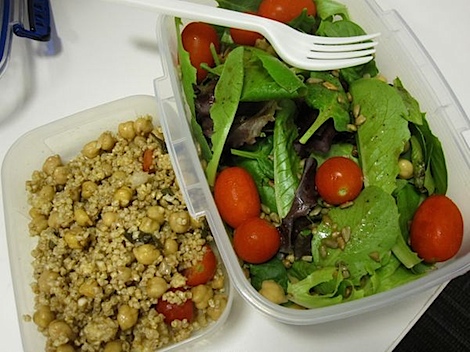 I had two salads for lunch: a green salad with garden-fresh tomatoes, sunflower seeds and balsamic vinaigrette plus leftover Summer Millet Salad.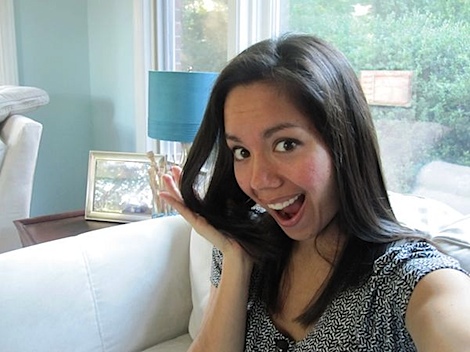 Post work I got my hair did!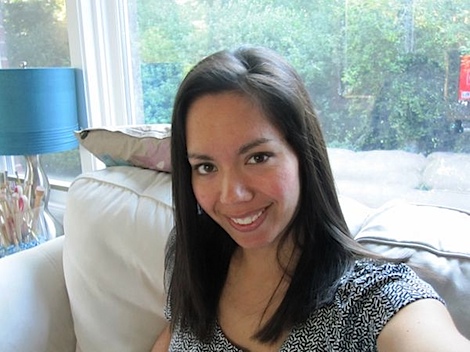 Aren't salon trips the best? I used to have more fun with them when I did funky things with my hair – new hair cuts and styles and new highlight colors – all that jazz. These days I usually just go in for a trim.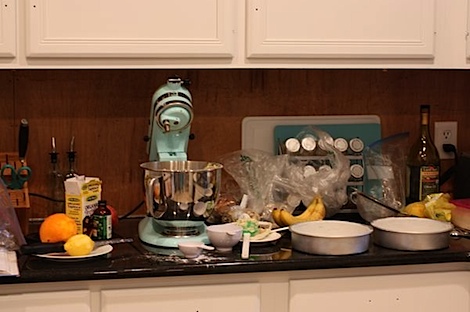 My friends came over for their thank you dinner tonight. With work and a post-work hair cut, I wasn't sure about entertaining mid-week, but it turned out great! Messy…but good! 🙂
Plus, I owed my friends this thank you dinner for their help clearing out my basement before the house warming party.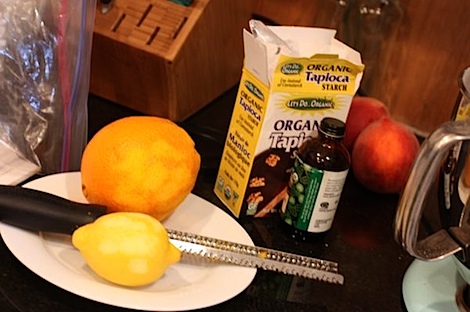 I even attempted a homemade, from-scratch dessert!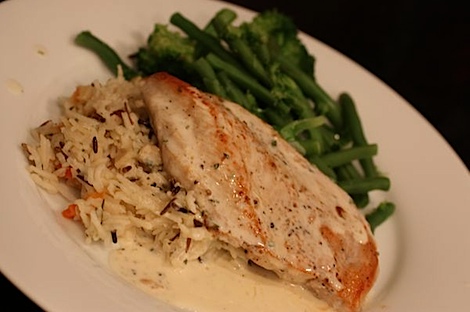 For the main event, I made something up…
Pan Seared Chicken with a Boursin Cream Sauce
Ingredients:
2 chicken breasts, sliced halfway lengthwise so you have 4 flat/thin pieces
1 cup white wine (I used pinot grigio)
1/4 cup heavy cream
1/2 a package of Boursin Garlic & Herb cheese
2 tbsp canola oil
salt and pepper
Directions:
Heat a pan over medium heat. Add canola oil (add 1 for first batch and save 1 for second batch, if cooking in batches). Add chicken. Cook to brown on both sides – about 4-5 minutes per side. If cooking in batches, pre-heat oven to 200 degrees F and place cooked chicken on baking sheet in oven to stay warm while cooking second batch. NOTE: If not cooking in batches, you can just move the cooked chicken to a plate and tent with aluminum foil.
After cooking all chicken, add wine to pan and stir to de-glaze pan. Be sure to scrape up brown bits. Cook till wine reduced roughly in half, about 2-4 minutes.
Add heavy cream and bring to a boil. Turn off heat. Add boursin and whisk till creamy in consistency.
Serve chicken over rice pilaf and spoon sauce over chicken/rice. Complete meal with steamed veggies.
Enjoy!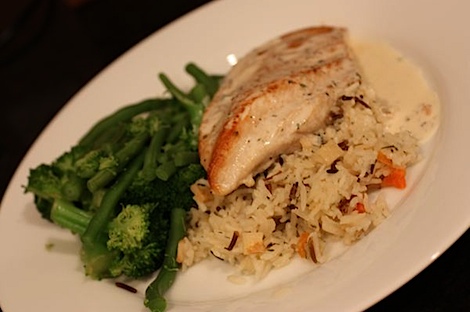 Lucky me, my experiment tasted deeelicious!
I served the chicken with steamed veggies (green beans from my mom's garden and organic broccoli with a butter drizzle) plus a rice medley (found at Trader Joe's) with garden-veggie flavors – the perfect accompaniment!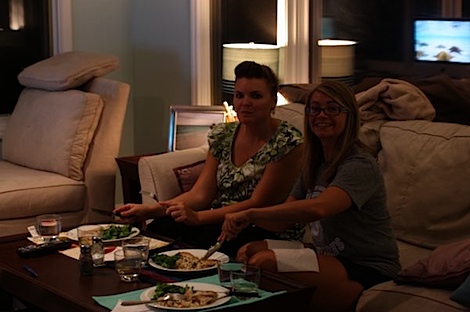 Megan and Erica were happy with dinner…yay! 🙂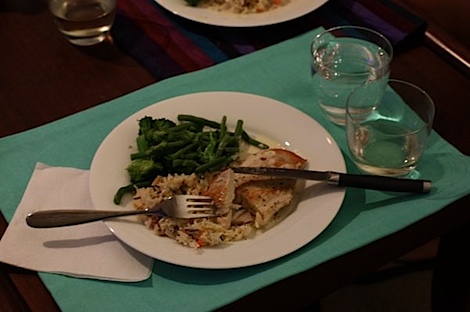 As for me, I enjoyed dinner on my new placemat!
We enjoyed dinner whilst catching up on So You Think You Can Dance. I can't believe Alex is hurt!!! I hope he is feeling better soon.
(Just in case you're wondering who Alex is…check out his video by searching on youtube for "Alex and Outta" – it's the Outta Your Mind Dance…and it's fabulous! I'd embed it, but that seems to be disabled on most videos. Anywho…keep in mind he is a ballet dancer. BALLET. Dancing hip hop. Like that! Booyah!)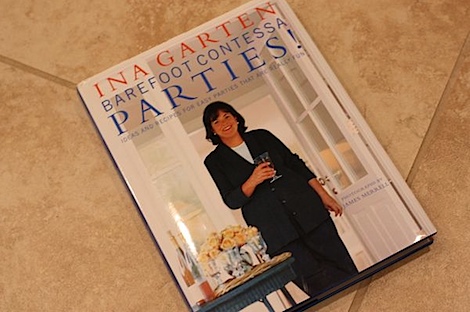 For dessert, I kept my promise to myself to try one recipe from each of my new Barefoot Contessa cookbooks by trying one from Barefoot Contessa PARTIES!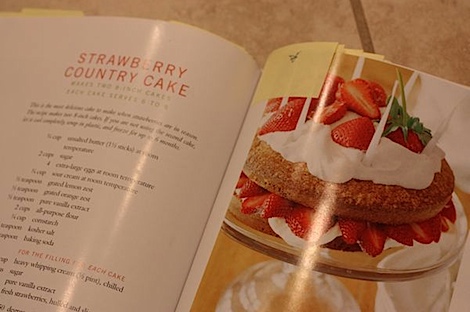 I knew as soon as I saw this Strawberry Country Cake (recipe is online here, yay!) that I'd be making it this summer while berries were still in season. So glad I tried it out!
Be sure to check out the comments. I followed some pointers. I definitely baked my cake for a shorter time – I think even 30 minutes instead of 40! And I made extra whipped cream – about 50% extra. Think I may make my whipped cream with powdered sugar instead of granulated next time a la Giada. Oh and the zest in the cake is a MUST – don't skip this step! You can definitely taste the citrus in the cake and it's excellent!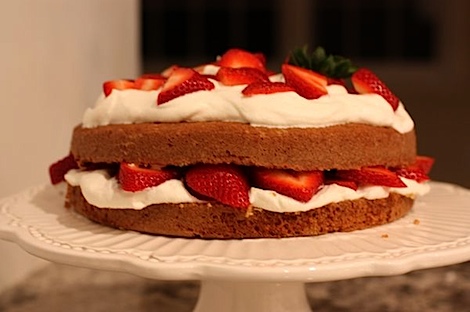 The cake was the perfect summer dessert! Decadent but light. Refreshingly sweet.
The presentation on this cake is so easy and pretty, too!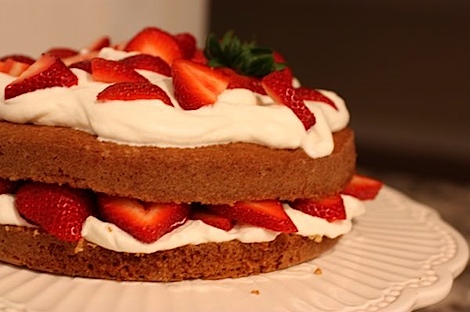 Don't you just want to dig in!?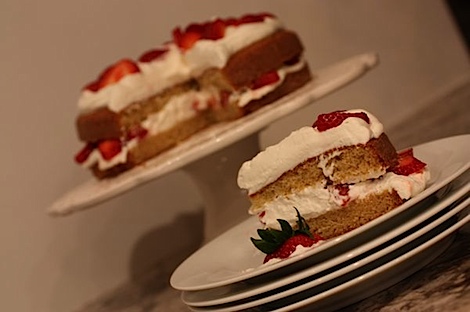 We dug in for you!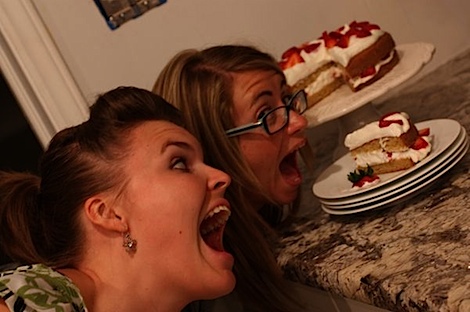 Megan and Erica were really excited about dessert!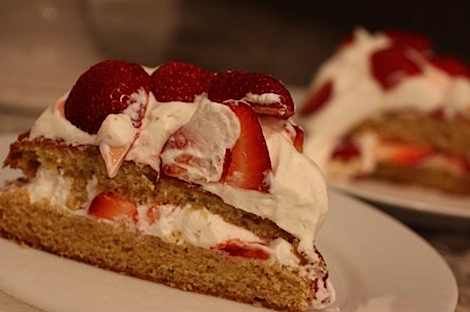 As was I! Helloooooooo summer cake!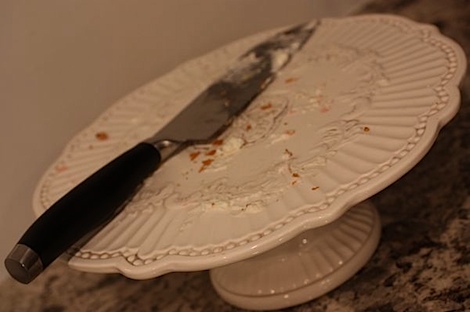 Done-zo!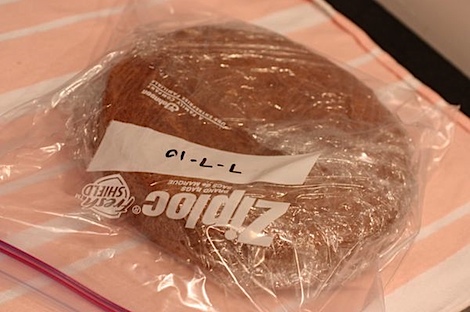 Best part of this dessert – it makes 2 cakes so you can have the cake again whenever you want! Just de-frost, whip up some whipped cream, slice some fresh strawberries and layer your ingredients.
Oh yea! Can't wait to make this again! 🙂
***
Do you entertain mid-week? What do you like to make?
And remember my other question – Post-work-exercisers: how do you cope with your later schedule and eating?