Workout Epiphany
Sometimes you don't realize how far you've come along. This weekend at HLS we talked about how people should exercise to be strong, not skinny.
Me Back Then
I hadn't really thought about it in the longest time, but that is exactly why I exercise! Why is this a big deal? Because I have had, in the past, the frame of mind where I wanted to exercise for the sole purpose of being skinny or losing weight. I would force myself to workout for fear of "getting fat"…or to shed some pounds/dress-sizes. It's been such a long time since I had those negative workout thoughts that I almost didn't remember how awful they can be. I'm so happy to have pointed myself in a more positive direction.
Me Now
Nowadays, I love to workout! I workout because it's fun. Because I feel so amazing afterwards. Because I think it's a good challenge. Because I like to dance. Because I'm thankful that my body allows me to workout. Now…I work out because I want to. The goal is no longer weight/size driven – it's because I genuinely love to do it! I'm so thankful to have found a workout (Zumba) that makes it so easy for me to enjoy exercise.
What a liberating moment to realize such a huge change that so positively impacts my lifestyle! Though the change wasn't over night, rather it was a gradual change over the last several or more years, I'm so glad to have found my way here. Knowing that it's possible to maintain a healthy lifestyle with ease and enjoyment is more amazing than I can put into words.
From working out out of obligation or fear to working out for happiness and fun! It makes me smile to realize I've come so far! 🙂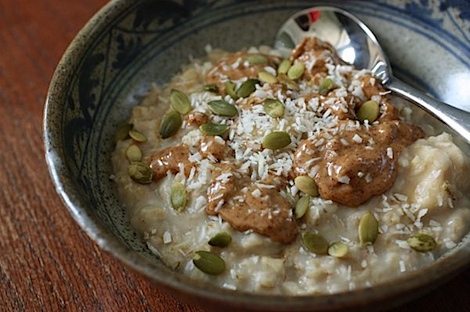 As you may have seen on Twitter, I'm taking a sick day today. I feel terrible and not like doing much of anything.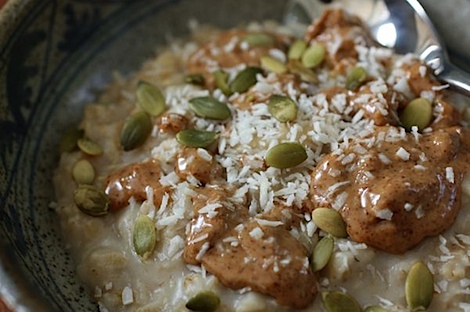 Today I made oatmeal since I heard it was good for the immune system. Not to mention oatmeal is very comforting and healthful.
I made rolled oats with 1/2 water 1/2 rice milk and half a banana and topped it with coconut, pepitas and Naturally Nutty White Chocolate Cherry PB. Nommmm!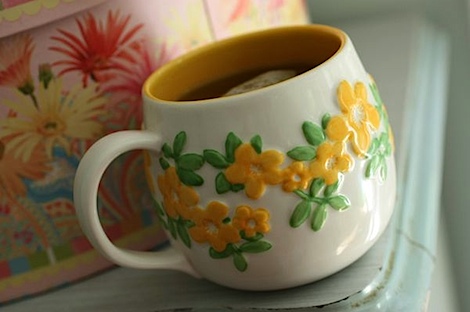 And I've been having TONS of liquids! Can a sick person drink enough hot tea? I think not.
Off to rest some more.
Ta- taaaa!
Have you had a workout epiphany recently?